There is nothing better than a slice of raw tropical coconut cake to keep yourself cool on a hot summer day.
Recipes around the World: Raw Tropical Coconut Cake
I watched zillion videos how to make raw tropical cakes, but never tried myself until now. Raw tropical coconut cake? Me? One day I was going to make one of them, the questions was "when".
It was my nephew's birthday. Everybody decided to make either main dishes or salads. I was left with the responsibility of providing a cake. Normally, I'd go and buy one. But since COVID-19 is still very present, I try to eliminate my shopping activities as much as possible. (Aren't stores, especially grocery stories, the busiest places right now? On top of that, lines can go all around the corners of the stores. So, you need at least a couple of hours to get that cake.) With that in mind, I decided to make my own raw tropical coconut cake.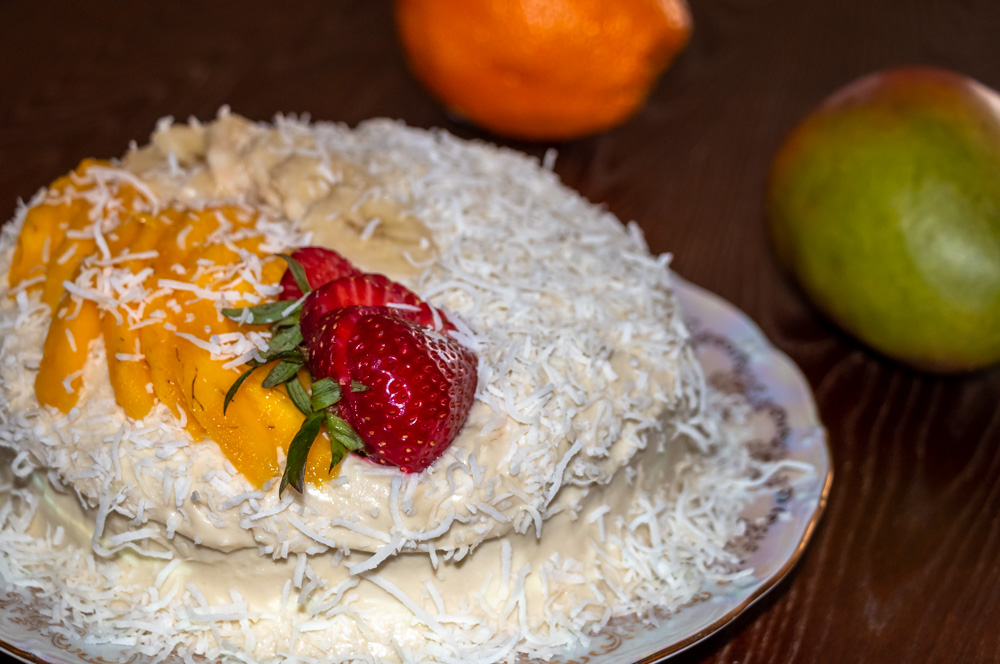 A Bit About Coconuts and Tropical Coconut Cake
When it comes to raw tropical coconut cake, we automatically assume abundance of fresh tropical fruits and nuts. Moreover, preheated ovens are rarely involved in our tropical baking plans. And certainly, any tropical cuisine can't exist without coconuts.
The coconuts existed for centuries, but they became known in the western countries only in the 6th century. It was Marco Polo who "discovered" this tropical delicacy during his travels in India. Although the coconuts are technically fruits, the famous traveler called them nuts. The word "coconut" appeared only in the 16th century. It derived from the Portuguese and Spanish word "coco", which meant "head" or "skull" and emphasized this tropical fruit's resemblance to facial features.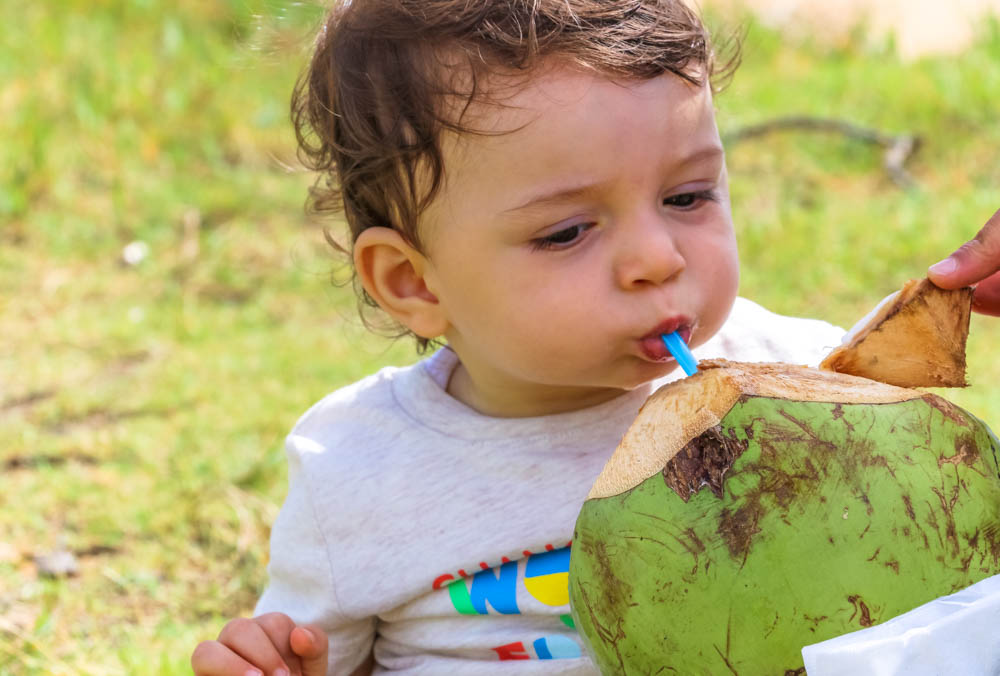 While the coconuts have been one of the main ingredients of the tropical cuisines, they came to the West not that long ago and instantly captured the hearts of the Westerners. In most cases, the coconuts are eaten raw. On top of their sweet taste, this way of eating ensures you get all the benefits from the food.
Slowly, people have been becoming more creative with their new favorite food. Today you can find hundreds of different variations of raw tropical coconut cake. I personally like the simplicity of this tropical dish. And honestly, it was just a matter of time for me to add raw tropical coconut cake to my cooking.
Some people can be skeptical about the raw dishes. Thus, I was relieved when everybody liked this raw tropical coconut cake, which made me want to share the recipe here.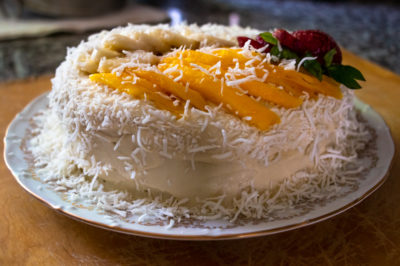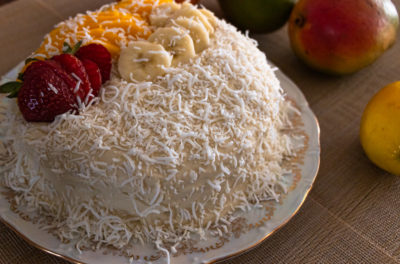 RAW TROPICAL COCONUT CAKE RECIPE:
Ingredients
Base
2 cups peeled and chopped apples

1/4 cup fresh squeezed lemon juice

1/2 cup fresh squeezed orange juice

2 teaspoons orange zest

2 teaspoons lemon zest

1/8 teaspoon sea salt

1/2 cup raw honey

1/2 cup coconut oil

2½ cups coconut flour
Icing
2 cups raw cashew, soaked for a few hours, drained and rinsed

1/4 cup fresh squeezed lemon juice

1/2 cup fresh squeezed orange juice

2 teaspoon lemon zest

1/2 cup raw honey

1/2 cup coconut oil

1 teaspoon vanilla extract
Preparation
Base
Place the apples in food processor or high-speed blender and process until smooth. Add the lemon juice, orange juice, lemon zest, orange zest, salt, honey, and coconut oil and blend until properly combined.

Add the coconut flour, one cup at a time and process until combined. If you use the high-speed blender, combine the remaining 1½ cups coconut flour manually. By this time, the mixture is very thick, so you don't want to break your blender.

Divide the mixture into 3 equal portions and place into a medium-sized cake pan. And here comes one trick I learned lately. You can use the same cake pan, but place parchment paper between you cake layers to avoid them sticking together. Once done, place in freezer for 2 hours to firm.
Icing
Place all ingredients in the high-speed blender and blend until smooth. Put in the refrigerator for 2-3 hours to set.

Remove the cake layers from the cake pan, one layer at a time. Place one layer of the cake on a plate and generously cover it with the icing. Repeat with the remaining layers. Once done with this part of your raw tropical coconut cake, cover its sides with the icing as well. Decorate with shredded coconut and some fresh tropical fruits such as mangoes and bananas.

Store in the refrigerator.
Make Next