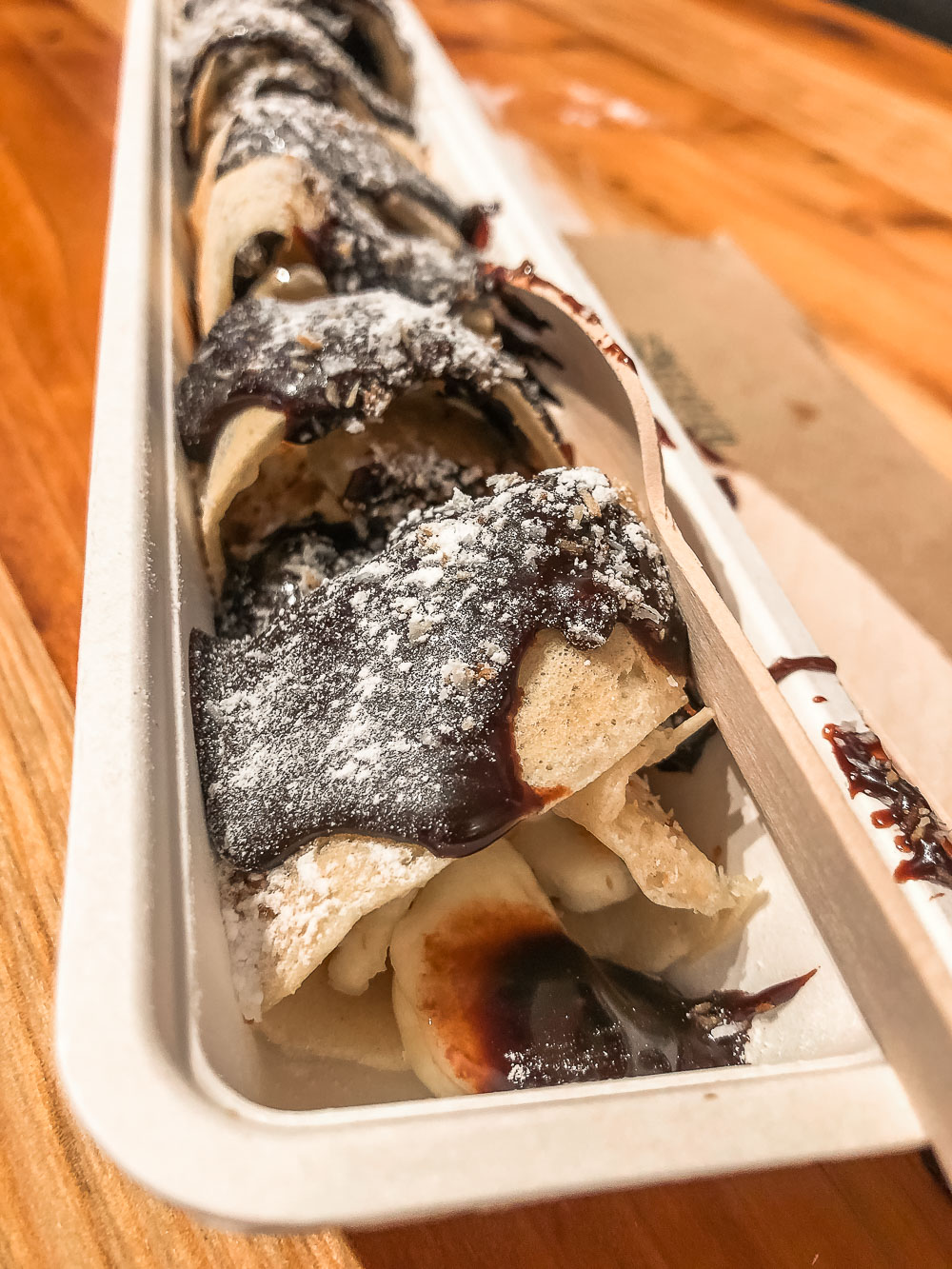 "The Happy Pig Pancake Shop is arguably the best place to eat traditional vegan Dutch pancakes in Amsterdam", claimed one review. It alone was enough for me to give this place a try.
Vegan Pancakes at The Happy Pig, Amsterdam
I don't remember how I learned about The Happy Pig Pancake Shop. It might have been through my extensive research about Amsterdam a few weeks prior my trip. Maybe it was www.happycow.net, a website that I credit for many vegan discoveries in the capital of the Netherlands, that described The Happy Pig as one of the best desert places in the city. Honestly, it doesn't even matter.
During my four days in Amsterdam, I kept the name of The Happy Pig Pancake Shop at the back of my mind. I was certain that sooner or later I would visit it to indulge in its vegan Dutch specialties.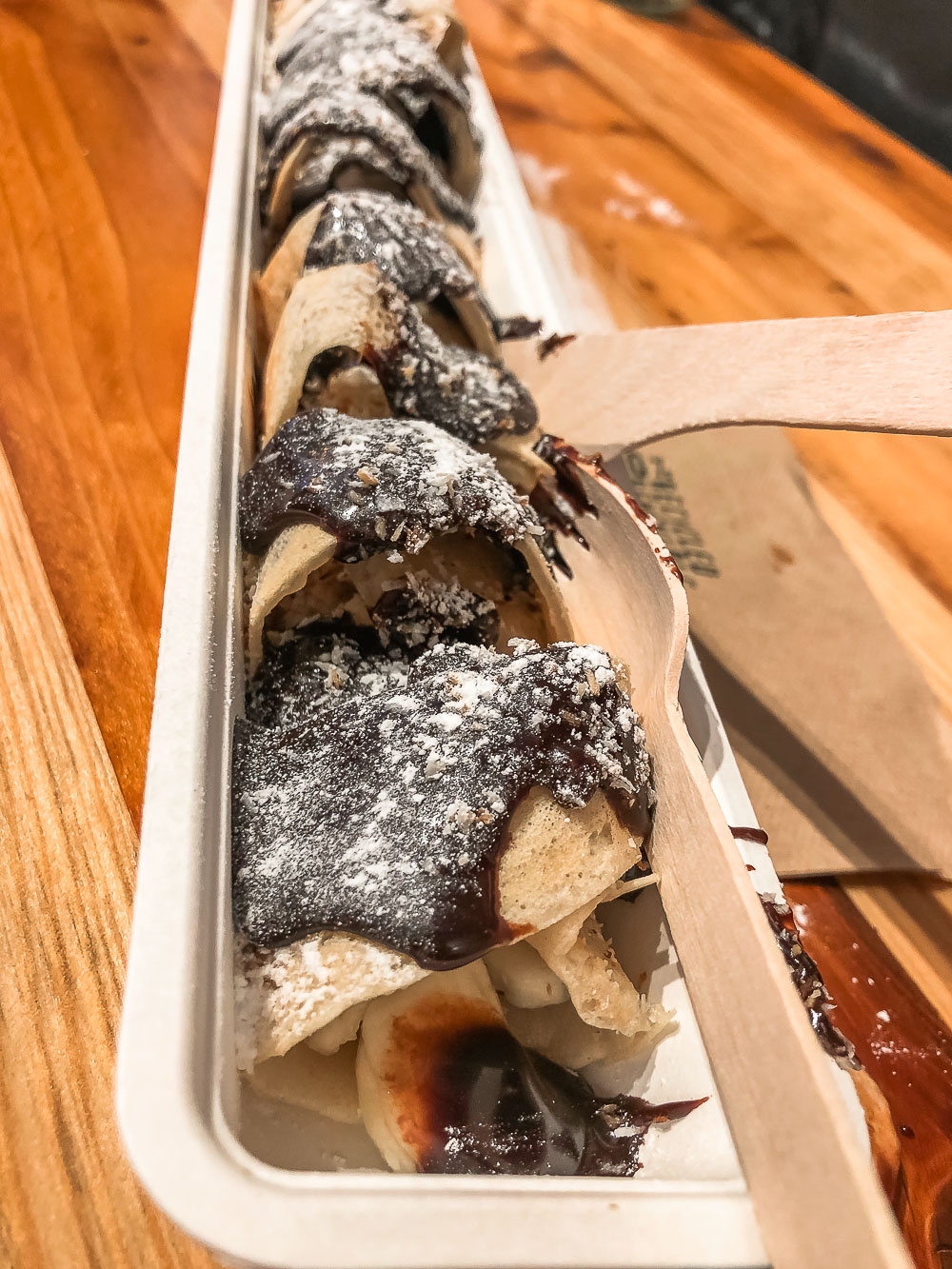 Nevertheless, for some reasons, I kept avoiding The Happy Pig Pancake for the first few days. Instead of heading straight to the restaurant to satisfy my sugar craving, I was wandering from one waffles place to another. They had great options on their menus that could make your mouth water just by looking at them. But none of their deserts were vegan.
No vegan pancakes and crepes in a city that by that time impressed me with its abundance of vegan choices? It was impossible. So I finally decided to give the famous vegan pancakes at the Happy Pig a try.
How to Get to The Happy Pig, Amsterdam
Surrounded by tidy rows of small shops and boutiques, The Happy Pig Pancakes is set right in the heart of historic Amsterdam. Such popular neighbors, however, do the tiny restaurant a disfavor.
Nestled on the corner of Rosmarijnsteeg and Spuistraat, The Happy Pig looks almost invisible. There are no fancy signs or colorful doors that make the restaurant stand out from other places in the area. Late afternoon or evening lines in front of the shop, though, undoubtably indicates that you reached the right place.
When in Amsterdam, you either walk or use two-wheeled transport. Although public transportation is available, walking or riding a bicycle allows you to find hidden gems such as the Happy Pig Pancake Shop. The place is conveniently located about 5-minute walk from Dam Square. It makes it a perfect destination to grab some sweets to go while exploring Amsterdam on foot.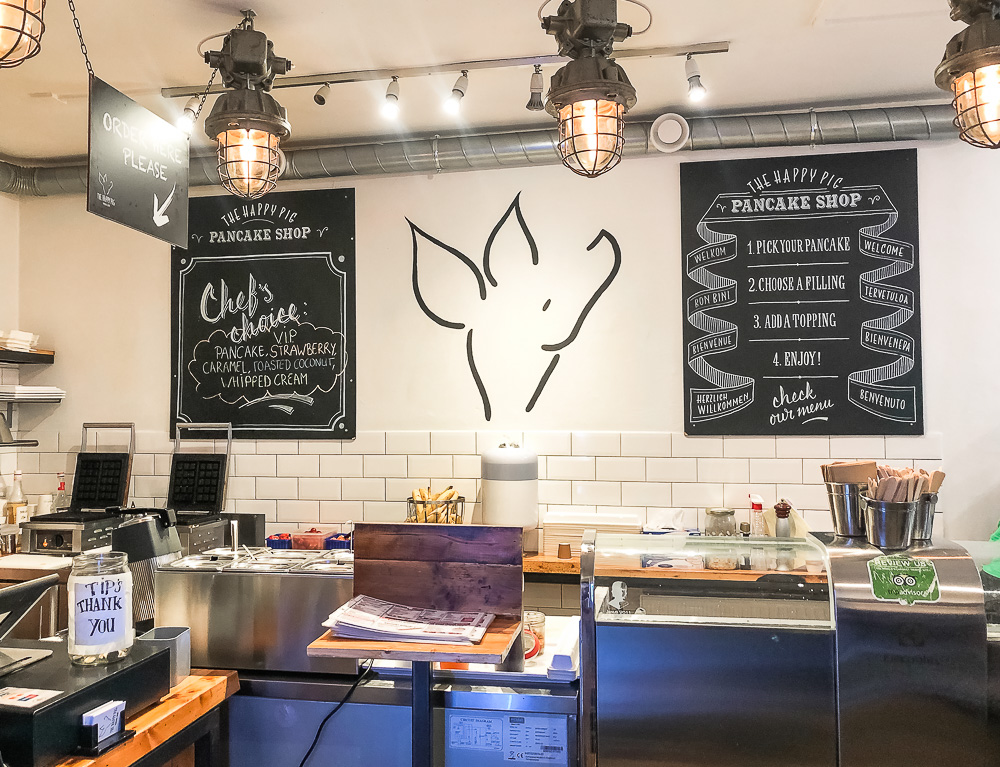 The Happy Pig Pancake Shop
The Happy Pig Pancake Shop focuses on traditions and quality. It believes that you ought to try some traditional Dutch waffles when visiting Amsterdam. This mission drives The Happy Pig's staff to make their signature pancakes in accordance with old-fashioned Dutch recipes.
You won't find neither dough nor excessive amount of butter, typical for Belgian waffles, here. Instead, the pancake shop prides itself on using organic, fresh, and gluten-free ingredients to offer authentic, light and crispy Dutch waffles.
Whether you go for the waffles or pancakes, expect them to be served rolled, with sweet or savory fillings and flavorful toppings. And here you can let your taste buds rule the show. There are ample filling options, ranging from fresh fruits, Gouda cheese, homemade chili, and organic bacon, to select from.
The abundance of the toppings make your dining experience at The Happy Pig even more enjoyable. You can choose from chocolate-hazelnut sauce, white chocolate, caramel sauce, honey, and even organic ice cream. Such variety of choices means only one thing: you have to come back again and again.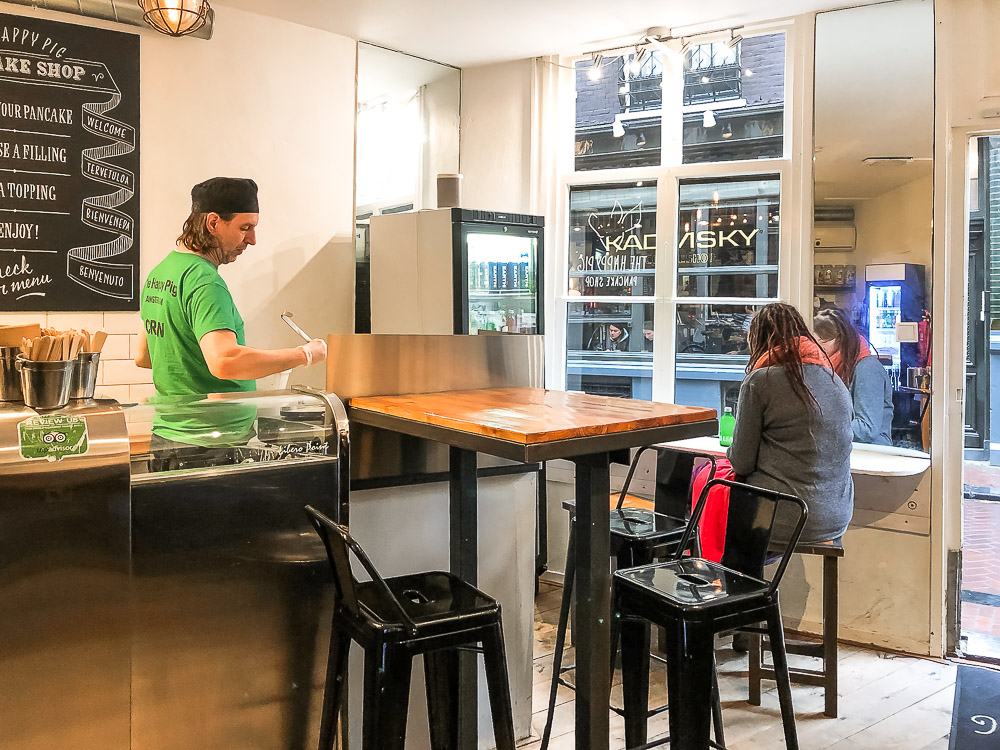 Meet the Pancake Shop's Family
At The Happy Pig, you rarely find more than two people working zealously to serve you the best Dutch pancakes and waffles in Amsterdam. There is simply no room in an open kitchen for another person to fit in.
The ambience of The Happy Pig is also very simple. Complying with European small size standards, it houses only a few sitting tables. It it certainly not enough for all the visitors wishing to indulge in delicious Dutch deserts. Nevertheless, the limited sitting spaces don't stop the devoted Happy Pig's "family" from piling in and outside the shop.
While a free table is rarely available, you can always count on meeting Andrea. This welcoming and courteous owner of the pancake shop never fails to offer her recommendations and pour a cup of chai latte, tea, or fresh orange juice for her guests.
Planning Your Visit
Address: Rosmarijnsteeg 12, 1012 RP Amsterdam, Netherlands
Opening Hours:
The pancake shop is open daily from 10:00 a.m. to 6:00 p.m.
Arriving in the morning gives you more chances of claiming one of the shop's sitting tables.
Read More about Amsterdam