When cold weather creeps into mountainous Austria, hundreds of Maronistands shake off piles of dust, accumulated during their spring-summer solitude, and pop up on the streets of Vienna. With this new addition to the street food scene, maroni or roasted chestnuts quickly become Vienna's favorite snack of the season.
Last updated: November 27, 2021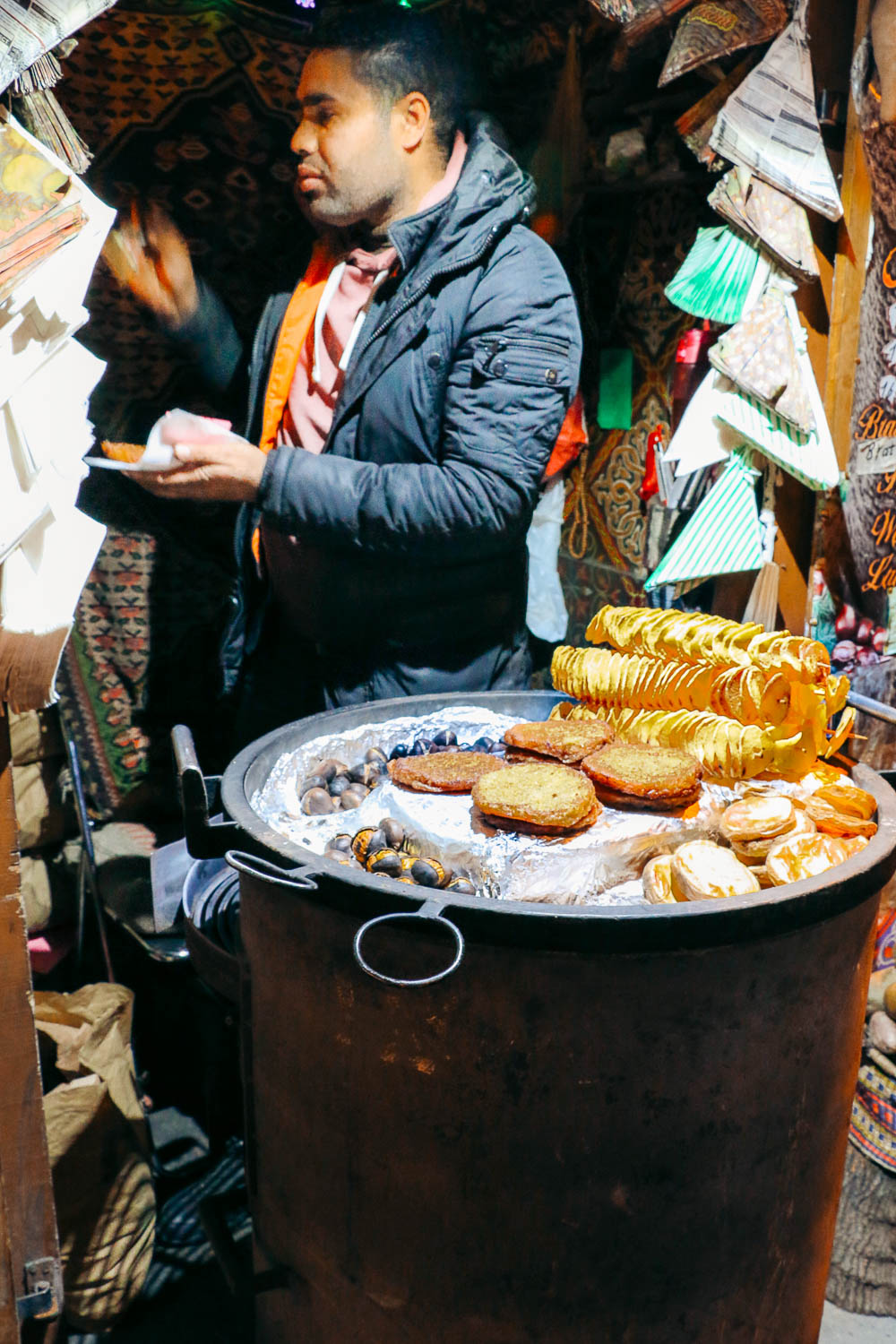 Recipes Around the World: Maroni aka Vienna's Roasted Chestnuts
"Have you ever tried roasted chestnuts?" Roshan asked me as we were walking down the streets of Vienna and spotted a small stall with these familiar nuts spread on a large drum. I saw the chestnuts before. Throwing them with my feet when playing in a forest was one of my favorite childhood memories. But eating roasted chestnuts? No, I hadn't had a single one at that time.
I knew people praised the taste of the roasted chestnuts. Hearing their stories, I always pictured elaborated chestnut dishes. Simple roasted chestnuts or maroni, how they call them in Vienna, were never on my mind.
Out of curiosity, I ordered my first ever bag of maroni on that cold evening in Vienna. Gee, these roasted chestnuts tasted better than a fancy meal at The Cafe Museum we had had for lunch! I found my favorite street snack in Vienna. Maroni, these cheap and easy to make roasted chestnuts, always accompanied me on our strolls around Vienna after this evening.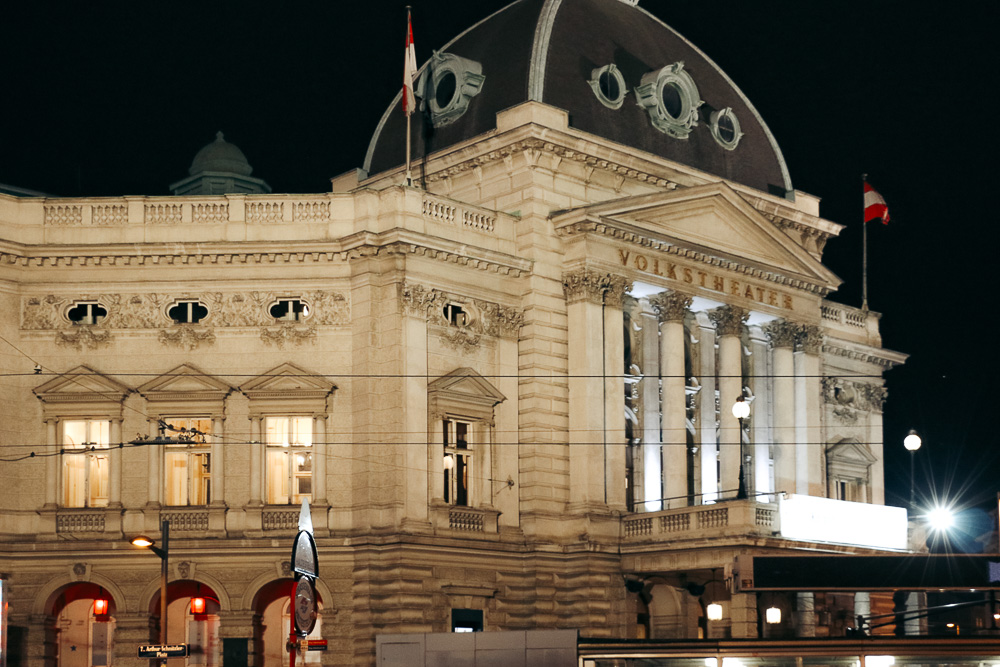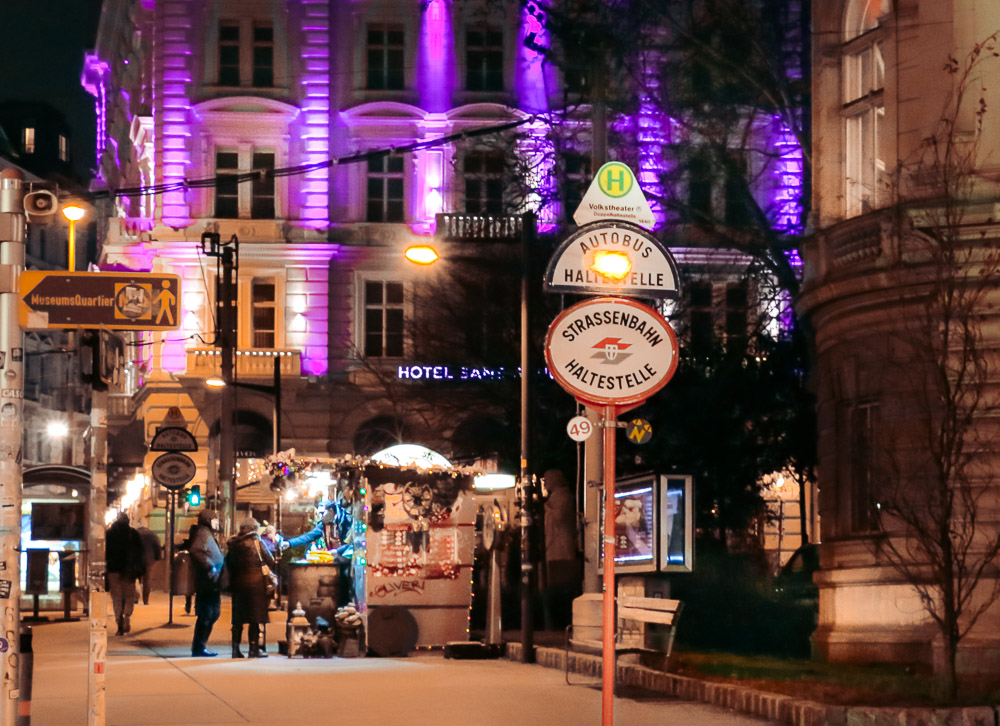 Maronistands in Vienna
Maroni, which means chestnuts in German, are a popular snack in Vienna during the winter season. When the temperature drops, nearly 200 Maronistands reappear in the capital of Austria sometime in October. Bringing back traditional taste and signifying the beginning of the holiday season, maroni satisfy hungry locals and visors well into February.
Maronistands with their signature roasted chestnuts usually pop up on street corners, around Christmas markets, major junctions, or near subway stations. Often you can find them clustered around major attractions, such as Schönbrunn Palace Park or Volkstheater.
Apart from the roasted chestnuts, the Moronistands allow you to try other popular street snacks in Vienna. So for a few Euros, you can indulge in Bratkartoffel (Austrian roasted potato slices), potato wedges, or Kartoffelpuffer (potato puffs).
Maroni or roasted chestnuts, however, are the main delight and signature dish at the Vienna's Maronistands. These delicious and nutritious nuts are roasted on a giant drum with a pinch of salt. Served in a paper cone, 6 or 9 pieces per serving, the roasted chestnuts are a perfect winter snack. The cold weather outside doesn't look bad after you fill your belly with warm maroni.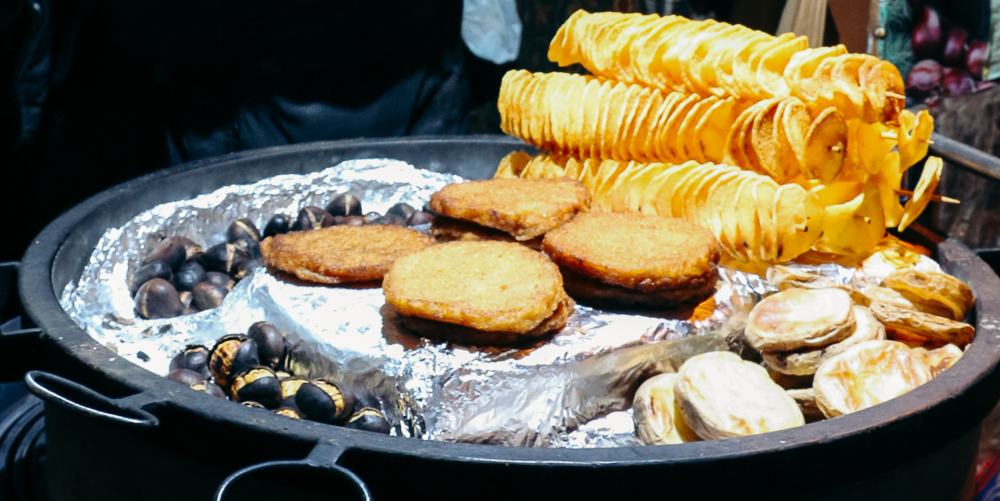 Maroni Traditions in Austria
The pleasant aroma of chestnuts roasting on an open fire goes back to an old Tyrolean tradition. After grape harvest, which ends around October, farmers visit each other to savor first young wine of the season. The roasted chestnuts always accompany the drinks, bringing out the flavor and saving the farmers from getting too drunk too quickly.
Even before the Tyrolean tradition took place, the roasted sweet chestnuts adorned the tables of rural populations in mountainous regions of southern Europe. These satisfying nuts were a staple food in many local cuisines from the Middle Ages to the end of the 19th century. Austria, one of the rural and mountainous countries in Europe, certainly followed the trend and has long been known for its affection for traditional maroni.
Today, sweet chestnuts trees dominate hills of Southern Styria and neighboring Burgenland. They are also popular in other parts of Austria. In fact, the maroni tree was voted the tree of the year in 2018.
Benefits of Roasted Chestnuts
The Maronistands in Vienna use nuts from the sweet chestnut trees, not their bitter relatives. Interestingly enough, humble maroni are extremely versatile. While most of us know them as roasted chestnuts, they can be used in sweet and savory dishes.
Unlike other nuts, the roasted chestnuts have much more water and very little fat. No wonder, this satisfying, but lower in calories snack becomes an instant phenomenon on the streets of Vienna every year. The roasted chestnuts are also recommended to strengthen the nerves. Last but not least, they contain tryptophan, an amino acid responsible for formation of serotonin, so-called "happiness hormone".
At the same time, the chestnuts are a perishable food source. In Vienna, 2 out of 10 roasted chestnuts you buy at a Maronistand can be spoilt. Nothing to be alert about, tough. It's natural. Even Austrian food regulations allow for 20 percent spoilage rate when it comes to the roasted chestnuts at the Maronistands. Just be sure to check your maroni before eating them.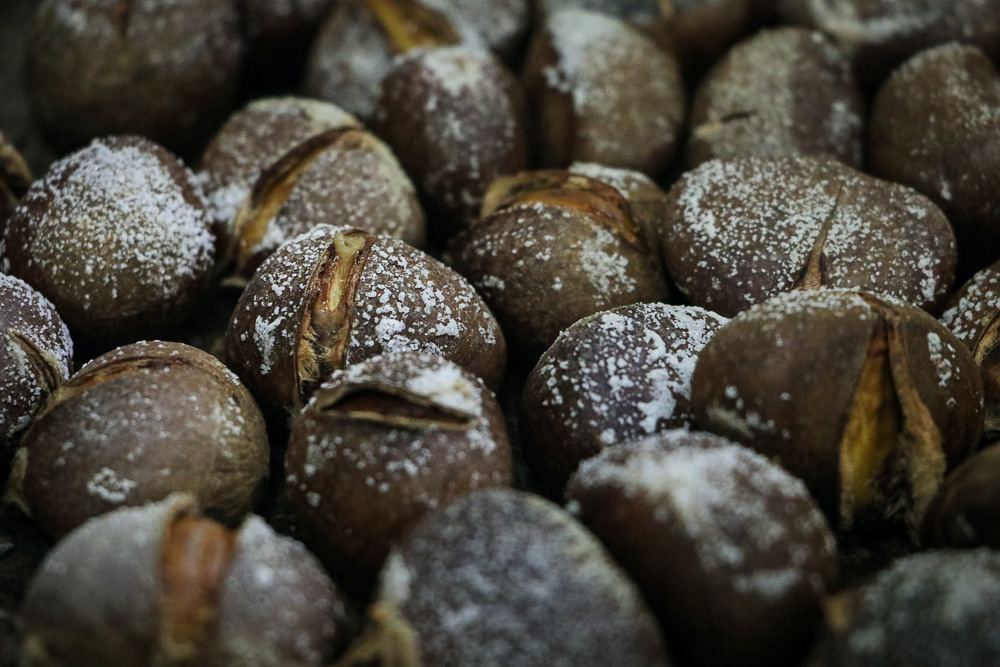 How to Make Roasted Chestnuts aka Vienna's Maroni at Home: Recipe
Making maroni at home is super easy. You literary need just two ingredient (raw chestnuts and salt for taste), a sharp knife, and a large drum or any pan for roasting. You need the knife to slightly open the chestnuts before putting them in the oven. Without this small cuts, your maroni can explode. Cleaning the oven afterward is certainly not the best part of any cooking.
Once you successfully complete the first step, your are halfway down the road of mastering the skill of making Vienna's signature maroni in your own kitchen. You can roast the chestnuts on open fire, in an oven (most popular), or in a toaster oven.
Let's make these roasted chestnuts at last.
Using the knife, score an "X" on both the flat and domed sides of the chestnuts.
Preheat the oven to 375 degrees F.
While the oven is heating up, put the cut chestnuts into a pot with warm water for approximately 5-10 minutes. Under the sturdy brown peel, the chestnuts have a layer of secondary, very bitter skin you want to soften. Soaking the nuts in the water does the trick and make it easier to peel off the skin after the chestnuts are ready.
Take the maroni out of water and spread them out on a baking tray with parchment paper. Place an ovenproof cup with water on the try with the chestnuts. This will keep the maroni from drying up while being roasted.
Put the tray with the chestnuts and the cup of water in the oven and let the nuts roast for 15 minutes. Then turn the chestnuts on the other side and roast for additional 10 minutes.
Let your roasted chestnuts cool down a little bit and peel off the skin. The thick layer comes out easier when maroni are warm.
Eat immediately. The roasted chestnuts taste better when they are right out of the oven. Yet this Vienna's street snack doesn't loose its taste after cooling down.
Want to experiment with more travel inspired dishes? Check out these recipes.