Irresistible day trips from Boise are abundant fun outdoor and indoor activities they offer are something to look forward while visiting Idaho.
Last updated: December 6, 2021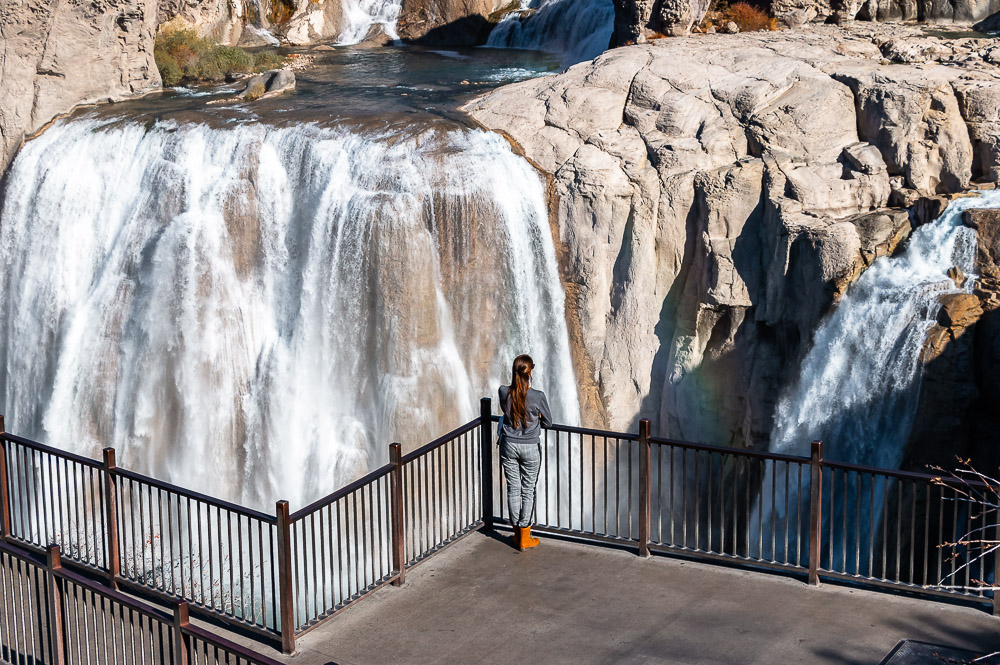 The Best Day Trips and Weekend Getaways from Boise
Boise is the largest and most popular city in Idaho. Dotted with majestic trees, it looks immaculate in summer when green colors prevail. In spring, Boise allures with gentle blooming flowers, instantly becoming one the sought-after day trips from the surrounding areas. Fall, on the other hand, paints the city in various bright shades that may decorate the area well into winter months.
Boise, or the City of Trees how it's locally known, has everything one ever needs for a memorable trip filled with cultural and historical treasures. At the same time, the capital of Idaho makes sure its outdoorsy visitors and locals don't feel left behinds. From hiking and biking the 25-mile Boise River Greenbelt to exploring the areas nearby, the city ensures the best nature-infused day trips both within and outside its limits.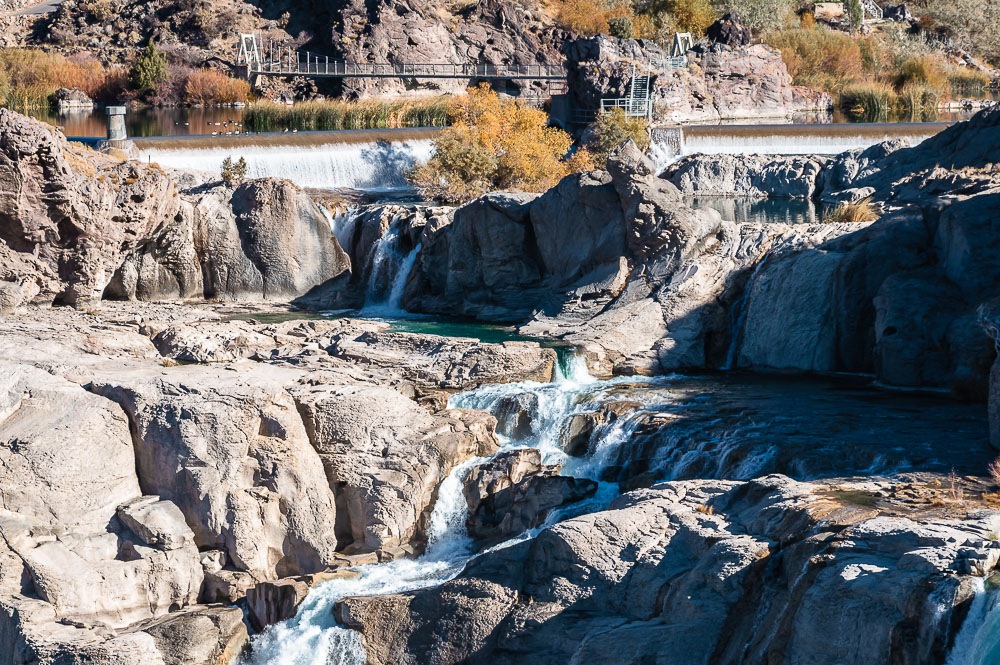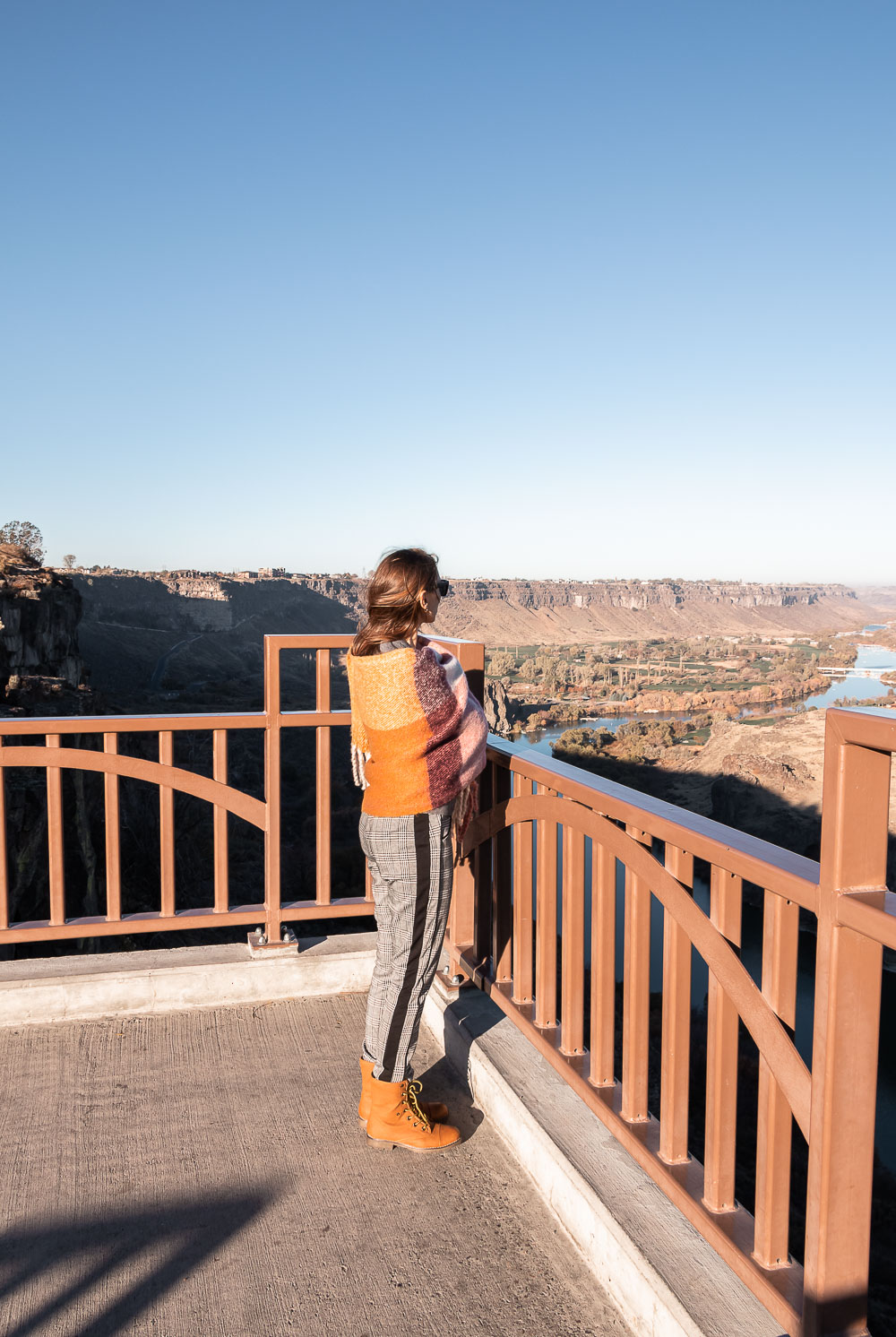 The Best of the Best: 12 Irresistible Day Trips from Boise, Idaho
The capital of Idaho has earned its reputation as one of the most entertaining cities in the state for a reason. Yet, from time to time you long for different kinds of activities and new views to feast your eyes on. Boise doesn't fail you even then, offering an array of the irresistible day trips and weekend getaways.
Before you know, your car is stocked with snacks, tank is full, and you are ready to hit the road. Boise may not occupy the central location of the state. This, however, doesn't interfere with its enticing surroundings and the number of the cultural and recreational day trips Boise is famous for. Without further ado, grant me the pleasure to present to you the top 12 day trips and weekend getaways from Boise.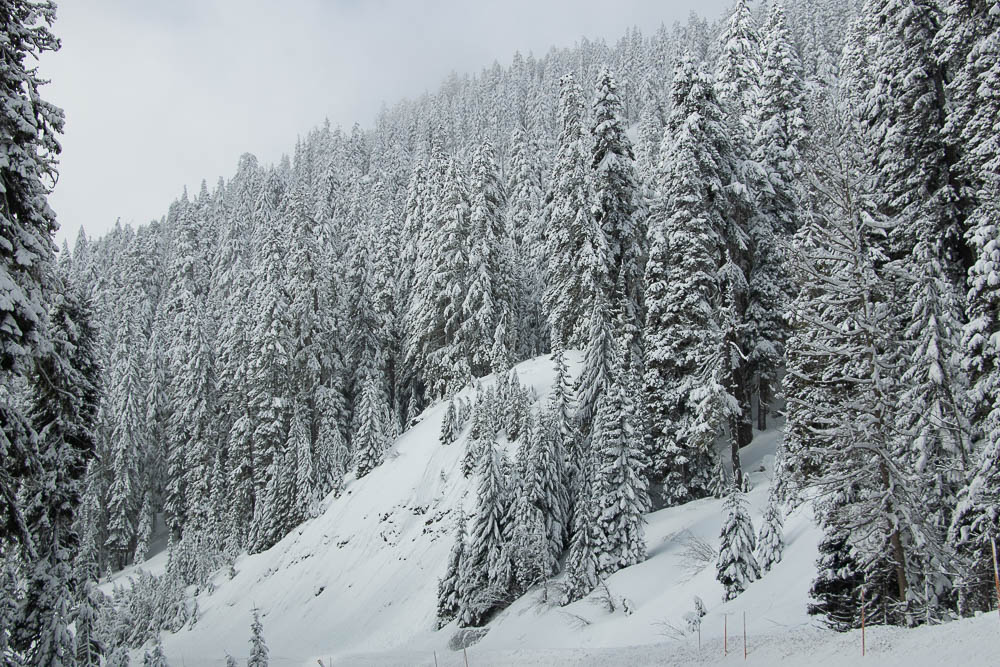 HERE ARE THE IRRESISTIBLE DAY TRIPS FROM BOISE, IDAHO
1. Bogus Basin
40 minutes from Boise, Idaho
While some day trips from Boise require a few hours of driving, others sit on the outskirts of the city. Bogus Basin might just be the right place to fit the latter category. The famous ski area is located in southwestern Idaho, just 16 miles from the capital. Brimmed with fun outdoor activities, the Bogus Basin Mountain Recreation Area is open all year round. Furthermore, it welcomes all kinds of visitors regardless of their age and activity level.
Winter Activities
While you automatically assume that Bogus Basin works only for the memorable day trips from Boise in winter, think twice. The snowy season undoubtably sees the majority of the visitors, eager to test their athleticism at Alpine skiing, snowboarding, winter tubing, and Nordic skiing.
The Tubing Hill, offering an 800-foot downhill thrill, is one of the popular destinations in Bogus Basin. Not requiring any specific skills other than enthusiasm and playful mood, it crowns any short day trips and weekend getaways from Boise.
Speaking about winter outdoor activities that don't make you look bad (not everybody can ski after all), the Glade Runner Mountain Coaster takes second place. Sliding downhill at high speed, screaming, and cheering your "travel" companions that share the same mountain coaster cart might be the most irresistible reason to escape Boise for a couple of fun-infused day trips.
Fall, Spring, and Summer Activities
The Idaho's only mountain coaster, however, doesn't cease its operations when the snow melts. The place as well as the entire resort keep connecting its visitors with nature at any season. Fall, spring, and summer bring back mountain biking, hiking, horseback riding, trampoline bungee, and climbing walls.
One of the most beautiful day trips from Boise at this time, the area offers over 20 miles of hiking trails. The most popular of them is the 7-mile Around the Mountain Loop.
While sliding down the snow-covered slopes should wait until winter, chairlift rides at Mountain Star delight with panoramic views of the Sawtooth Mountains, the Boise National Forest, and even downtown Boise. Clearly, the season is not an issue when you long for the relaxing day trips from Boise to explore the hills of Bogus Basin.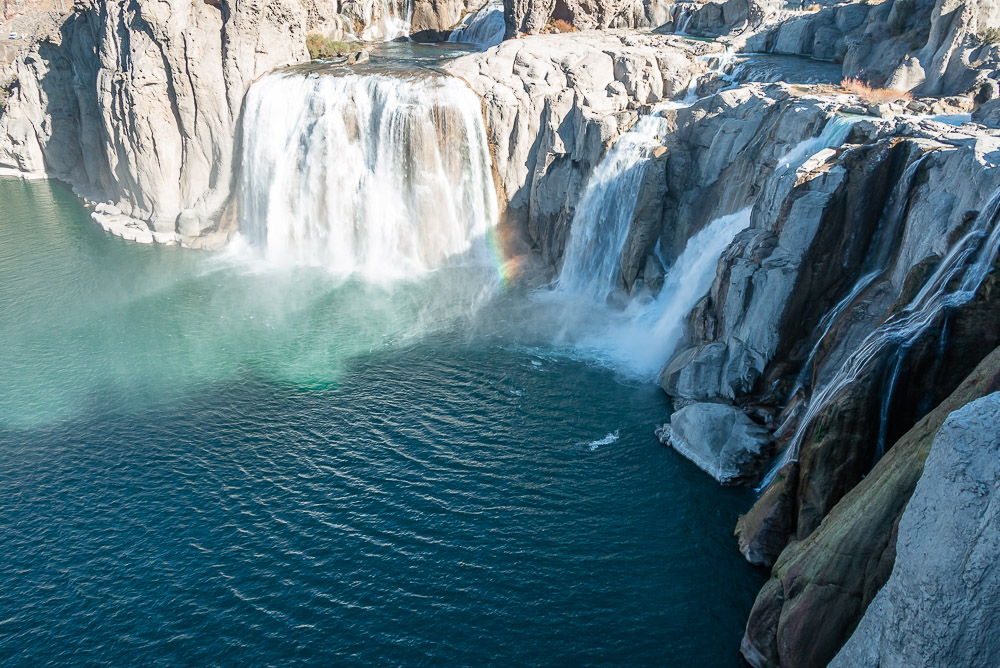 2. Day Trips from Boise: Shoshone Falls
2 hours 5 minutes from Boise, Idaho
Similarly, Shoshone Falls joins the rank of the irresistible day trips from Boise to go on all year round. One of the largest natural waterfalls sits near Twin Falls, a little bit over 2 hours from the capital of Idaho. With its forceful streams and rainbows in misty clouds just above the water, the place looks magical. A couple of viewing platforms bring the waterfall closer to you, enabling to gaze at this natural miracle for hours on end.
Interestingly, Shoshone Falls, which is ofter referred to as the "Niagara of the West" is even higher than the world-famous American-Canadian landmark. While you can leave Boise for a couple of the epic day trips to Shoshone Falls any time of the year, the waterfall is in its full glory in spring. The dam-controlled landmark gradually decreases its flows in fall and winter.
Swimming near Shoshone Falls is not allowed. This, however, doesn't mean that your day trips from Boise include only sightseeing. Centennial Waterfront Park in Twin Falls offers seasonal kayak rentals and, if needed, guided tours. With their help and equipment, Shoshone Falls is closer that you've ever thought.
READ MORE: How to Visit Shoshone Falls, Idaho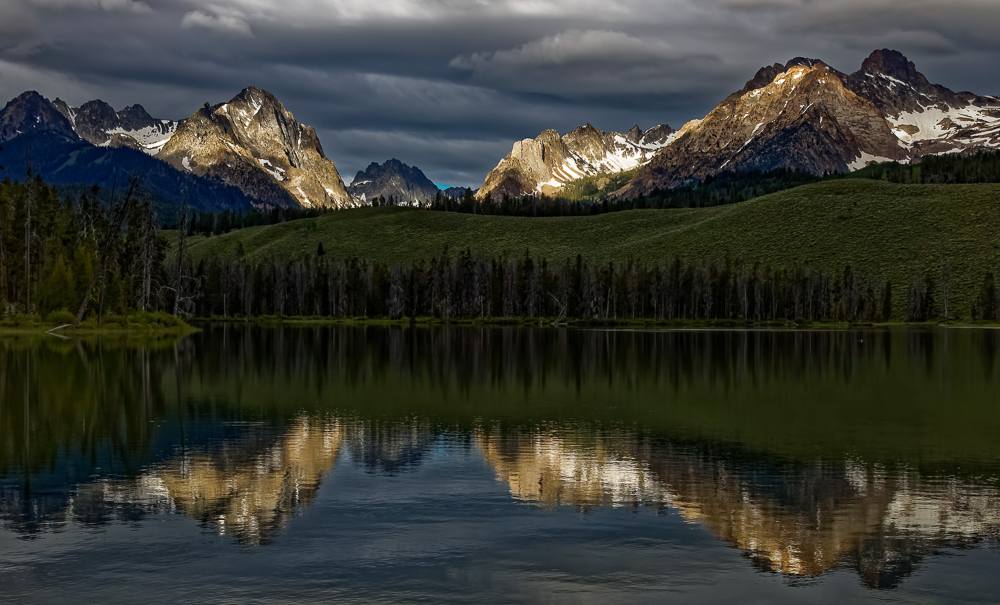 3. Sawtooth National Forest
3 hours 20 minutes from Boise, Idaho
Some day trips from Boise are longer than the others. With more than 3 hours of driving one way, the Sawtooth National Forest is a challenging excursion. But it's worth it to say the least.
The Sawtooth National Forest is known as one of the most beautiful places in Idaho. The vast area encompasses mountains, lakes, and glacier valleys, offering a plethora of exciting outdoor activities all year round. From camping to hiking, backpacking, fishing, boating, canoeing, and rafting, your day trips from Boise will be filled to the brim.
Deep snow covers the ground of the Sawtooth National Forest in winter, bringing such outdoor activities as downhill skiing, snowboarding, snowshoeing, and snowmobiling. Alpine wildflowers blanket high meadows in July and August, giving another reason to trade Boise for a couple of gorgeous day trips and weekend getaways in the wilderness.
Day Trips from Boise: Sawtooth Scenic Byway
Occupying more than 2 million acres of land, the Sawtooth National Forest, however, is not a place that you can explore in one day or even month. The Sawtooth Scenic Byway eases your task. Running for 115.7 miles from Shoshone to Stanley, it alone can become the highlight of any day trips from Boise to this remote area. The road winds around the immense area, swinging by such natural wonders as Black Magic Canyon and Redfish Lake.
4. Craters of the Moon National Monument and Preserve
3 hours 35 minutes from Boise, Idaho
Sitting more than 3 hours away from Boise, Craters of the Moon is certainly a day trip you want to start as early as possible. The moon-like terrain of the area, though, makes you quickly forget about the long hours in the car. Filled with lava fields, cinder cones, and underground lava tubes, the area transfers you onto a new planet.
Things to Do at Craters of the Moon
Spend a day, exploring these natural wonders, hiking uphill, and even peering into vents of tiny volcanoes. Some trails, such as the Devil's Orchard Nature Trail, accommodate wheelchairs and stroller, making your day trips from Boise easier to enjoy.
The majority of the tourists, however, prefer to explore multiple places this part of central Idaho has to offer by following the park's 7-mile Loop Road. The scenic drive starts near the Robert Limbert Visitor Center and takes you to the ample striking locations and cave trails.
Apart from the epic lava tubes and cinder beds, the Inferno Cone Trail enhances your day visit with a steep climb up the side of a cinder cone.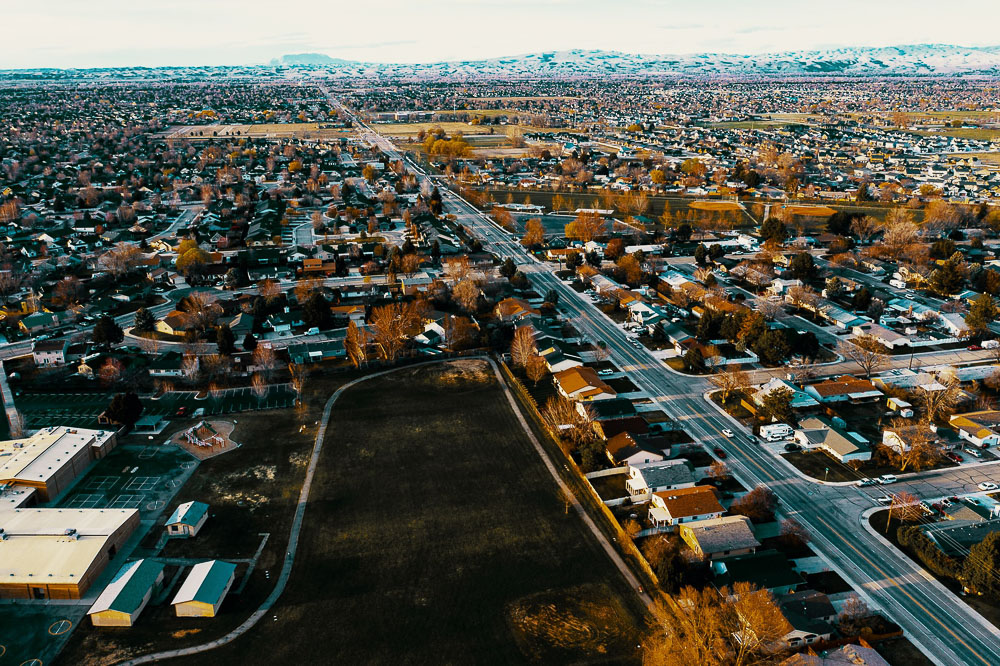 5. Day Trips from Boise: Meridian
20 minutes from Boise, Idaho
The best thing about planning your day trips from Boise is that you can choose how far you want to drive. While the natural monuments take your breath away and instill awe in each and every of its visitor, small towns near the capital of Idaho are as irresistible as those wondrous heavyweights. Meridian, located only 20 minutes from Boise, proves it.
Not particularly tiny as you would think, it's known as the biggest small town. In fact, Meridian makes people talk about it as one of the fastest-growing city in the country. This means one thing: an abundance of attractions and entertainment for its guests and locals.
Things to Do in Meridian
The first place to explore in Meridian is Roaring Springs. The largest waterpark in southwest Idaho, it enhances your visit with ample waterslides and lazy river rafting.
The Village charms with its narrow cobblestone streets lined with trees, irresistible shops, restaurants, and a cinema. Located in the center of the city, the place reminds you of rural Europe rather than Idaho's rugged region.
The European vibe prevails not only in the area, but also in the names of Meridian's attractions. So Kleiner Park may mean "small" in German. In Idaho's Meridian, it's synonymous with concerts at an outdoor amphitheater on warm summer Thursday nights. Divine smell from food trucks nearby further approves your choice of Meridian as one of the most ravishing day trips from Boise.
The summer nights also allure with classic auto racing at Meridian Speedway. For an easy day trip from Boise, there is nothing better than exploring mid-century bungalows and old brick storefronts in downtown Meridian.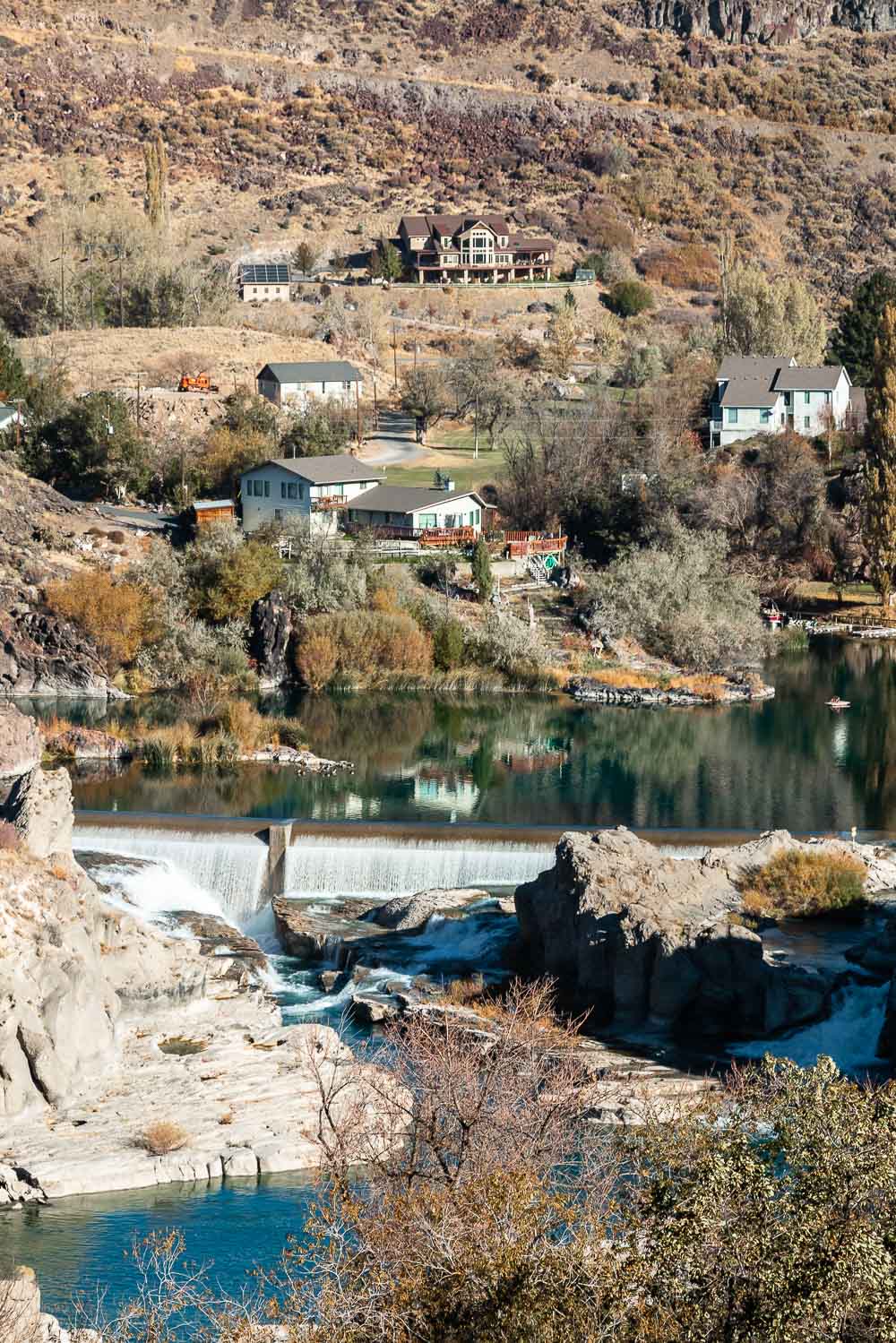 6. Day Trips from Boise: Twin Falls
2 hours from Boise, Idaho
Home to Shoshone Falls, Twin Falls deserves a couple of separate day trips from Boise. Similar to Meridian, the city doesn't impress with its size. The number of things to do and see in the area, however, exceed your expectations.
The highlights of the city are the stupendous Snake River Canyon and the epic Perrine Memorial Bridge. In fact, one can't exist without another, at least when it comes to the thrilling outdoor adventures. Whether you long for jumping with a parachute or zipping the Snake River, these two landmarks work harmoniously to ensure the best experience in the town.
Water activities also await daring daytrippers from Boise. From kayaking to stand-up paddleboarding, Twin Falls offers great opportunities to explore greenish waters of the Snake River and even paddle all the way to Shoshone Fall.
READ MORE: Twin Falls Travel Guide and Top Things to Do in Twin Falls, Idaho
7. Day Trips from Boise: Idaho City
56 minutes from Boise, Idaho
Idaho City is one the most irresistible weekend getaways and day trips from Boise for history buffs. This tiny city with population of less than 500 preserves the legacy of the Gold Rush era in Idaho like no other cities.
Founded in 1862, Idaho City was once the most populated city in the entire Pacific Northwest. Yet when the gold dried up, the city also almost died. Today, it's a solemn reminder of the bygone days. The town's old structures still evidence of the bustling city, Idaho City used to be.
Things to Do in Idaho City, Idaho
The best way to spend your day trips away from the hustle and bustle of Boise here is by strolling around the city and letting the street of Idaho City unveil their history and secrets. Cherishing its old structures, the city allows modern buildings find their residency on the centuries-old streets.
The Boise Basin Museum goes into details of the area's history, explaining how the Idaho Gold Rush influenced the the city life.
No day trips from Boise to Idaho City go by without shopping for local craft and artistry on Main Street. Dotted with authentic local shops, it's the best place to hunt for unique furniture, jewelry, and all things antique.
The Idaho City Historical Area may be inferior to the lavish culinary scene of Boise, but it takes pride in enhancing your day trips with local delicacies. Trudy's Kitchen and Diamond Lil's Steakhouse and Saloon are just a few places to stop at when hunger forces you to take a break from shopping and sightseeing.
Day Trips from Boise: Charcoal Gulch Trail
The Charcoal Gulch Trail takes you outside Idaho City, introducing to the surrounding area and allowing to stretch your legs. Moreover, the number of outdoor activities here grows simultaneously with the day trips you take from Boise. While hiking, horseback riding, and mountain biking keep the visitors busy in the warmer months, winter entertains with ample opportunities for skiing, snowmobiling, and snowshoeing.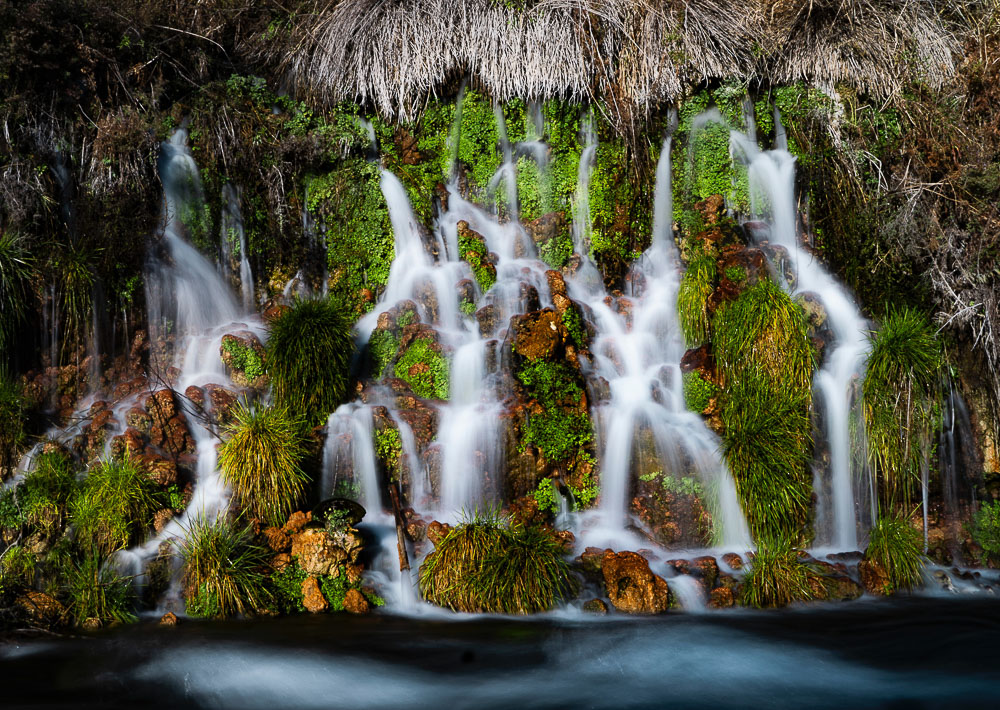 8. Thousand Springs State Park
1 hour 30 minutes from Boise, Idaho
If you are after the most beautiful and diverse day trips from the city of Boise, don't look any further than Thousand Springs State Park. Nestled in the jaw-dropping Magic Valley, the place promises panoramic views, hikes for all levels, horseback riding, rafting, and fishing.
The park consists of 7 units located a short drive from each other. Each of these sections offers a myriad of the unforgettable day trips one might need to escape the noisy streets of Boise.
Things to Do in Thousand Springs State Park
Hikers often look for solitude along the Kelton Trail. Malad Gorge allures mostly the outdoor adventurers, including the residents of Boise, that prefer relaxing day trips with plenty of easy hikes and scenic views. Fishing endeavors await the travelers at Crystal Springs while historical structures at Ritter Island promise memorable day journeys for history buffs.
Regardless of the interests that drive people to this region of Idaho, Niagara Springs State Park pleases everyone. Home to the stunning Snake River Canyon, this area enhances your weekend getaways and short day trips with the spectacular views of streams running down the canyon wall that, in their turn, can be the biggest reason to escape Boise for a short while.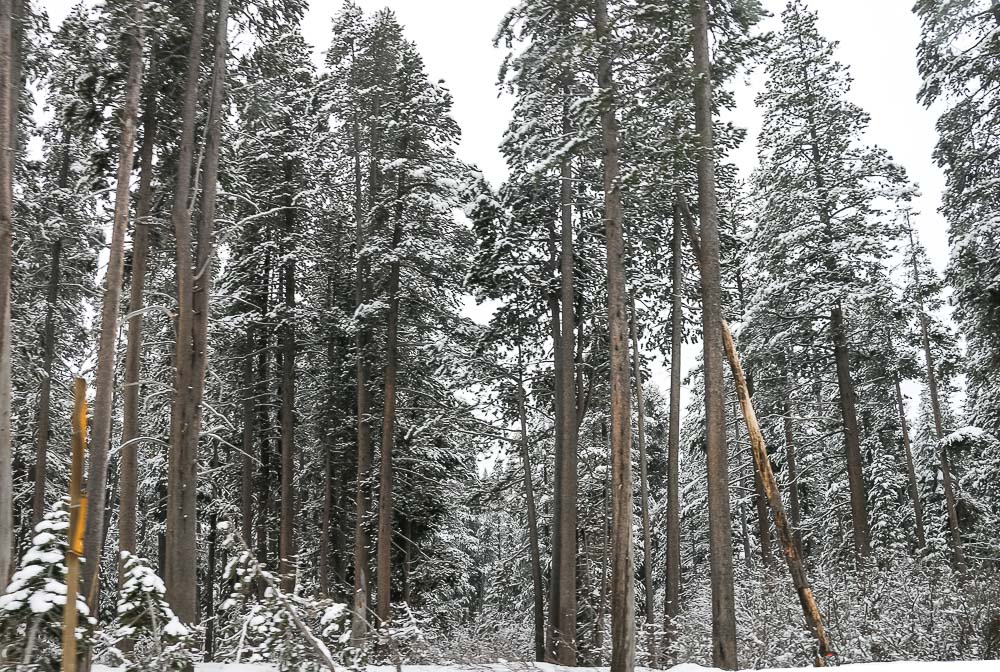 9. Boise National Forest
From 1 to 2 hours 40 minutes from Boise, Idaho
Similar to the Sawtooth National Forest, the Boise National Forest takes care of all sorts of dreamy day trips. From hiking along the Stack Rock and Blue Lake Trails to enjoying rustic cabins scattered around the forested hills, the place keeps its visitors busy. Kayaking and rafting on the Payette River also falls into the category of the most popular activities in the region.
If adrenaline rush and gorgeous views aren't enough to persuade you to spend a day or two in the Boise National Forest, then a short drive to Shafer Butte, about one hour from the capital of Idaho, surely makes this trip possible. Shafer Butte allures all mountain enthusiasts. Offering plentiful opportunities for downhill and cross-country skiing in winter and hiking during all other season, it's one of the most popular day trips from Boise all year round.
For wildlife viewing, head to Elk Creek in Bear Valley. Stolle Meadows festoon your day trips from Boise with spring wildflowers and birdwatching.
Last but not least, the Boise National Forest pampers you with its natural hot springs. Whether you escape Boise for a day or plan a multiple two-day trips to the area, be sure to stop at Kirkham Hot Spring. Located 1 hour 45 minutes from the capital of Idaho, it astounds with several natural pools and small waterfalls at the bottom of wooden stairs.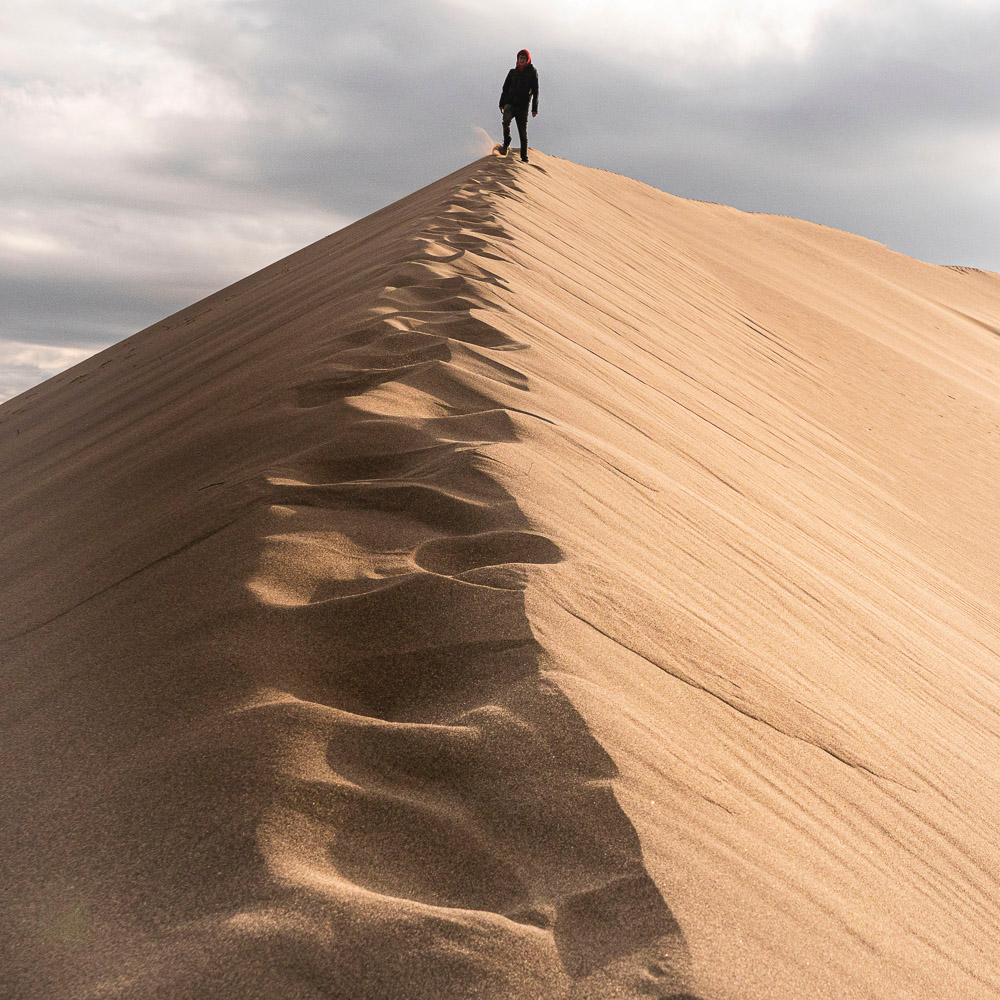 10. Bruneau Dunes State Park
1 hour 10 minutes from Boise, Idaho
Bruneau Dunes State Park allows you to leave Boise for a few day trips in a desert. Known for the longest camping seasons in Idaho, the place provides camping opportunities all year long. The majority of the campgrounds work on a first-come, first-served basis. Reserving campsites and cabins in advance is also possible.
The opportunity to connect with nature during any season is a sound motive to plan your day trips and weekend escapes from Boise. The biggest draw here, however, is sand dunes themselves.
Rising up to 470 feet above the desert floor, the place has gained the fame as the tallest single-structured sand dune in North America. Towering over the area, this natural attraction often inspires spontaneous day trips from Boise and other surrounding areas. Climbing the sand mountain certainly makes these excursions special and irresistible.
Apart from its signature sand dune, the park includes a prairie, a lake, and marsh habitat where you can hike, fish, and even swim.
11. Day Trips from Boise: Nampa
25 minutes from Boise, Idaho
Nampa is another easy day trip from Boise. One of the Idaho's most populous cities, it sits just 20 miles west of the capital along Interstate 84. Known as a cultural and historical hub, Nampa presents great sightseeing, dining, and shopping opportunities.
As the distance between these two cities is so short, you can start your excursions any time of the day. Even a late afternoon arrival still gives you enough time to explore antique shops in Nampa's downtown and learn about the history of American veterans' at the Warhawk Air Museum.
The history buffs frequently leave Boise for history-enhanced day trips at the Nampa Train Depot Museum. Originally opened in September of 1903, it's been home to the Original Canyon County Historical Society since 1976.
Village Square charms with its antique shops. Village Antique that hosts about 25 local vendors in a two-story building is the most popular store here.
Day Trips from Boise: Lake Lowell
Similar to the green parks of Boise, Nampa promises an array of unforgettable day trips for its outdoorsy visitors. The best place to start with is Lake Lowell. This 14.5-square mile reservoir sits within the Deer Flat National Wildlife Refuge, 5 miles southwest of Nampa.
Motorized water sports, fishing, and wildlife viewings occupy the area's guests all day long. In April, Lake Lowell becomes the prime destination for runners from the surrounding areas. Hosting the annual Lake Lowell Marathon, Half Marathon, 10K, and 5K races, it gives an extra reason to plan for some sporty day trips from Boise.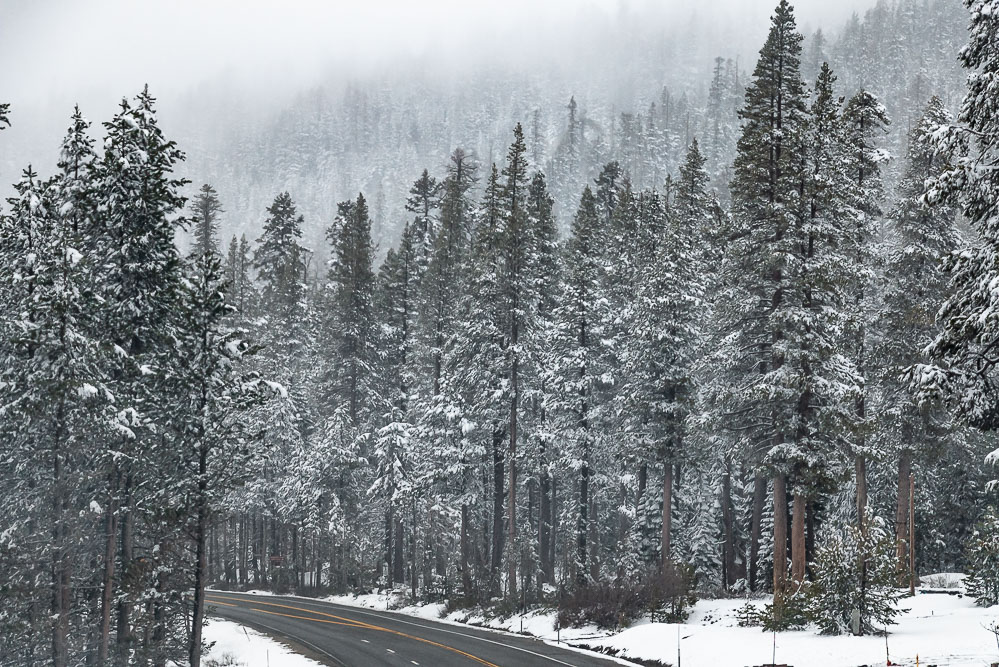 12. Day Trips from Boise: McCall
2 hours 20 minutes from Boise, Idaho
If soaking in mineral pools is your ideal pastime during the relaxing day adventures from Boise, then McCall is the place for you. Home to several hot springs, the area allures the visitors all year round.
The most popular pools here are Gold Fork Hot Springs. The place nestles about 30 miles south of McCall and pampers the daytrippers with 6 mineral pools. Temperatures of the hot springs range between 85 and 110 degrees, ensuring that you never feel cold even when it's freezing outside.
For the active day trips from Boise, explore the slopes of Brundage Mountain Idaho Ski Resort or hike in Ponderosa State Park. Payette Lake also engages the McCall's visitors in Idaho's favorite outdoor pursuits such as kayaking or swimming. On top of that, in summer, the lake entertains its guests with sunset cruises with life musician on specific days.
The colder months ignite McCall's passion for winter activities, making it one the favorite day trips and weekend escapes from Boise for snowmobiling, Alpine, Nordic, and backcountry skiing.
Read More
---
If you found this post useful, don't forget to pin it for later and share it with your friends.