Every spring, I can't wait to visit flower fields. Yet, as I learned a few years ago, you need to plan ahead and do your research prior to a trip to the vibrant flower fields.
Last updated: February 25, 2021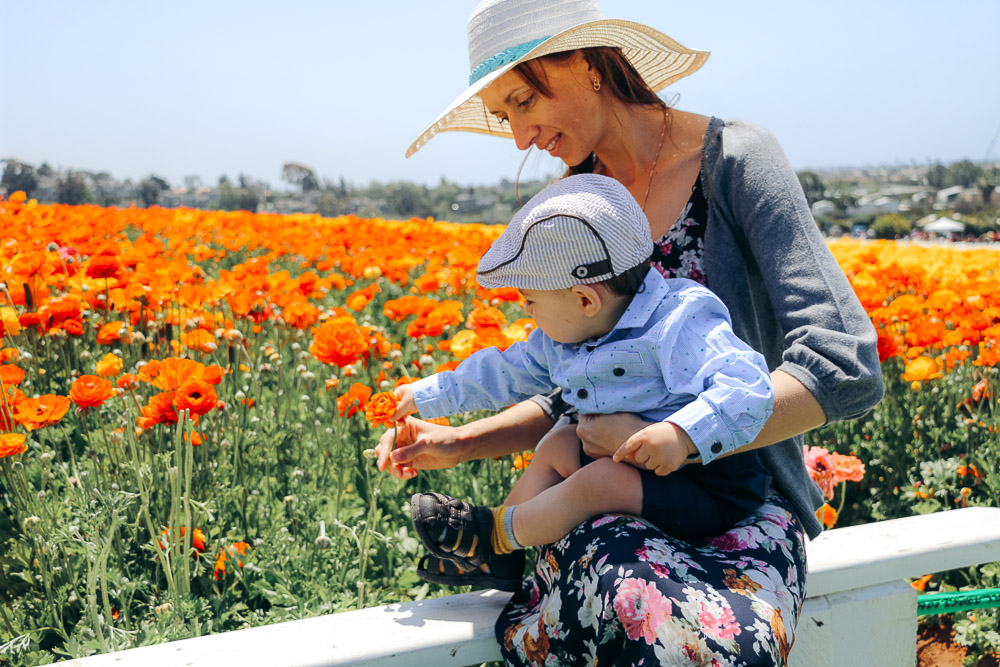 Everything You Need to Know Before a Visit to Flower Fields
The majority of people agree that nothing can beat spring. Commonly described as the time of rebirth and renewal, this season awakens every inch of earth. It gives permission to countless flowers and plants to push through dark soil they were trapped in in winter and reach to blue sky and warm sun. Before you realize, the lush greenery, invigorated by abundant spring rains, covers hills and valleys. Trees dress up in full blossom and bountiful floral veils envelop meadows and mountainsides. The flowers! It means it's time to visit abundant flower fields again.
I'm probably the biggest and the worst flower enthusiast. Some years, all I want to do is to visit all flower fields near Los Angeles. Come next spring, and I'm completely indifferent to the bloom and floral carpets adorning the hills. But despite my unstable interests, I've learned one thing: you ought to plan your visit to the flower fields ahead. To help you start off on this journey, I've compiled the list of things one must know before visiting the flower fields.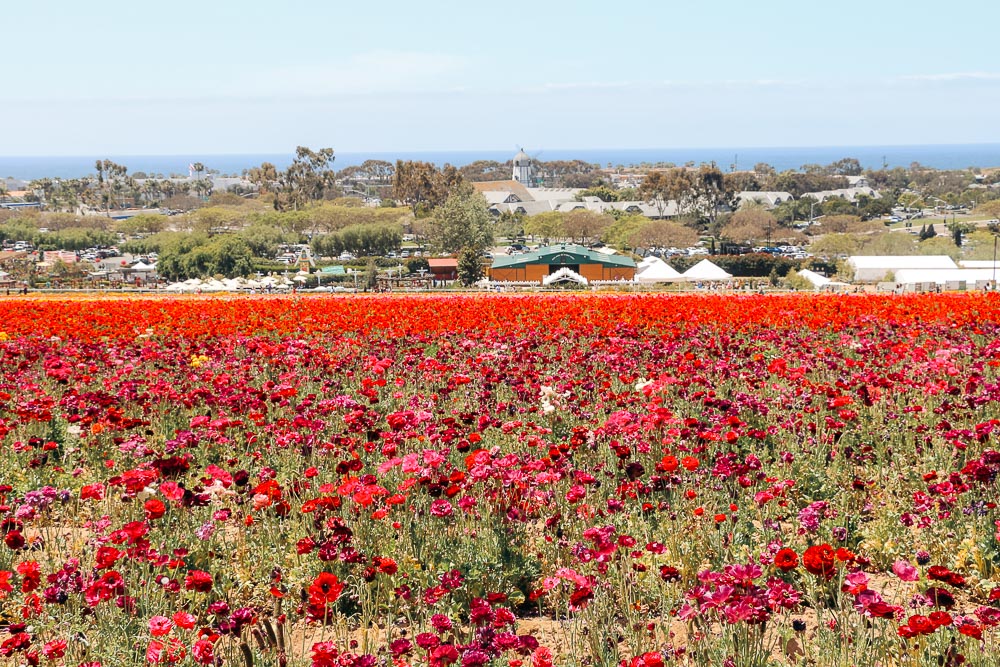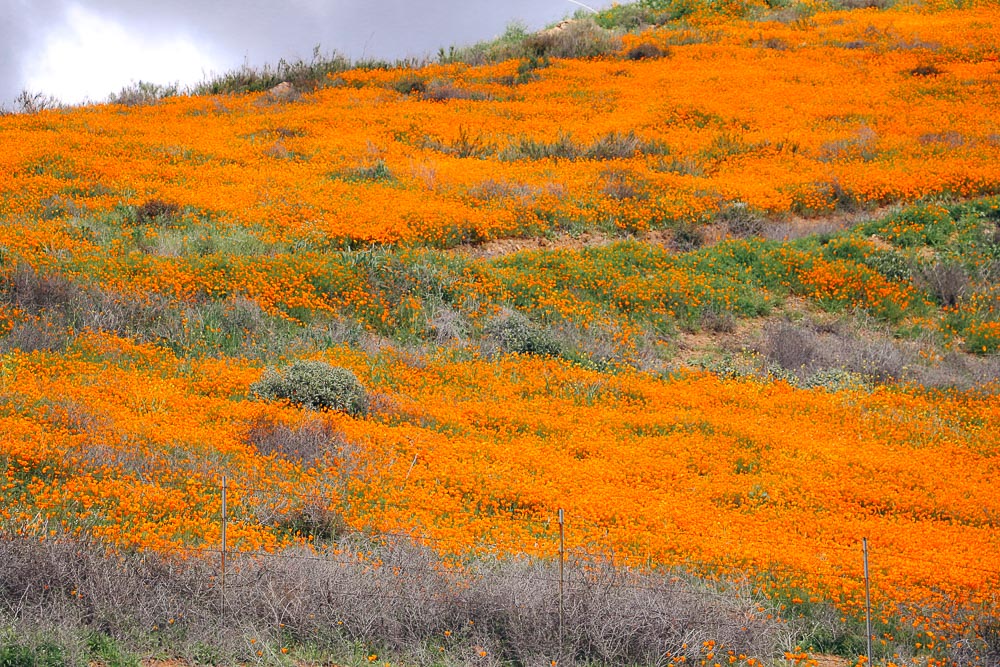 HERE'RE ALL TIPS AND TRICKS TO KNOW BEFORE YOU VISIT FLOWER FIELDS:
Visit Flower Fields: General Tips
Timing is Everything
The most important factor to consider when planning your visit to the flower fields is timing. Can you imagine driving for hours and hours just to get to your destination and face harsh reality… The flower fields are closed until next season, which in most cases happens only next year? Oops, what an inconvenience…
In order to avoid such unpleasant situations, do your homework before your visit and thoroughly research the exact time when the flowers bloom. The majority of the flower fields have their own websites that get updated at least once a week. You can also find all kinds of information here such as time of the bloom, list and description of the flowers, visitors' rules and guidelines.
Keeping in step with visual world we live in, some websites provide their visitors with the latest photo updates that display current situations at the flower fields. Spending a few minutes searching the Internet saves you time and ultimately makes or breaks your visit to the flower fields.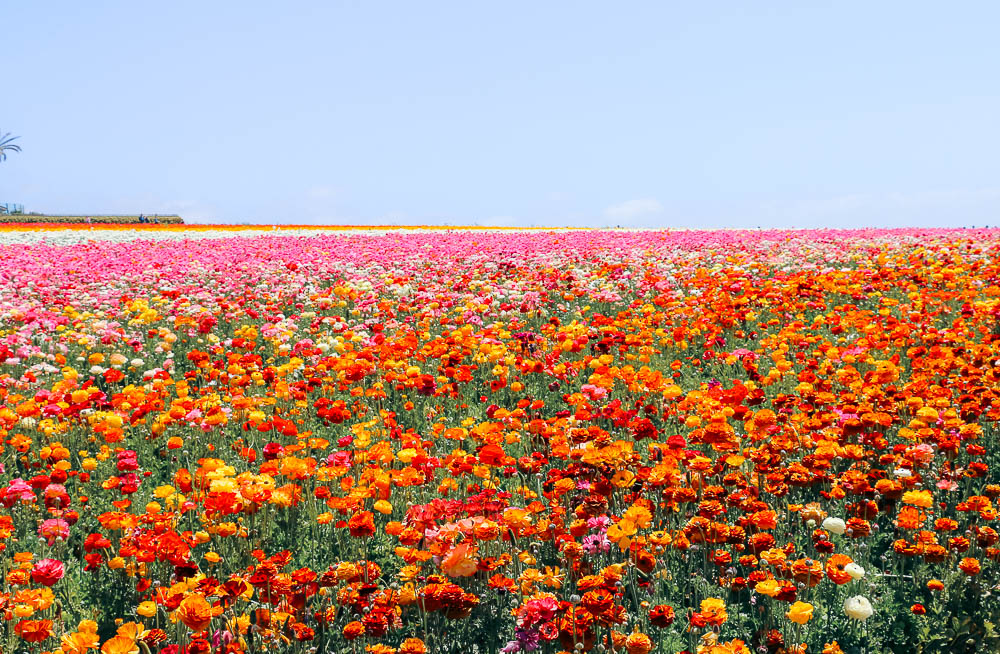 Alternatives, Alternatives, Alternatives…
Dreaming of your next visit to the flower fields, you do your homework and diligently jot down the time when the flowers are in peak bloom. Now you must be really excited about your upcoming trip to the fields. But like it happens more often than you can expect, life, or better to say weather, gets in and interrupts your plans. Too much or not enough rain, late winter, lack of sunshine are just some of the obstacles that can interfere with your visit to the flower fields. Thus, always have an alternative plan! I learned it hard way.
We'd planned to visit the flower fields in Antelope Valley, California, for a while. For some reasons, it'd never happened. Two years ago, we were determined to finally see those blooming poppies. According to official website, the Reserve didn't expect super bloom that transforms barren hills of southern California into an orange "ocean" that year.
Yet, scarce updated about small patches of the bloom gave us hope and reason to visit the flower fields. So, we went to the Antelope Valley California Poppy Reserve not once, but twice. There was no trace of the California poppies blooming…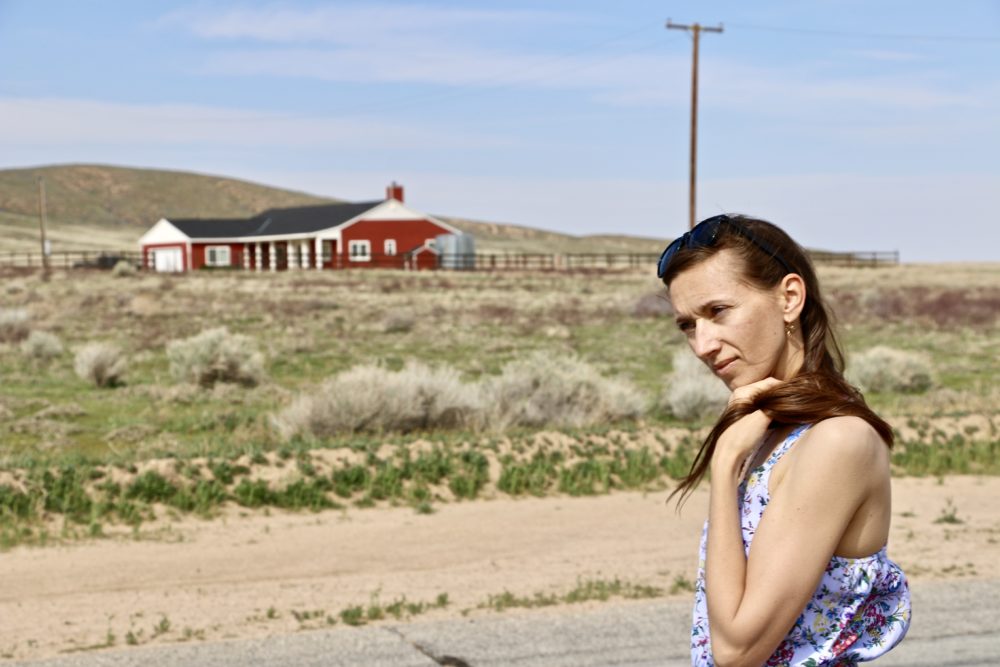 The Flower Fields at Carlsbad Ranch
After bidding farewell to our initial disappointment, we found another flower field to visit that season. Indeed, the Flower Fields at Carlsbad Ranch are not easy to say no to. Like gigantic rainbows, the dazzling fields please their visitors with an abundance of mesmerizing flowers arranged by colors.
With no formal separation marks, the flowers themselves show where one fields end and another begins. A few rows of white Tecolote Giant ranunculus proudly neighbor their pink relatives. Several minutes later, you find yourself standing in front of a new, this time yellow flower field. This floral segmentation continues for nearly 50 acres, never letting your visit to the flower fields get predictable or boring.

Get Bloom Update on Social Media
After the official website of your desired flower fields, social media is the second popular tool to get regular bloom updates. Nowadays, millions of people constantly post their latest pictures on Instagram, Facebook, Pinterest, etc. By using specific hashtags such as #flowerfields or #antelopevalley, you can find plenty of recent photos of the place. So, never underestimate the true power of social media when planning your visit to the flower fields.
Yet, as useful as it can be, this type of information might not be completely accurate as some social media users post old photos, taken a year or a few years ago.

Explore Along the Way
Before your visit any flower fields, check if there're other interesting places nearby you can explore along the way. If by any chance your initial trip doesn't go as planned, you should always have plan B. Switching your priorities and finding new destinations to explore works like magic and helps you shed disappointments quicker.
So, on our way back home after our last failed visit to the flower fields at the Antelope Valley California Poppy Reserve, a place full of unique rock formations grabbed our attention. It seemed like heavy disks were placed on top of each other to form irregular boulders.
This place, as we learned as soon as we park in a parking lot nearby, was Vasquez Rocks Natural Area Park, known for its many hiking, picnicking, and equestrian activities. Another accidental discovery on that trip was Musical Road, one of only three similar attractions existing in the world.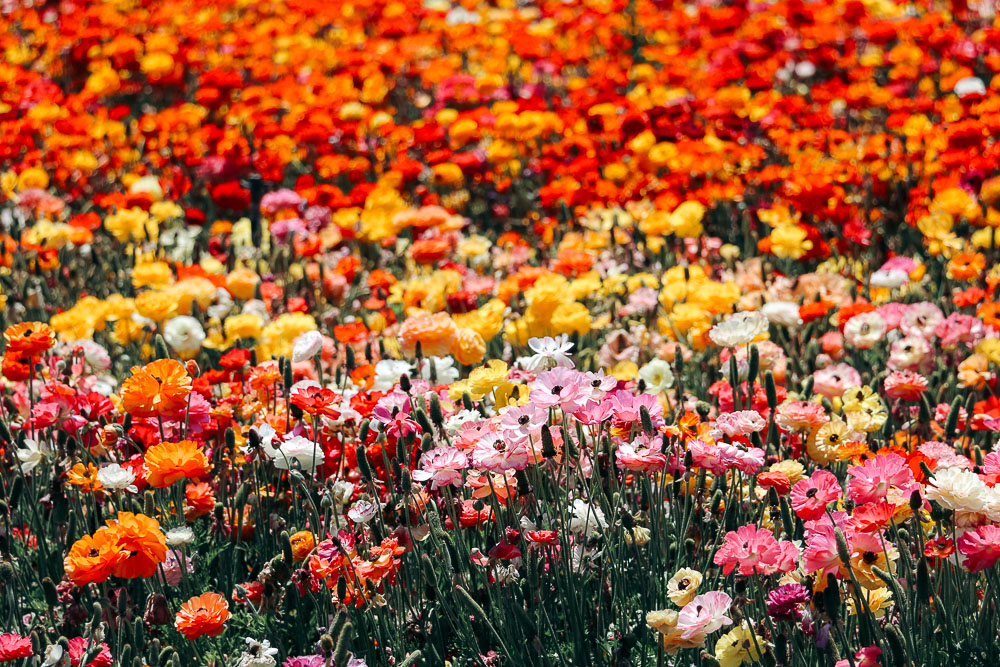 Visit Flower Fields: Etiquette
Stay on Official Trails
The flower fields are tempting to say the least. Spreading for miles on end, these blooming blankets change their colors and saturation throughout the day. No wonder, every time you visit the mesmerizing flower fields, you long for diving into this floral paradise. Yet, you should restrain from these acts. Whether you enjoy commercial flower plantations or stare in awe at wildflowers, walking into the fields is equivalent to destroying the precious blooms. Therefore, this thought should never cross your mind.
But what about those people who post pictures of themselves sitting or lying among the wildflowers, you'd ask? Photos might be quite deceptive. At this point, no one would argue that the photography can completely change the reality.
If you follow your favorite influencers and wonder how they can do it, read their captions first. In most cases, no a single flower suffers during those photoshoots. The models normally stay on the official trails while the photographers and later editing software do their tricks.
Yet, not all flower lovers have compassion for the bloom. Many people still visit the flower fields, unceremoniously walking inside the densest patches, and creating their "art". This selfish behavior not only destroys the flowers, but can also "reward" these "artists" with a fine. Some parks and reserves don't allow walking off the official trails. The violators, if caught, must pay a fine.
Visitors of the commercial flower fields should follow the same guidelines and stay only in designated areas. Entry onto private property is prohibited unless otherwise is stated by their owners.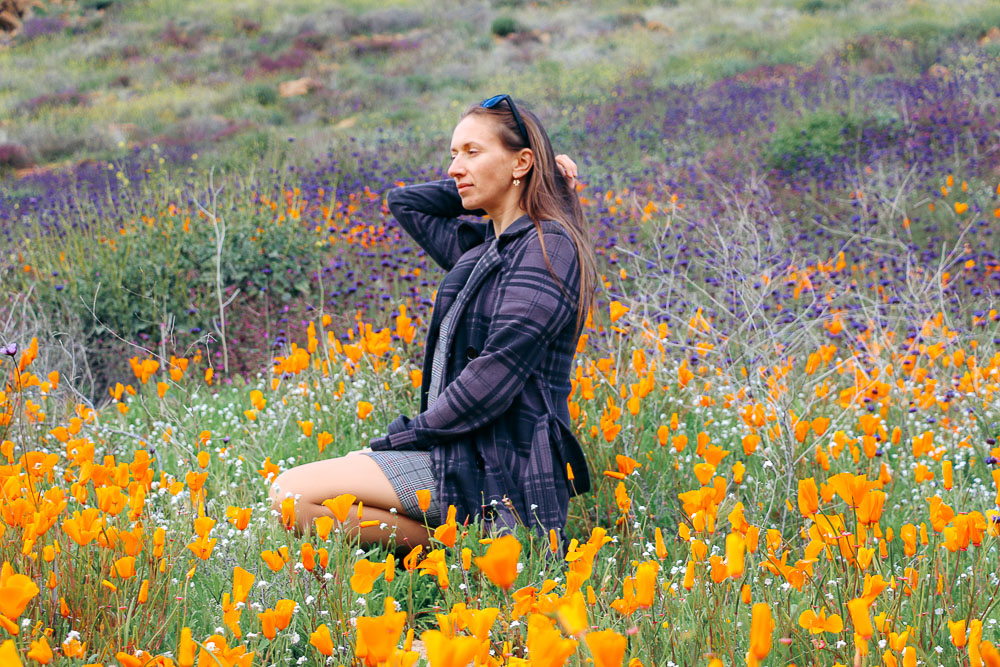 Don't Pick Flowers
Visit the flower fields, pick precious moments, and create memories that will last at least until the next spring. Do not pick the flowers, period! You might think that it's just one vibrant plant. In reality, if every visitor of the flower fields does the same, there would be no flowers to enjoy for those who wait until the peak bloom.
The main reason to restrain from picking the flowers, however, lies in root system. By pulling out the blooms, you can destroy it. Once the roots are impaired, they can lead to the death of the whole flower family. No rain or sun can revive the meadow. Next time you want to visit the same flower fields, all you might find is just the barren land. That's why it's important to feast your eyes on the bloom and keep your hands in your pockets.
If you absolutely must have that bouquet, visit the commercial flower fields and buy fresh flowers there. Make sure to explore the blooming plantations first, though. The views they offer are too good to avoid.
Don't Bring Dogs
This guideline applies first of all to a visit to the commercial flower fields. Dogs can be untamed especially when they spot a butterfly or a bee and try to catch the insects at all costs. No pretty flowers can stand in their ways, and the results of such a hunt can be quite distressful. Yet, while the majority of the farms insists on not bringing the dogs along, others allow you to visit their flower fields with your pets on leash.
Many parks and reserves follow the same path. The dogs are not welcomed in some areas while others let you enjoy the company of your pets. Any dog must be on leash, though. For example, the Antelope Valley California Poppy Reserve states it clearly that the dogs are not allowed in the meadows. So, be sure to check the official websites of the places which flower fields you want to visit for any other instructions.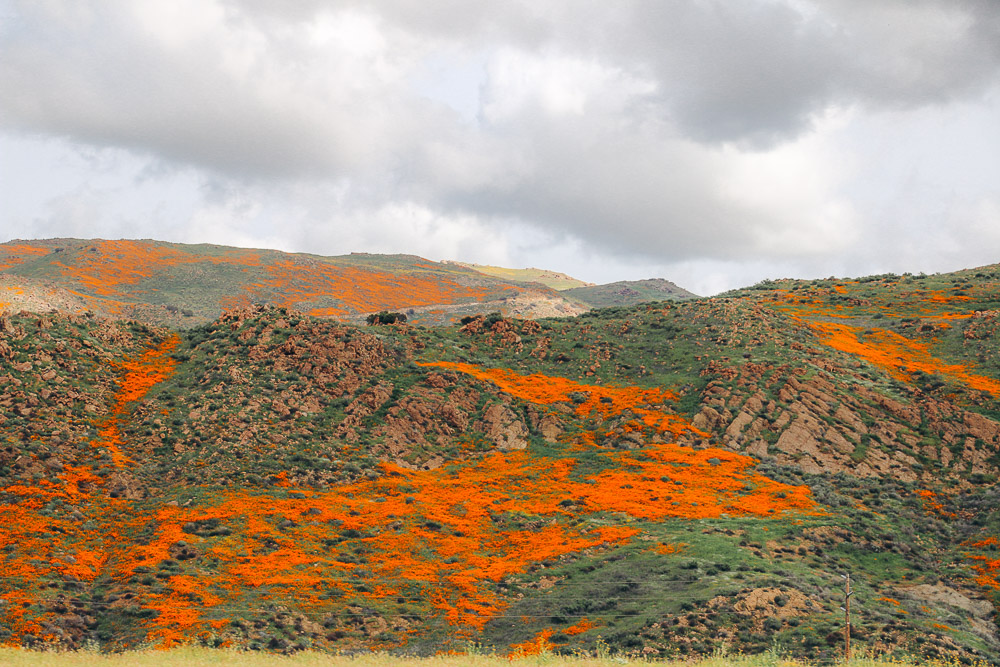 Visit Flower Fields: Safety Tips
Beware of Rattlesnakes in the Flower Fields
Rattlesnakes are common in the flower fields. But unlike the human visitors, they don't get attracted to the bloom at the beginning of spring. The rattlesnakes live in those secluded area throughout the year.
So, be mindful of wildlife when you visit the flower fields. No walking off the designated areas, no trying to move the snake with a stick if you happen to spot one. Remember, you are a guest here. Rattlesnake bites happen, luckily not that often. Do your due diligence to avoid these incidents during your visit to the flower fields.
Be Prepared for Strong Winds
Wicked strong winds can often spoil your visit to the flower fields in early spring. Situation is obviously different when you find a lush meadow with blooming wildflowers in a forest. In the latter case, the trees serve as natural protectors that trap any winds before they get to you.
When you visit the wildflowers in a desert or valley, the natural forces usually reign here without any restrains. The open areas as well as spring weather (it's not summer yet, after all) can be rather cold. Bringing a few layers to keep yourself warm is recommended if you decide to visit the flower fields at this time.
Tips for Photographing Flower Fields
Don't Miss Seasonal Bloom
For many, a visit to the flower fields is an opportunity to capture natural vibrant colors reviving the area for miles on end. Keeping their heads open almost all day long, the vibrant flowers put the deserts and sidehills on fire. The bloom festoons every inch of the land with the brightest rainbow shades.
Photographing the flower fields is certainly rewarding and is on demand every spring. Yet, again, the flowering is a season attraction and, sadly, short-lived. You might want to visit the same flower fields a few times to capture the bloom at different phases.
Shoot at Sunrise or Sunset
Visit the flower fields at sunrise or sunset to make your photography stand out. Gentle sun rays add golden glow to your images, highlighting the natural hues. At this time, the sun is low enough to eliminate harsh shadows that are often inevitable when shooting in the afternoon. Moreover, a morning visit to the flower fields promises fewer crowds, enabling you to take a myriad of gorgeous pictures at different perspectives. More people, however, flock to the fields at sunsets.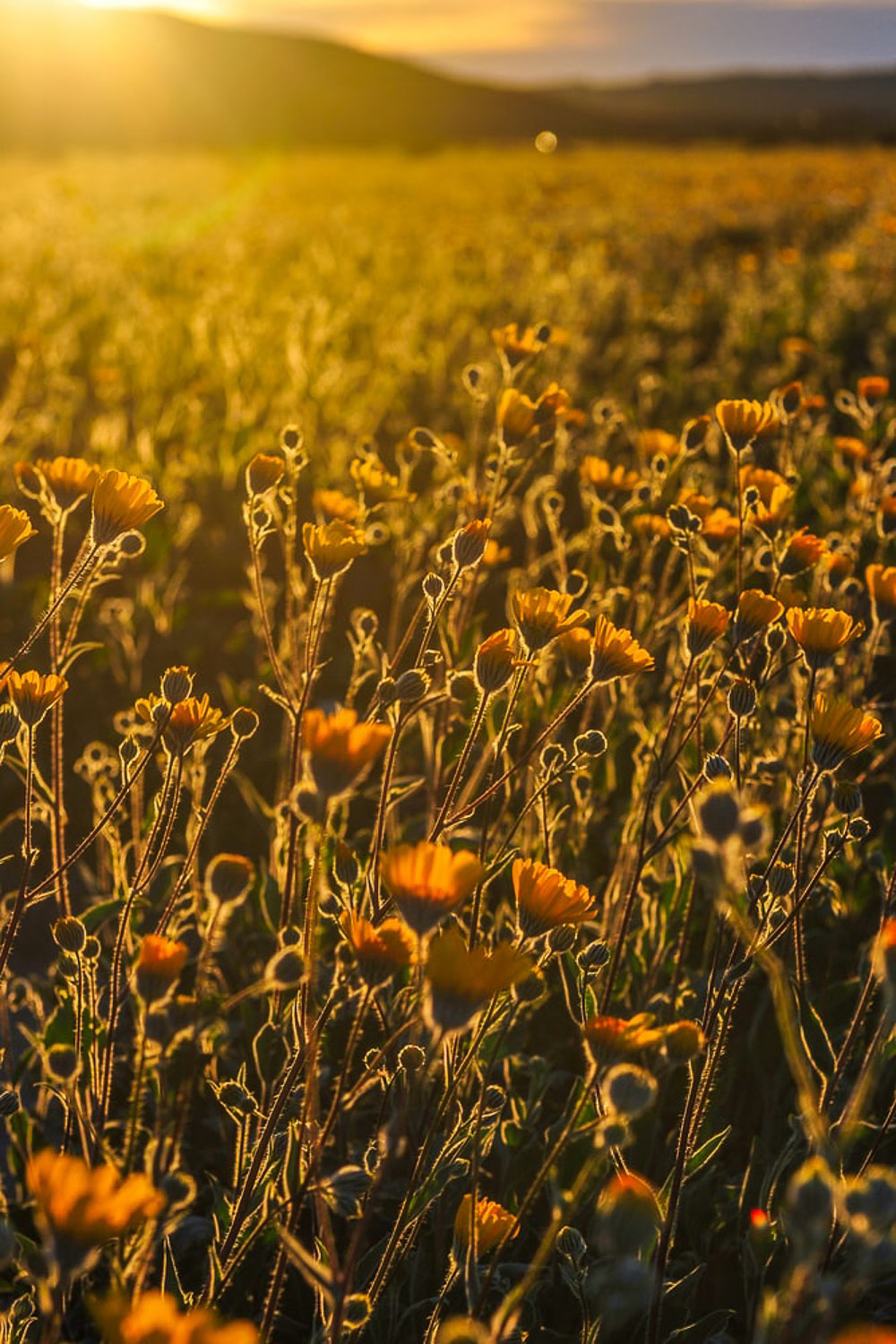 Drone Photography
Drone photography has its nuances. Some places prohibit flying drones into the flower fields. I can't stress enough how important is to check the site's regulations before planning your visit. In some cases, you might need to obtain a photography permit to shoot the flower fields from above. The remote areas usually allow you to visit the flower fields and photograph away without any restrictions.
Use Color Theory when Photographing Flower Fields
Want to make those images pop up? Then use color theory. The principle is simple. Rather that blending in with your surrounding, create eye-pleasing contrast. So, if you visit the flower fields with prevailing red hues, wear something green. For yellow fields, switch to purple shades. This simple attention to colors improves your photography tremendously, further unveiling your creativity and skills.
Read Next
If you found this post useful, don't forget to pin it for later and share it with your friends.