Hundreds of leafless trees enveloped in white flowery blankets get replaced by spectacular floral "snow" that covers the ground underneath them a few weeks later… Blooming almond orchards in California put on a show that you don't want to miss.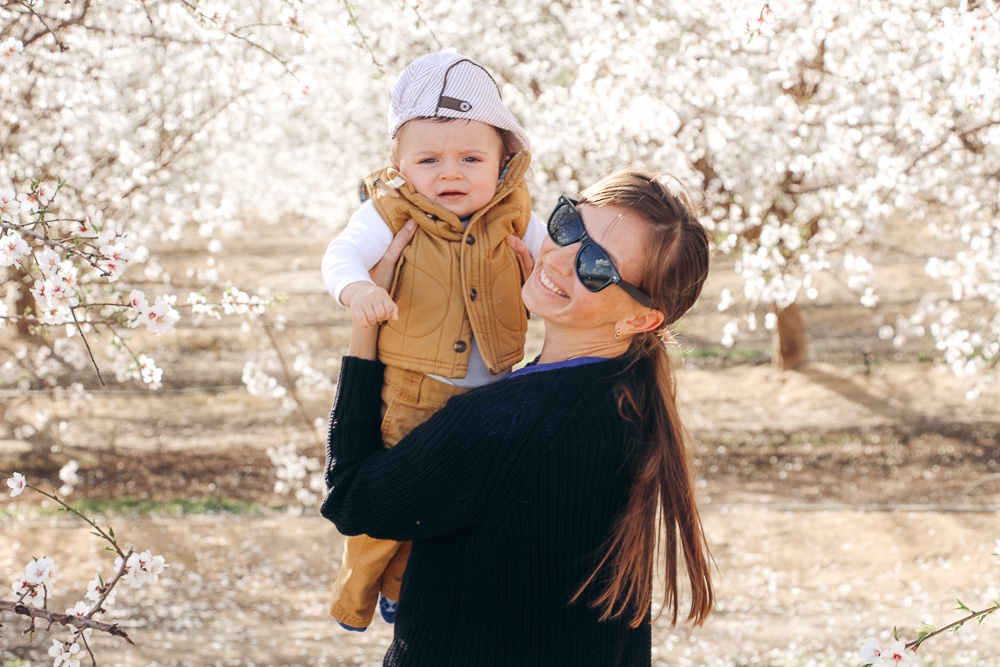 We drove from Big Sur back to Los Angeles, stopping in Fresno for a night. Our road trip was almost over. Only three-hour drive separated us from our home. Therefore, the last day of the journey was rather slow. Although exploring Fresno wasn't on our itinerary, we never rushed to leave the city the following day. After a brunch at an Asian restaurant, our small party was finally ready to hit the road again. Yet after saying our farewell to Fresno, we stopped just a few minutes outside of the city. This time, endless blooming almond orchards that seemed to occupy entire Central California caught our attention.
Blossoming trees spread for miles, completely transforming the surrounding. Festooned with snow-white petals, the blooming almond orchards made California look festive. The Golden State had never looked so pretty even in preparation for the Fourth of July.
The blossoming almond orchards prolonged our last day of road-tripping through Central and Northern California. We didn't mind it at all. What surprised us the most was the absolute absence of other cars. The blooming almond orchards are a remarkable sight that the majority of residents of California wait for all year long. Nevertheless, unlike colorful flower fields that usually envelope state's rolling hills a few weeks later, the orchards don't accumulate large crowds whatsoever.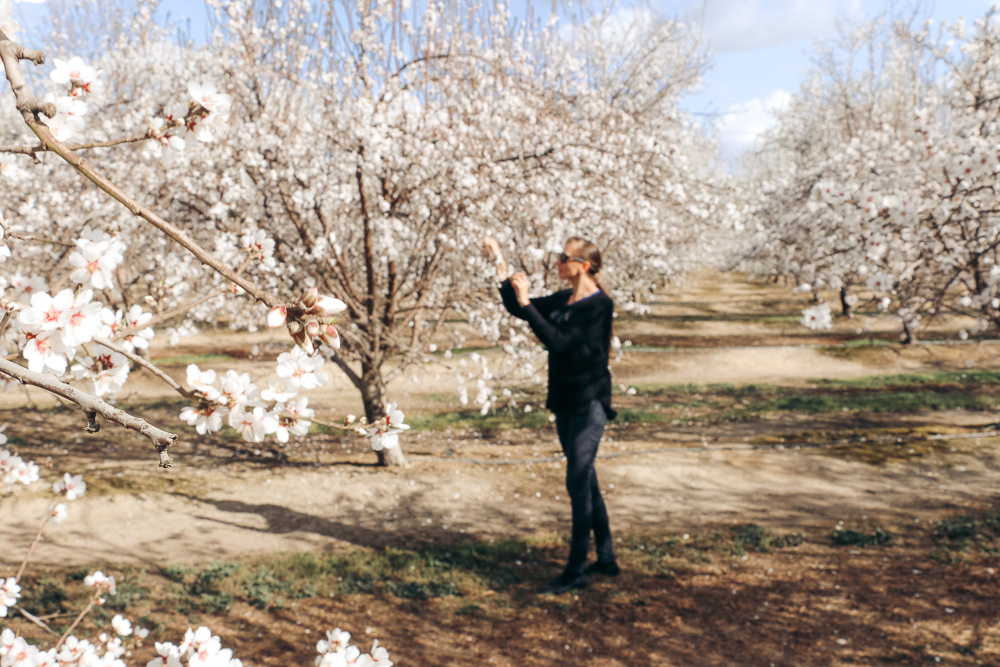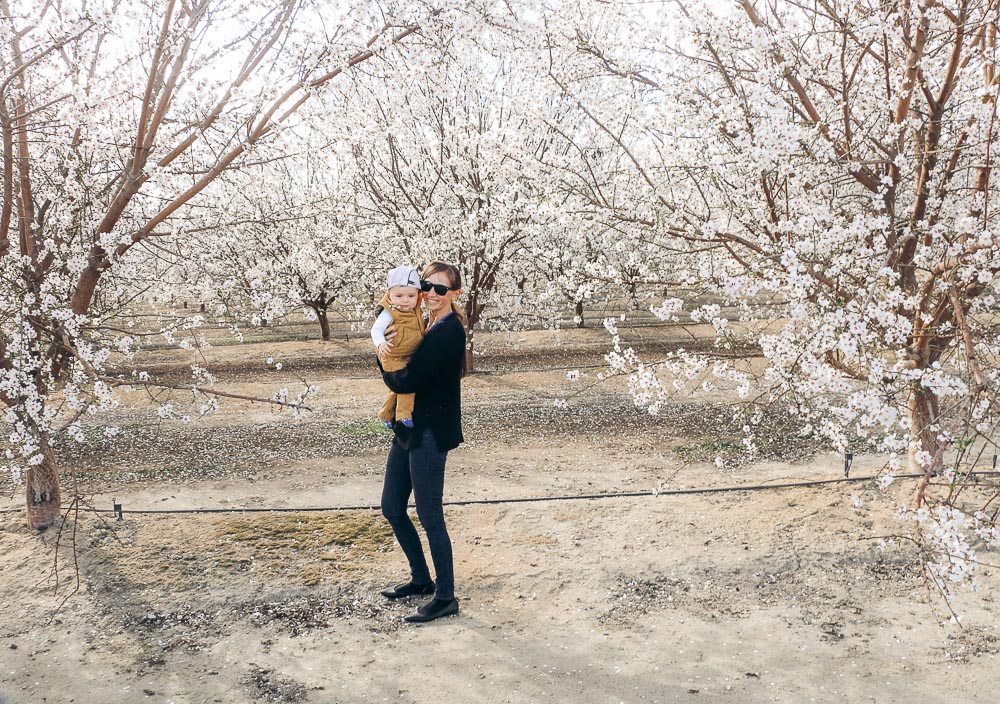 Interesting Facts about Blooming Almond Orchards in California
Family-Owned Enterprises
The fact that nearly 90 percent of almond orchards in California are family owned keeps the crowds away. Driving past the blossoming trees, you undoubtably notice metal wires separating the orchards from the public land. Some places in California might even have signs confirming that the almond orchards are indeed the private properties.
Traditions Passed from Generation to Generation
Interestingly enough, some of these almond orchards has decorated Central and part of Northern California for at least half of a century. Overall, the production of the favorite nuts in the Golden State dates back to the early 20th century. Starting from scratch, learning new techniques, and developing the land, the first owners of these tree plantations now pass their knowledge and agricultural traditions to new generations.
Take Fresno as an example. The majority of locals and visitors of California delight in the astounding views and gentle aroma of the blooming almond orchards near the city. Yet, only a few know that the famous Fresno County Blossom Trail has been impressing its oblivious guests for more than 30 years now.
California Has Ideal Weather for Growing Almond Orchards
Cool, wet winters followed by warm, hot summers – it's the typical weather in Central California. And it's all what the nut trees need. The almond orchards thrive in this environment, enriching California with the locally-grown favorite nuts and mesmerizing blooming seasons.
California is the Largest Producer of Almonds
The distinctive weather of Central and a part of Northern California allows for planting and growing a myriad or almond orchards. In fact, the Golden State produces more than 80 percent of the world's almonds, which the abundance of the blooming trees is proof of.
Different Uses of California's Almonds
It's hard to guess based on the blooming almond orchards (all trees seem to look alike), but California produces different varieties of nuts. One almond orchards can grow the trees that produce large nuts, popular as snacks, as well as small nutty fruits that are used as fillings for candies or chocolate bars. Moreover, you can find different almond products ranging from milk to butter and flour nowadays. Even meat substitute companies rely on these popular California-grown products as healthier alternatives to soy meats.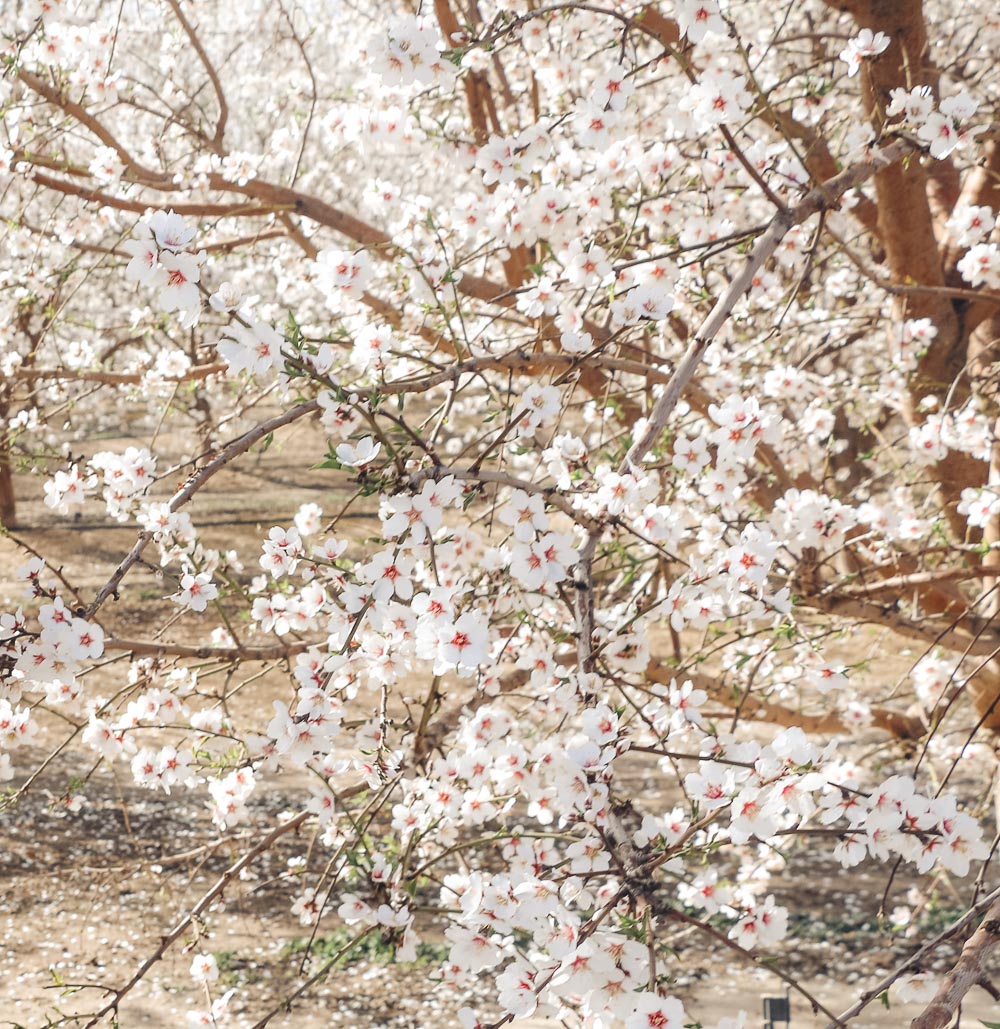 Are There Only Almond Orchards in California?
Many visitors instantly take the snow-white petals on the trees covering extended territories of Central California for almond orchards. Indeed, the white bloom is one of the characteristics of the almond trees. Yet, California has more than just almond orchards. White flowers also adorn apple, plum, apricot, and citrus trees, making them look almost identical to the untrained eye.
Colors of peach and nectarine blossoms differ from the rest, adding pink and red hues to the flowery idyll. These blooming plantations, however, look as stunning as the famous almond orchards in Central California. Similarly, they are short-lived. After blooming for a few weeks, almost all orchards in California, including almond, shed their decors.
The Best Time to Visit Blooming Almond Orchards in California
The almond orchards in California are in bloom now. Every year from mid-February until mid-March, thousand of blossoming trees morph the Central Valley of California into a white floral sea. The bloom, however, doesn't last long. The almond trees keep their flowery accessories for approximately three weeks before covering the ground with beautiful spring "snow".
Tips for Photographing Almond Orchards in California
The almost surreal white ocean of blooming trees is a sight to behold. Amateurs along with professional photographers flock to the central region of the Golden State to capture this flowery veil while it lasts. I certainly couldn't pass by the blooming almond orchards of California without snapping a few shots. Sadly, I made a few mistakes when photographing this flowery opulence. Learning is growing, though. And here are a few tips you might want to use when shooting the almond orchards in Central California yourself.
Shoot at sunrise or sunset. Soft sun rays create almost dreamy environment of already astounding scene. On top of that, in the morning, the sun is low enough to avoid long shadows that you will see a lot when shooting the blooming almond orchards in the afternoon.
Search for places where rows of trees are close to each other. This tightness fills the frame, adding details and instantly improving the image.
Aim for areas with grass under the trees. Similarly, the grass under the almond trees adds colors and fills the frame. Barren land between the almond trees diverts the attention, diminishing the overall effect.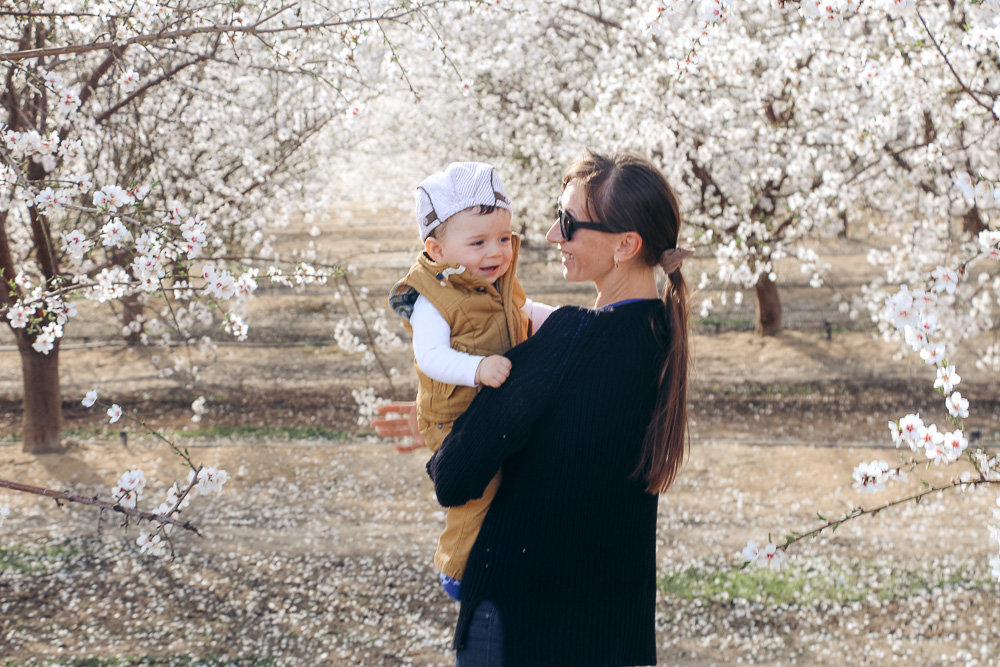 Where to Find the Best Blooming Almond Orchards in California
The almond orchards grow mostly in Northern California, between Dixon and Woodland, just outside Sacramento. In central parts of the state, they cluster near Fresno. You can drive around and find the blooming orchards on your own. For those who need some specific directions, I've compiled the list of the best places, including farms, where you can find the most enchanting almond orchards in California.
Almond Orchards in Dixon, California
Dixon is a small town in northern Solano County in Northern California with population of a little bit over 20,000. Known for Gold Rush days, the origins of the town date back to 1852 when gold hunter Elijah S. Silvey established the first settlement. The place kept attracting more people. A few years later, a whole community already occupied the area, and construction of railroad was underway.
Originally, the town was named "Dicksvile" after Thomas Dickson who donated 10-acre parcel of his land on building the railroad depot. When the first rail shipment arrived, though, it was mistakenly addressed to "Dixon". The name stuck and has been used ever since.
While the gold in California eventually dried up, agriculture has always been one the main sources of income. Dixon isn't an exception. Having some of the most fertile soils in the area, it allows the farmers to grow everything from nuts to fruits and vegetables. The blooming almond orchards are also a familiar sight in this region of California. Here are a few farms where you can find the blossoming trees near Dixon.
Where to Find Blooming Almond Orchards in Dixon, California
Nut-N-Other Farms
Rotteveel Orchards
Almond Orchards in Woodland, California
Woodland, one of the closest neighbors of Dixon, is also responsible for adorning Northern California with an array of blossoming orchards. This fairly big city with population over 50,000 sits in Yolo County, 15 miles northeast of Sacramento.
Woodland was established in the 1850s and still preserves that laid-back lifestyle and historic buildings, which even time has spared from its merciless acts. Trees, including almond orchards, dominate this region of California. Therefore, it doesn't come as a surprise that locals refer to Woodland as the "City of Trees".
Where to Find Blooming Almond Orchards in Woodland, California
Almond Lane. Almond Lane, a family-owned almond farm, has provided California with organic nuts since 1953. Its agricultural traditions date back to the early 1900s.
Blooming orchards along Highway 16, just outside Woodland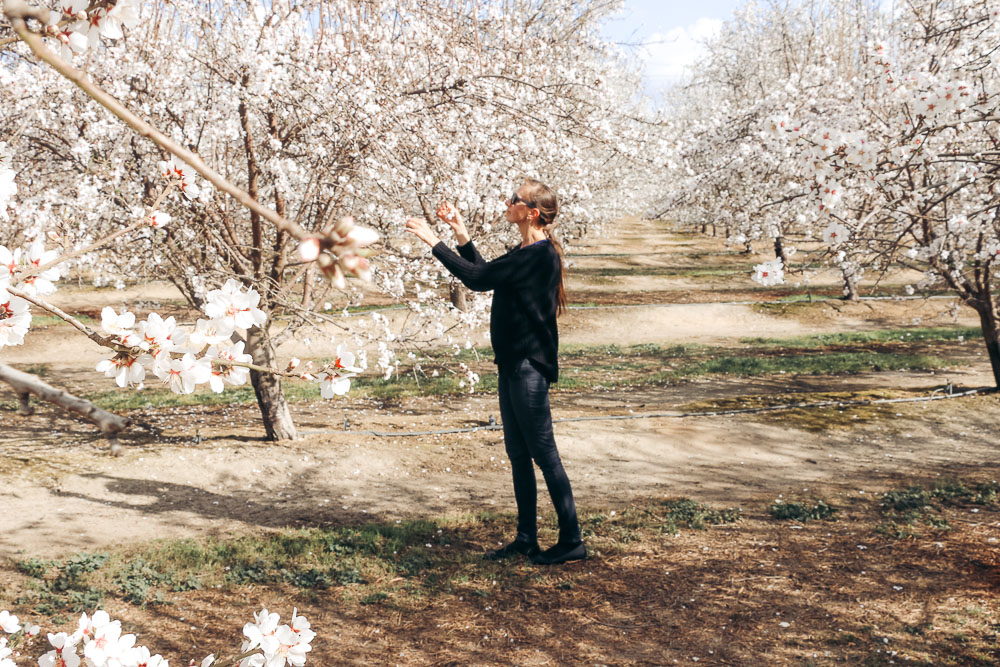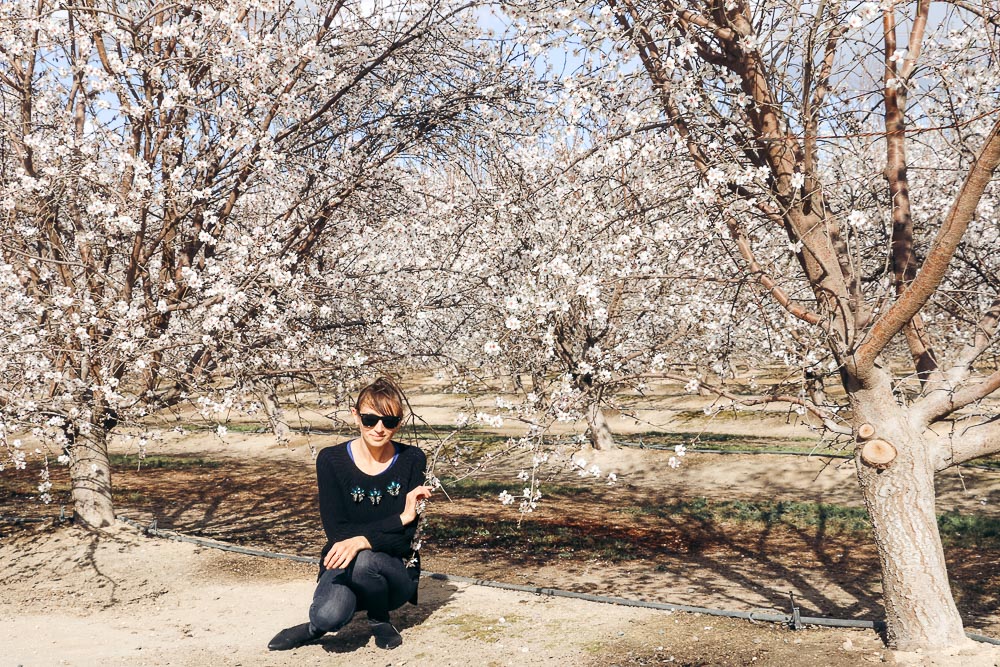 Almond and Other Orchards in Fresno, California
Fresno is a big city in California's San Joaquin Valley, the southern portion of California's Central Valley. Founded in 1872 as a railway station of the Central Pacific Railroad, it was incorporated in 1885. Today, it has more than 500,000 residents and is known as a primary spot for agriculture.
Fresno means "ash tree" in Spanish. The name certainly suits the city, which area is dotted with farms and orchards. Apart from the almonds, the region is famous for the production of local raisins.
Where to Find Blooming Almond Orchards in Fresno, California
Fresno County Blossom Trail
Encompassing several orchards and vineyards, the Fresno County Blossom Trail is the best place to find blossoming almond, apple, citrus, plum, and other trees. While the white petals indicate on the presence of the almond orchards, pink and rose shades festoon peach, nectarine, and sometimes apricot plantations.
The spring-infused 62-mile loop sits southeast of Fresno and neighbors the Orange Blossom Trail with its white-flowered blossoming lemon and orange groves. Blossom Trail Cafe, located nearby, brings the freshest produce from the orchards to the tables of its guests. From May to September, this same route transforms into the Fresno County Fruit Trail, where fresh nuts and fruits abound.
Almond Orchards in Escalon, California
The Central Valley provides California with a myriad of places to feast your eyes on the blossoming almond orchards. After Fresno, Escalon, a city with less than 10,000 residents, amazes with blooming fruit and nut trees at the beginning of spring. The word Escalon comes from Danish and means "stepping stones".
The city takes its beginnings in the late 1800s when James Wheeler Jones settled in the area with his family. While James had little to do with the establishment of the community, his son John Wheeler Jones was credited as one of the main founders of the town. Escalon has been a leading agricultural community since the time of its creation.
Where to Find Blooming Almond Orchards in Escalon, California
Veenstra Farms Almond Orchard
Roche Brothers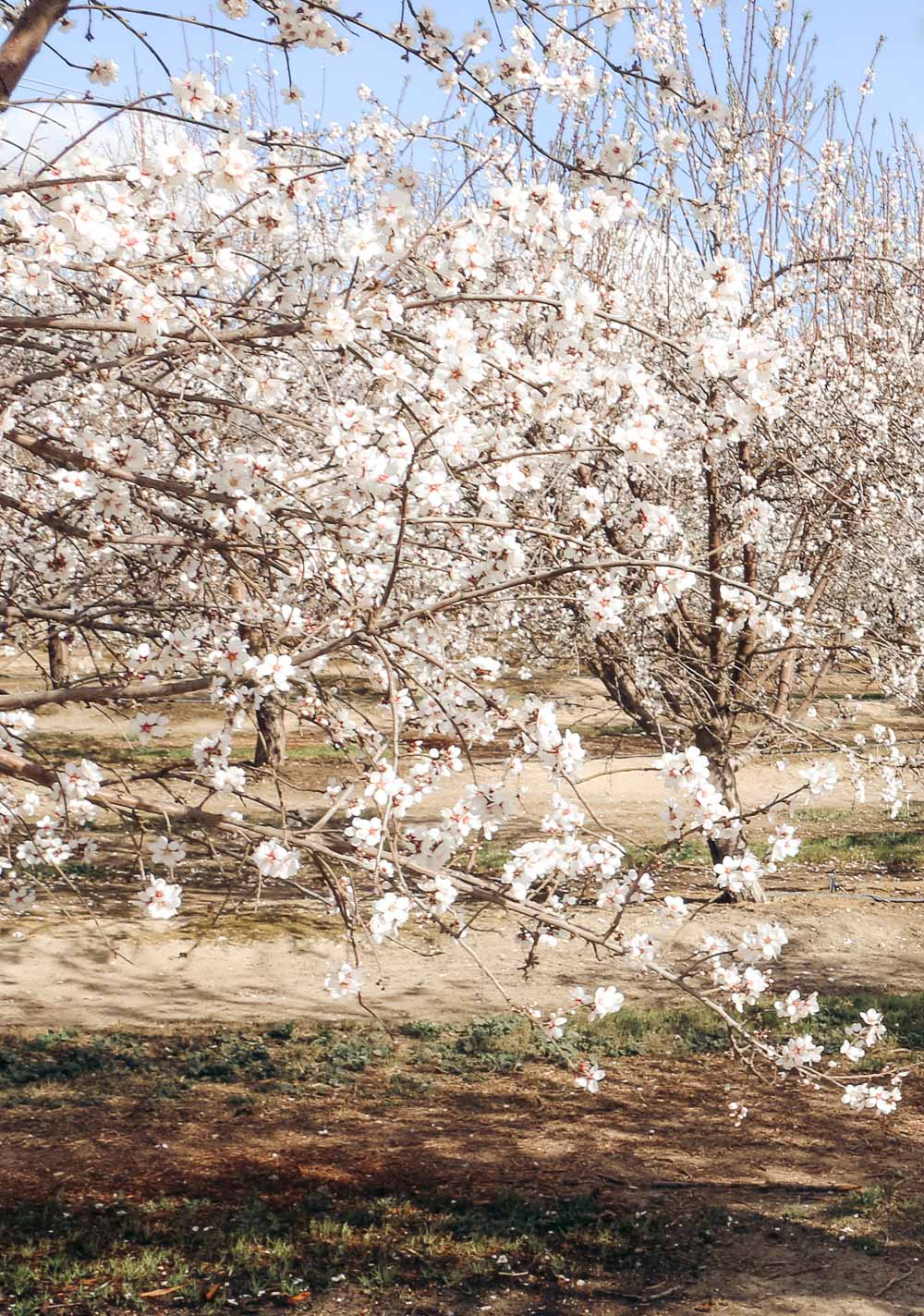 Blossoming Orchards in Davis, California
11 miles west of Sacramento sits other town that plays a vital role in the nut and fruit production in California. Davis, known as "Davisville" prior to 1907, was created as a farming community. The city hasn't changed its focus, supplying the state and country with the organic apples, nectarines, peaches, apricots, and figs to name a few. Apart from its supreme orchards and farms, the city entices with the United States Bicycling Hall of Fame that holds a large collection of antique bikes and trophies.
Where to Find Blooming Orchards in Davis, California
The area around Davis grows mostly fruits. Occasional visitors, however, often mistake the white-petaled trees for the almond orchards. Regardless of the kinds of the trees, these blooming plantations never fail to instill awe and ask to stop for a short photo session.
The Collins Farm. The farm specializes in growing peaches, nectarines, apricots, figs, berries, and vegetables
Black Bicycle Farm. Located on the outskirts of Davis, this family-owned farm and vineyard produces grapes, peaches, nectarines, apricots, apples, and plums. It's also the right place to come back in summer to lay your eyes on lavender fields.
Blooming Orchards in Winters, California
Winters is a small city in rural Yolo County in Northern California. Focusing on farming, it follows almost the same path as all other agricultural cities in the region.
The place originated in 1842 when a Kentucky immigrant, William Wolfskill, received a Mexican grant for Rancho Rio de los Putos. William's brother, John Reid Wolfskill, also embarked on agricultural endeavor by planting orchards and vineyards on his land in the Sacramento Valley. Several years after obtaining the property, William transferred half of this land to his brother. In 1854, he moved the rest of his property to John.
Yet, the city owes its name to Theodor Winters rather than Wolfskill. Theodore's ranch occupied half of the town. It only made sense that the place was named after the biggest landowner in the area.
Where to Find Blossoming Orchards in Winters, California
K&J Orchards. Starting in 1980, the farm produces nuts and fruits, such as walnuts, apples, apricots, cherries, citrus, figs, peaches, and plums. In late winter – early spring, it morphs into a colorful sea brimming with gentle petals and sweet aroma.
Sierra Orchards. Sierra Orchards is another place to enjoy the enchanting blooming orchards in Northern California. The farm was established in 1980 and produces mostly organic walnuts and olive oil.
Martinez Ranches. Martinez Ranches has adorned Northern California with acres of the blossoming almond and fruit orchards for more than 40 years. On top of the popular almonds, the company farms produce walnuts, pistachios, prunes, peaches, and apricots.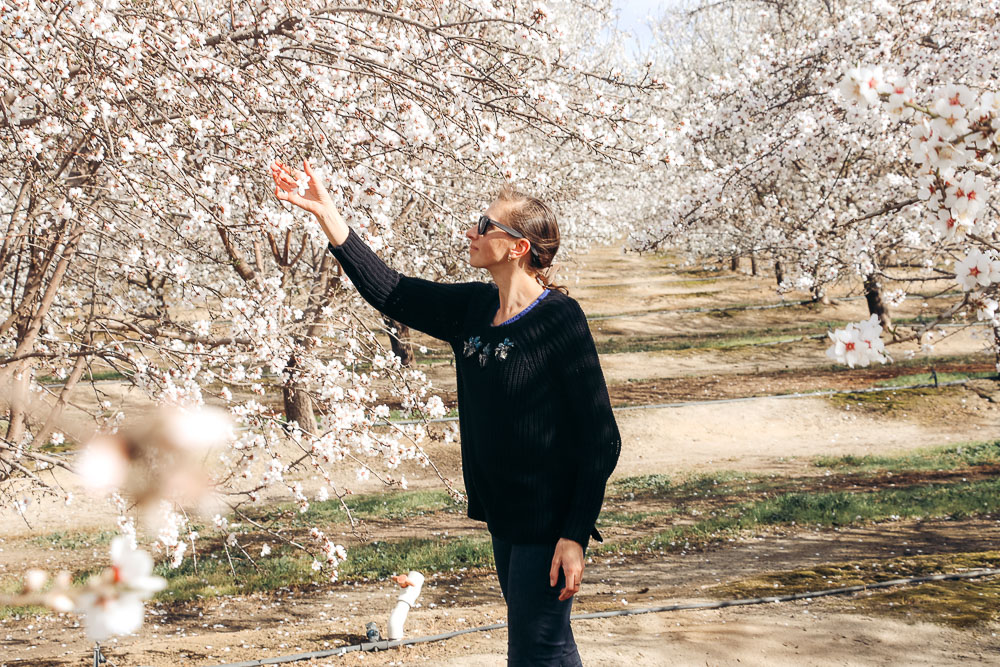 What to Know Before Visiting Blooming Almond Orchards in California
Respect Private Property
The blossoming almond orchards allure more than a jar full of candies and chocolate pastries. You can hardly drive or bike past one of these large areas filled with the blooming trees without sneaking behind the wire fences to take a few pictures.
We did it, too. But truth be told, we were trespassing on farmer's land just like the majority of the blooming orchards' enthusiasts do every year. While some farmers don't mind encountering a couple of occasional violators on their lands, others frown at the thought of dealing with the influx of unwelcoming guests.
Therefore, be respectful of the private property when visiting the blooming almond orchards in California. Don't abuse the farmer's hospitality by destroying the trees and gathering large "bouquets" made of the blooming almonds branches.
Leave as Quickly as Possible
The large plantations with the perfectly aligned trees enveloped in the white veil are tempting. Go and photograph those stunning orchards, if you need to, but be sure to get out as soon as you're done. Remember again, it's a private property. You wouldn't want to have uninvited guests having picnic in your backyard. The same applies for visiting the blossoming almond orchards in California.
Wear Waterproof Shoes
The ground under the trees can be muddy. I was perfectly fine wearing ballet flats during our visit to the almond orchards. Some people are less lucky and insist that you need to wear boots or waterproof shoes.
Read More
---
If you found this post useful, don't forget to pin it for later and share it with your friends.