The best way to explore California is by taking a road trip, preferably through the entire state or at least its northern and central parts.
Last updated: January 13, 2022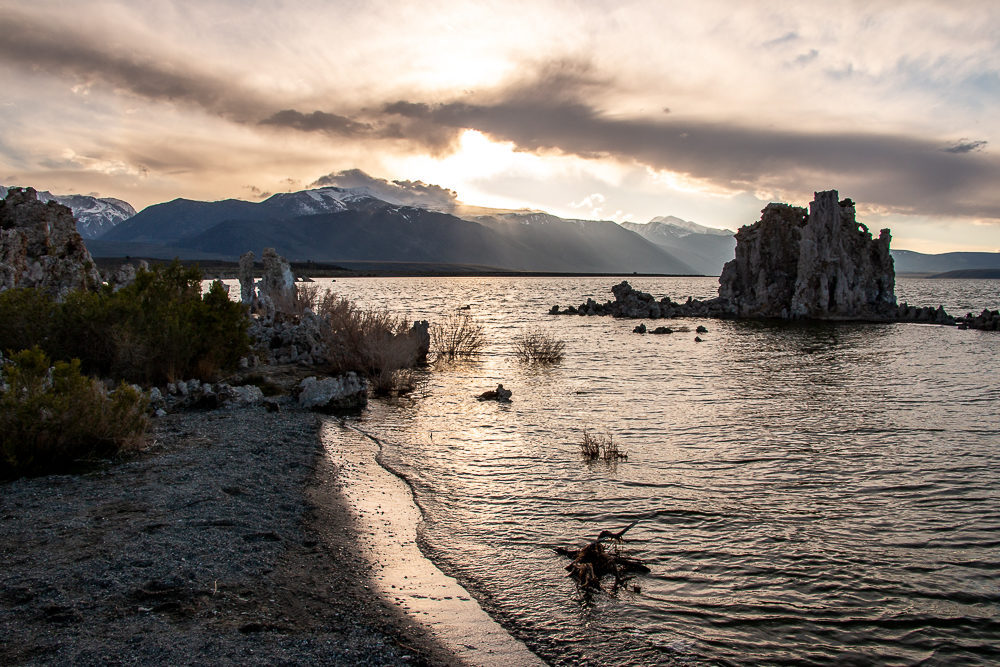 3-Day Road Trip through Northern and Central California: Day 1 Itinerary
The road trips are one of our favorite ways of traveling through our so-to-say backyard. The truth is, however, this "backyard" can be way too broad and slip into neighboring states. But it all counts a little fun on the road.
About a week ago, we got on another adventure. This time, our epic 3-day road trip took us from Southern California to central, eastern, and northern regions of the state.
Packing for a Road Trip through Northern and Central California
I must confess, we struggle a bit with sticking to our plan, especially when it comes to leaving on time. So, our plan was to hit the road at 8:00 a.m. But as it's often the case, something unexpectedly came up. That morning was our baby Dylan who decided to sleep until almost 8:00 a.m. Right after the baby got up, Roshan got a phone call that further slowed us down.
And with all of these and the last minute packing, we left the house around 9:00 a.m. Only one hour late. It's quite a progress for us. Yes, we're finally getting better and better at sticking to our plan.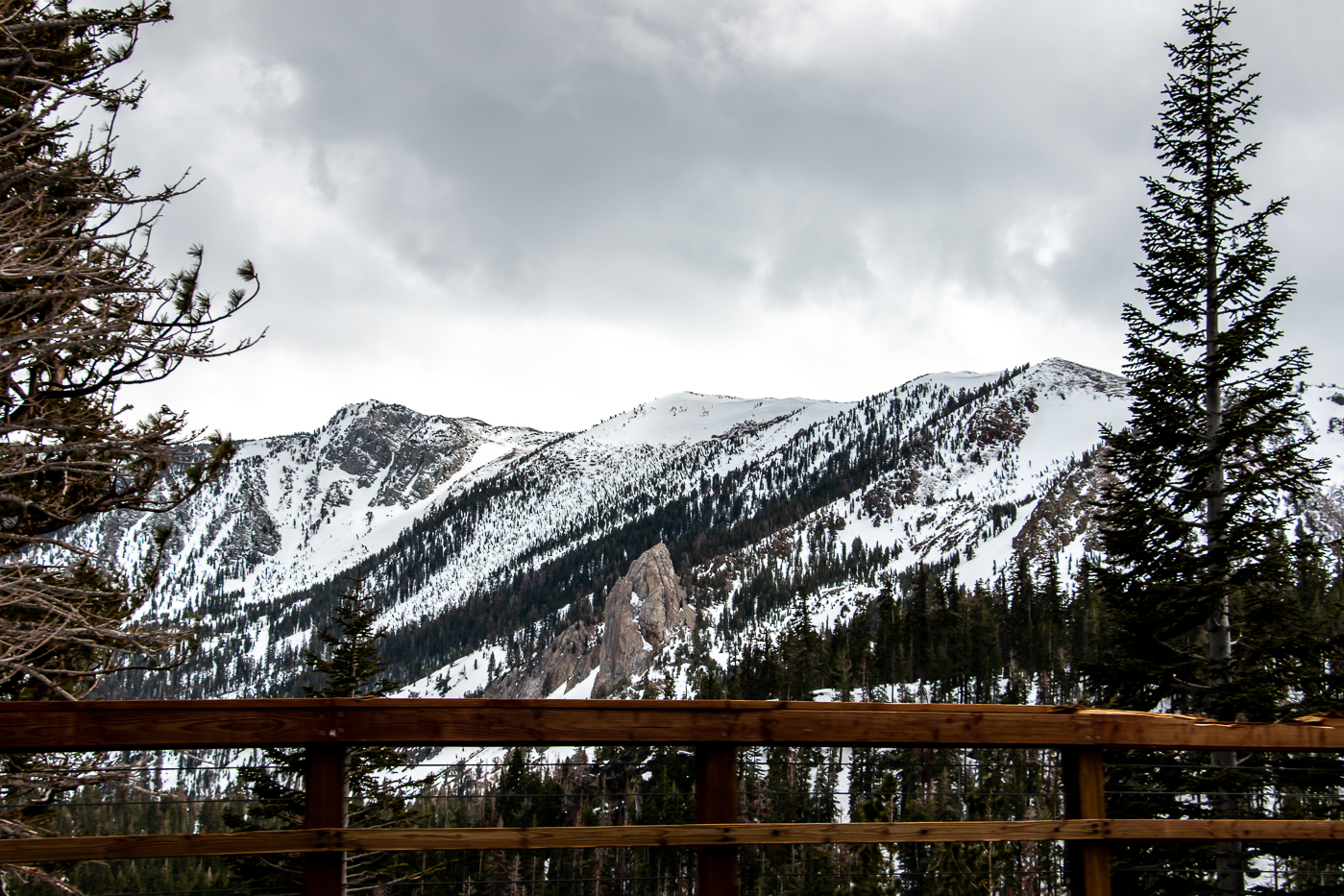 From Los Angeles, we took U.S. Route 395 and headed north to Central California first. The first stretch of our 3-day road trip through Southern and Central California took us about 5 hours.
Sitting in a car for such a long time, you don't have anything else to do but talk your ear off. But these conversations go far beyond mere gossip and involve topics about values and life. Moreover, they help time go by so fast that you don't even notice when you arrive at your next destination.
More Destinations for Future California – Nevada Road Trips
5 hours later, we finally reached Mammoth Lakes, the first point of our road trip adventures through California. Needless to say, there were many temptations along the way, such as Red Rock Canyon State Park and Ghost Town.
On any other day, we'd definitely get off our path and explore all of them. During this California road trip, however, they didn't make the cut. Our itinerary was pretty packed. There was simply no room for extra activities.
READ MORE: 3 of the Best Cross-State California Road Trips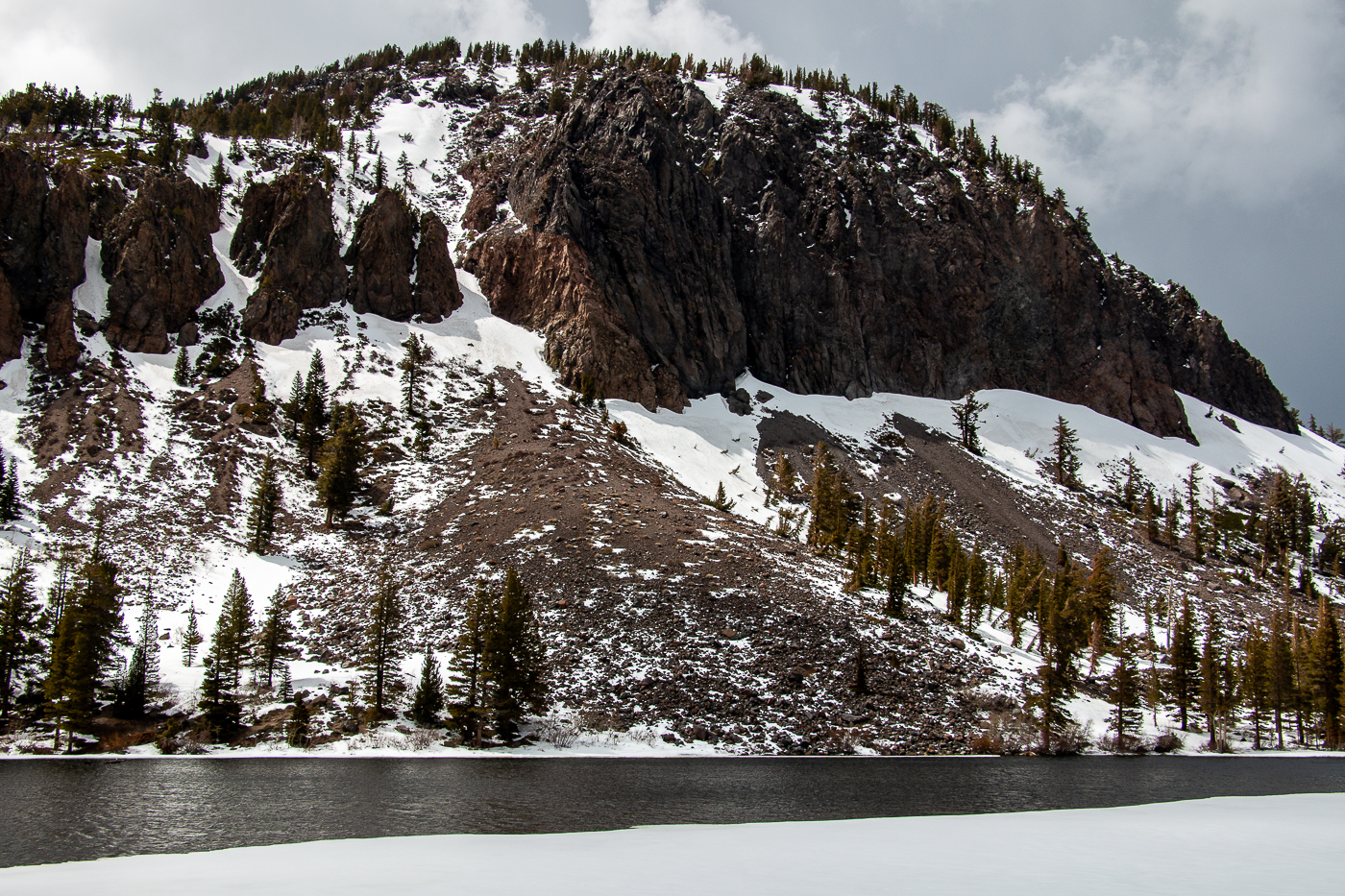 Road Trip to Mammoth Lakes, California
During this 5-hour road trip, I felt guilty for overpacking. Our previous trips taught us how to embrace minimalist travel and pack less. And here, I had almost an entire suitcase filled with just my stuff. But with weather forecast in low 50s, it had seemed only appropriate to pack some warm clothes.
Surprisingly, however, it was pretty warm all the way until we reached Mammoth Lakes. This place was winter cold. So, only now I could throw all those guilty feelings out of the window. The heavy, warm clothes came in handy, indeed.
Mammoth Lakes is a town surrounded by snow-capped mountains and several alpine lakes. The largest lake in the region that became the next stop was Lake Mary. Even at the end of May, the place was very cold and looked like a winter wonderland.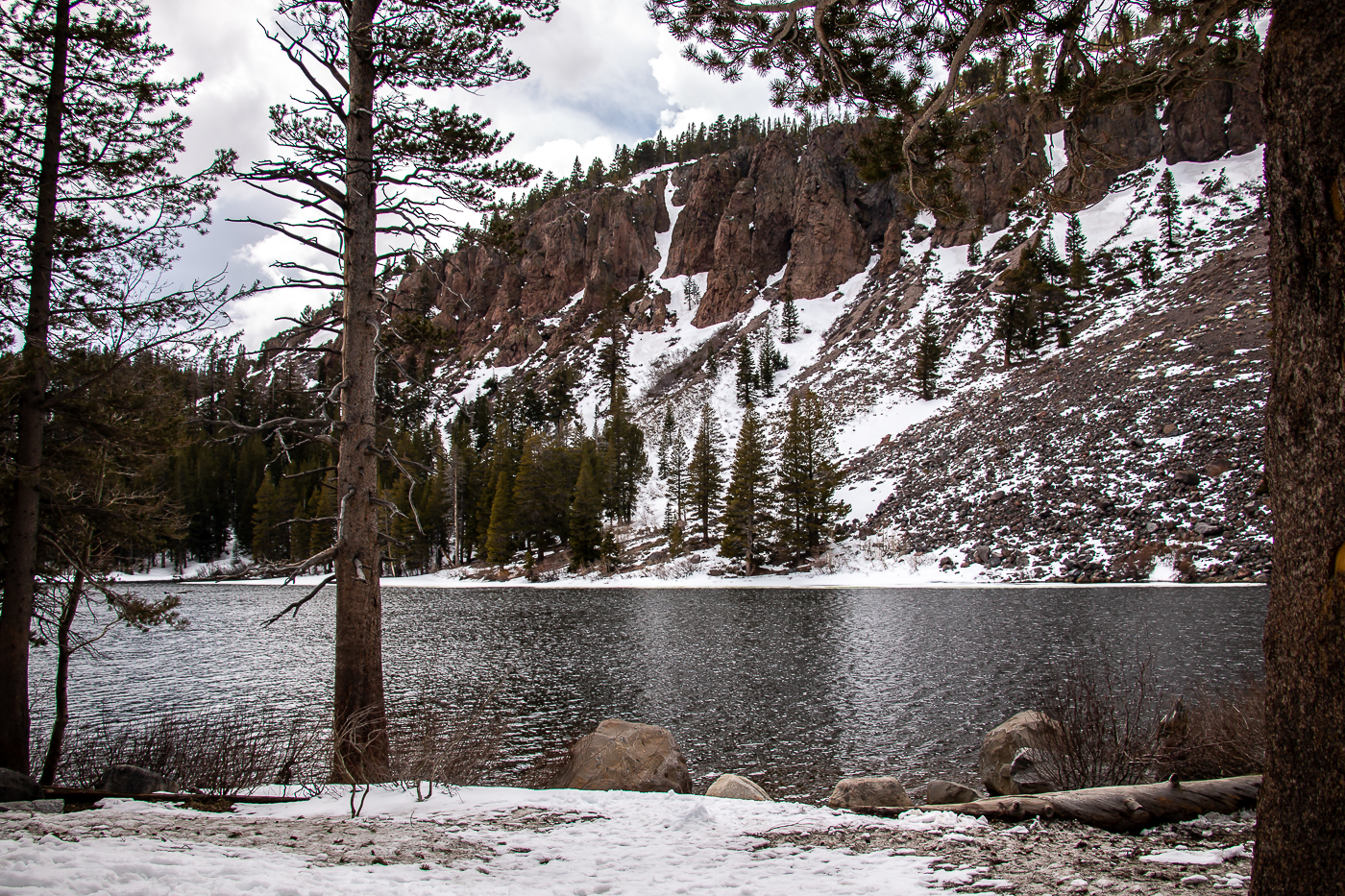 Despite this harsh weather conditions, the gorgeous lake with the towering mountains in the background attracted enough visitors. But since the adventure seekers chose different parts of the lake to explore, it didn't feel busy and overcrowded at all.
Some people booked small lodges, located right on the shore, and enjoyed this "wintery idyll" from the porches of their temporary houses. Others, like us, came just for one day to get a feel of winter in Central California almost at the beginning of summer.
From Road Trip to Hiking in Central California
We'd never visited this part of California at the end of May before. Therefore, we couldn't tell if this cold weather was normal for this time of the year. In fact, our brief research before this California road trip had revealed that it was the snowiest May in history of Mammoth Lakes.
We decided to hike a little bit around Lake Mary. With a sleepy baby, this endeavor was close to impossible. On top of that, some areas were still holding tight to the deep snow. About twenty minutes later, it began to snow. Big flakes that looked like hail rather than snowflakes were adding fresh layers on top of the old snow. It was surreal (the heavy snow in California almost in summer?) and beautiful at the same time.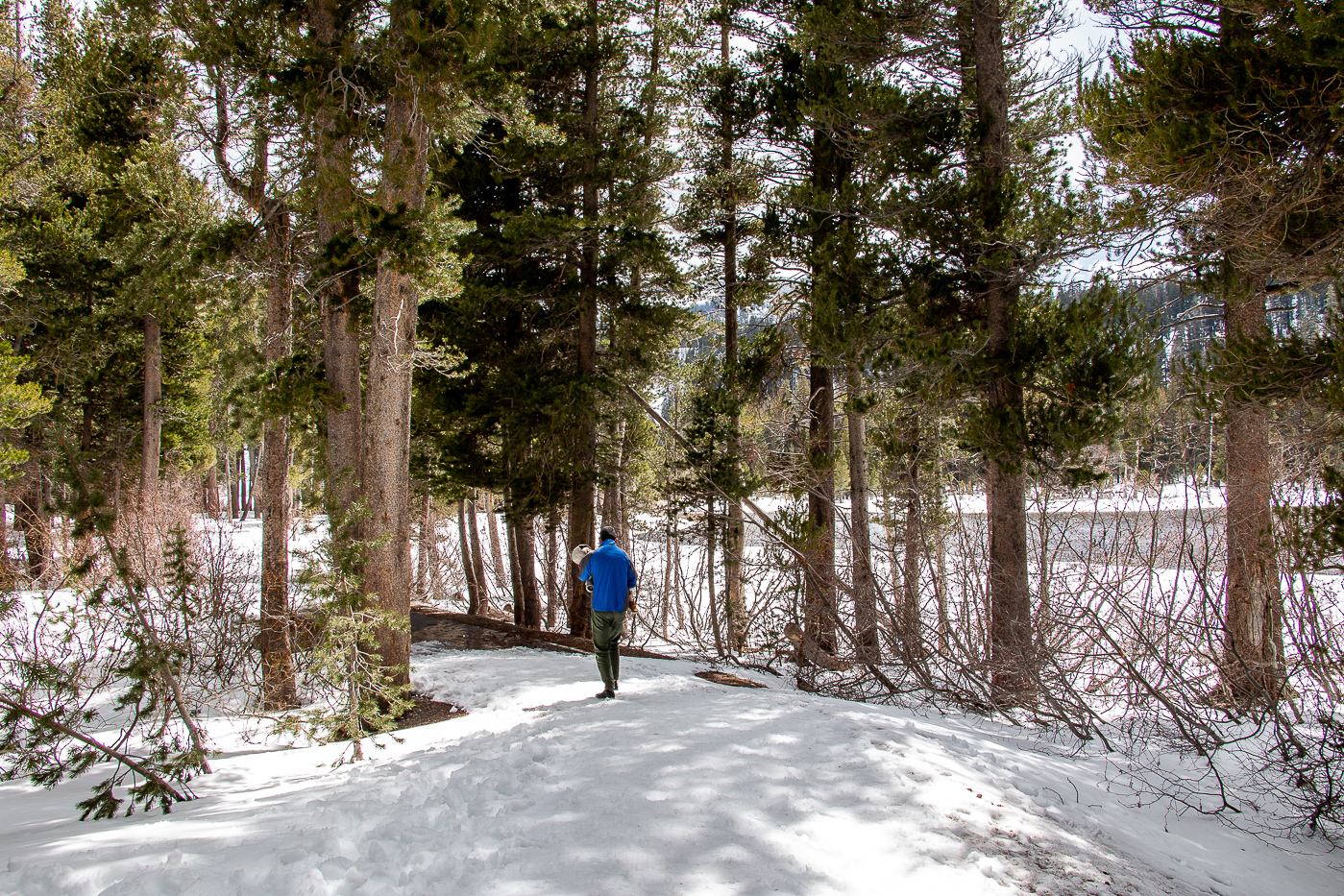 Yet we had to cut our hike short and resume our road trip through Central and Northern California. Dylan was crying and wanted to go back to the car. It was late afternoon, past his regular nap time. And when the baby is not happy, nobody is happy. Roshan took Dylan to the car, while I stayed behind for a few more minutes to take pictures.
Exploring Mammoth Lakes from the Car
Once back in the car, the baby fell asleep almost instantly. This put halt to our outdoor exploits until he woke up. Yet it didn't prevent us from continuing our California road trip and exploring Mammoth Lakes from the comfort of the car. Occasionally, when the place looks especially nice, I would get off of the car and take more pictures.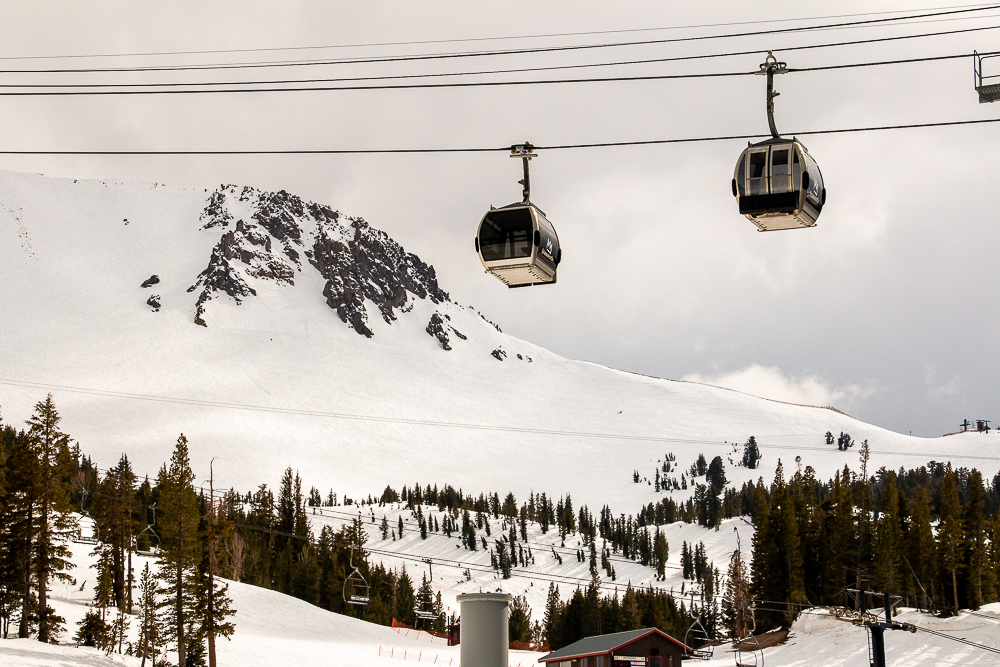 Mammoth Mountain, California
Roshan, who'd visited the area before, also wanted to show me famous Mammoth Mountain, out next destination on this Central and Northern California road trip. Mammoth Mountain is a ski paradise where gondolas take you up to the top of the mountain. Here you can master your skiing skills by sliding all the way down to the bottom of the mountain.
It could be such a great and fun experience for us. But while Dylan is still small, we do simpler activities such as hiking, walking, and occasional boating. Mammoth Mountain, though, is definitely a place to return sometime in the future.
June Lake, California
Eventually, our road trip adventure led us to June Lake in Mono County, California. While Lake Mary looked winter-perfect, June Lake was ready for summer. The snow was gone and trees turned green. Moreover, a few boats were cruising though the lake reminding of the warmer season. The weather in this part of California, however, was still cold, even freezing.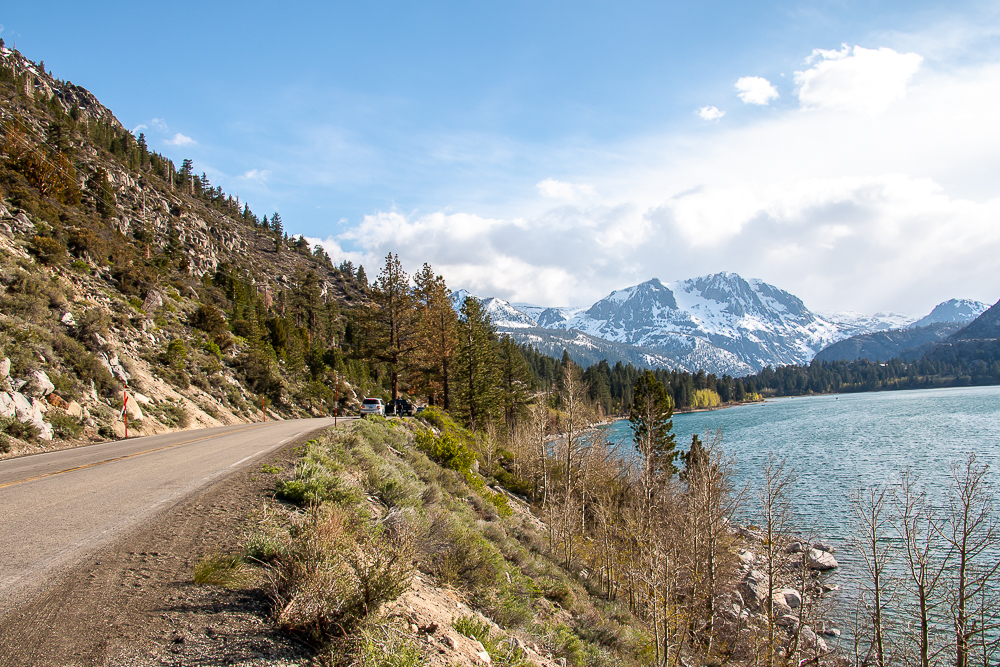 Before reaching June Lake, we stopped at June Lake Junction to add more air into our tires. It looked like our road trip through Central California, especially its elevated areas, took a toll on those pure rubber tires.
Road trip to Mono Lake, Central California
The day was slowly coming to an end. Sunset was supposed to happen in about an hour or so. But we didn't come so far to spend the golden hour on the road. For this special time of the day, our Central and Northern California road trip included a stop at Mono Lake. The remarkable place is famous for its signature tufa groves that attract thousands of visitors yearly.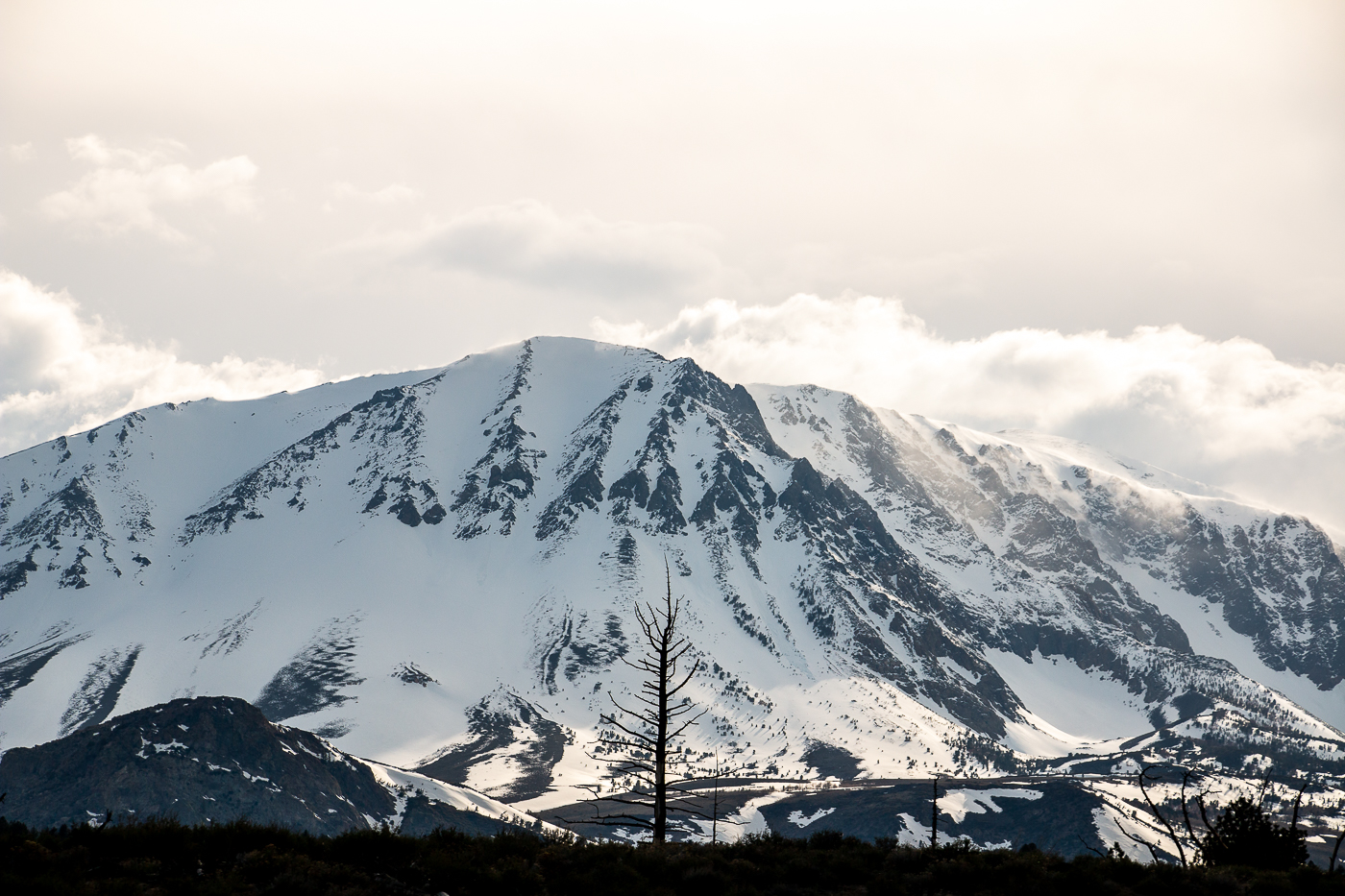 It took us approximately 30 minutes to get to this popular saline soda lake. Initially, we missed a turn to the salt rocks and ended up at the Mono Basin Scenic Area Visitor Center. With some instructions from other visitors, we got back on the road and traveled about eight miles back. This time, a road to Mono Lake South Tufa Area simply couldn't escape our sight.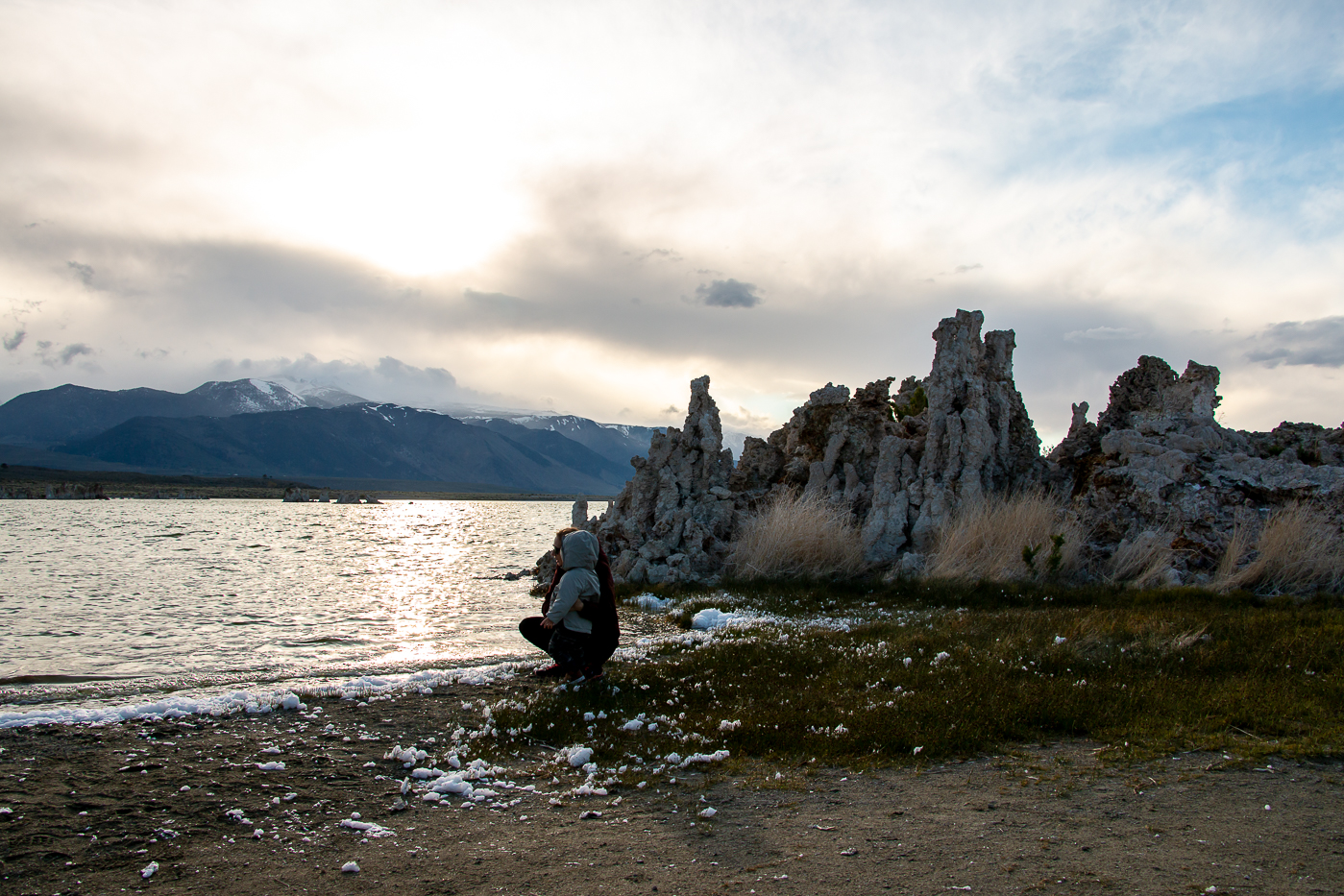 Mono Lake South Tufa Area, California
We calculated our time perfectly and arrived at the lake in time for the sunset. Roshan had visited Mono Lake before as well. And after spending some time enjoying the views, he took Dylan back to the car. I stayed near the lake a bit longer, exploring its farther areas and practicing taking pictures of the sunset.
Bridgeport, California
The last stop during the first day of our 3-day road trip through Central and Northern California happened to be in Bridgeport. We chose this place for a few reasons. First, it was on our way to our next destination, Lake Tahoe. Second, it offered the cheapest accommodation in the Mammoth Lakes area.
READ NEXT: 3-Day Road Trip through Central and Northern California: Day 2 and 3