Hiking with small kids (4-6 years old) in Glacier National Park is one of the best gifts you can give yourself. On top of spending quality time with your family, it allows you to slow down and pay closer attention to the natural opulence around you.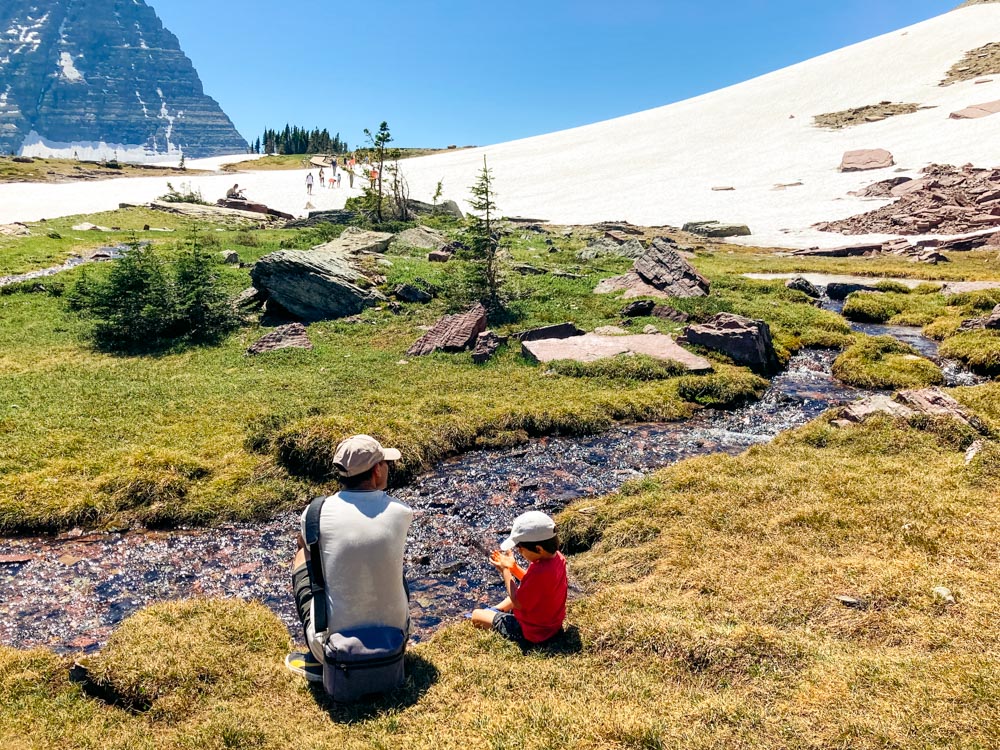 Glacier National Park's Top 9 Trails for Hiking with Small Kids (Ages 4-6)
Glacier National Park, or as it's often referred to as Crown of the Continent, is a hiker's paradise. With scenic trails spread for miles on end and splendid alpine lakes and glaciers at the end of the hikes, the area has been an outdoor adventurer's playground since 1910. Hiking with the small kids (ages 4 to 6) in Glacier National Park, however, is a bit trickier.
While older children can hike almost every trail in the park, the younger hikers find the gaining-elevation paths challenging.
You need to take plenty of breaks is the most frequent advice families with the small kids receive while hiking in Glacier National Park. And guess what, it does work magically. On the flip side, this way of hiking slows down the entire group. But as they say, slow and steady wins the race.
Adjust to your child's speed is the second popular tip for hiking in Glacier with the preschool-age kids. Again, this advice sounds reasonable. Moreover, it may work perfectly for the hiking families with the older children, think 7 years old and above. For the younger kids… it may not do the trick you expect.
Hiking with Little Kids in Glacier National Park… Impossible?
This brings us to the most important question. Is hiking with the small kids (4-6 years old) in Glacier National Park possible? How can the children that are too old to be carried in a carrier, but too young to walk miles and miles on end enjoy the park beyond roadside attractions in the Going-to-the-Sun Road area?
First of all, you need to be selective with your hiking adventures when visiting Glacier National Park with the little kids. Sticking to shorter trails is preferable. You can also squeeze in a longer hike or two – something you and your kids will enjoy without pushing yourself to the limit.
Yet while hiking with the small kids along the longer trails in Glacier National Park, be prepared to carry your young adventurers from time to time. It's simply inevitable, unless your child was born to be a superstar hiker and has plenty of trekking experiences.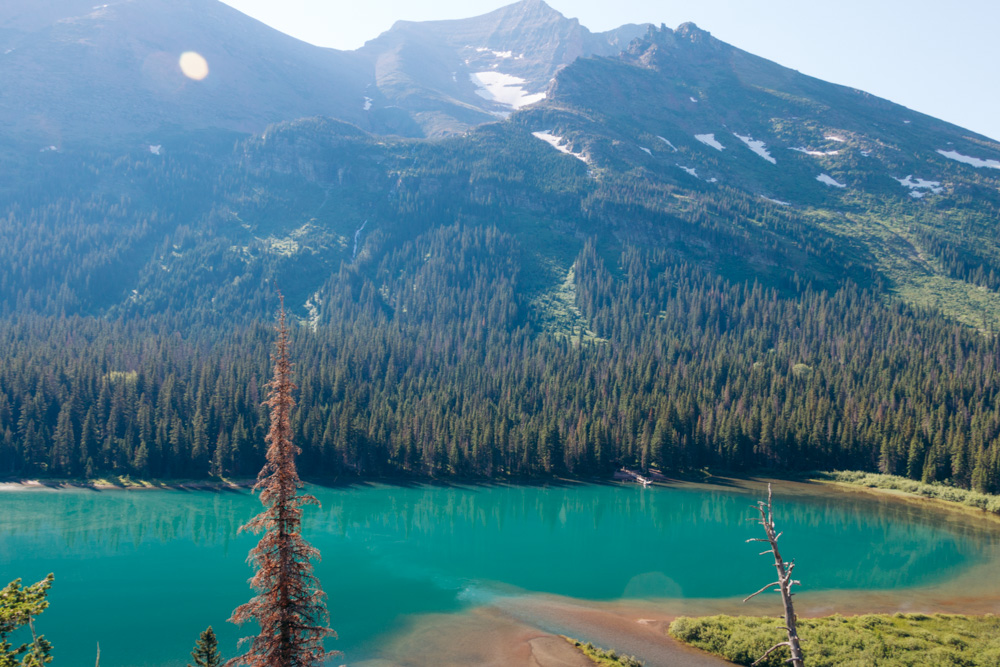 Let's Those Glacier National Park's Hiking Adventures with Small Kids Begin
A couple of weeks ago, we spent a few days in Glacier. Traveling as a family with a 4-year-old boy can have its own struggles. The first thing we had to keep in mind was that many trails were too long for us to hike along. Yet Glacier still had more than enough shorter trails suitable for hiking with the small kids, older children, or teenagers.
Some travelers believe that you need to wait until your children get older to show them how big the world they live in is. Others don't say too much, but prove that traveling and hiking with the small kids is possible. It's not always easy, but certainly doable.
I'd like to believe that we belong to the second group. Therefore, despite all the challenges hiking with the little kids in Glacier may present, we decided to give it a try. With that said, here're the best hiking adventures we managed to go on while visiting Glacier National Park with the kids – our teenager nephew and niece and 4-year-old son, Dylan.
THE BEST TRAILS FOR HIKING WITH SMALL KIDS IN GLACIER NATIONAL PARK
Hiking with Small Kids in Glacier: Going-to-the-Sun Road Area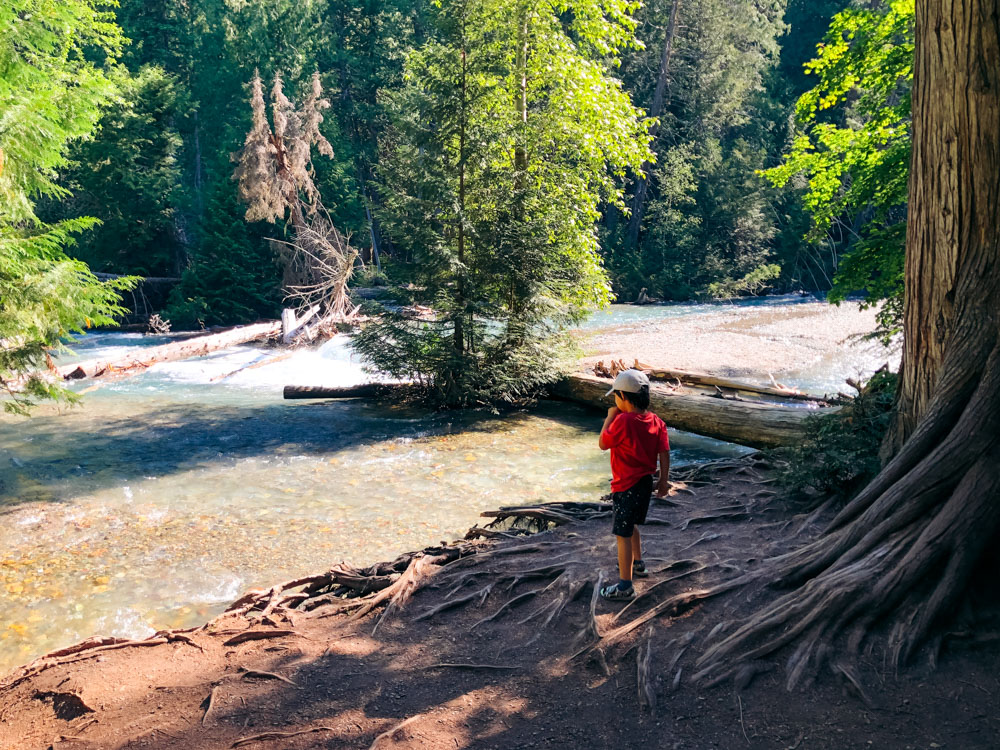 1. Trail of the Cedars
The Trail of the Cedars kicked off our hiking adventures with the kids in Glacier National Park. Stretching out for 0.7 mile, this loop-trail is easy for any young adventurer. The trail starts as a paved path that ventures into the wood. As you walk deeper into the old-growth forest, a raised boardwalk takes over, guiding you and your children for more than half of the trail from now on.
Hiking with the small kids in this part of Glacier is easy and enjoyable. The tall cedars scattered on both sides of the trail arouse your child's interest. This, in its turn, makes it easier to divert their attention from walking to exploring the trees, trail, and anything else around.
When you think that it's all the trail can offer, stunning Avalanche Gorge with its powerful mini-waterfall surrounded by moss-covered rocks comes into view. At this point, you don't need any other stimuli to keep your small kids hiking and exploring more of Glacier.
TIP: Give the children enough time to enjoy the site before hitting the trail again. The path soon swirls from the boardwalk and continues on as a well-trodden dirt trail.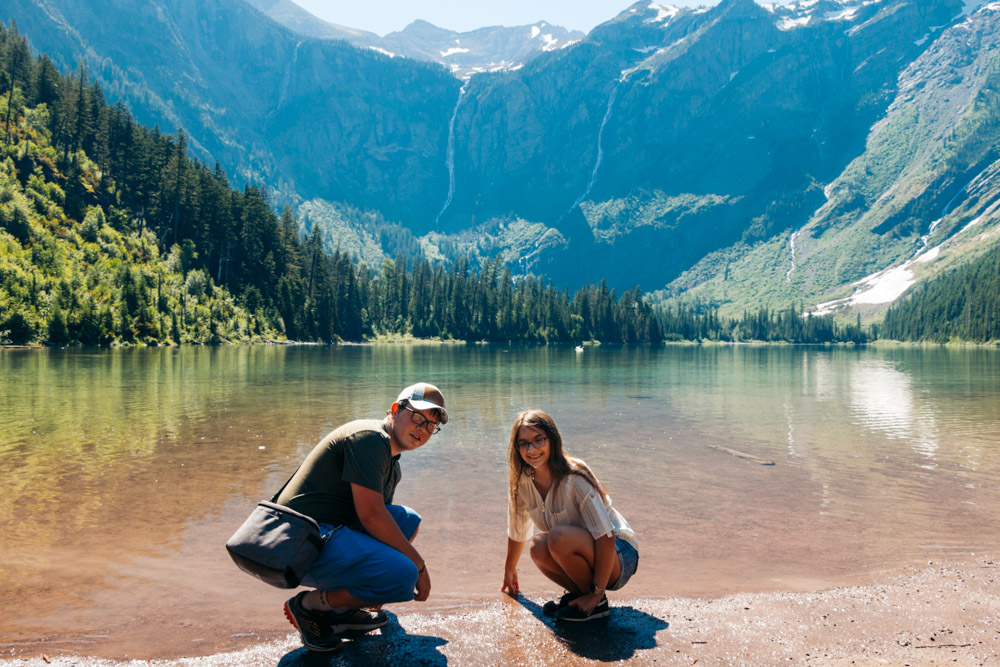 2. Avalanche Lake Hike
If you can devote at least 2-3 hours to hiking in this section of Glacier, persuade your youngest kids to venture to Avalanche Lake. The trail to one of the most beautiful lakes in the park forks from the Trail of the Cedars and runs for additional 2 miles.
TIP: But there's a catch. The popular path in West Glacier has little to no attractions to distract your youngest kids and ignite their interest in hiking forward. So try to spend enough time at a creek near the trail junction to feed your child's curiosity for what comes later.
Overall, the trail is easy, allowing even the smallest kids continue hiking in this area of Glacier without any help. If your children are not accustomed to long walks, you may need to carry them on your back or shoulders at some point.
Views at the end of the trail, however, justify all the hiking. For the youngest kids, this may not be the most exciting part of hiking in the remote areas of Glacier, though. Splashing freezing cold water of the alpine lake certainly is.
On average, the Avalanche Lake hike takes about 2 hours to complete. Hiking with the small kids along one of the favorite trails in West Glacier, however, can take anywhere from 3 to 5 hours.
READ MORE: How to Hike to Avalanche Lake in Glacier National Park (+ The Trail of the Cedars and Avalanche Gorge)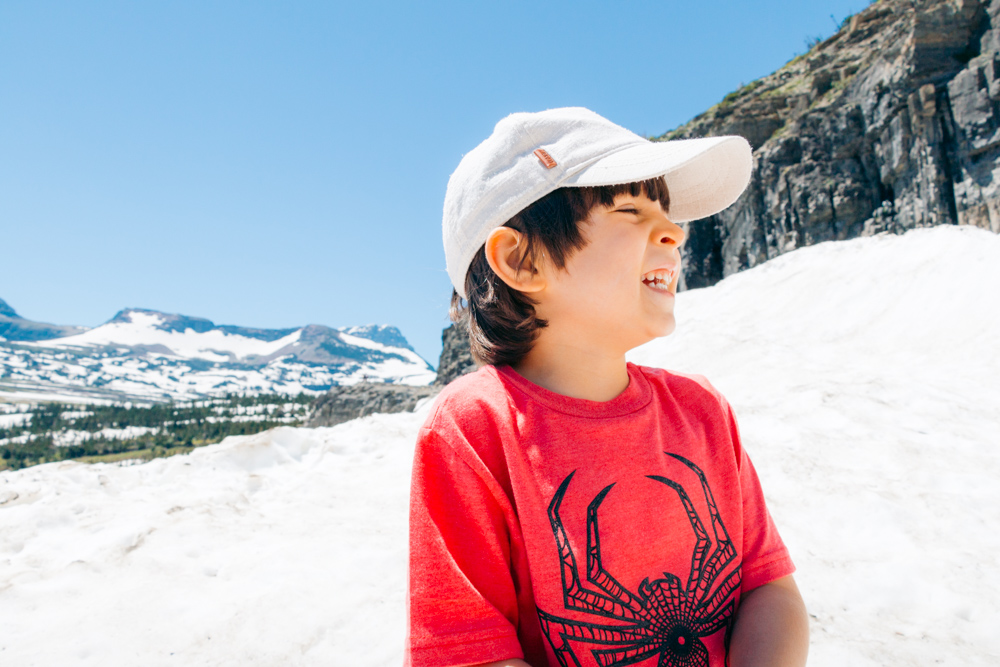 3. Hidden Lake Overlook Trail
The Hidden Lake Overlook is another beautiful trail to add to your hiking adventures when visiting Glacier with the small kids. Nestled at panoramic Logan Pass, the trail starts behind the Logan Pass Visitor Center, runs up the mountainside, and ends on a wooden observation deck, overlooking the lake.
The entire journey is 2.7 miles. Hiking uphill along a series of boardwalks (Glacier has them only on some of the most popular trails) at the beginning of the trail is easy for all kids. As you continue ascending, the trail becomes trickier.
Snow may still linger in the area even in the middle of summer, adding excitement to the younger hikers. Their parents, however, has more things to worry about as hiking along the slippery Glacier National Park's trail can be tedious and even dangerous, although the small kids disagree with it.
Eventually, even the adults come around and see the hike as an adventure they can't miss. Apart from the snow (this was the most exciting part of hiking for Dylan), Glacier's wild animals pop up on the trail and around it.
TIP: Be sure to use hiking staffs for additional support for yourself and your kids while traversing the slippery trail in the heart of the Glacier National Park's Going-to-the-Sun Road area.
READ MORE: Hidden Lake Overlook Hike in Glacier NP: Photo Diary and is It Worth It?
4. St. Mary Falls and Virginia Falls Hikes with Small Kids
For many small kids, hiking to water sources, be it a lake or a waterfall, is the ultimate pastime in Glacier. The 3.6-mile, round-trip adventure to Virginia Falls with not less remarkable St. Mary Falls along the way can certainly keep your bundles of joy entertained and motivated.
TIP: Start your hike either at St. Mary Falls Shuttle Stop (shorter trail) or the St. Mary Fall trailhead (longer trail). It takes about 3 hours to complete this walking trip.
READ MORE: The 14 Most Photographed Cascades and Waterfalls in Glacier National Park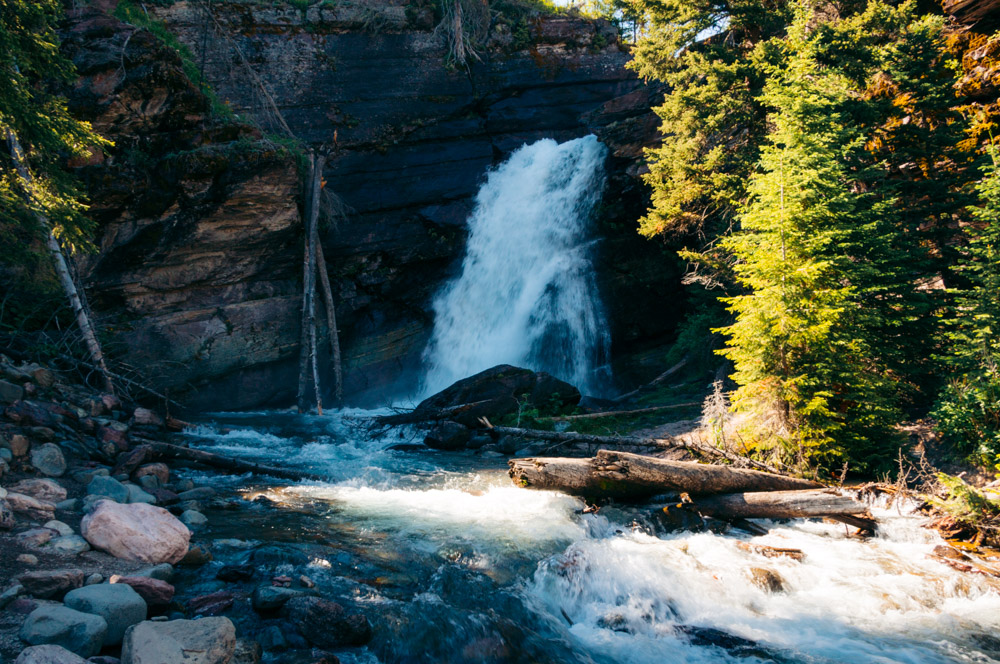 5. Baring Falls Trail – Ideal for Hiking with Kids of All Ages
I noticed that many kids are just like my son. They would do anything, including hiking to any secluded corners of Glacier if you tell they that there's water at the end of the trail. If your kids are as enthusiastic about any water sources, but not that much about hiking, then explore some of the shortest waterfall trails in Glacier.
Hike 1: The 0.6-mile, round-trip Baring Falls Trail should do the trick. The trailhead for this particular hike sits near Sunrift Gorge parking area.
Hike 2: A slightly longer hiking adventure to Baring Falls (it may excite your younger kids even more thanks to aquamarine St. Mary Lake to your left) starts from the Sun Point area in East Glacier. The trail begins at the far end of the parking lot and stretches out for one mile.
READ MORE: How to Hike to Baring Falls in Glacier NP: 3 Trail Options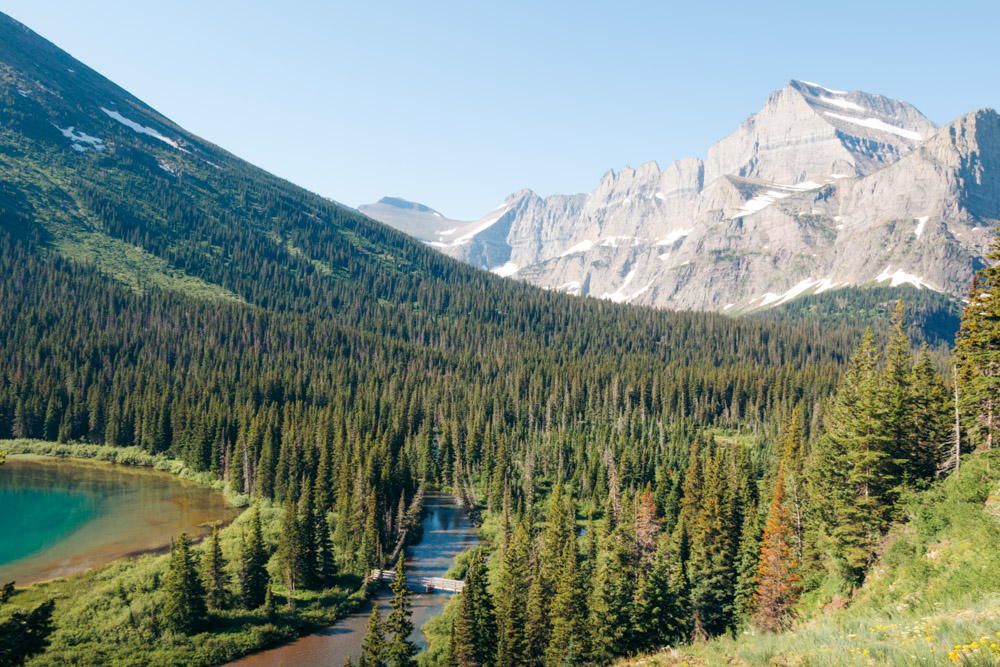 The Best Trails for Hiking with Small Kids in Many Glacier
6. Swiftcurrent Nature Trail
The 2.3-mile Swiftcurrent Nature Trail loops the area and offers some of the best opportunities to introduce your young hikers to Glacier's wildlife. Your small kids might not be interested in hiking any more at this point, but seeing a real pika or bear can surely ignite their interest in Glacier for a little bit longer.
To start your adventure along this easy trail in Many Glacier, head over to the Many Glacier Hotel or the Grinnell Glacier Trailhead, located just one miles away.
Regardless of the trailhead you choose, some of the main attractions to point out to your children include a couple of footbridges across Swiftcurrent Creek and a channel between Swiftcurrent Lake and Lake Josephine and the views of Grinnell Point and Mt. Wilbur.
TIP: Alternately, you can adjust the trail to suit the hiking needs of your small children and traverse just a portion of the path before returning back to the Many Glacier Hotel.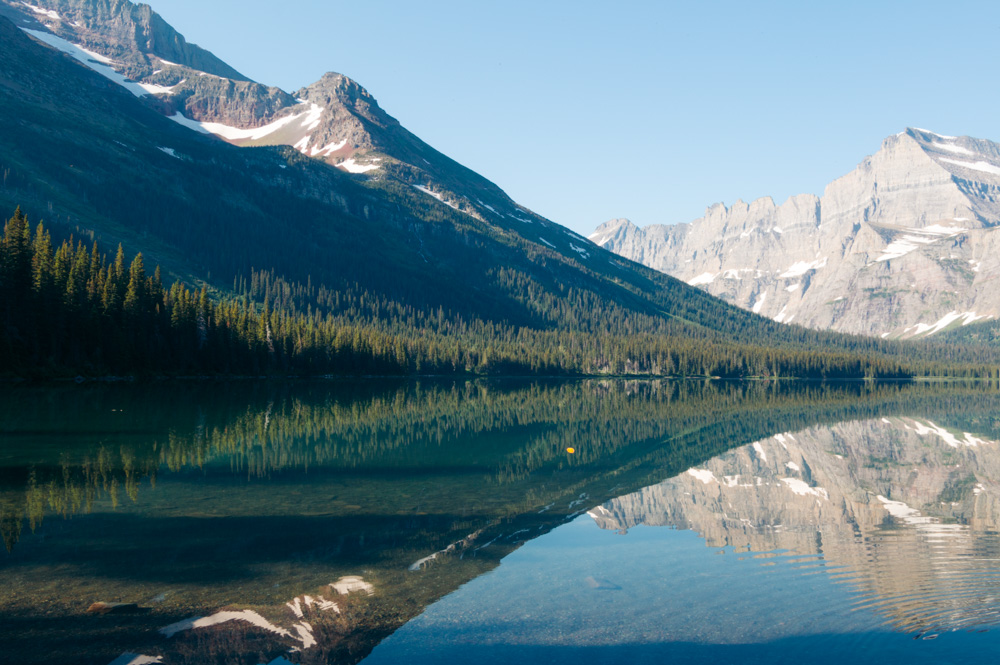 7. Josephine Walk Trail
For those families with the small kids that start their hiking adventures from the Grinnell Glacier trailhead, walk along the well-trodden path toward Lake Josephine.
The trail is short, just one mile long, and provides enough shade for a pleasant walk even in the middle of the day. Needless to say, the place at the end of the trail falls into the category of the most photogenic places in Glacier National Park.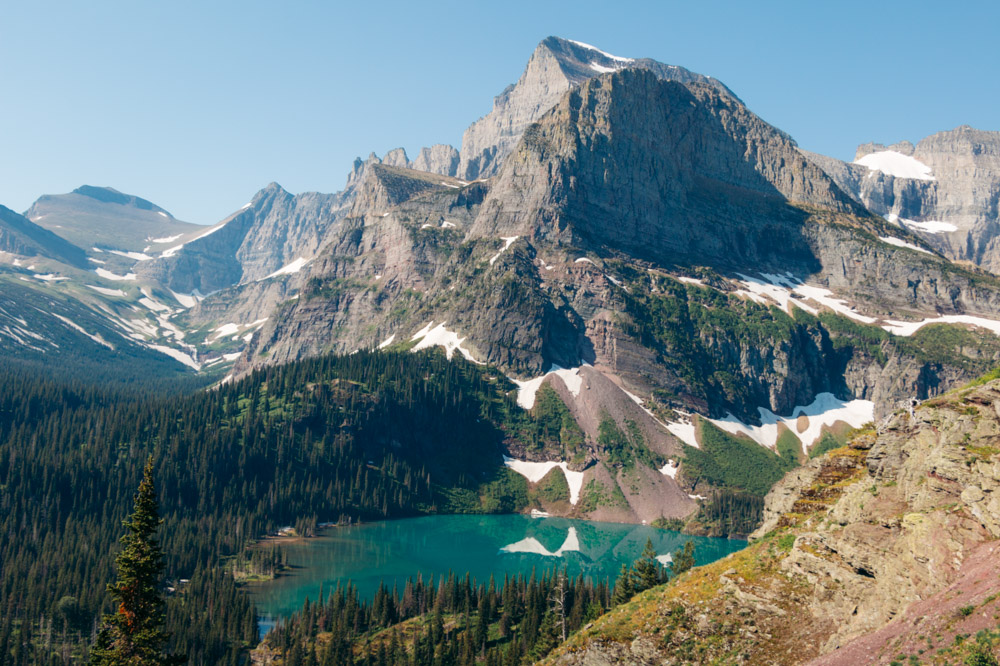 8. Grinnell Lake Hike in Many Glacier – Slighlty Challenging, but Still Appropriate for Hiking with Kids
If your youngest kids are up to more hiking, continue on along the Grinnell Glacier Trail toward Grinnell Lake. Sitting approximately 3.4 miles from the trailhead, this prime jewel of Many Glacier is one the favorite hikes for families with the small children and experienced hikers alike.
The Grinnell Lake Trail follows the Grinnell Glacier Overlook Trail for approximately 1.5 miles before forking to the left.
TIP: A ride on a concession boat that departs from the shore below the Many Glacier Hotel makes this day adventure even more enjoyable, especially if your little kids (ages 4 to 6) are not thrilled about hiking long distances. The two-part boat tour takes the hikers across Swiftcurrent Lake and Lake Josephine before dropping them off just 1.1 miles away from Grinnell Lake.
9. Grinnell Glacier Viewpoint – one of the Most Difficult Trails for Hiking with Small Kids in Many Glacier
If you've been skipping the longer trails suitable for the hiking with the small kids outlined above, try to challenge your family now and complete the 10.6-mile, round-trip Grinnell Glacier Overlook/Viewpoint Trail. Follow the trail that would take you to Grinnell Lake. Once you reach the trail junction, instead of walking downhill to the lake, hike uphill for another 3.8 miles.
Hiking to the Grinnell Glacier Overlook can be challenging even for the adults, let alone the small kids. The trail ascends gradually, occasionally treating the hikers to rare opportunities to see bears and mountain goats. Overall, the elevation gain comes close to 1,600 feet.
TIP: Clearly, you can't have too high of expectations from the 4-6-year-old kids while hiking along this challenging trail in Many Glacier. Carrying your children at least a portion of the trail is inevitable. Make it easier for yourself and let your kids hike as long as they can before offering them a "lift".
Hiking to Grinnell Glacier Viewpoint with Small Kids: Story from the Trail
And most importantly take your time to complete the hike. On average, for a family with the small kids it takes up to 5 hours to hike along the entire Grinnell Glacier Overlook Trail.
We saw a family with three boys (seemingly older than Dylan) on our hike toward the overlook. The kids were tired, no doubt about it. They made frequent stops, letting us catch up with them and pass them. A few minutes later, while our group was taking a break, the family with the three boys would rush past us just to take another break a few feet in front of us.
As we didn't see this family until almost the last stretch of the trail, I assume they had started their hiking adventure very early in the morning. (To give you something to compare with, we hit the Grinnell Glacier Overlook Trail at 8:00 a.m.).
Thanks to a joint effort of my husband and nephew to carry Dylan when he needed a break, our group reached the overlook a few minutes before the family with the three boys got there. This certainly proved one thing – hiking in Glacier with the kids of any ages is more than possible.
TIP: If you take the concession boat across Swiftcurrent Lake and Lake Josephine, you have only 3.6 miles left to hike towards the Grinnell Glacier Overlook.
Hiking with Small Kids in Glacier National Park: Tips
Bring plenty of water and snacks. Your hiking adventure might take longer than expected. Make sure your young hikers stay hydrated and can replenish their energy on the go.
Take time and make frequent stops. Don't let your youngsters feel too tired, unmotivated, and steered away from hiking forever.
Bring hats and sunscreen. Moreover, make sure to reapply the sunblock on your kids every two hours while hiking along the longer trails in Glacier National Park.
Have extra layers. Hiking with the kids in Glacier is a packing test for parents. The weather in the park can be temperamental. Keeping your young hikers warm in such windy and rainy conditions is one of the main factors of how far you can hike.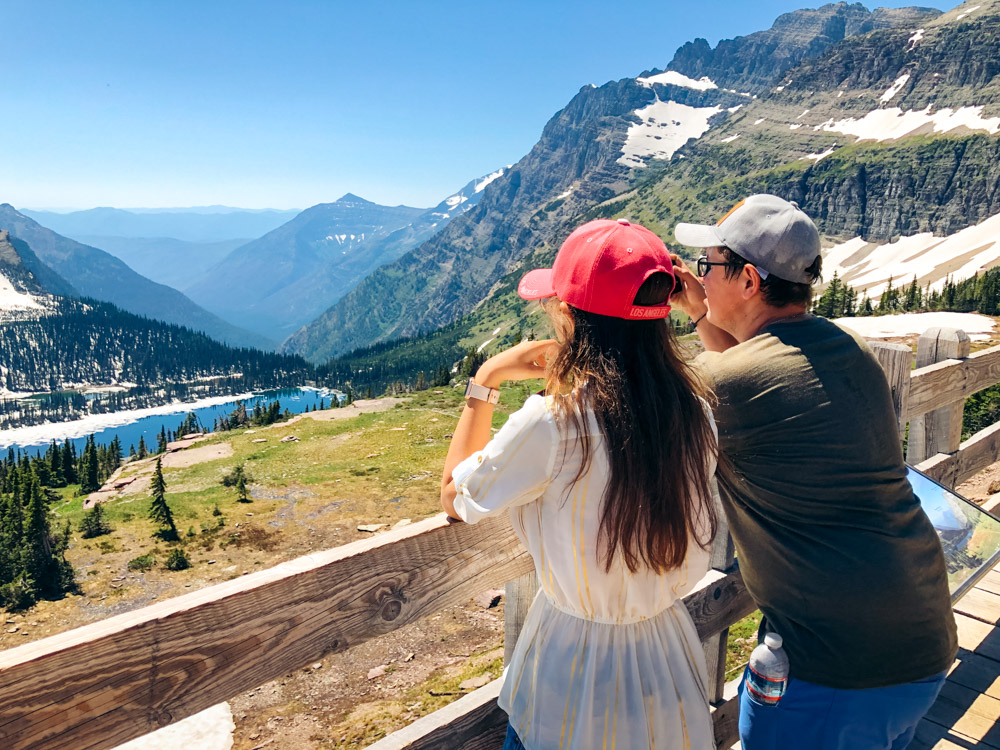 Hiking with Kids in Glacier: Animal Safety
Keep bear spray within easy reach. The bear spray is essential in Glacier National Park whether your hiking adventures include small kids or don't. What is this spray anyway? The bear spray is in essence a strong pepper spay that you disperse in the bear's face if it attacks you.
READ MORE: How to Protect Yourself from Bears in the Wild: Tips and Myths
Keep your kids at a safe distance from Glacier National Park's wildlife during all of your hiking trips. In general, the distance between you and a bear or wolf should be at least 100 yards. Neither you not your kids should approach any other animals, leaving at least 25-yard distance between you and the wild inhabitant.
Stay away from animals with babies. Although some animals are normally unaggressive, any wild dwellers with the babies can be dangerous. Give them space. Alternatively, you can make noice (putting bells on your kids' backpacks while hiking in Glacier is a common practice). The animals will hear the sound and walk away before you even spot them.
Read More
---
If you enjoyed this blog post, don't forget to pin it for later and share it with your friends.