Tender, juicy to some extend, and spicy for your liking, traditional Nepali momos sneaked into our house and became although rare, but favorite treat.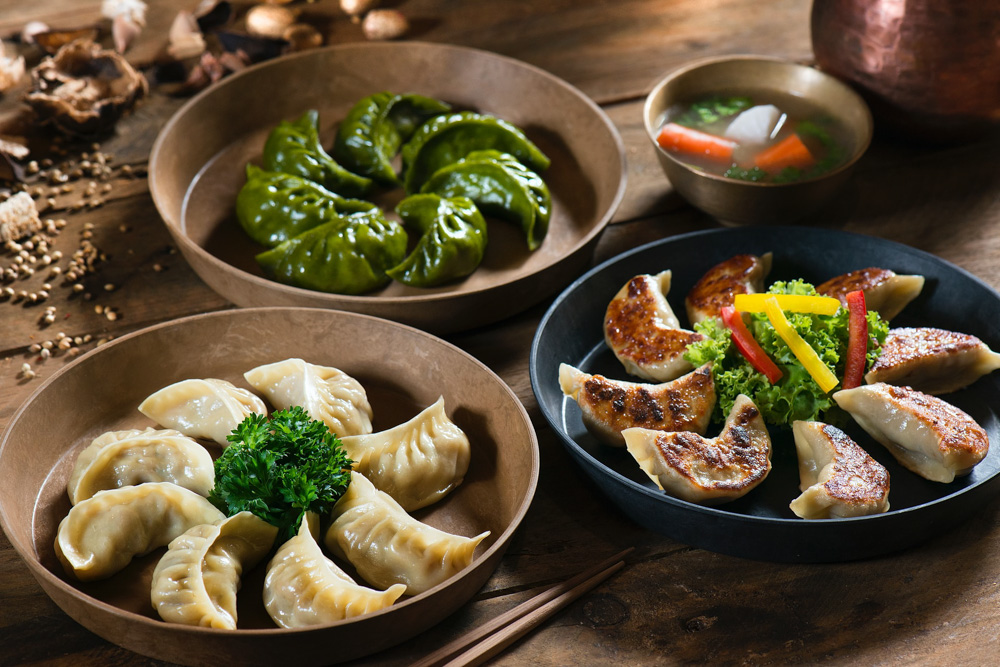 All about Nepali Momos: History, Traditions, Vegan and Chicken Recipes
Roshan was the one to introduce all of us to traditional Nepali momos. Growing up in Kathmandu, he ate these steamed dumplings at home, grabbed them from local vendors while hanging out with friends, or, accompanied by his sister, ventured out on momos' hunt every time they were paid for their tutoring jobs.
We went on a Nepalese momos spree in Los Angeles a few times as well. And although my unaccustomed taste buds alway found these steamed dumplings delicious, Roshan's permanent remark was: "They were ok." None of Nepalese restaurants in Venice and Santa Monica served traditional momos that would live up to this Kathmandu's man's expectations.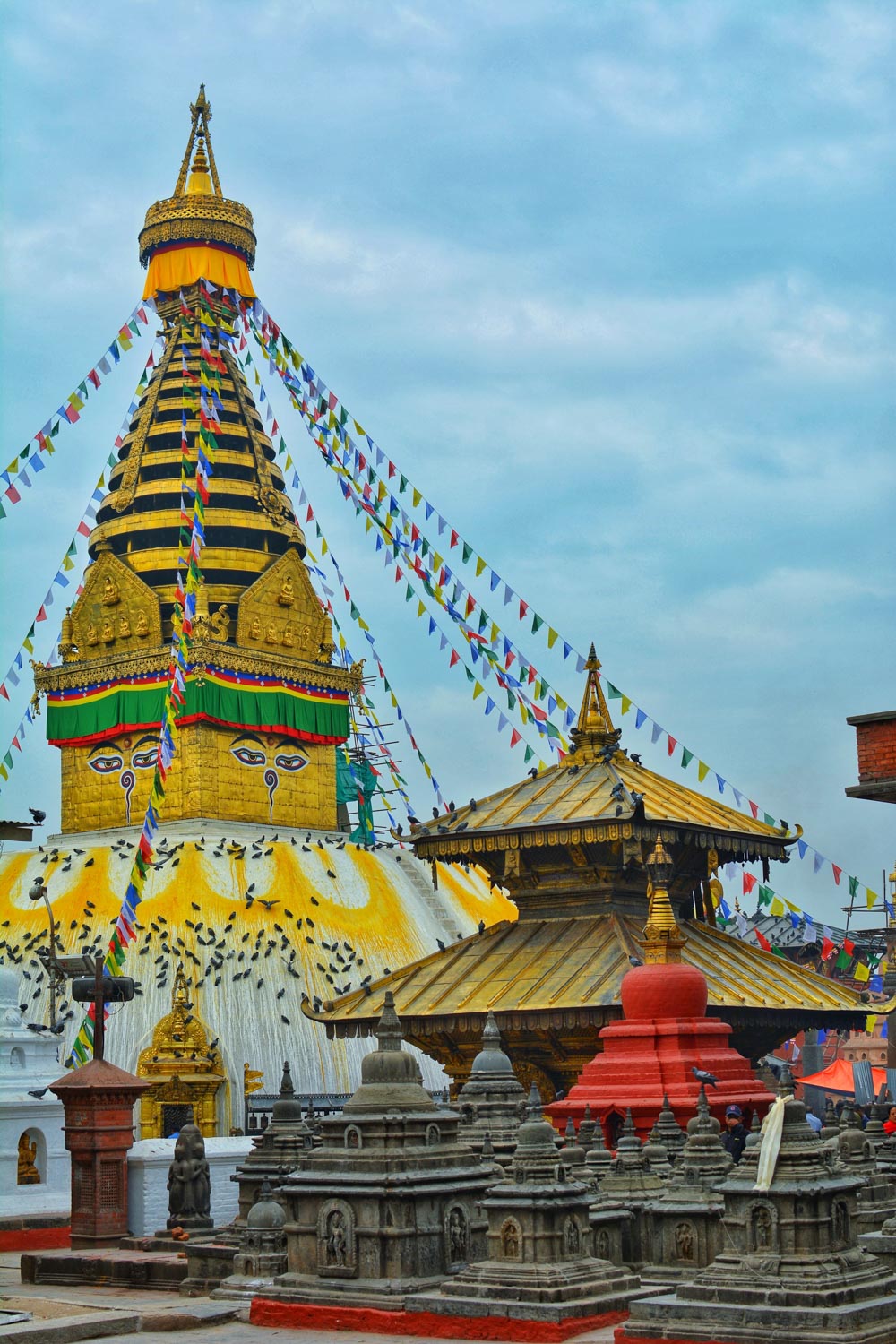 Making Traditional Nepali Momos at Home
Yet Roshan would lit up every time we cooked vegan or chicken Nepali momos at home. Making the traditional dumplings that are mostly present in Newar cuisine, however, is a special ritual, to say the least. The first time I participated in the process of making traditional Nepali momos at home, our kitchen was in use for hours. Our family friends of Nepalese origins came over, and the magic began.
Ladies in their familiar ways pulled out pans, chopping boards, vegetables and meat, and a mucktoo, a traditional utensil to steam momos. Men removed flowers from a table in our living room adjacent to the kitchen. Instead, they placed more chopping boards, this time for rolling out the dough, on their "working station". Everybody knew exactly what to do.
As soon as the filling, typical for traditional Nepali momos served in the Kathmandu Valley, was ready, the commotion increased. Men and women alike gathered near the living room table and got busy creating crescent and round-shaped momos. The raw dumplings arrived in batched. Vegan Nepali momos were leading the game. Their non-vegan siblings took over shortly after.
The final result was incredible. Served with sauce, these traditional Nepali momos tasted like heaven. Hands down, they were the best dumplings I had tried up to that point.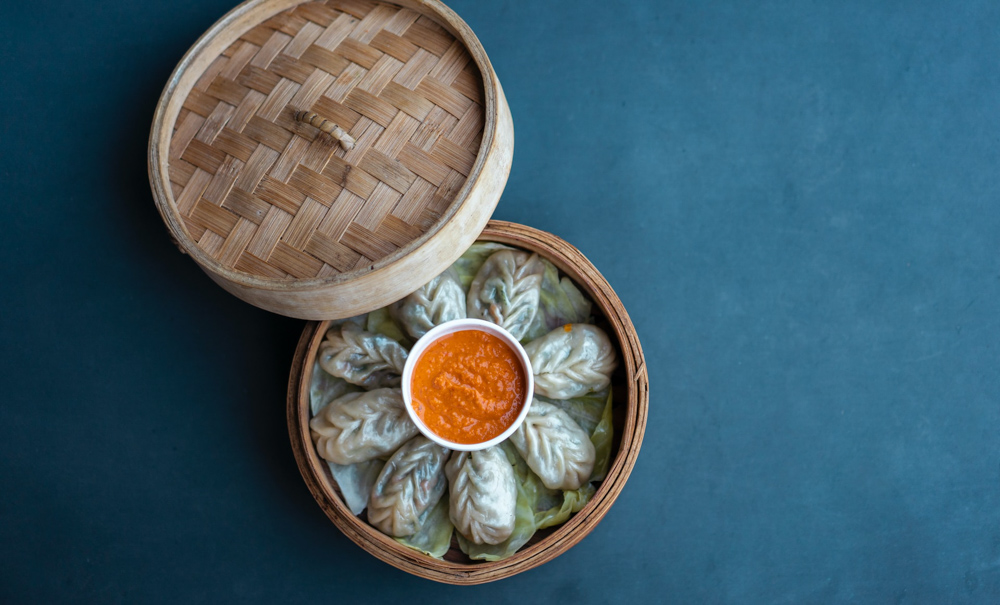 What are Traditional Nepali Momos?
Traditional Nepali momos are steamed dumplings filled with vegetables or meat. The word mo or mome in Newari means the process of steaming while making any dishes that look like the dumplings.
While momos are found primarily in Nepalese cuisine, many other nations have their own similar specialties. The closest dishes to traditional Nepali momos are Chinese (jiaozi) or Japanese (gyoza) dumplings. Following practically the same cooking methods, these dishes often even taste like Nepalese momos.
Some other nations also use similar cooking techniques. For example, in Slavic cuisines, traditional pelmeni remind of Nepali momos. Yet instead of steaming, these dumplings go through a boiling or frying session.
History in a Nutshell
Momo has been a special part of Nepalese cuisine for centuries. Yet despite its popularity in the Kathmandu Valley, the dish originated in Tibet. It's believed Newari merchants, traveling between these two destinations, brought the recipe down to the valley.
Originally, momos were filled with meat, usually yak. Due to the scarcity of vegetables at high elevations, the Tibetan people used only ingredients available on hand.
Later when momos got exposure in Kathmandu and its surrounding areas, the vegetarian and vegan fillings became possible. In fact, there was high demand for the traditional, yet meat-free dishes. To accommodate the vegetarian part of population, the original recipe allowed for some slight adjustments. But it was only a matter of time before a wide range of different, mostly meatless fillings appeared.
Today, you can find momos with chicken, pork, goat, and buffalo meat. These combinations are typical for the Kathmandu Valley. In the Himalayan area, they still use yak meat. The later recipes also ask for lamb meat. Vegan Nepali momos include anything from cabbage and carrot to tofu. The vegetarian recipes often also have cheese or paneer.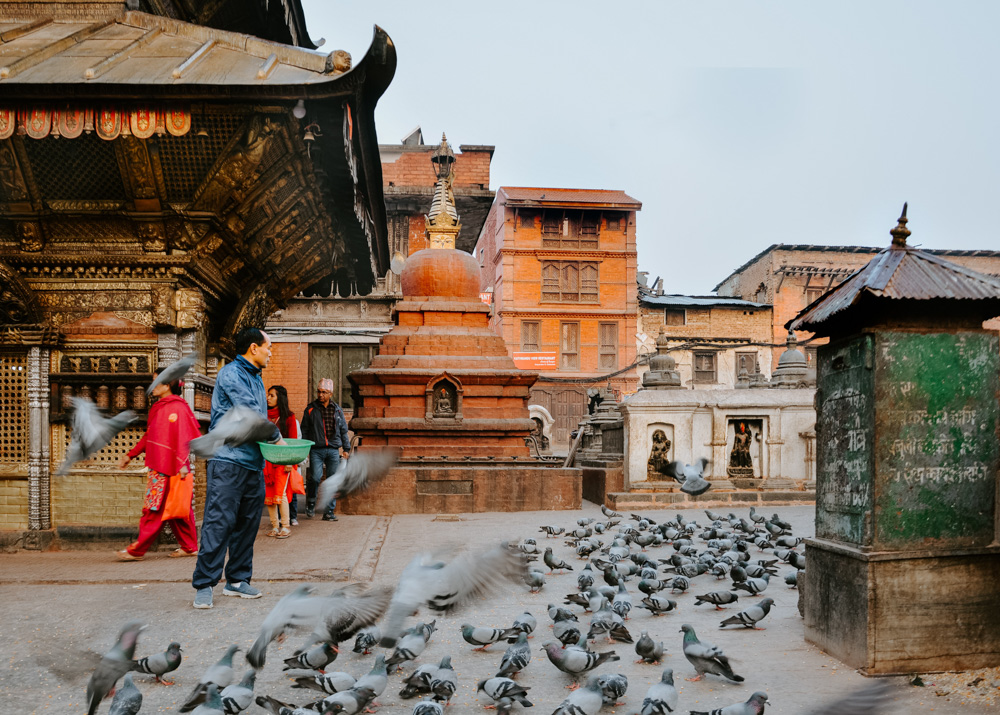 How to Serve Traditional Nepali Momos
Kids on the streets gorge on them. Adults grab them on their way to work. Every Nepali restaurant in the Kathmandu Valley have momos on their menus. Families get together to dine on these delicious steamed dumplings. Momos are everywhere in Nepal.
Yet the traditional way of eating the dumplings requires one more thing. According to Roshan, Nepali momos are not the same without spicy sauce or momo chutney. This side condiment is usually tomato-based with or without sesame seeds. But just like it's the case with momos, different recipes of the sauce exist nowadays.
The level of spiciness of the side dish can also be adjusted. Some add more chili or spicy garam masala. Others eat their traditional momos with mild or non-spicy sauce.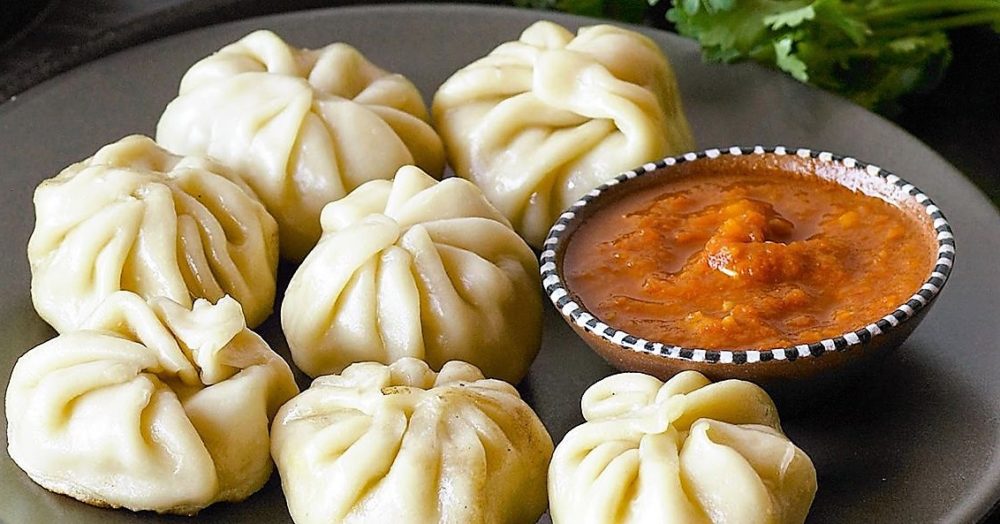 HOW TO MAKE NEPALI MOMOS AT HOME:
While I stick to vegan dumplings, Roshan always craves some chicken momos. So we prepare both dishes. And here is how we make vegan and chicken traditional Nepali momos at home.
Vegan Nepali Momos Recipe
Yield: 30 -40 momos
Time: 1.5 – 2 hours
Ingredients for Dough:
3 cups flour
3/4 cup water (add more if needed)
Ingredients for Filling
2 carrots, shredded
3-4 cups green cabbage, diced
2 medium onions, minced
1 tbsp ginger, minced
1/2 tsp ground turmeric
1 tbsp coconut oil
Salt and pepper to taste
Directions:
Combine the flour and water to make a smooth dough. Add enough water so the dough is not too dry.
Cover and let it rest.
Cook the ginger and turmeric in oil for about 1-2 minutes.
Add the onion, carrot, and cabbage. Season with salt and pepper. Cook until softened.
Set the vegetables aside to cool down.
Meanwhile, divide the dough in small balls and roll them out into thin circles.
Place a small spoonful of filling in the center. Crimp the edge half way, pull the other side, and bring them together to seal the dumpling.
Repeat with the rest of momos.
Place the dumplings in the mucktoo.
Bring the water to a boil in the lowest container, then put the steamers on top.
Reduce heat and steam for approximately 25-30 minutes. Momos in the second to the last container cook faster. You may want to switch places of the steamers to ensure that all the dumplings are cooked thoroughly.
Serve your vegan Nepali momos with spicy sauce or momo chutney.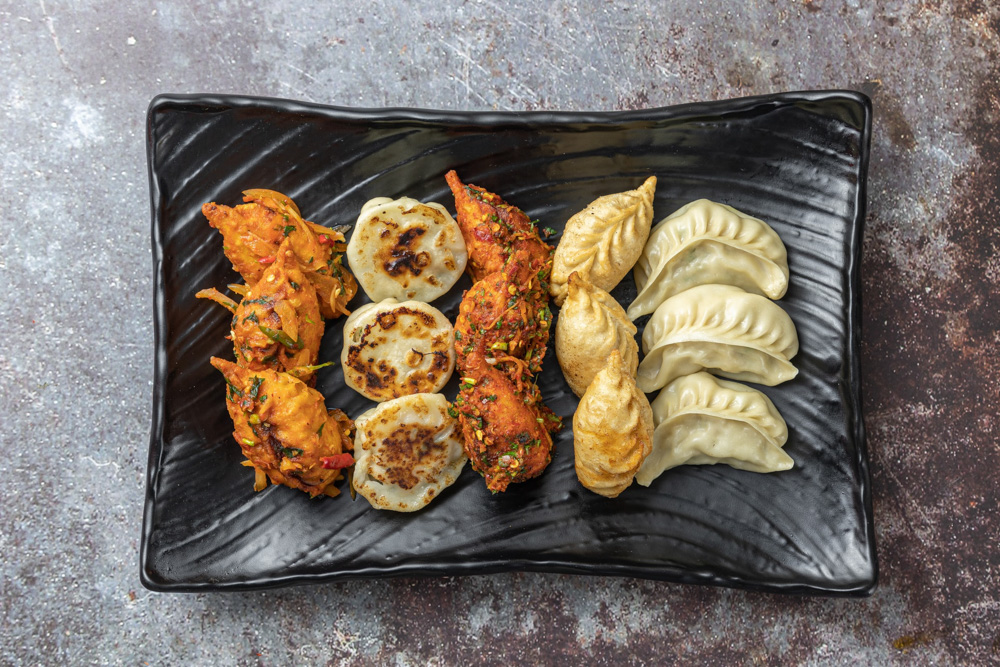 Traditional Nepalese Chicken Momos Recipe
Yield: 25-30 momos
Time: 1 – 2 hours
Ingredients for Dough:
3 cups flour
3/4 cup water (add more if needed)
Ingredients for Filling
1 lb ground chicken
3 medium onions, minced
2 carrots, shredded
1 tbsp ginger, minced
1/2 tsp ground turmeric
1 tbsp coconut oil
Salt and pepper to taste
Directions:
Combine the flour and water to make a smooth dough. Add enough water so the dough is not too dry.
Cover and let it rest.
In a large bowl, combine the ground chicken, onion, carrots, ginger, turmeric, salt, and pepper. Mix well with your hands.
Preheat a pan, add oil, and place the chicken mixture. Cook, stirring frequently, for about 15 minutes or until the chicken is almost ready.
Set the mixture to cool down.
Repeat steps 6 – 12 from the vegan Nepali momos recipe.
Want to experiment with more travel inspired dishes? Check out these recipes.
Read Next