A healthy Jewish treat, this vegan cinnamon-walnut babka wreath delights both nut lovers and those who have a crazy sweet tooth.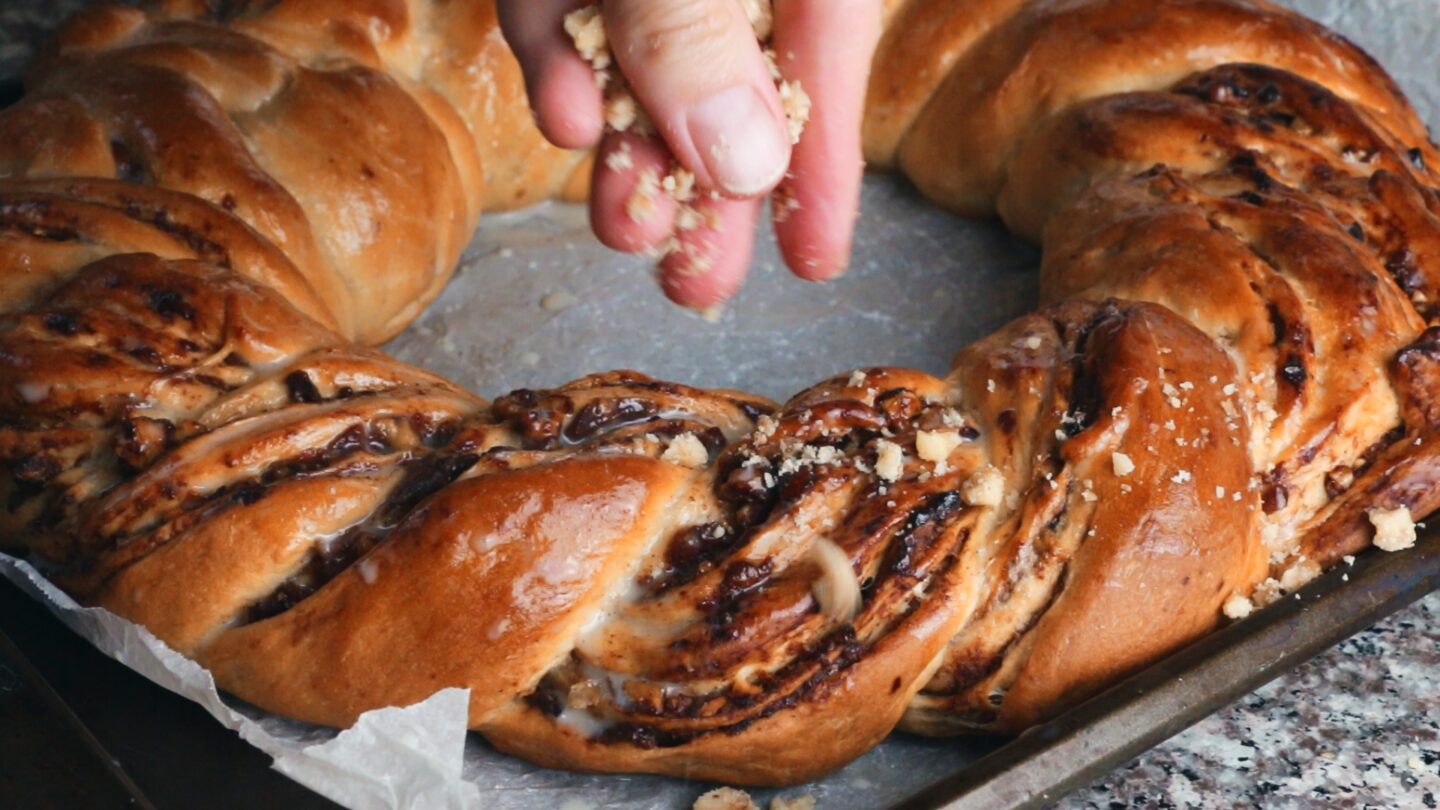 Jewish Babka
For any Eastern European, babka has nothing to do with yeast-leavened dough and sweet braided bread. In this part of the world, babka has always been associated with a potato dish that varies in its final stage of cooking from household to household.
And yet somehow its sweet namesake was also born in Eastern Europe, mainly in the Jewish communities of Poland and Ukraine. Here babka was loaded with flour, butter, eggs, and some fruit jam, cinnamon, or cheese filling. A little bit of yeast leavened the dough, which was braided and baked a few hours later.
Jewish babka dates back to the early 19th century. Many different variations of this challah bread, often prepared for the Jewish Sabbath, were introduced in the mid-20th century.
How to Make Vegan Cinnamon-Walnut Babka Wreath
Although traditional babka requires eggs and butter, there is an easy way to get around the original recipe and make an even healthier vegan or plant-based option. In this cinnamon-walnut babka wreath recipe, we substitute vegan butter for dairy butter and omit the eggs altogether.
Note: If you stay away from sugar, use natural sweeteners, such as honey (not vegan), maple or date syrup, or date paste.
After the dough rises and you fill it with a cinnamon-walnut mixture, assemble your braided babka in a wreath and bake it for 30-35 minutes. A soft, slightly sweet bread wreath, enhanced with cinnamon and walnuts, this Jewish babka can easily complement any feast.
Decorate it with some green or red ribbons and let it spruce up your Christmas table. If you make this cinnamon-walnut babka wreath in fall, add some pumpkin pie spice to the dough, and enjoy this healthy braided bread with a sweet touch all season long.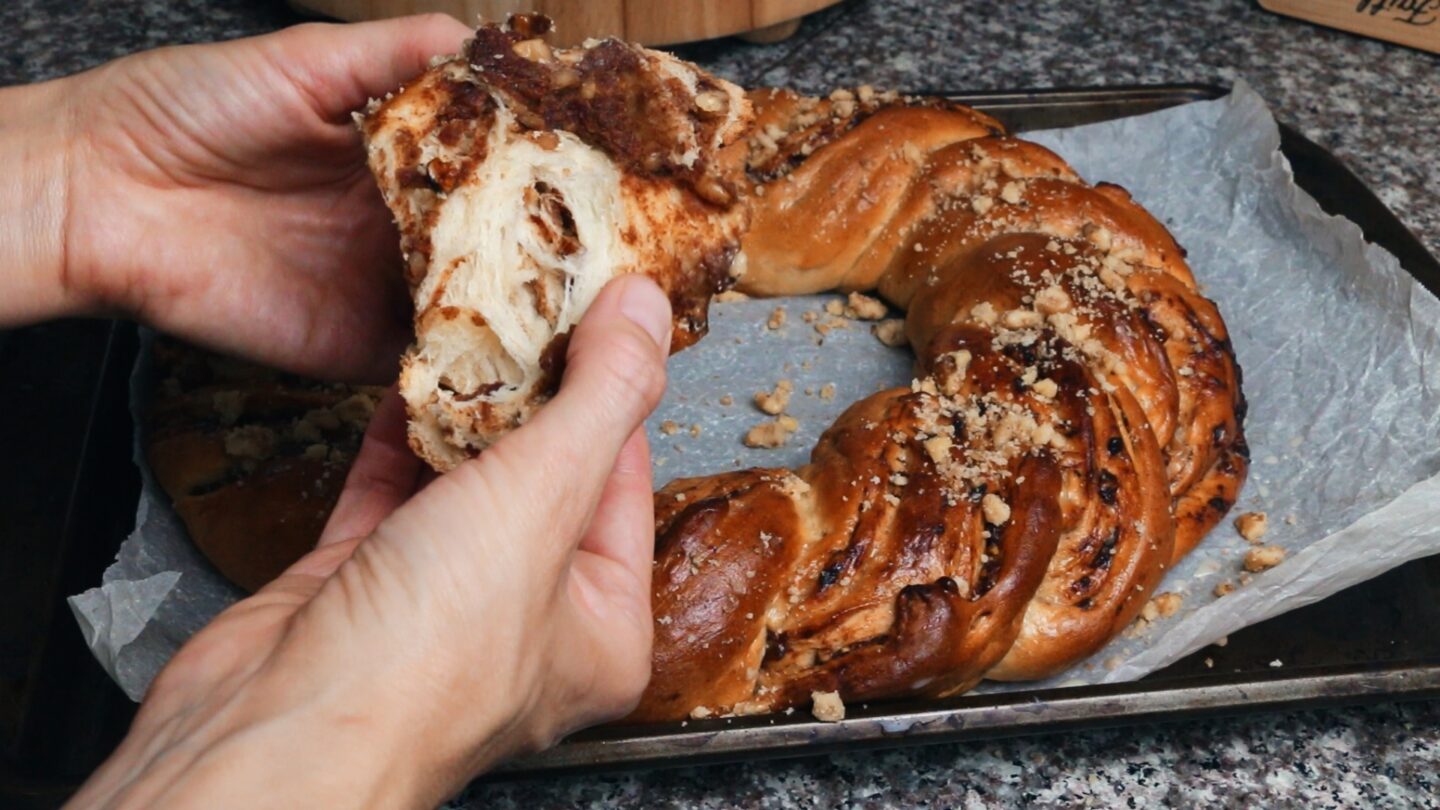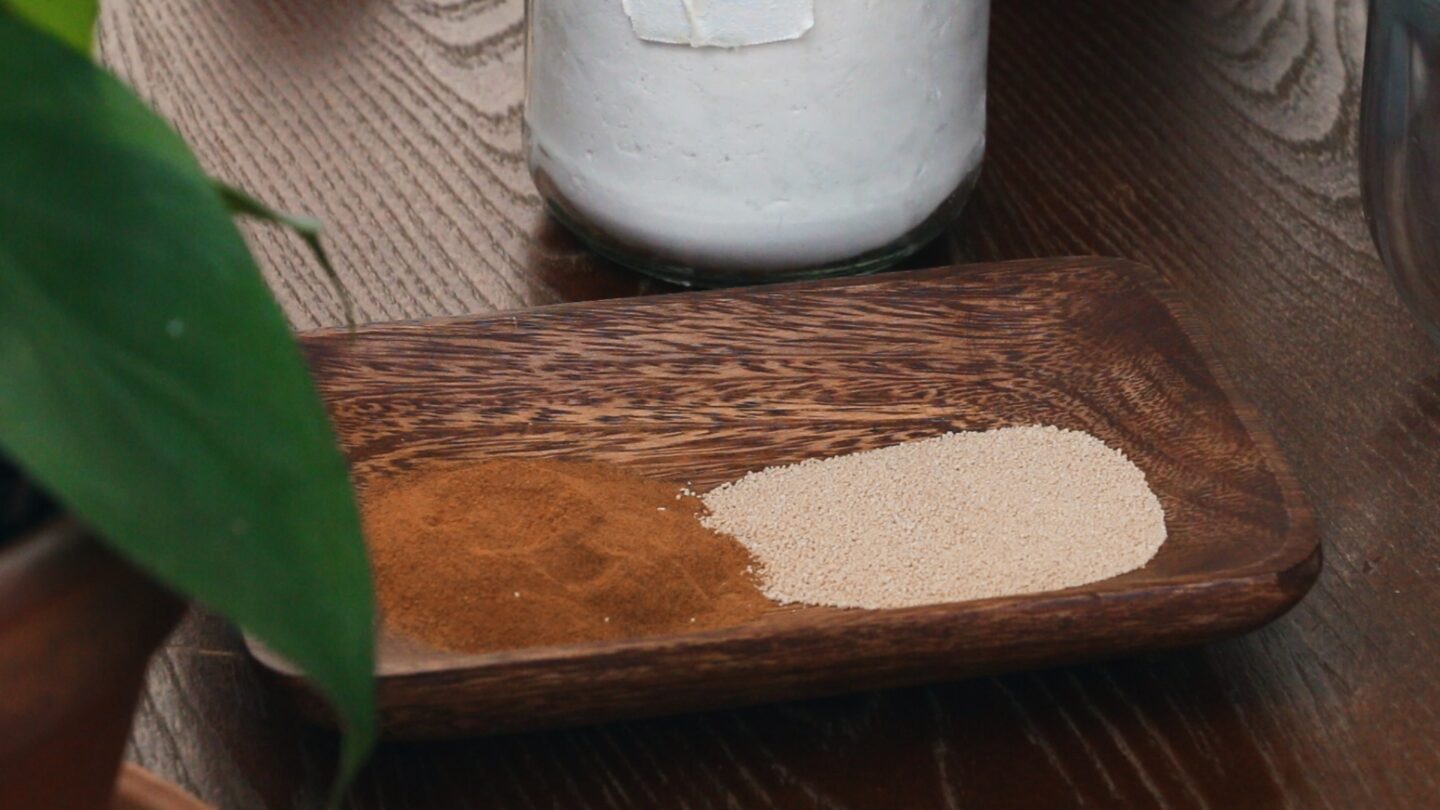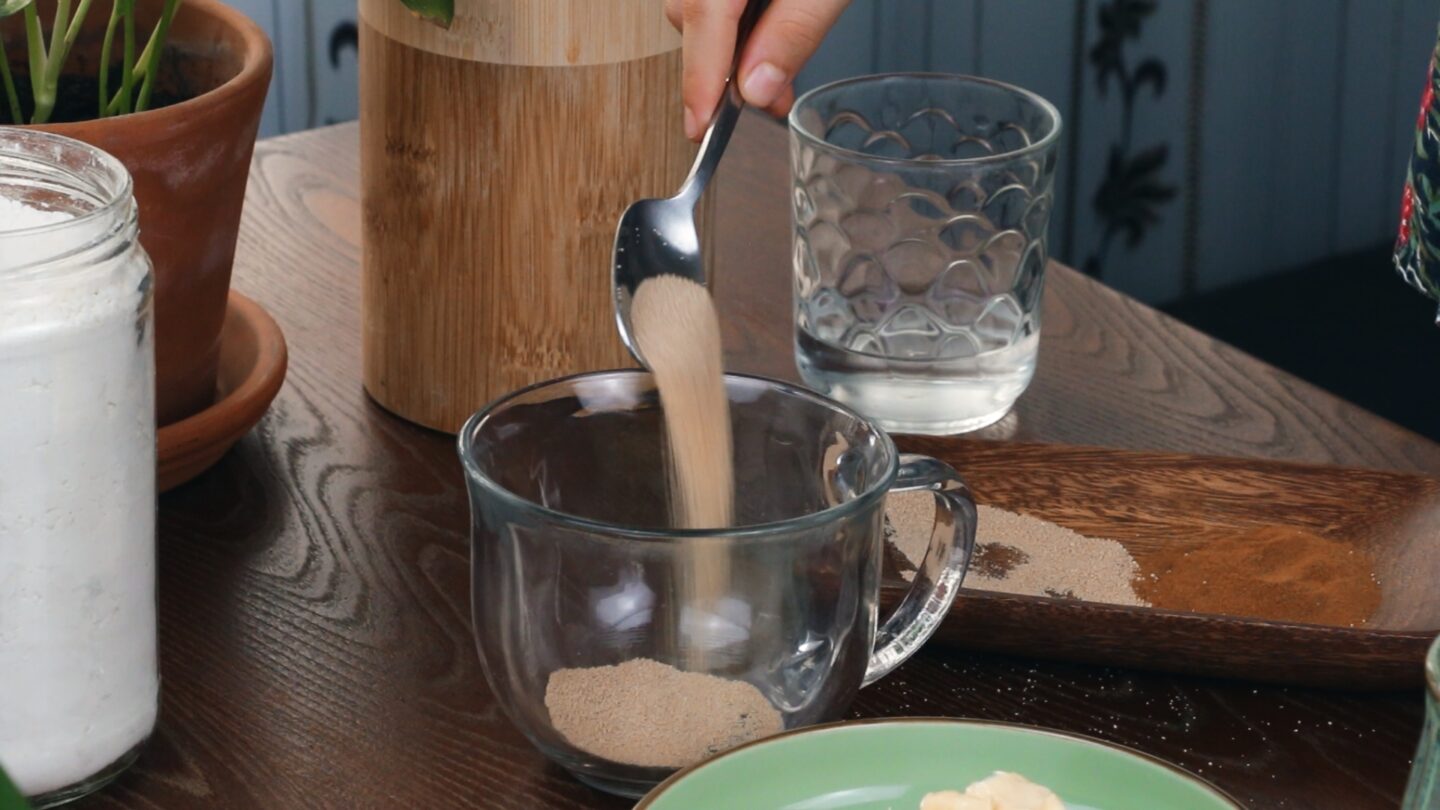 VEGAN (PLANT-BASED) CINNAMON-WALNUT BABKA WREATH RECIPE
Ingredients
4 cups flour
2 1/4 tsp dry yeast
3 tbsp maple syrup (you can also use honey)
100 gr vegan butter
1 cup warm plant-based milk
1/4 cup warm water
1/4 – 1/2 tsp pumpkin pie spice (optional)
Filling
1 cup date paste
1/2 cup walnuts, finely chopped
2-3 tsp ground cinnamon
1/4 cup coconut oil, melted
TIP: To make date paste, in a blender or food processor, mix Medjool dates, pitted, with a little bit of water until a uniform mixture is formed. Add more water if the paste is thick.
Sweet Milk Wash
Milk
Maple syrup (or honey)
Use it for brushing the top of the babka wreath once it's baked. Sprinkle it with crushed walnuts at last.
Directions
In a bowl, whisk together the wam water and yeast. Let it rest until fluffy for 5-7 minutes.
In a large bowl, put the flour, milk, maple syrup (or honey), butter, pumpkin pie spice (if you use it), and yeast mixture. Mix everything until combined for about 3-4 minutes. Then knead the dough for 12-15 minutes. Cover the bowl with a cloth or plastic wrap and let the dough rest at room temperature for 1 1/2 – 2 hours or until doubled in size.
TIP: Preheat the oven so it's warm, but not hot, and place the bowl with the dough inside. The warm temperature will make the dough rise faster.
While the dough rises, prepare the cinnamon-walnut filling. In a separate bowl, mix the date paste, walnuts, and cinnamon.
Then using a rolling pin, roll out the dough into a thin rectangle (approximately 26 x 16 inches). Make it thicker if you prefer your babka wreath to be smaller in size.
Brush the dough with the melted coconut oil. Spread the cinnamon-walnut mixture on the dough with a spatula. Tightly roll up the dough, starting from the long side.
Using a knife, cut down the middle of the roll lengthwise. Knit the dough sides as a braid, form into a circle and fix the ends to make a wreath.
Transfer the braided babka wreath to a baking sheet carefully. Cover it with the plastic wrap or towel and let it rest at room temperature for approximately 30 minutes.
Preheat the oven to 350ºF. Bake the bread for 30-35 minutes until the top turns brown.
Remove from the oven. Brush with the milk wash and sprinkle with the crushed walnuts.
Your vegan (plant-based) cinnamon-walnut babka wreath is ready. Enjoy!
Want to experiment with more travel inspired dishes? Check out these recipes.