Scenic hikes, churning waterfalls, small town hospitality… Once you visit Twin Falls for the first time, you dream of coming back again and again.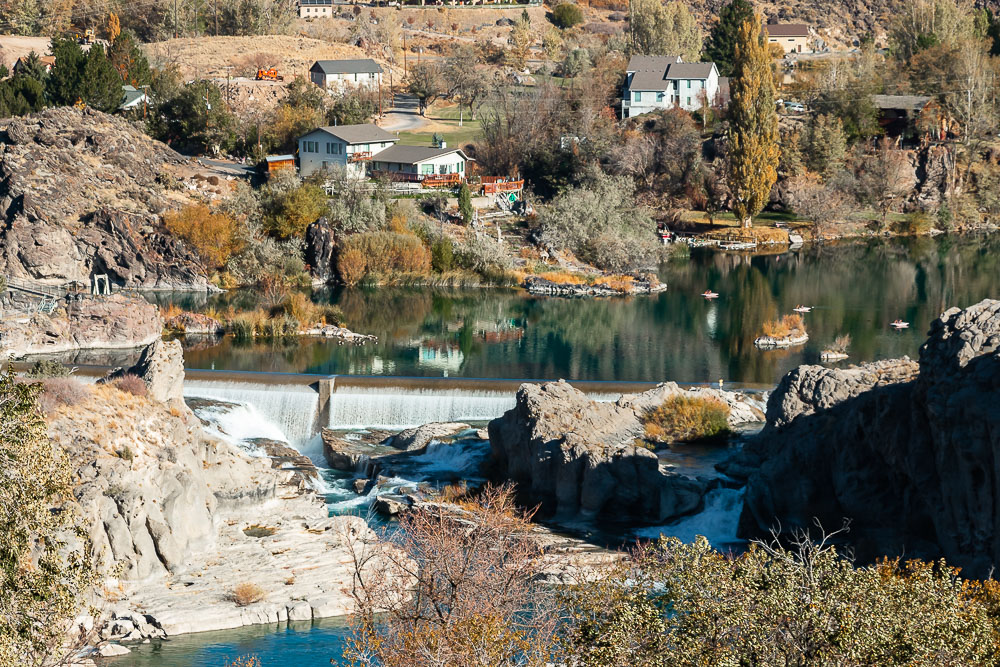 Twin Falls has been enticing adventurous travelers for at least half a century. From tales about city's daredevil locals to ample opportunities to challenge yourself, the place keeps you on your toes. Whether you visit Twin Falls to see its remarkable Shoshone Falls or pass though the city on your way to Yellowstone, be ready to spend more time here than you initially intended.
If this happens, which surely will, refer to this first-timer's guide to make the best of your visit to Twin Falls.
Visit Twin Falls, Idaho: Introduction
Twin Falls is a rather small city in southern Idaho with population of a little bit more than 50,000. Despite this tiny size, the place impresses with its landmarks and historical heritage, enticing newcomers to visit Twin Falls again and again. Nestled on the Snake River Canyon, one of the most remarkable ravines in the country, the city boasts natural attractions that you can't find anywhere else in the region.
While the splendid surrounding takes your breath away, the place surprises with its rather traditional views. Being almost entirely Mormon, Twin Falls puts its temples at the center of both religious and political life. Even some of local stores succumb to old-fashioned traditions and accept checks, debit cards, or cash while resisting credit cards.
And yet, no place is like this southern Idaho's city. Twin Falls intrigues the moment you visit the Perrine Bridge and stop at a gas station near the Visitor Center. The farther you walk from the building, the more you fall in love with its remarkable scenery. You instantly make a decision to visit Twin Falls again sometime in the future. As for now, you only wish that your first trip to the city could be longer.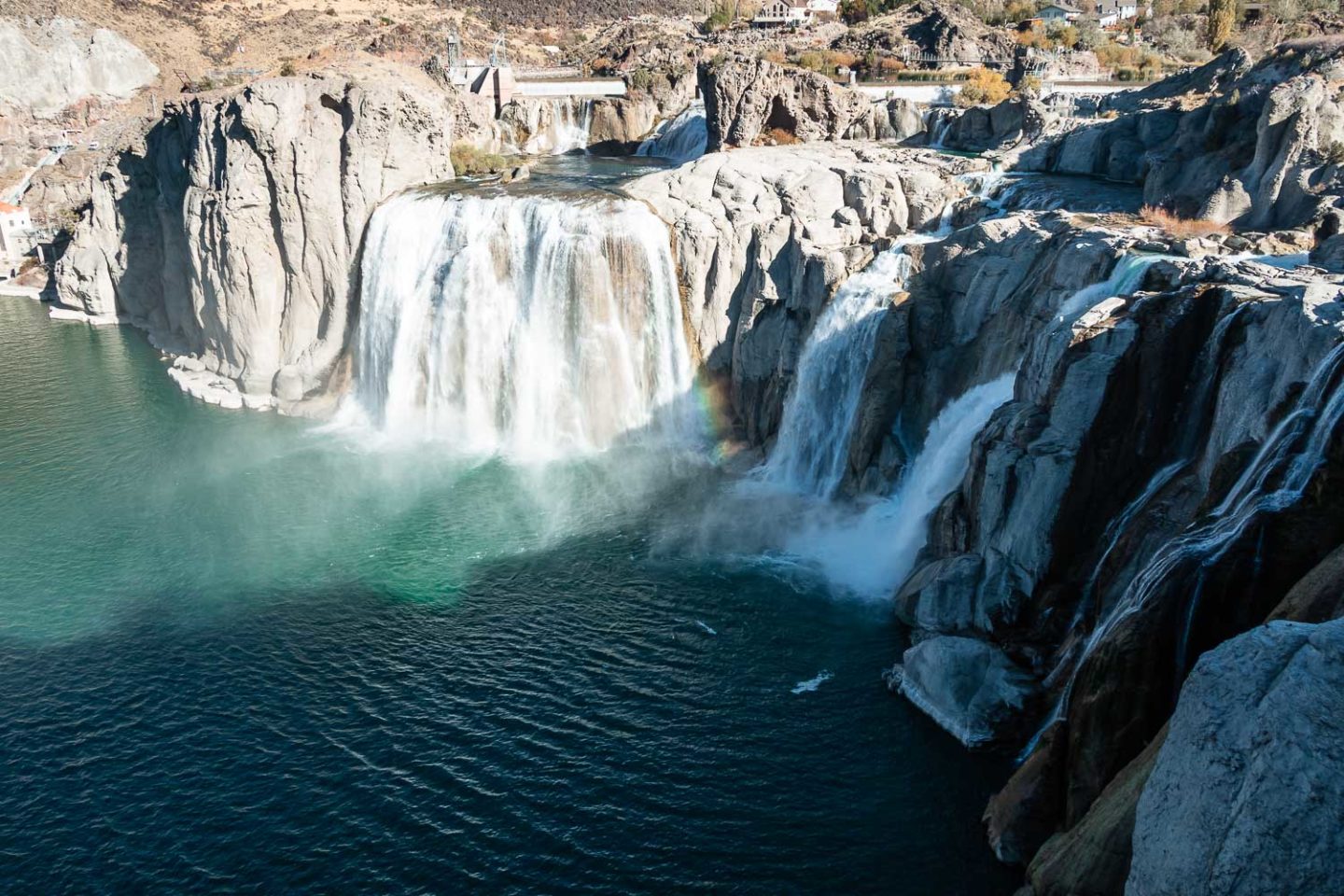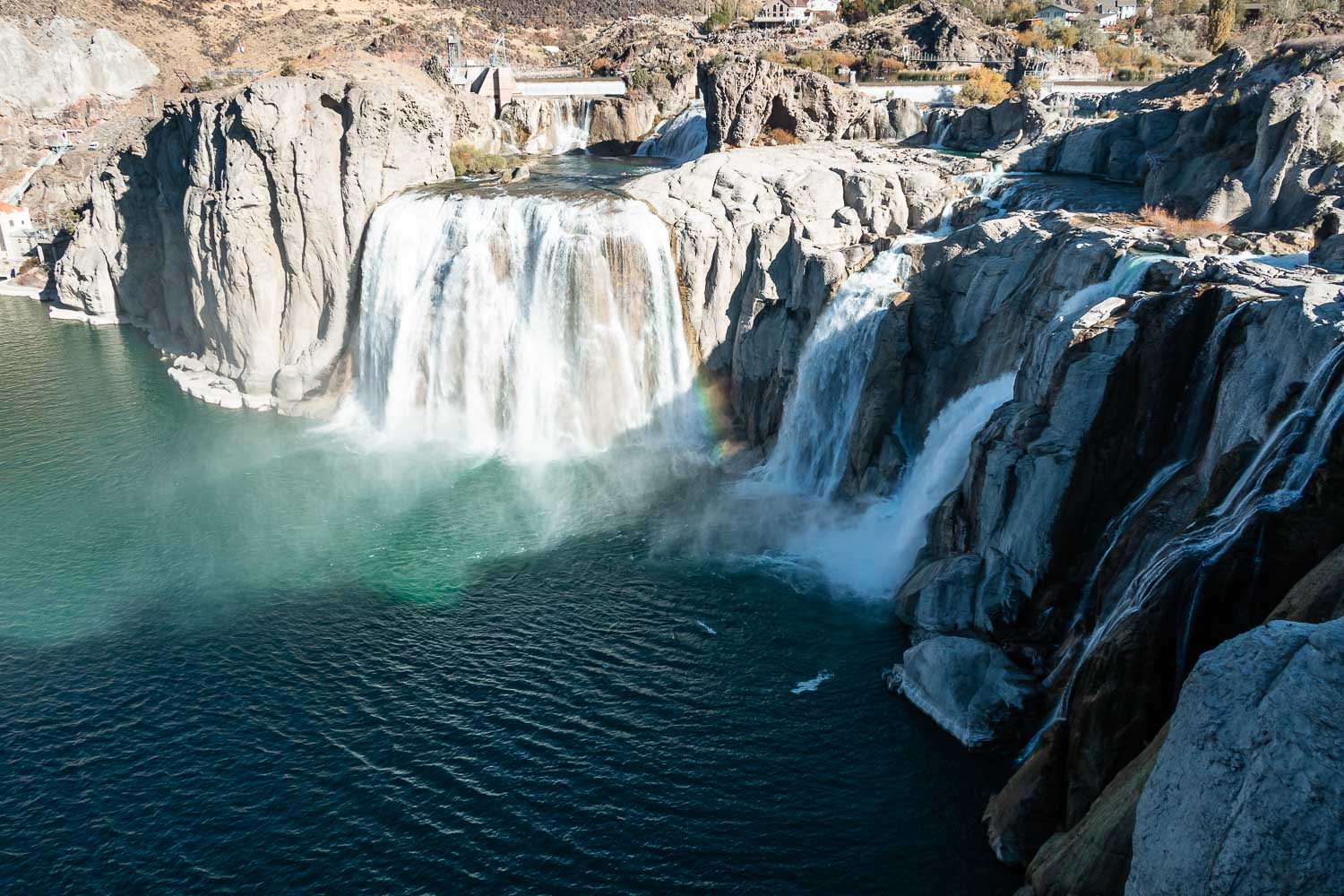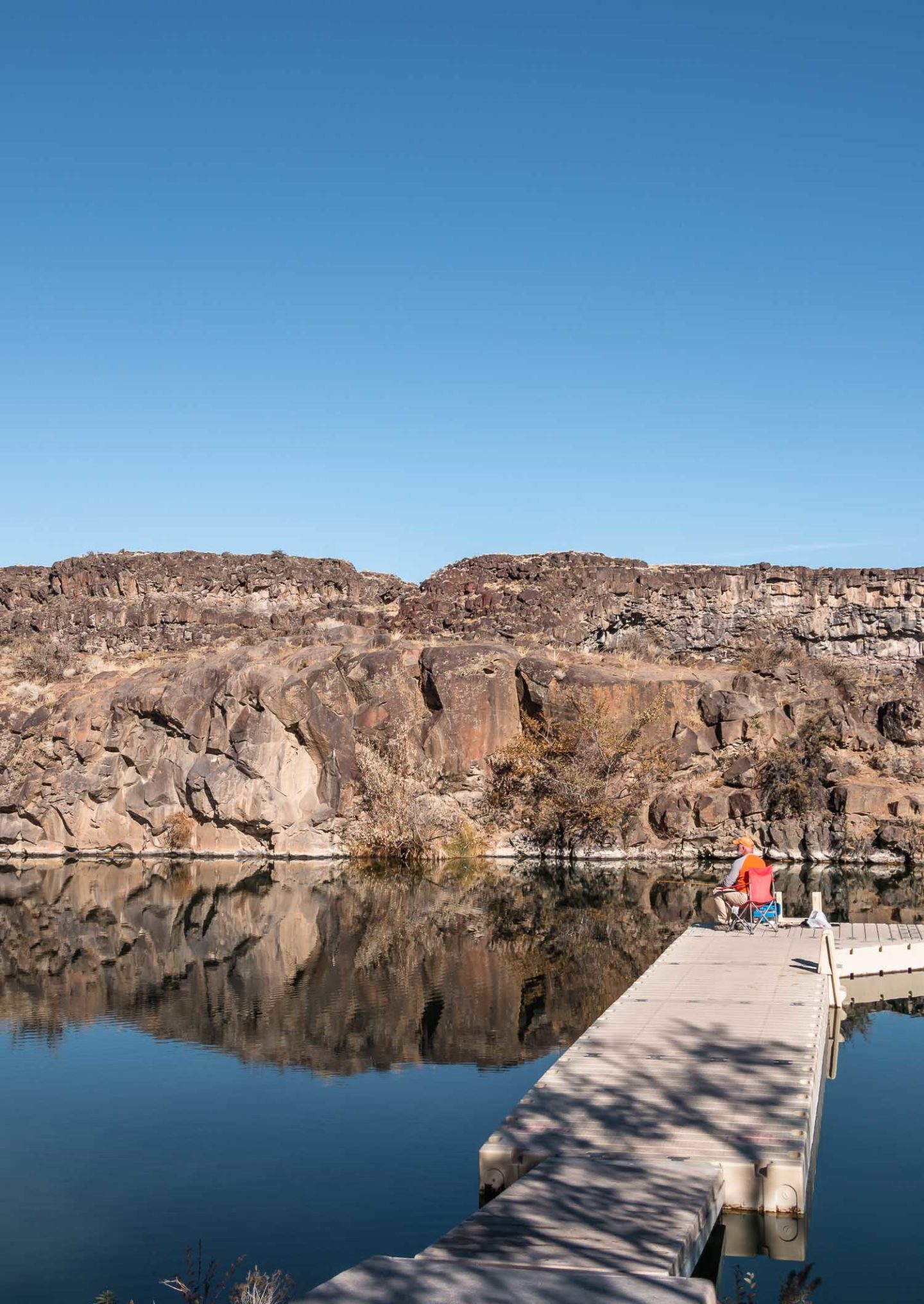 Is Twin Falls Worth a Visit?
This question bugged me a lot. Shoshone Falls already stole my heart (even though I saw it only in pictures). But were there any other interesting places to visit in Twin Falls?
Certainly! Famous for its scenic Snake River Canyon, the place entices people from all over the world. If it's not enough, Twin Falls uses its massive Perrine Bridge to accommodate BASE jumpers all year long. Last but not least, you can visit Twin Falls and walk behind a waterfall. Hardly any first-time visitors can say no to this activity.
If there were just a few things I could do in the city, walking behind the waterfall would be the first. But being me, I wanted to visit everything and explore all the impeccable attractions Twin Falls is known for.
The Best Time To Visit Twin Falls
Southern Idaho welcomes all year round. You can visit Twin Falls during hot summer days or windy fall – winter seasons. The city never ceases to astound with its easygoing lifestyle and spectacular landmarks. Even if your first visit to Twin Falls lasts just a few hours, the place impacts your trip with its the panoramic views and fun outdoor activities.
Although precipitation rarely disturb the area, there are still the best and not so popular times to visit Twin Falls. Spring and summer usually restore heavy flows of the area's abundant waterfalls. Flower bloom and absence of gusty winds also make this season the favorite time to visit Twin Falls.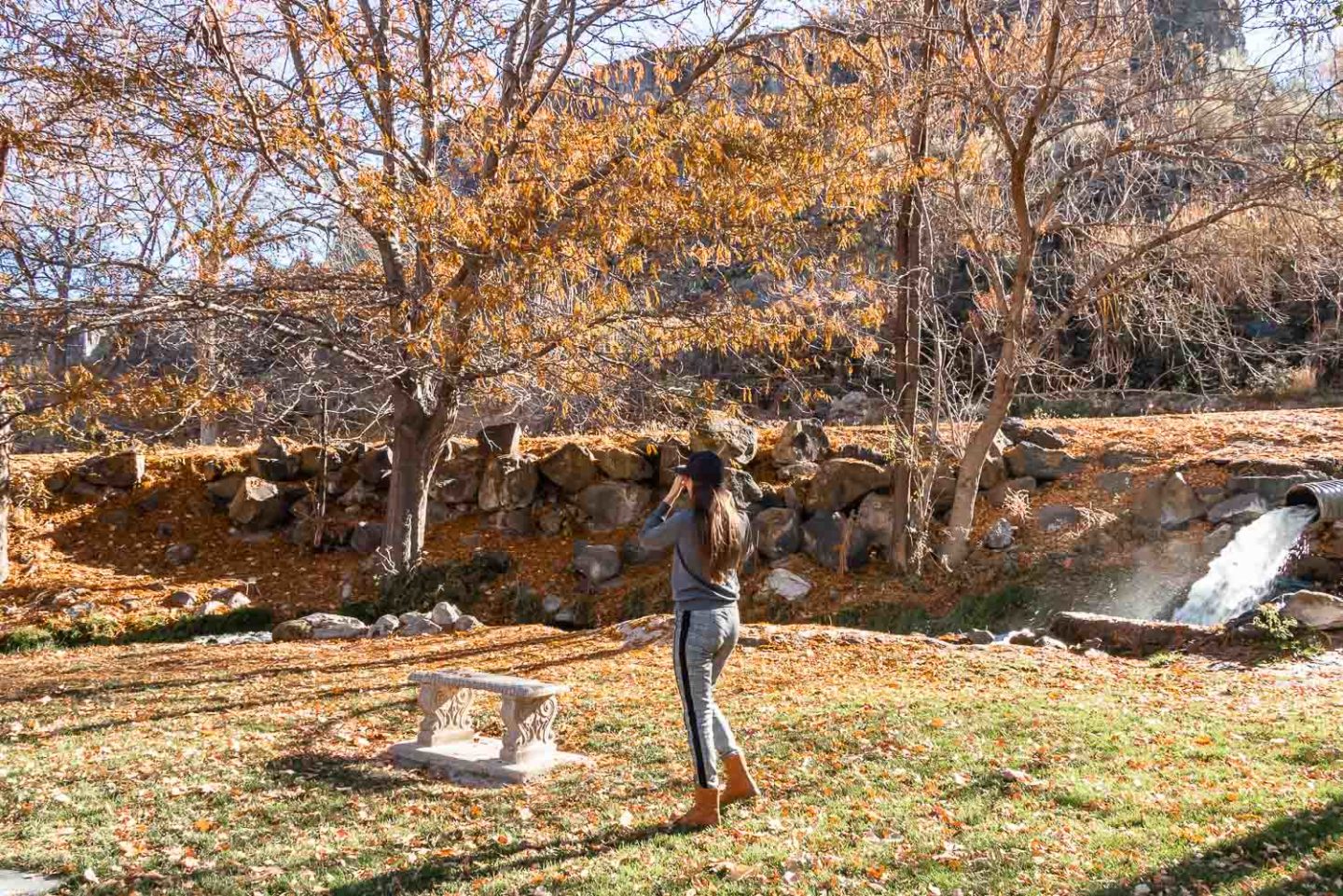 July, August, and September ensure dry weather, which works perfectly for outdoor adventurers, especially BASE jumpers. Yet, you can visit Twin Falls any time of the year and parachute from the Perrine Bridge. The only concern here is your tolerance of lower temperatures at the end of fall and winter.
March is the wettest month in southern Idaho. Thus, plan for more indoor activities when visiting Twin Falls at this time.
The busiest months are July followed by June and August. Prices for hotels and flights go up in summer. You might avoid draining your budget if you book your lodging and transportation in advance.
Hardly any tourists visit Twin Falls in December. The cold weather at this time of the year, however, rewards with lower prices for about everything. Spending time outside and admiring the area's stunning landmarks is not an issue, assuming that you bundle up and pack lots of layers for your first visit to Twin Falls.
How to Get to Twin Falls, Idaho
Twin Falls sits at the intersection of Interstate 84 and Highway 93 in southern Idaho. It's an easy 2-hour drive from Boise or Pocatello. If you anything like me and prefer to see a few places at once, plan to visit Twin Falls as part of your longer road trip.
The city wasn't our primary destination when we flew into Boise and drove all the way to Yellowstone National Park. Yet, it surely become one of the highlights of our journey. You can read more about our road trip from Boise to Yellowstone and possibly use it as a guideline for your own adventures.
Flights are also available daily into the Magic Valley Regional Airport, enabling you to cut the time you spend on the road and jump straight to the fun activities of Twin Falls.
No desire to board an airplane or spend hours upon hours in a car? Amtrak has a different solution for your first visit to Twin Falls. The company offers the only train line that connects Sacramento, California, to this southern city in Idaho.
The journey, however, is long. The fastest train gets to Twin Falls in 29 hours after leaving Sacramento. The price is another culprit. On average, you pay $153. Frankly, it's more than an airline would charge you. Nevertheless, if the railway journey gives you peace of mind, it certainly worth a try to visit Twin Falls this way.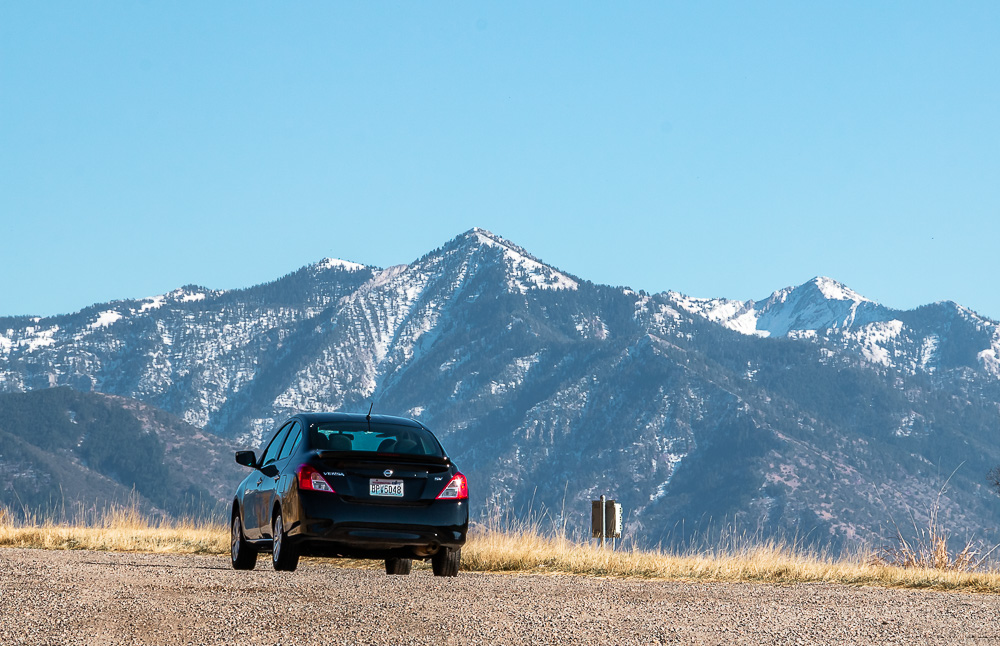 Getting Around Twin Falls, Idaho
Driving, driving, and driving.
Similar to many American cities and towns, renting a car is the best way to get around a new place. In case of Twin Falls, driving lets you save time and ensures that you see most of the area even during your first visit. Furthermore, some natural wonders sit on the outskirts of the city, from one to a few miles away. Driving helps even the non-adventurous travelers visit these sites of Twin Falls in person.
As we stopped at Twin Falls on our way from Boise to Yellowstone, the issue of how to get around the city was never relevant to us. Those who fly directly into the Magic Valley can rent a car at the regional airport.
Hiking is another option to visit the ample sites of Twin Falls. The city is a champion in the number of hiking paths that lead to the prettiest natural attractions. Moreover, you can visit Twin Falls and explore its center on foot.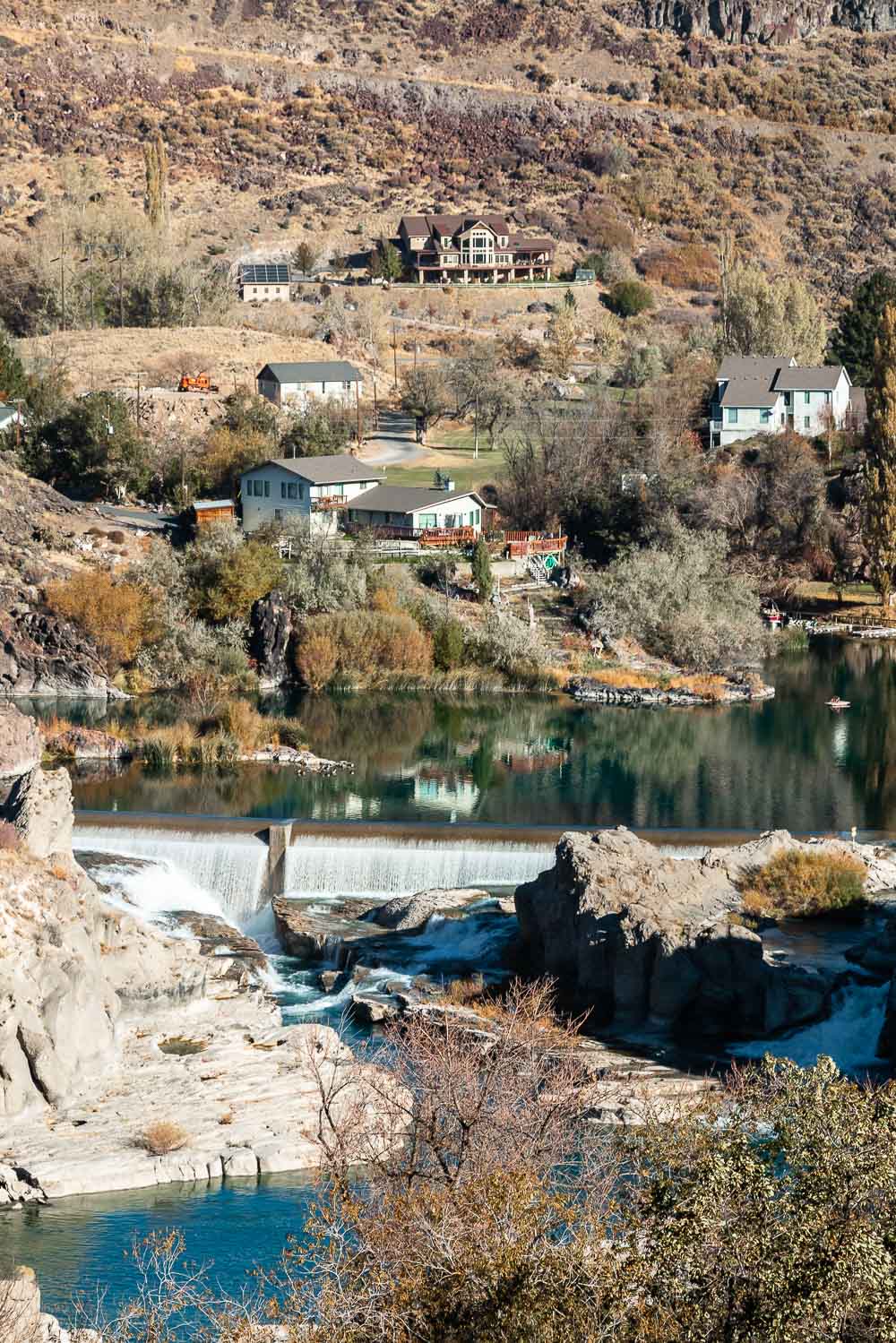 Where to Stay in Twin Falls, Idaho
Twin Falls hardly spoils you with luxury hotels. The lodging situation mirrors the city itself. The hotels are small, rather inexpensive, but surely comfortable. Here's the list of places you might want to stay at during your first visit to Twin Falls
SureStay Hotel by Best Western Twin Falls ($)
This 2-star hotel sits along Highway 93, 3 miles from the Perrine Bridge and abundance of water activities at Centennial Waterfront Park. Its great location for sightseeing along with free parking, breakfast, and Wi-Fi let you experience Twin Falls without draining your budget.
TownePlace Suites by Marriott Twin Falls ($$)
Another budget hotel and another central location that allows to see the major attractions of Twin Falls in minutes. When staying at TownePlace Suites you can forget about your car for a while and walk to the Snake River Canyon Rim Trail. The path nestles approximately 10-minute walk from the hotel. Shoshone Falls is only 7 miles away. To sooth your tired body after a day filled with hiking and sightseeing, make use of hotel's pool and hot tub.
My Place Hotel ($$)
Comfortable stay is guaranteed at My Place Hotel. Located in rural area off Highway 93, the place is rather secluded. It also suites best those who visit Twin Falls on a shoestring. From here you can walk to the Herrett Center for Arts and Science, located 1 mile away. Centennial Waterfront Park sits just 3 miles away from the hotel. But the biggest draw is the place itself. Who can say no to great service, clean rooms, friendly staff, and comfortable beds?
The Fillmore Inn ($$$)
The Fillmore Inn invites the visitors of Twin Falls who like elegant rooms with antique furniture. Located in a residential area, the place is just 5-minute walk from downtown Twin Falls and 6 miles from Shoshone Falls. Free parking, breakfast, and Wi-Fi along with cozy ambiance – it feels just like home. Visit this B&B in Twin Falls if you don't mind spending a little bit more to pamper yourself and your travel companions.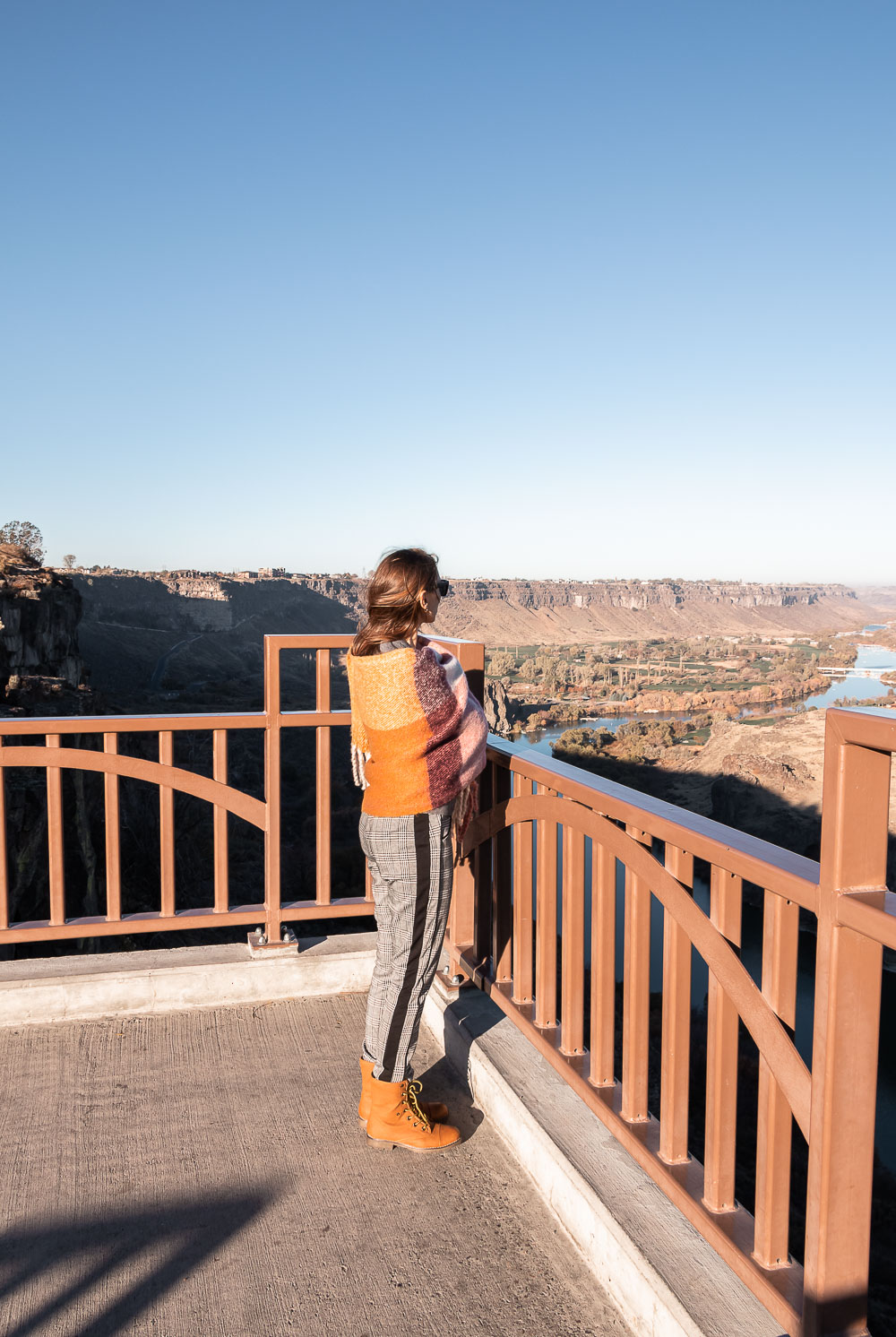 Where to Eat in Twin Falls, Idaho
You're spoilt for choice when it comes to dining in Twin Falls. Restaurants serving mouthwatering dishes from American and Mexican cuisines are abundant. Dining experience here includes sit-down restaurants and fast food places.
During our visit to Twin Falls, we had one requirement for the plentiful city's eateries. They had to serve vegan and meat dishes. As a plant-based traveler, I always look for places that offer vegan and vegetarian food. My husband, on the other hand, needs a hearty, healthy meal with fish or meat on the side. The following places can satisfy both vegans and meat eaters. Visit these diners in Twin Falls once and you might want to come back the next day.
4 Roots ($$)
4 root offers a wide range of dishes ranging from smoothies to juices, baked goods, wraps, salads, and savory bowls. 100% gluten free restaurant uses local fruits and vegetables to feed all kinds of visitors, including people with dietary restriction. For the vegans, I'd recommend ordering vegan tacos with vegan "meat". Non-vegans stick to various dishes from Mexican and American cuisines.
Ketchum Burrito ($)
Family-owned Ketchum Burrito has spread across entire Idaho. Their burritos, tacos, and salads keep winning the hearts of new and regular customers. Affordable prices is another reason to visit this favorite diner in Twin Falls. The owners claim that they cook their food with passion, and it certainly shows. Do you see something on the menu but it's not vegan-friendly? Let the welcoming staff customize your dish to suit your preferences. As a somewhat peaky eater, I can't think of a better place to visit and grab hearty lunch when in Twin Falls.
Koto Brewing Company ($$)
Koto Brewing Company is a brewery and restaurant. Art decor and brick walls further inspire you to visit this place after a long day of exploring Twin Falls. The restaurant is not advertised as vegan or vegetarian. Some dishes, though, can be adopted to suit guests with dietary restrictions. Koto Brewing Company can get busy. Therefore, reserving a table before seeing how the place can spoil you is recommended.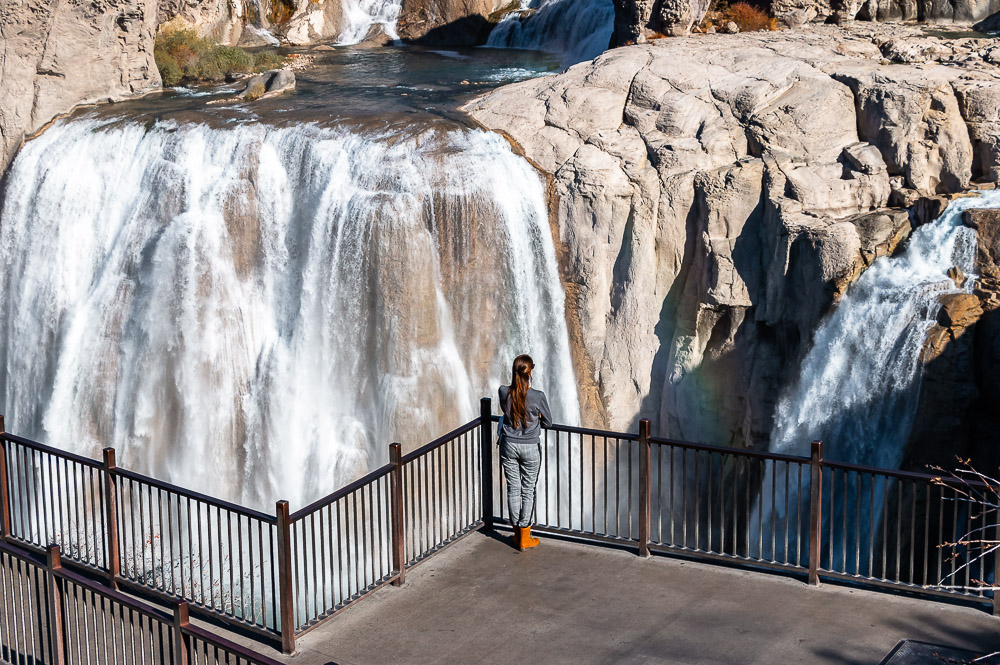 Places to Visit in Twin Falls, Idaho
Whether you visit Twin Falls for a few days or a few hours, its gorgeous scenery leaves you in awe. The place boasts a myriad of stunning parks, panoramic hikes, and an array of dazzling waterfalls nearby. Should it even come as a surprise in the area that houses Shoshone Falls, one of the largest natural waterfalls in the country? Yet, the city is not alien to indoor attractions. From the Herrett Center for Art and Science to JumpTime Idaho, a visit to Twin Falls takes your love for indoor places to the next level.
Visit Parks in Twin Falls, Idaho
Shoshone Falls Park
Shoshone Falls Park is the most popular area in the city. Whether you visit Twin Falls for the first time or know the city through and through, the breathtaking park astounds you with its tranquility and scenic views.
Home to one of the largest waterfalls in the United States, the area often serves as the main reason to visit Twin Falls. The city never was our primary travel destination. Shoshone Falls, however, was. I'm not afraid to assume that it can apply to the majority of the first-time visitors of Twin Falls.
The park is open all year round. To see the waterfall in all its glory, though, you should visit this section of Twin Falls in spring.
READ MORE: How to Visit Shoshone Falls, Idaho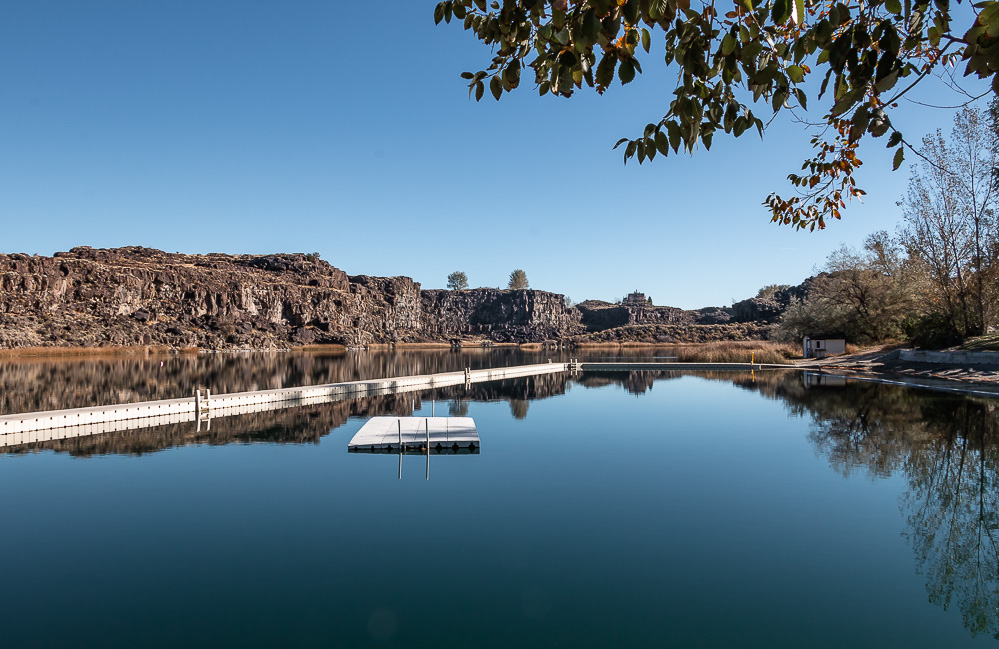 Dierkes Lake Park
Don't rush to leave Shoshone Falls Park after admiring the gorgeous waterfall. Drive about a mile farther uphill to visit Dierkes Lake Park, a lovely hidden gem of Twin Falls. The area is famous for its tranquil lake sitting next to brownish hills that make the whole place look magical. The locals as well as random tourists visit the area to escape the bustle and bustle of Twin Falls. In warmer months, the park gets rather busy with people who like to swim, dive, and fish here.
Centennial Waterfront Park
Centennial Waterfront Park welcomes all kinds of the visitors. It entices with neat barbecue stations, panoramic views, and hiking trails to some of the popular waterfalls. The majority of the locals and guests of Twin Falls, however, visit Centennial Waterfront Park to rent kayaks or boards. Exploring murky green waters of the Snake River while paddling under the iconic Perrine Bridge and then all the way to Shoshone Falls is an experience they ache for.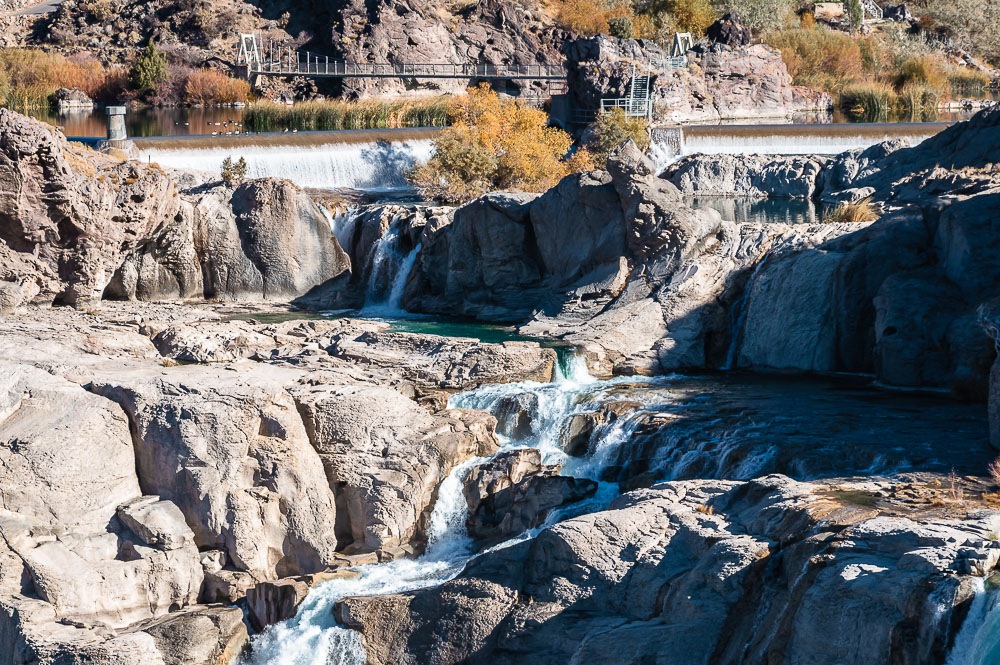 Visit Waterfalls in Twin Falls, Idaho
Perrine Coulee Falls
Hiking to Perrine Coulee Falls is another main reason to visit Twin Falls. Not every day you can walk behind a waterfall, after all. A 2-mile hike to Perrine Coulee Falls starts just west of Centennial Waterfall Park and leads you to the 200-foot-tall natural wonder you can see from behind.
Pillar Falls
You have two options to visit Pillar Falls nestled on the outskirts of Twin Falls. The easiest and most popular is kayaking from Centennial Park. The 20-foot-tall waterfall greets you less than an hour after your departure from the park. If the river makes you uncomfortable, visit this plunging down water-wall near Twin Falls by land. A 1.1-mile hiking trail might not look like a long excursion, but it's steep and barely maintained. The path gains on elevation of almost 400 feet. The best time to hit this trail is from April until October.
READ MORE: Top 15 Outdoor Things to Do in Twin Falls, Idaho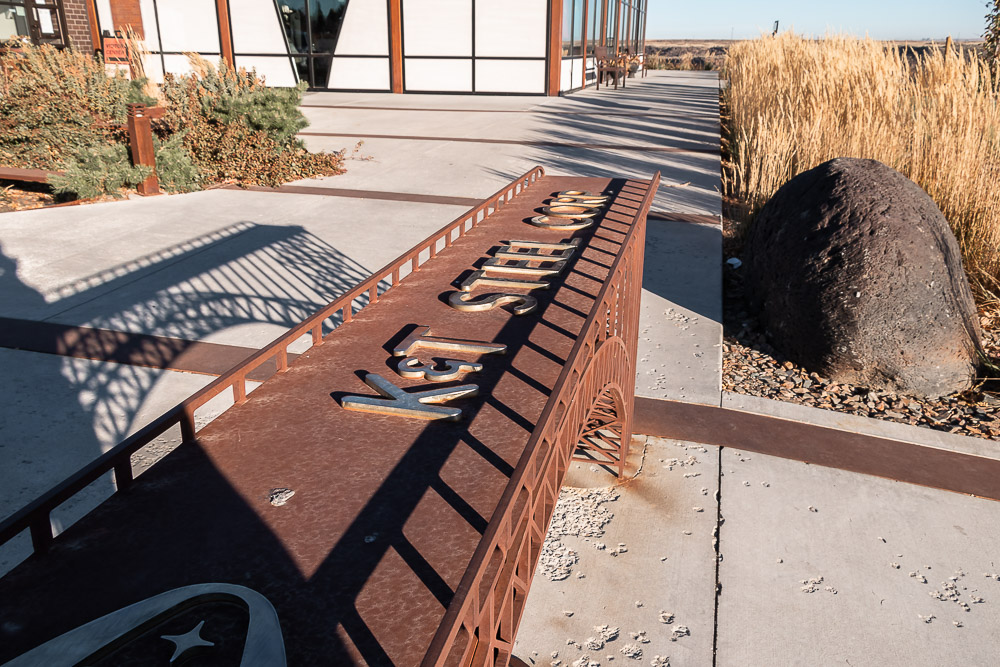 Visit Indoor Attractions of Twin Falls, Idaho
Visit Twin Falls Visitor Center
Apart from the remarkable views from a viewing platform outside, the Twin Falls Visitor Center has prepared a few attractions inside the building. The highlight of the visit is the historic Perrine Stagecoach that served Twin Falls from 1884 until 1911. This local transport took passengers from Perrine Hotel in downtown to nearby towns such as Jerome and some areas in Northern Nevada.
Old photos, informative videos, and interactive exhibits further narrate the history of the city. Idaho's local products, souvenirs, and gifts also wait inside the building for their new owners to take them home.
On top of that, the Twin Falls Visitor Center encourages to see a few places outside the structure. Set at the entrance to the Center, the Cooper Norman Agriculture Heritage Plaza tells stories about irrigation, dairy industry, and agricultural commodities of the Magic Valley. Picnic tables let you have lunch with the stunning views of the majestic Perrine Bridge. You might even spot iconic dirt ramp from where Evel Knievel attempted to jump across the Snake River Canyon.
Address: 2015 Nielsen Point Pl, Twin Falls, ID 83301
Explore Herrett Center for Arts and Science
The Herrett Center for Arts and Science offers different kind of things to explore in Twin Falls. This non-profit museum of anthropology, natural history, astronomy, and art is located on the main campus of the College of Southern Idaho. Apart from its expanded collections and anthropological artifacts, the place boasts a rather interesting history.
It started in the 1950s as a hobby project of Norman Herrett, owner of Twin Falls jewelry store. Herrett constructed a small building behind his store with an observatory on the roof and a planetarium on the ground floor. In a room adjoining the store, the collector exhibited anthropological artifacts he brought from his trips through the Americas. Later, Herrett also included works of local artists in his collection.
The College of Southern Idaho had a successful talk with Herrett about transferring his exhibits to the main campus. The Center opened on the ground of the college in 1980, shorty after Herrett's death. Today, the Herrett Center for Arts and Science also includes the Faulkner Planetarium and the Centennial Observatory.
Address: 315 Falls Ave, Twin Falls, ID 83301
Jump at the JumpTime Idaho
Excitement and fun indoor activities prevail at JumpTime Idaho. With its trampoline wall and airbag, the place allows you to turn into a stunt performer while propelling yourself upward and performing other acrobatic tricks. The place is open daily. It extends its operating hours during school breaks.
Address: 302 3rd Ave S, Twin Falls, ID 83301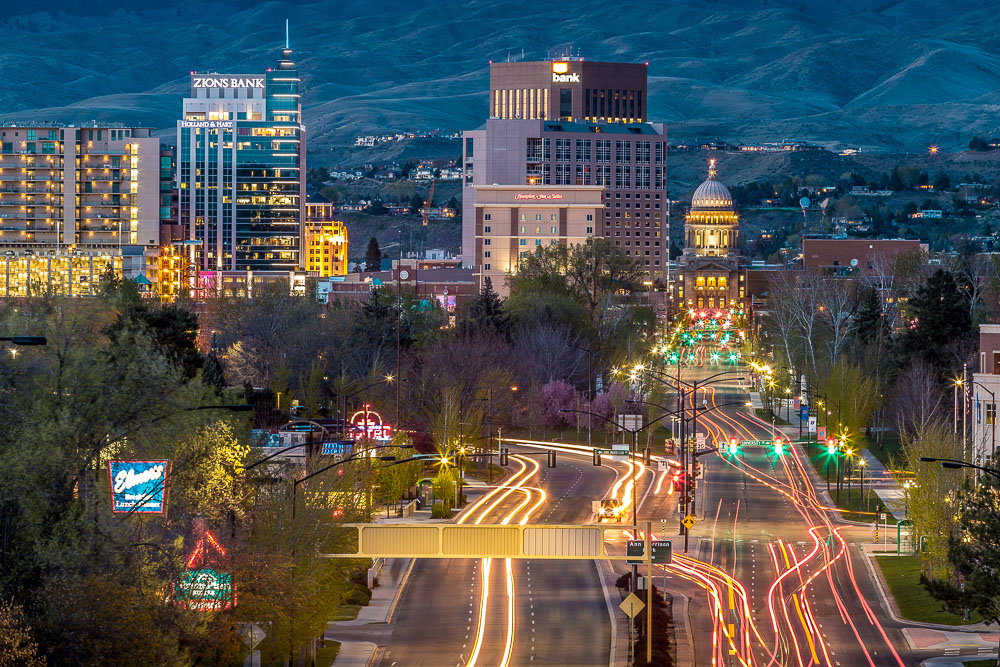 Places to Visit Near Twin Falls, Idaho
The scenic landmarks and fun activities will surely keep you busy and entertained during your first visit to Twin Falls. Yet, if you need a short break from the familiar scenery, consider traveling to the following destinations near the city.
Boise
2 hours away from Twin Falls
Boise is the capital and the largest city in Idaho. The place is diverse and enhances your trip with historical and artistic heritage of the state. Start your visit with exploring remarkable exhibits at the Boise Art Museum. The scenic Boise River Greenbelt proves that even large cities can have enough spaces to hike, bike, or simply spend some time outside. The Idaho Botanic Garden further intensifies your positive experience with its diverse gardens such as the Alpine and Cactus Gardens.
READ MORE: Visit Boise, Idaho: The Ultimate Travel Guide
Thousand Springs State Park
35 minutes away from Twin Falls
At the same time, you don't need to drive far away from Twin Falls to visit new places and feast your eyes on new views. Nestled less than an hour away, Thousand Springs State Park invites you to explore its ragged area and discover the secret behind the name of the valley. The Magic Valley that encompassed springs, waterfalls, scenic hikes, and tidy picnic places can't be more magical.
Niagara Springs State Park
35 minutes away from Twin Falls
Breathtaking Niagara Springs State Park is a part of Thousand Springs State Park. Yet, you can spend the whole day exploring this 350-foot-deep Snake River Canyon and admiring splashing water streams tumbling down the canyon wall. Roads in the park, however, are narrow and steep. It's not recommenced to visit this gorgeous neighbor of the Twin Falls area by motorhomes or large trailers.
---
This concludes out first-timer's guide to Twin Falls.
If you found this post useful, don't forget to pin it for later and share it with your friends.