I thought I saw it all: pointed hoodoos, mesmerizing desert canyons, slot canyons as deep as a sea, and elusive desert waves. Yet it was another beautiful day, and we were more than ready to explore the Oljato – Monument Valley area.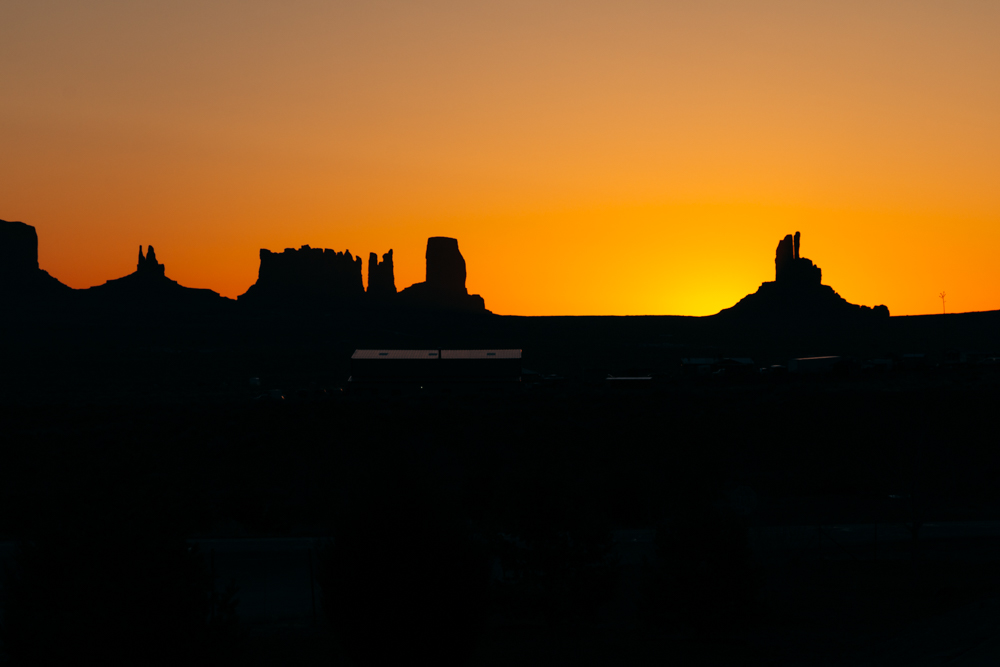 Spending a Perfect Day in the Oljato – Monument Valley Area
Set on the border of Utah and Arizona, the Oljato – Monument Valley area intrigued us way before we reached it. After four days on the road exploring astounding wonders of the American Southwest, we looked forward to sticking to one time zone.
The difference between California, our first and final destination, Arizona, and Utah time was just one hour. But at that point in our journey, even this insignificant change started to put pressure on us.
We didn't have many activities planned for the day in Oljato – Monument Valley. Truth be told, it wasn't even the right time to visit the area, known as a gateway to famous Monument Valley Navajo Tribal Park. While this little place looked welcoming and inviting, the Navajo Tribal area itself was closed due to a pandemic. No one could predict when it would open again.
Didn't we know about this rather inconvenient fact before planning our day escape to Oljato – Monument Valley? We did. And yet it didn't stop Roshan who longed to see the famous pillars scattered throughout Monument Valley even if only from a distance.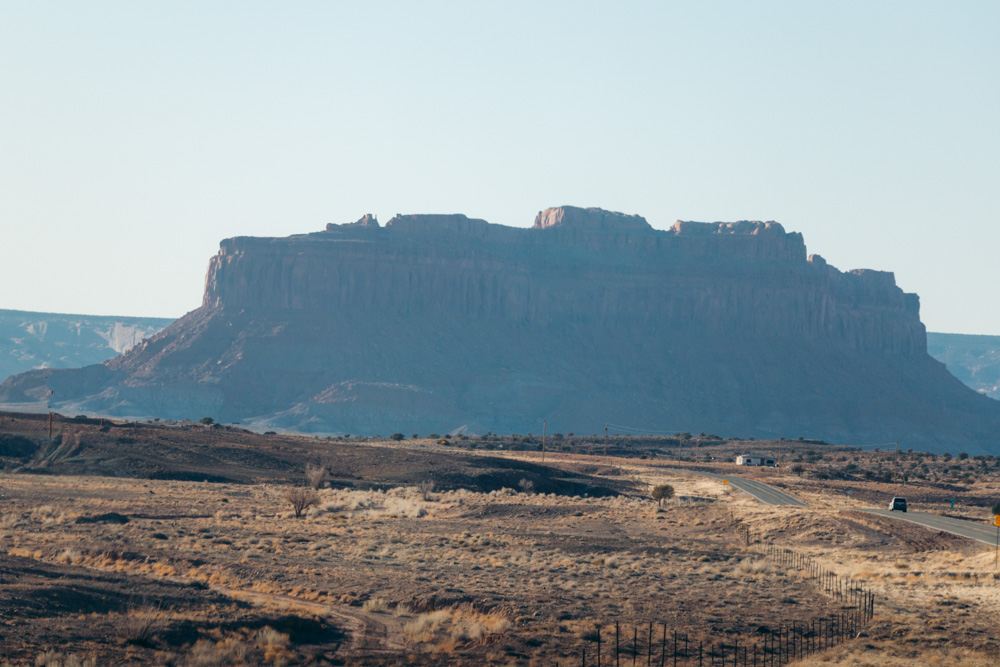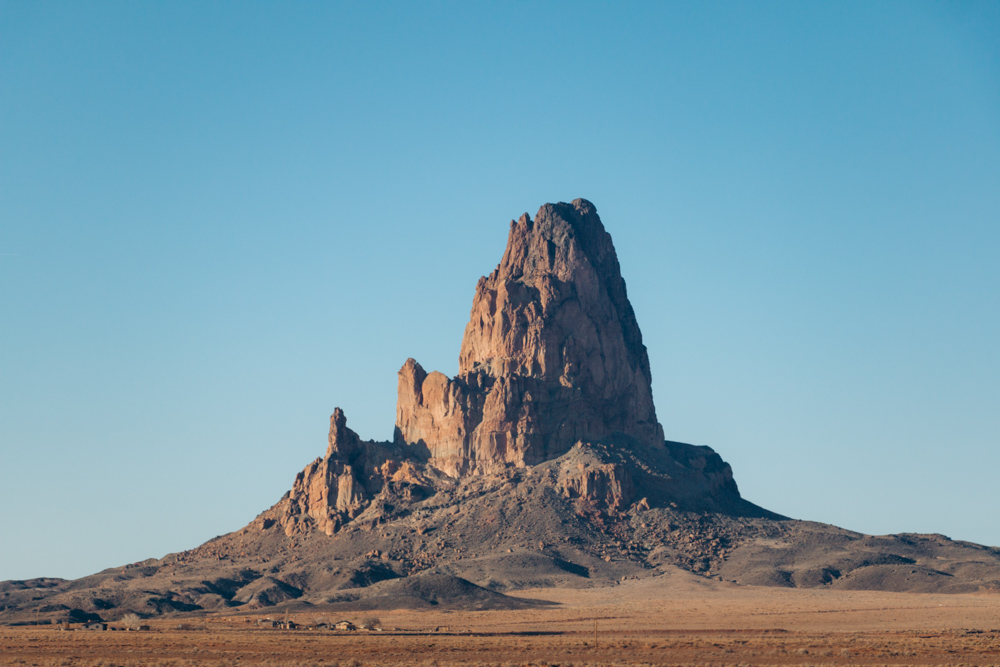 And so Our Quiet Day in Oljato – Monument Valley Started…
Our plan for the day in the Oljato – Monument Valley area was simple: driving around and admiring the sandstone formations on our way to Goulding's Trading Post and Lodge. Our next home away from home was sitting on Utah's territory and was known as the best place to start your adventures in Monument Valley.
The latter certainly wasn't on our itinerary. What enticed us was the location itself. Set just 5 miles from the Monument Valley Visitor Center, the lodge area was surrounded by some of the most popular desert formations in the Southwest.
It didn't take us long to test the validity of this statement. The views of the massive buttes – some of them pointed, others flat at the top – caught up with us early in the day, good 10 miles before we reached the Oljato – Monument Valley area.
Meet the Buttes
The towering pillars scattered throughout a large territory on both sides of the road. Never too close to each other, they looked like warriors guarding their territory from the neighboring kingdoms.
A few rocky towers lingered close to the road, allowing for a good look and a few snaps even from a moving cars. Many, however, didn't want to do anything with this short-lived, day fame, sticking to the solitude of the desert, so far yet for close to Oljato – Monument Valley.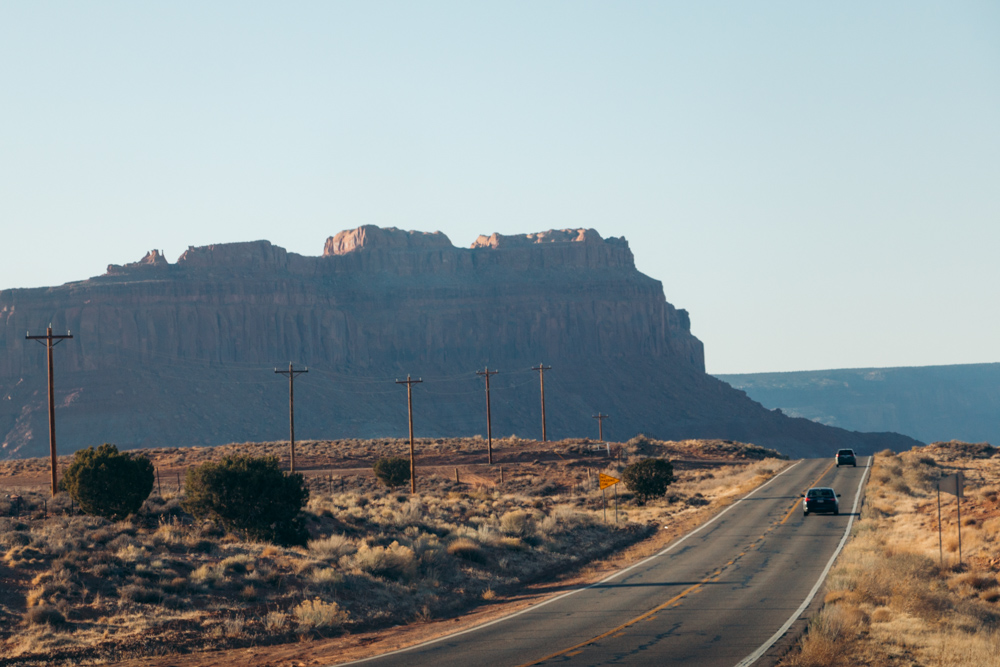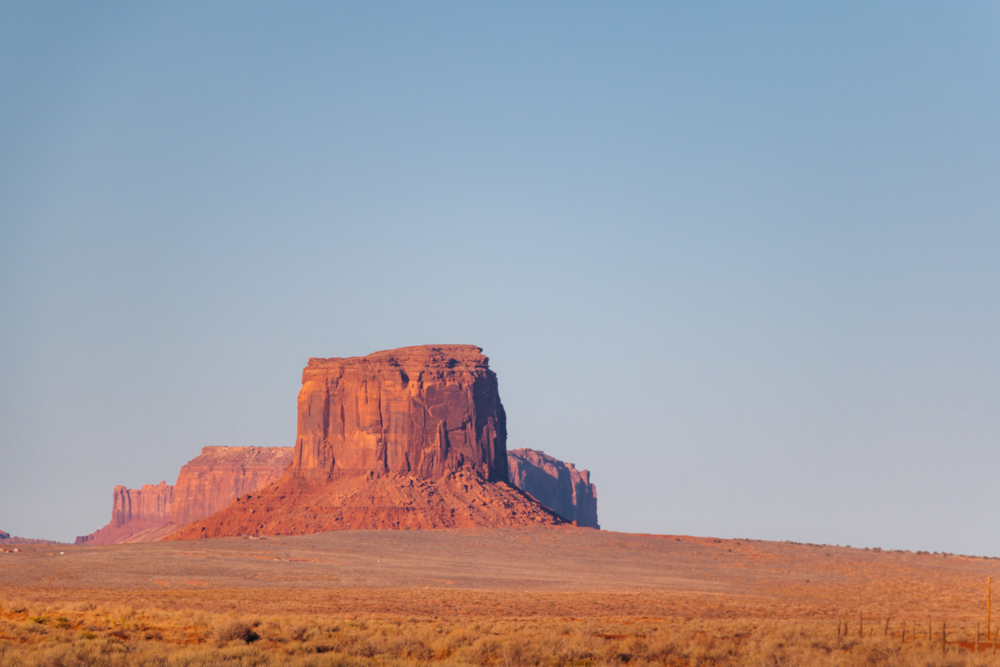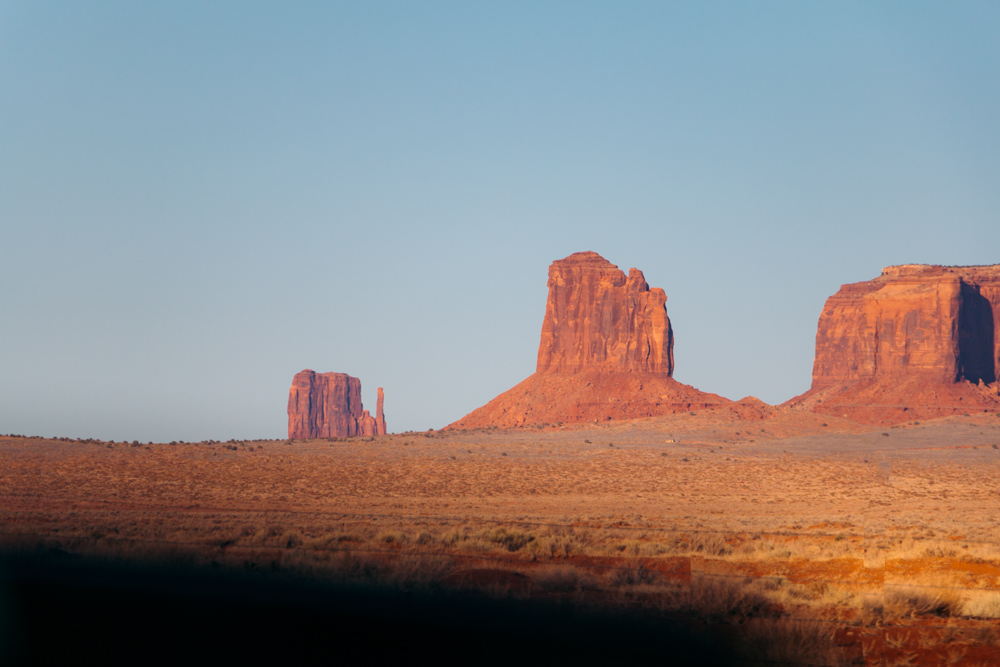 With hardly any cars sharing the road with us on that day (a perk on traveling on a weekday), we weren't in a rush to get to our cozy cottage in Oljato – Monument Valley. Roshan drove slower now, soaking up the views he had hoped to see for so long. I busied myself with photographing the buttes. It was as good as it could get.
After a few days filled with hikes, this slow start of the day was highly appreciated. And we certainly planned to finish it on the same relaxing note.
Although we checked into Goulding's Lodge in Oljato – Monument Valley only in the second half of the day (it looked more like an evening by that time), we didn't leave until around noon the following day. A beautiful day should be enjoyed to the fullest, after all.
Inside Gouldings' Apartments in Oljato – Monument Valley
Experienced budget travelers, as we were, we treated ourselves to a rather luxurious stay. A spacious cottage with combined living and kitchen areas felt like a tiny mansion, compared to a camper van near Joshua Tree National Park where we had spent our first night of the trip.
That first accommodation was beautiful and enjoyable to some extent. But we chose the wrong time to stay there. At the end of March, even California's desert was still cold. Running from the camper van to a bathroom nearby and not being able to warm up enough in a shower (an alway-a-hot-shower person will understand) was my least favorite part of the whole experience.
The day, moreover the night, at our cottage in Oljato – Monument Valley promised to be more enjoyable. And it was indeed. If not for a clogged bathtub that let the water drain at a very slow speed, leaving nasty stains on the bathtub walls along the way, the place could be just perfect. I guess sometimes you can't have everything.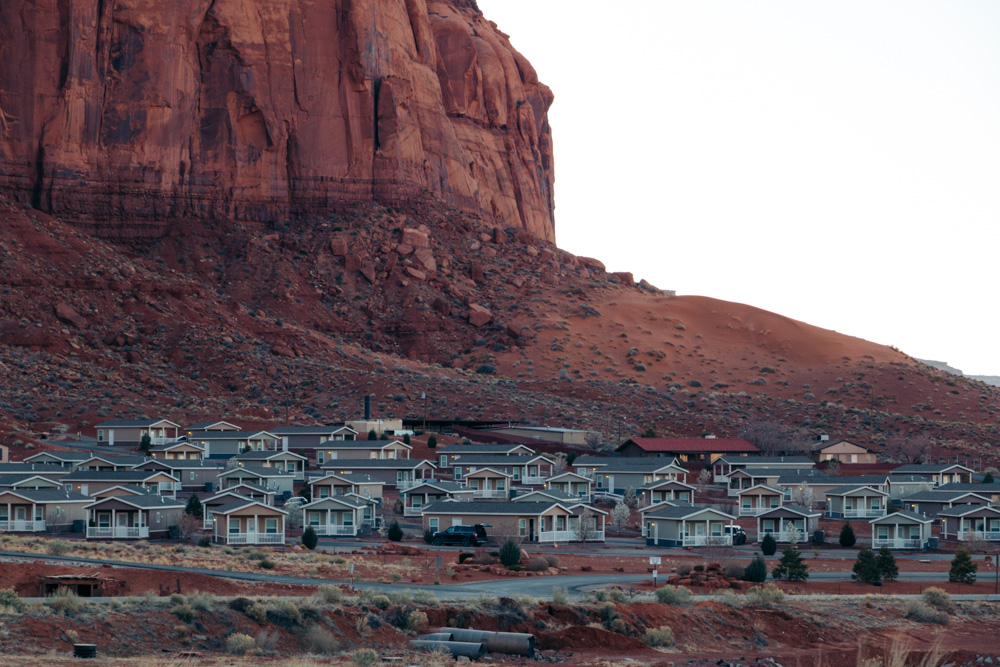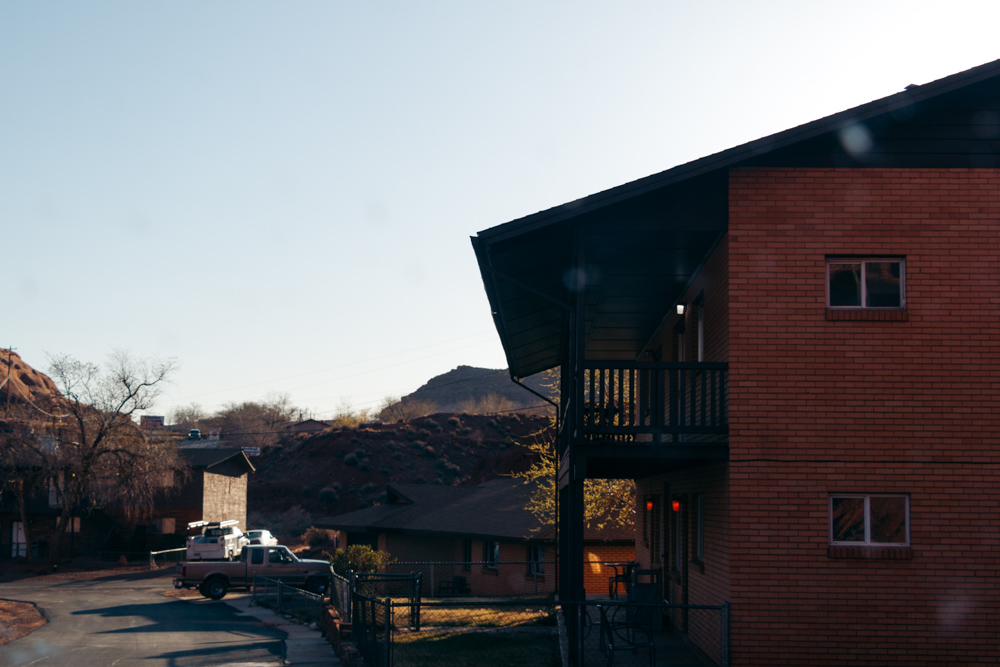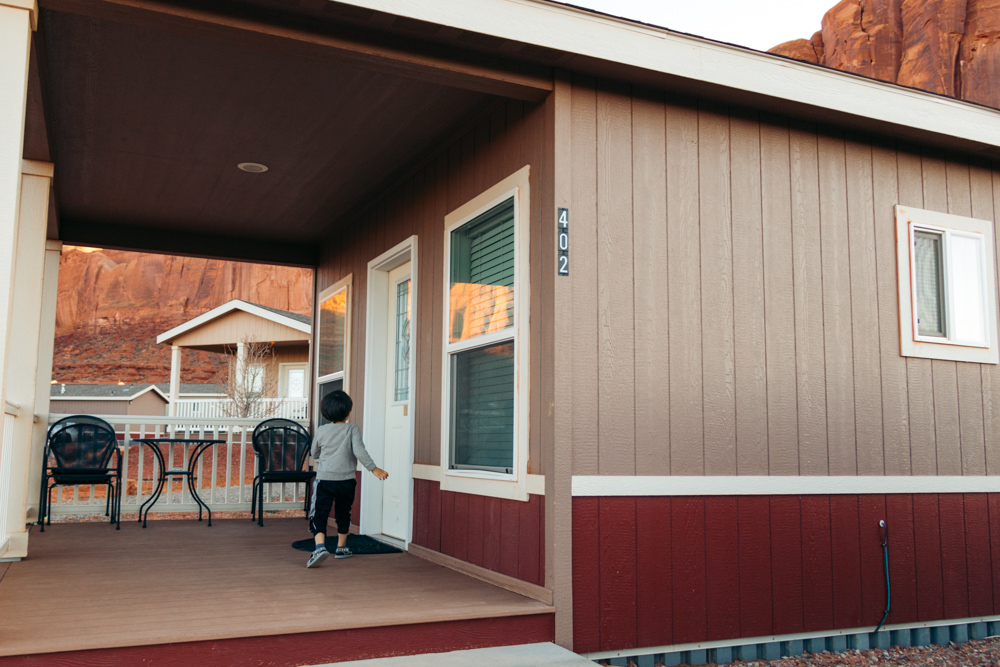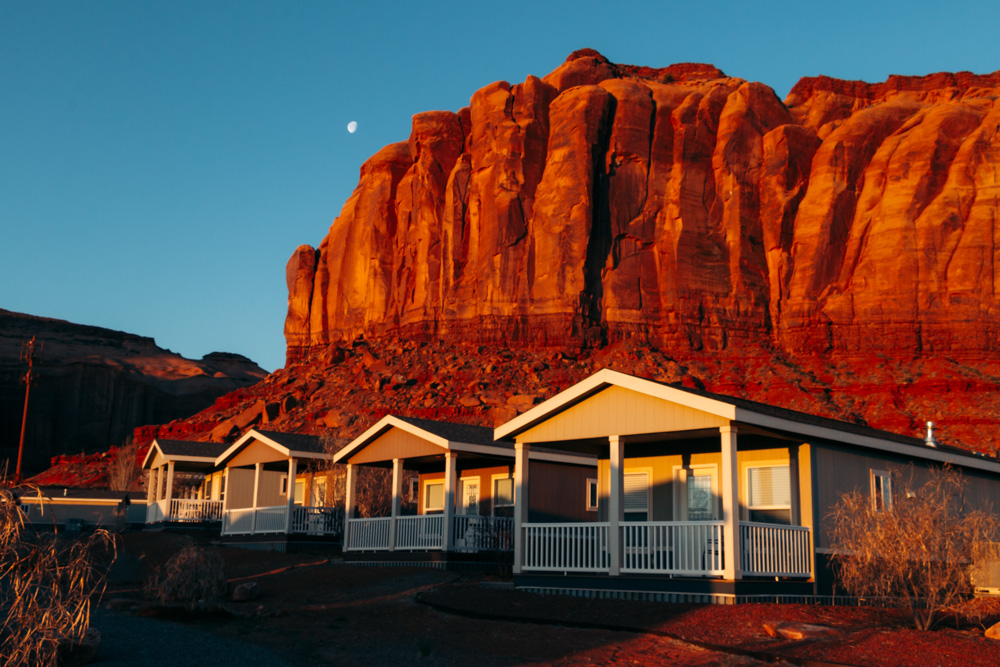 Ending the Day in Oljato – Monument Valley
While our soup was still cooking, I sneaked out to finish that beautiful day in Oljato – Monument Valley with a few pictures of the sun going down behind the famous pillars. We don't get as many opportunities as this while traveling as a family. So not using this chance would be a pure crime.
Before succumbing to this slow end of the day, however, I made an attempt to add more astounding views into our Oljato – Monument Valley day adventure. A booklet we had received at a reception desk included information about various Monument Valley tours.
"Maybe only guided tours can enter the area at this time?" – was my first thought. I called the reception counter to inquire more about it.
No, there were not exceptions. Monument Valley Navajo Tribal Park was closed for self-guided and guided tours alike. The latter just included driving along the rim of the park with access to some restricted areas outside of Monument Valley.
Although we couldn't enter those controlled areas on our own, we spent almost half of the day on the outskirts of Oljato – Monument Valley doing just this, peering at the sandstone buttes in the park from a distance. So thanks but no! We didn't need any guided tours at that time.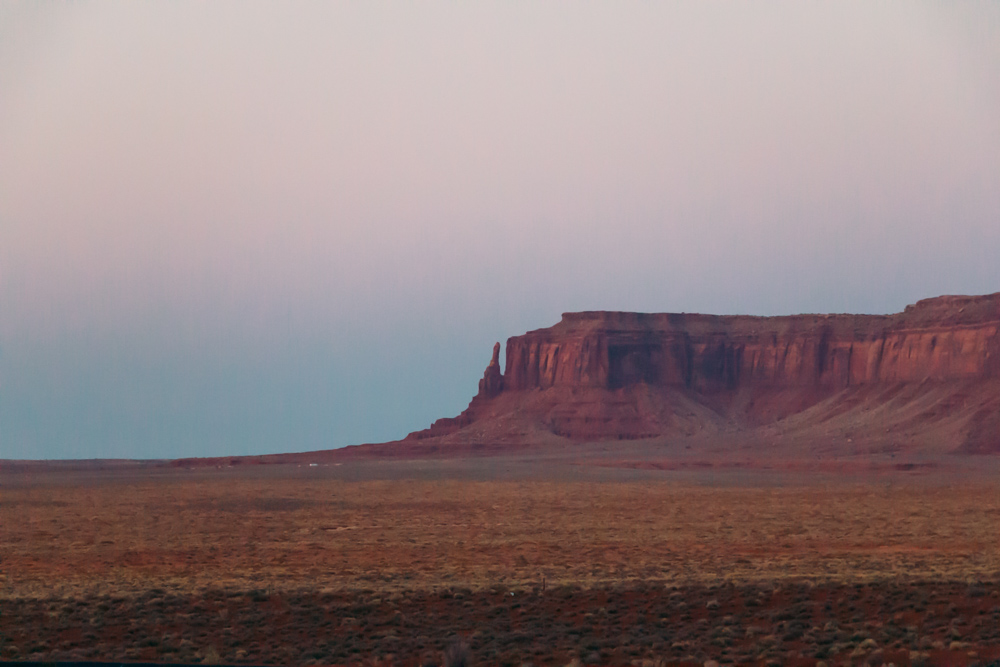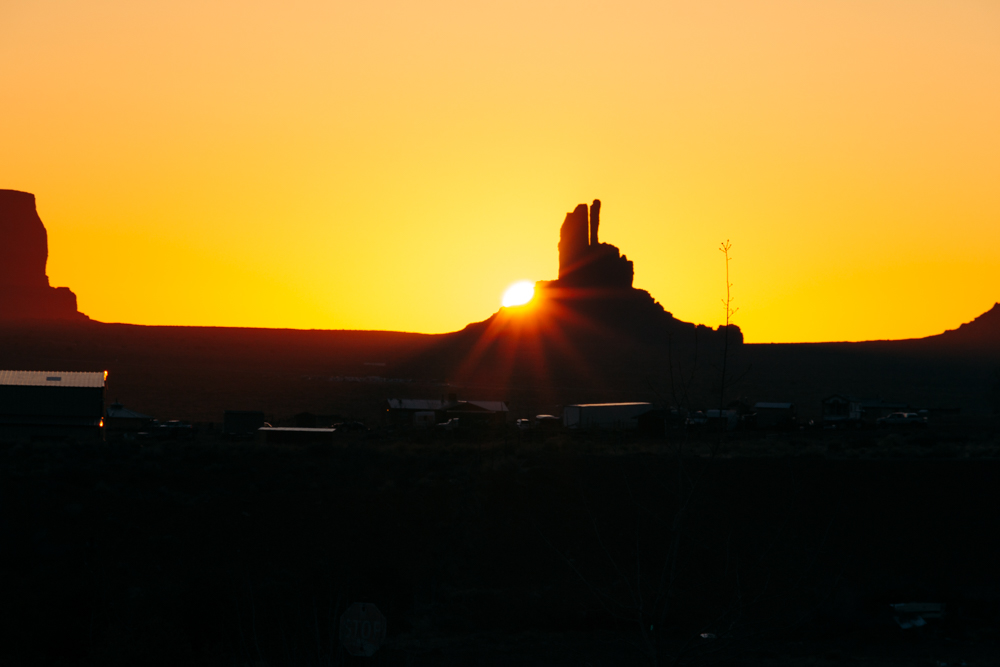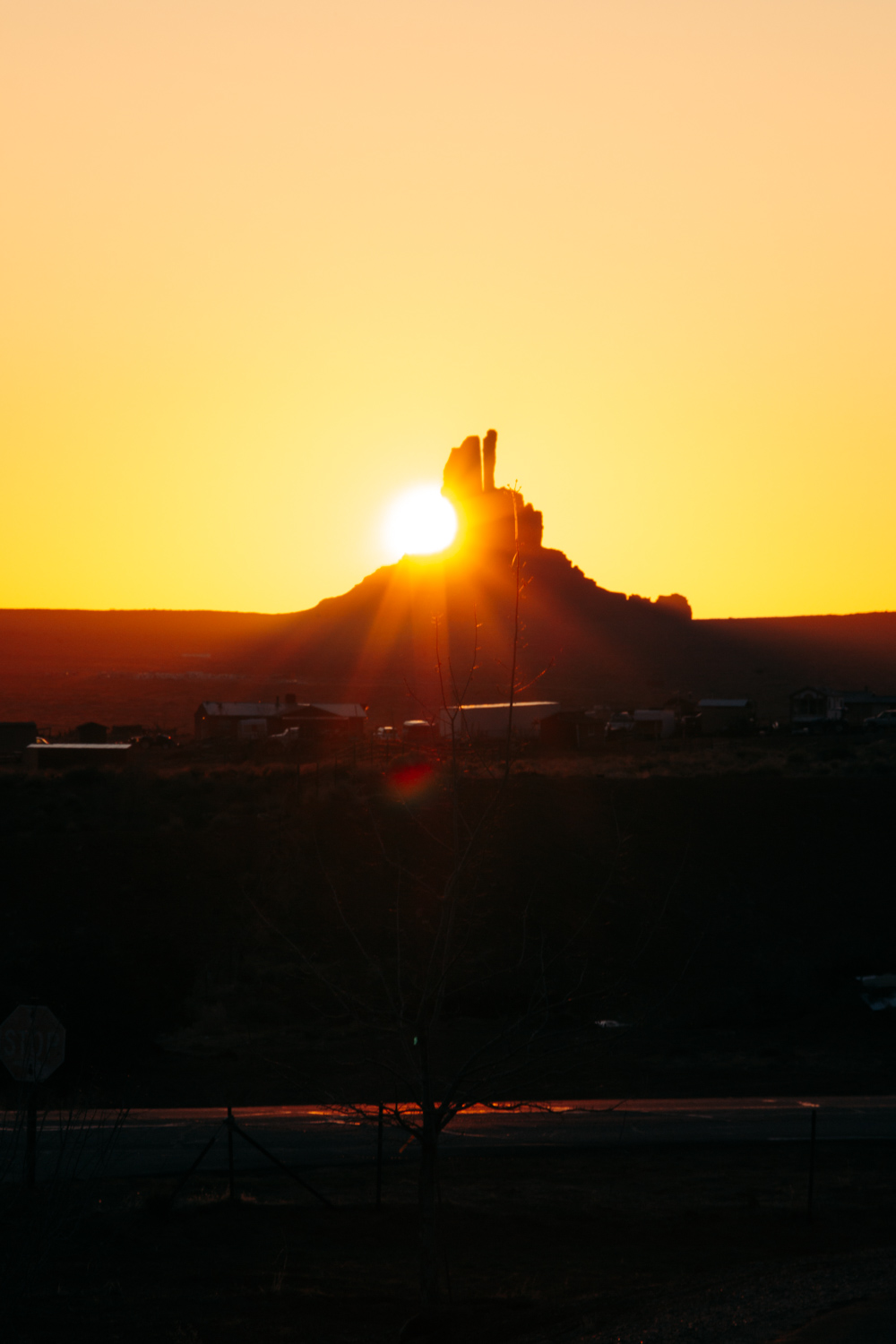 A New Day in the Oljato – Monument Valley Area
A new day in Oljato – Monument Valley started with another photo session. The distant pillars looked transformed in the early morning sunlight. A slender crescent on the yet dark sky above a row of similar cottages prior to the appearance of the sun looked almost surreal.
No foreign sounds, except for occasions cars passing by, interrupted this visual and auditory idyll. I couldn't imagine a better start of the day in this dramatic corner of the Oljato – Monument Valley area.
But April just claimed its rights on this deserted valley. The change in day temperature in Oljato – Monument was noticeable. The nights and early mornings were still as cold as they were probably in winter. Yet despite the freezing cold weather, I managed to stay outside with my tripod and camera well into the golden hour.
As the day was slowly getting warmer, our quiet adventure in Oljato – Monument Valley was coming to an end. We feasted on leftovers from the dinner, made fresh oatmeal for Dylan, and finally said goodbye to our cozy cottage.
Yet we were not ready to complete our day trip to Oljato – Monument Valley just yet. A tiny gift shop, located in the same building as the reception desk, and a historic museum aroused our curiosity. As the fate would have it, both were closed. Not our luck!
But with the sun up in the sky, being outside now felt incredible. We took another glance at the towering pillars in the distance and took it all in one more time. A few minutes later, we bid farewell to Goulding's Trading Post & Lodge in Oljato – Monument Valley. And finally off we went to Williams, Arizona, for more day hikes and outdoor adventures.
One Beautiful Day in Monument Valley, Utah: Photo Diary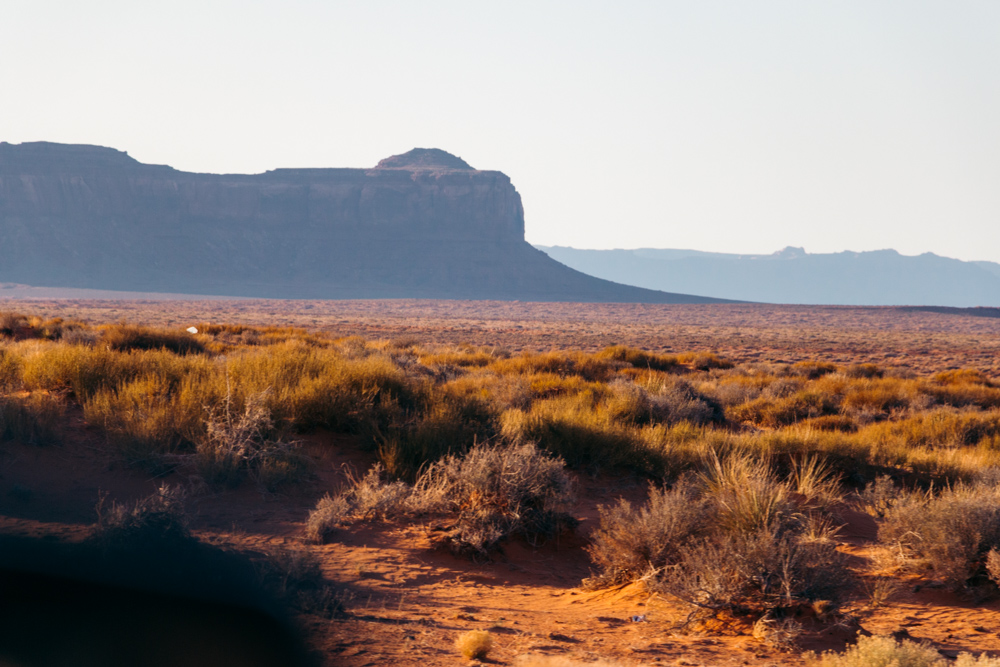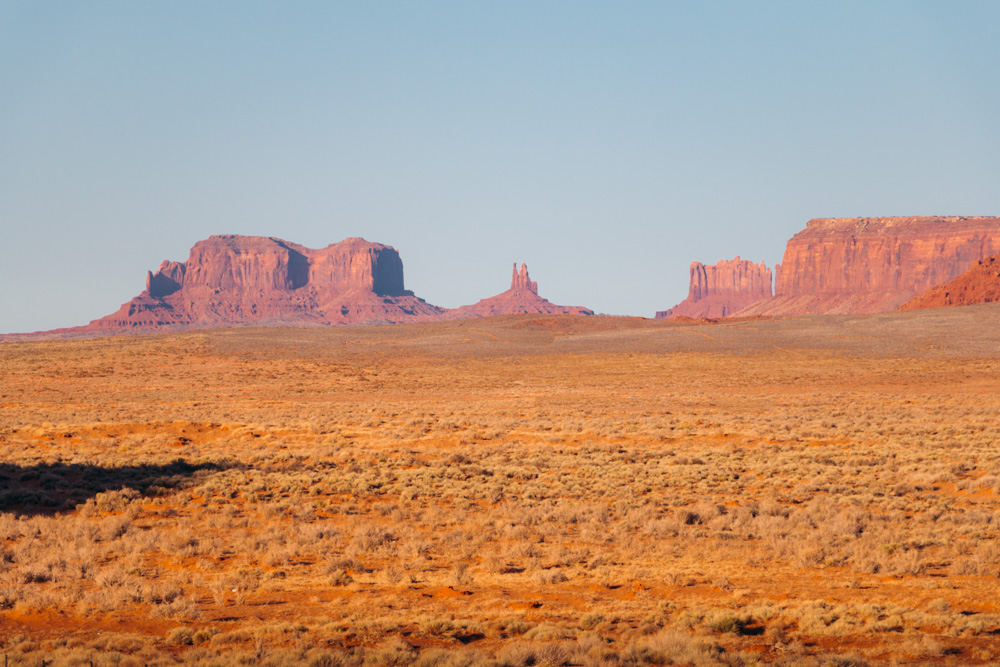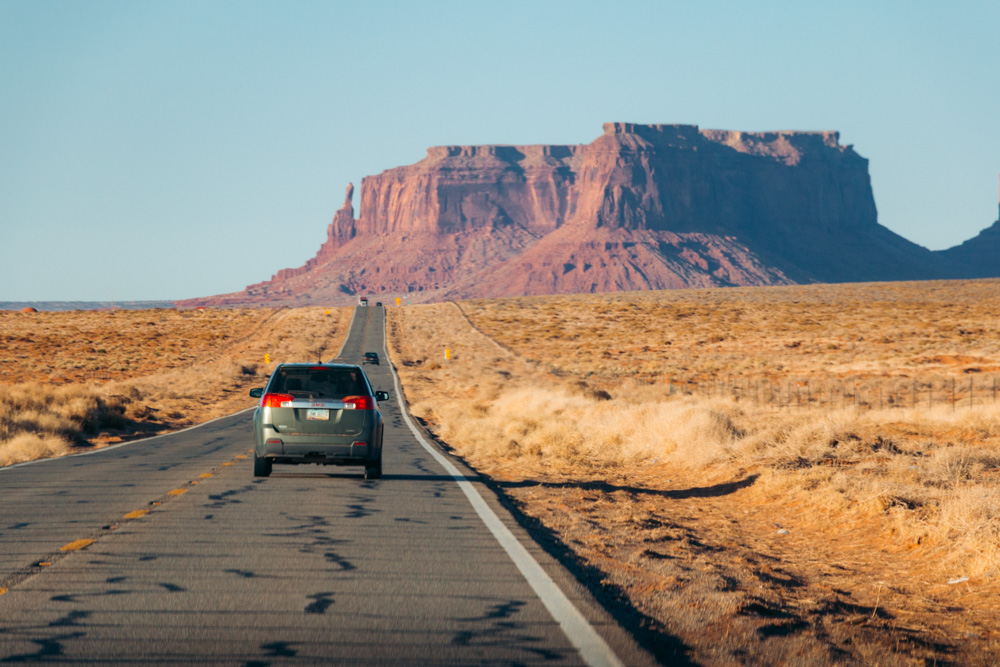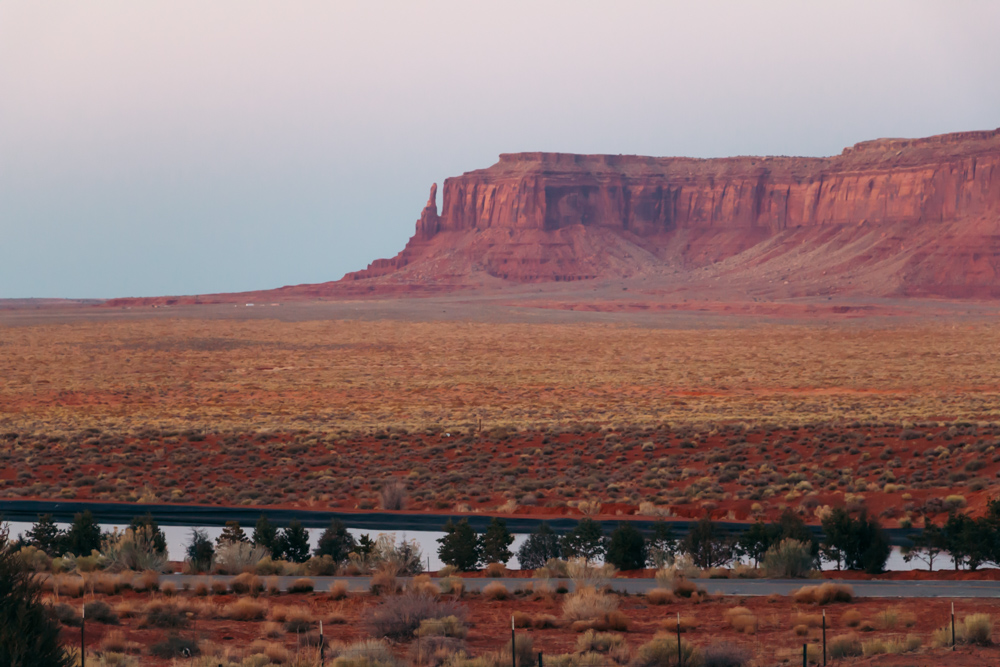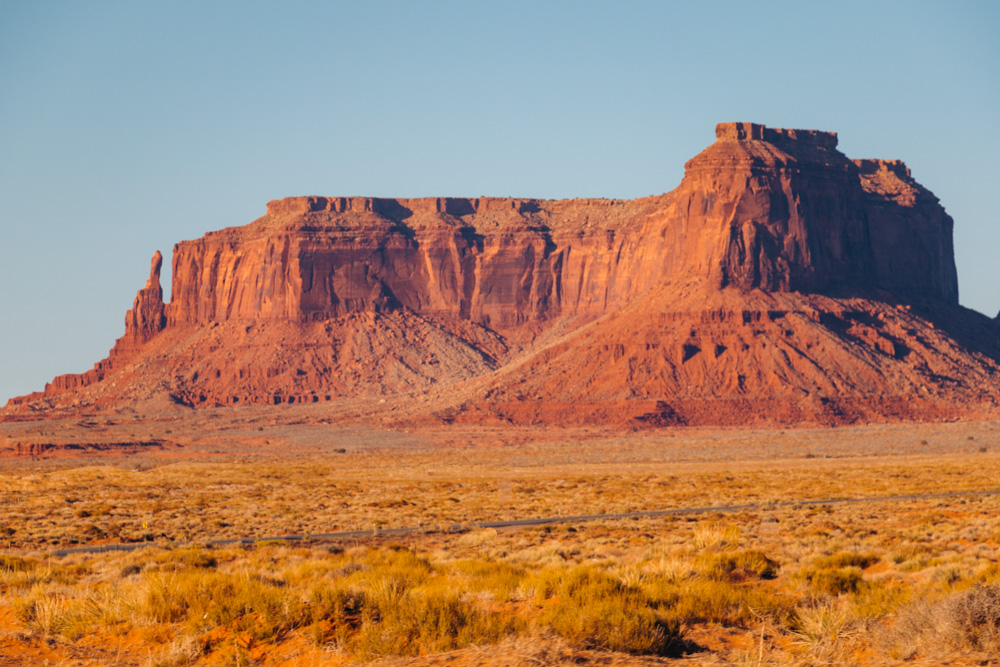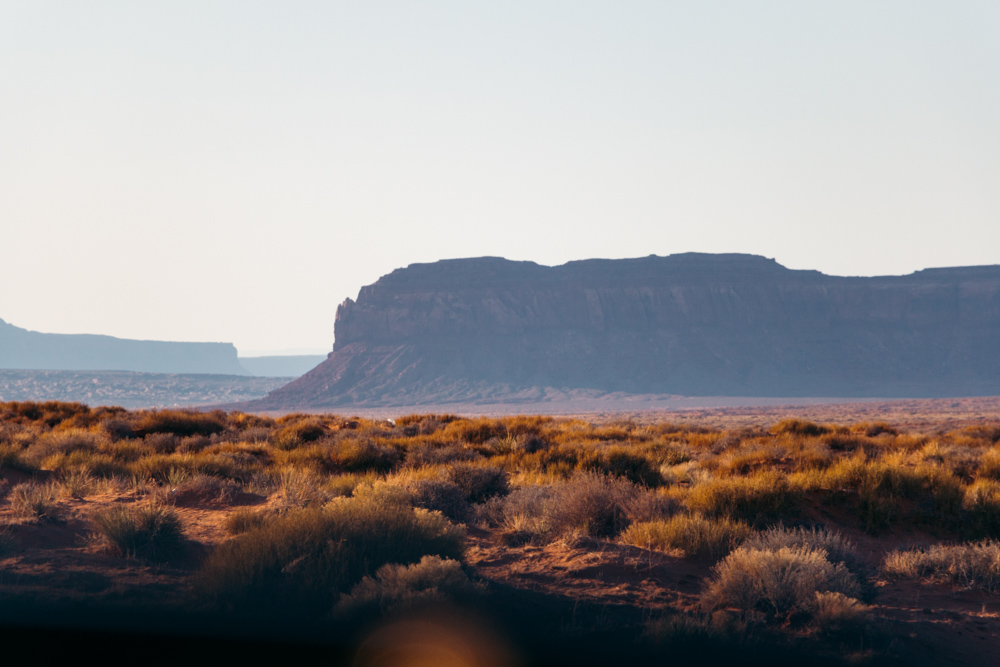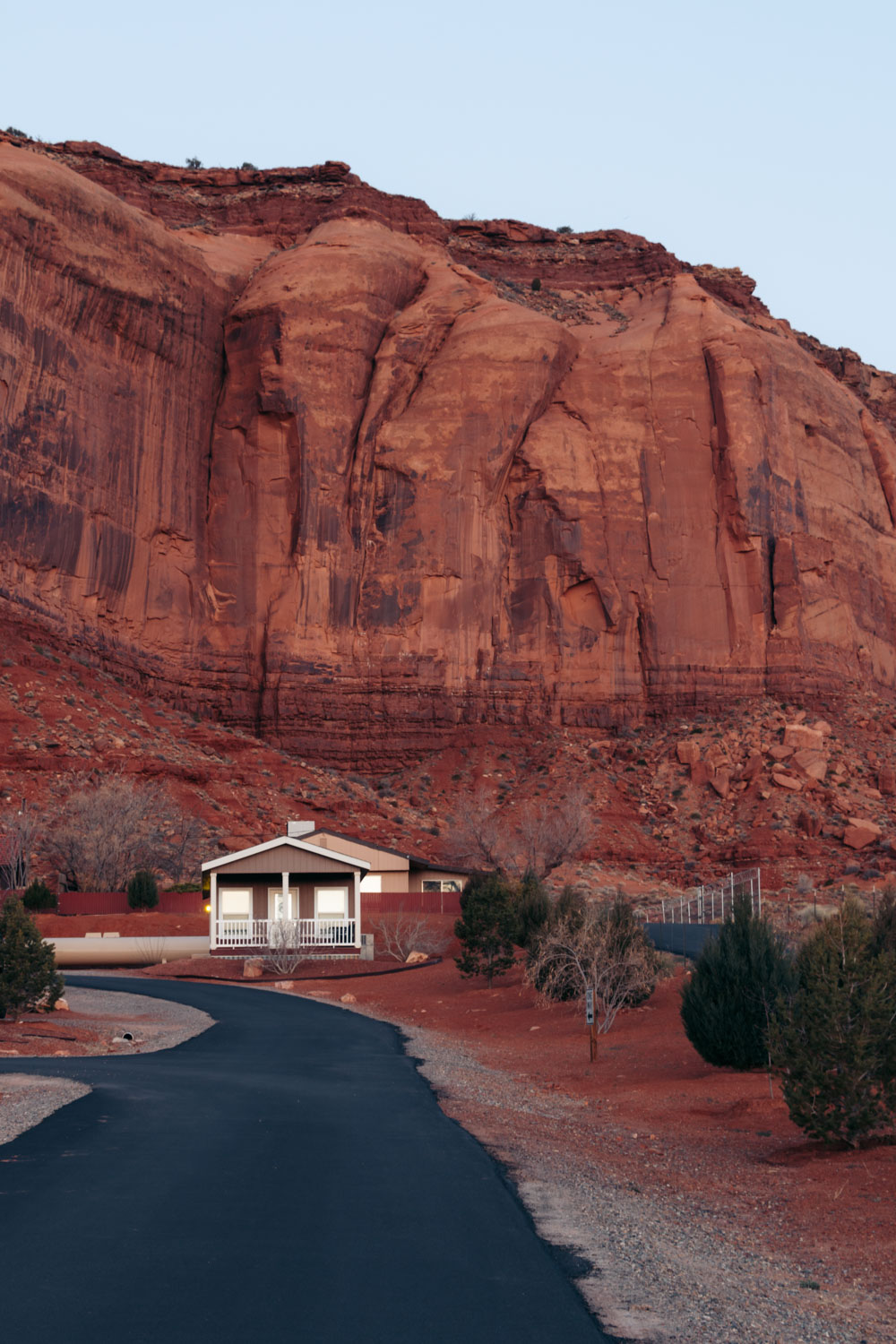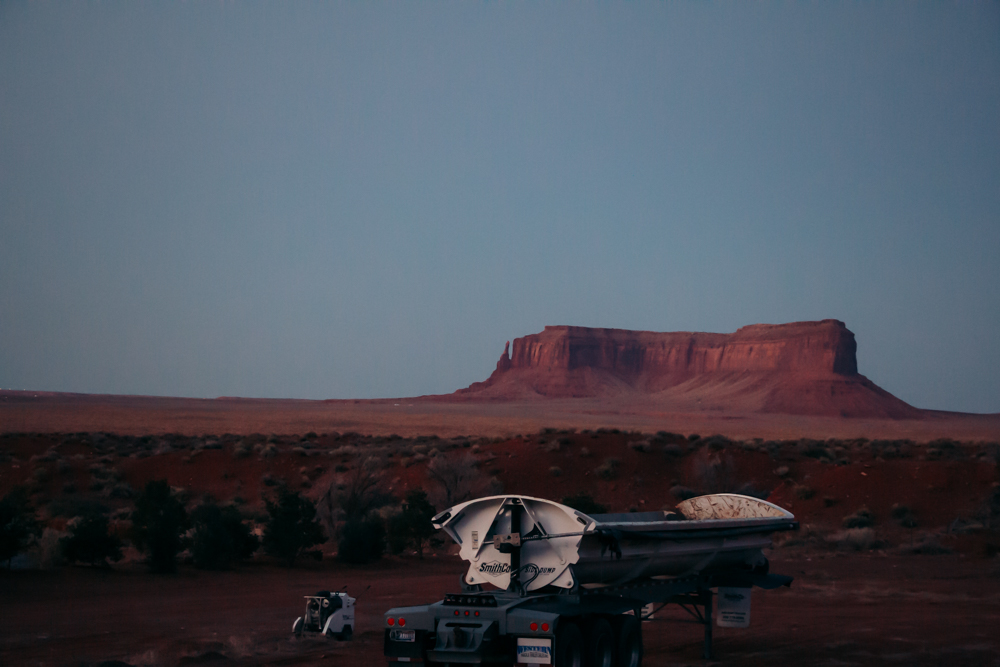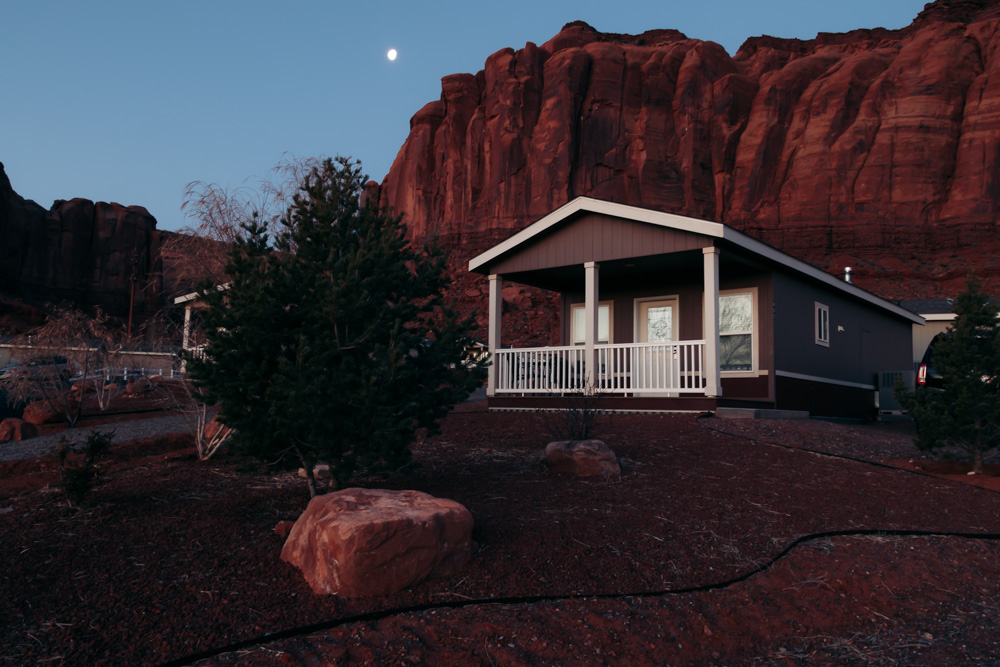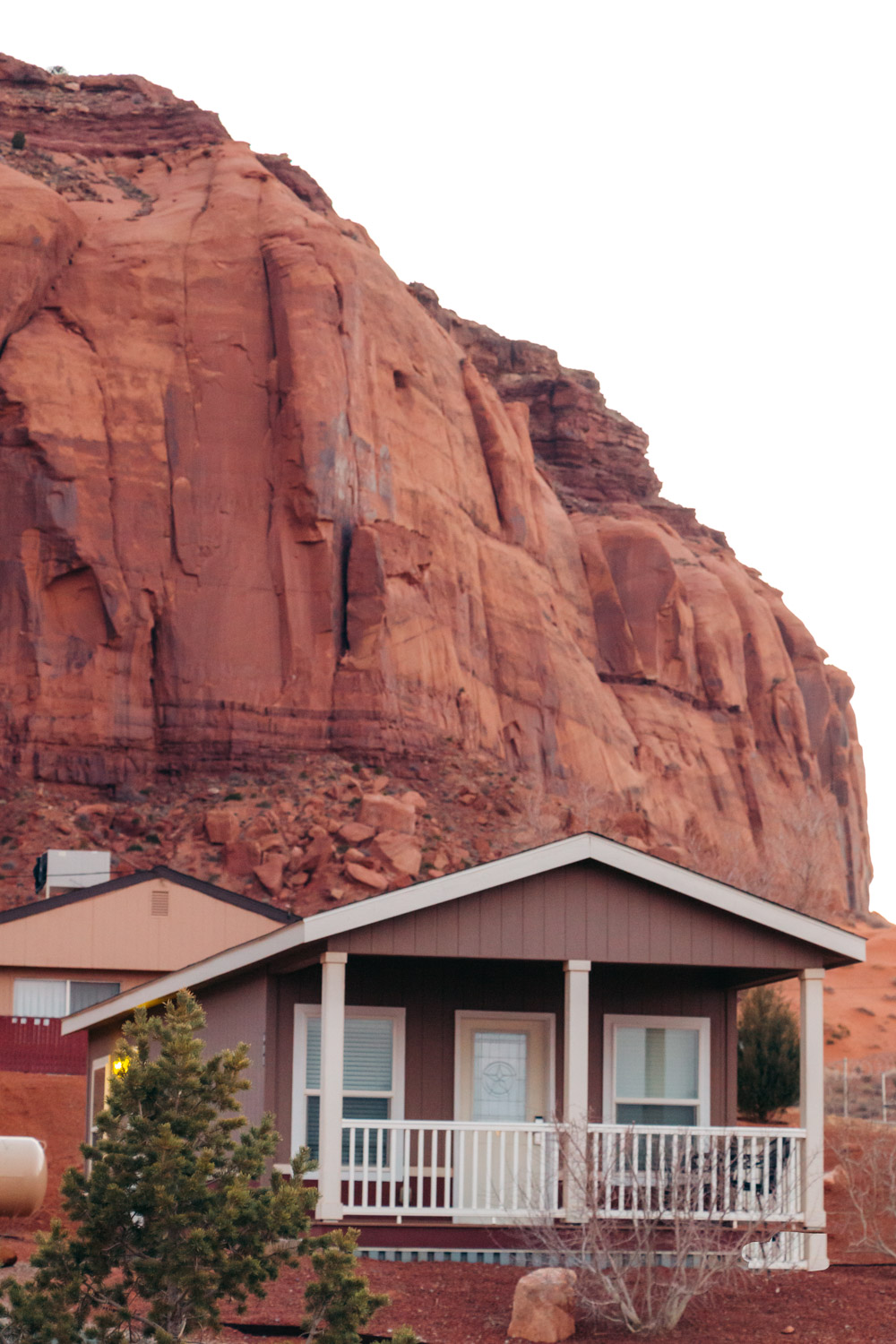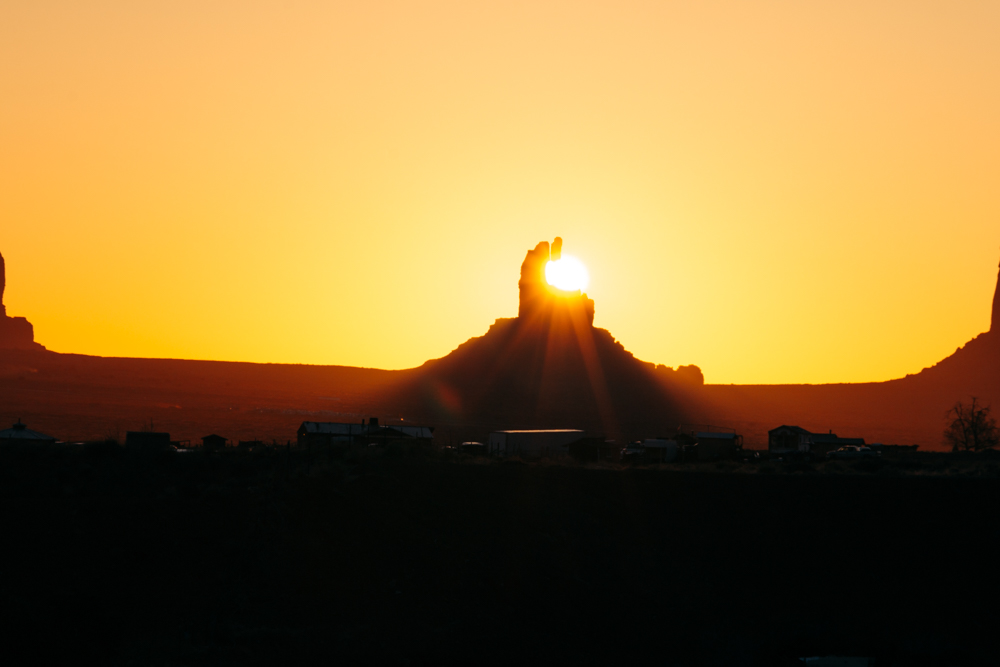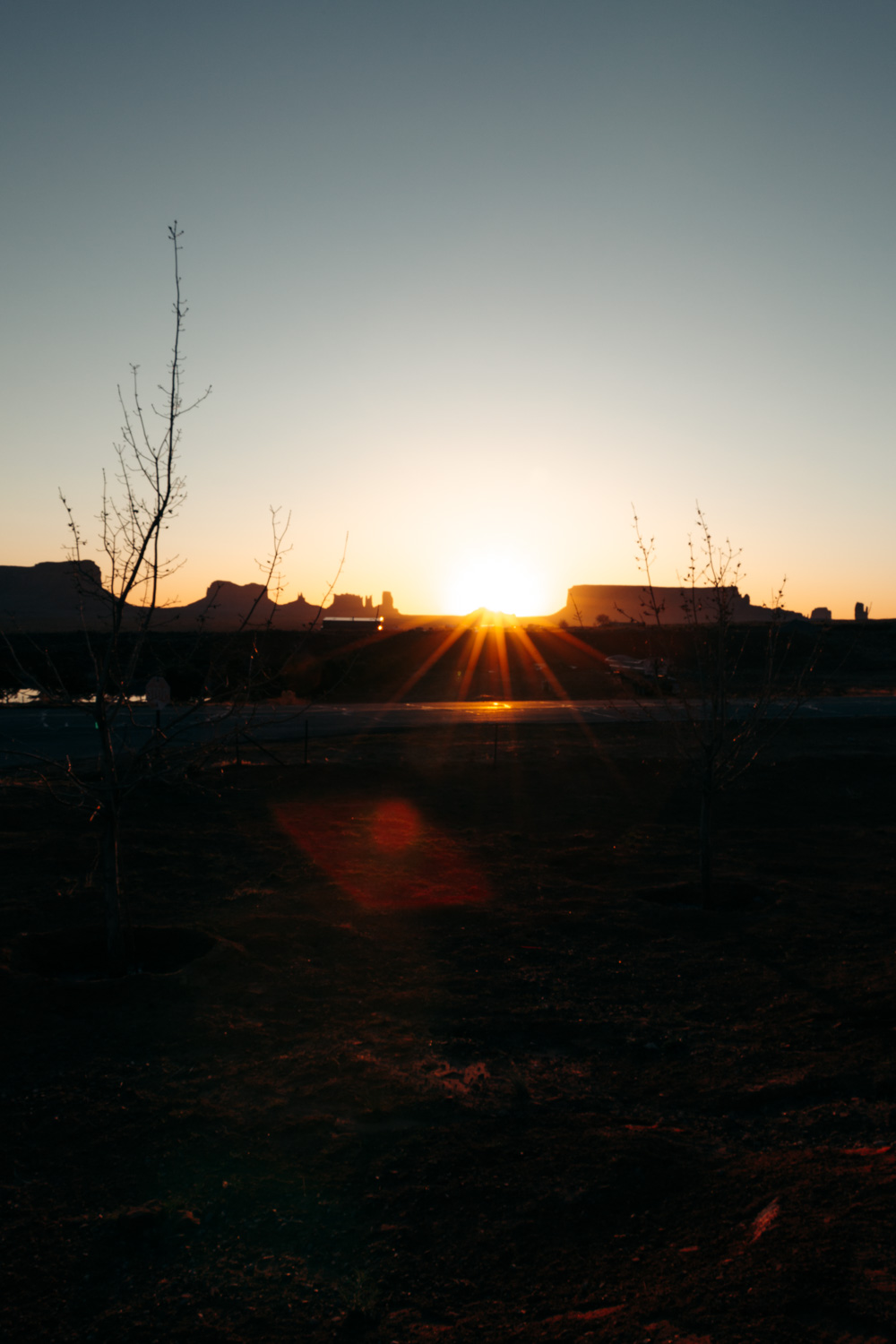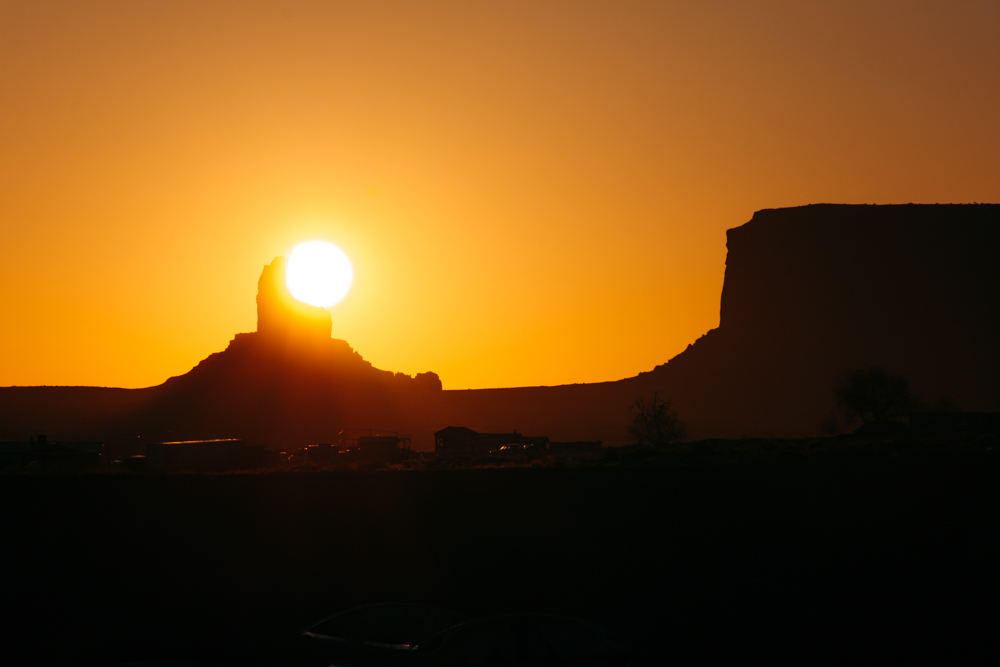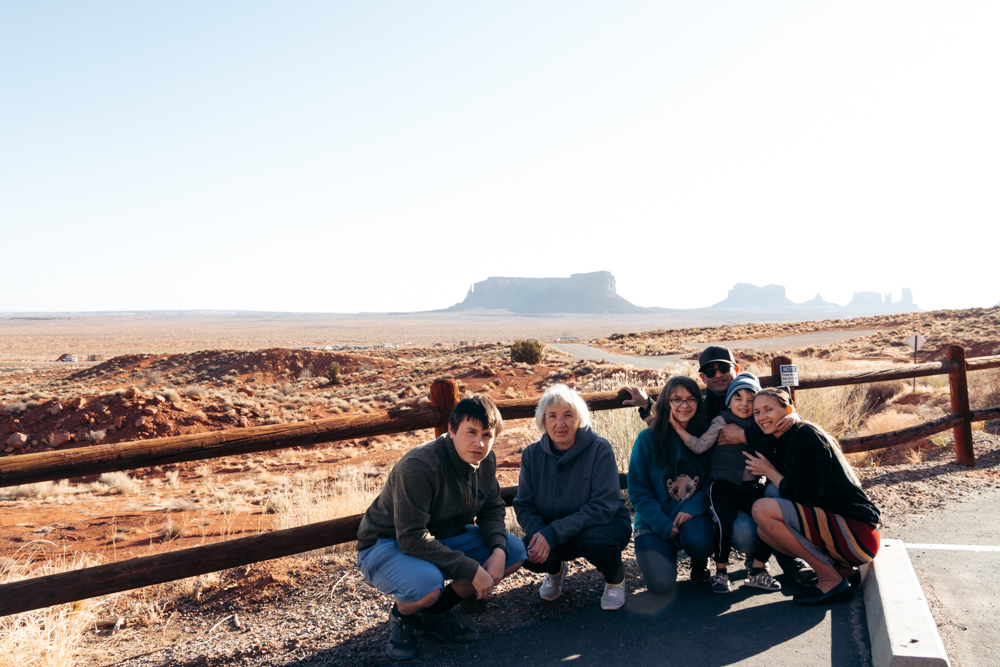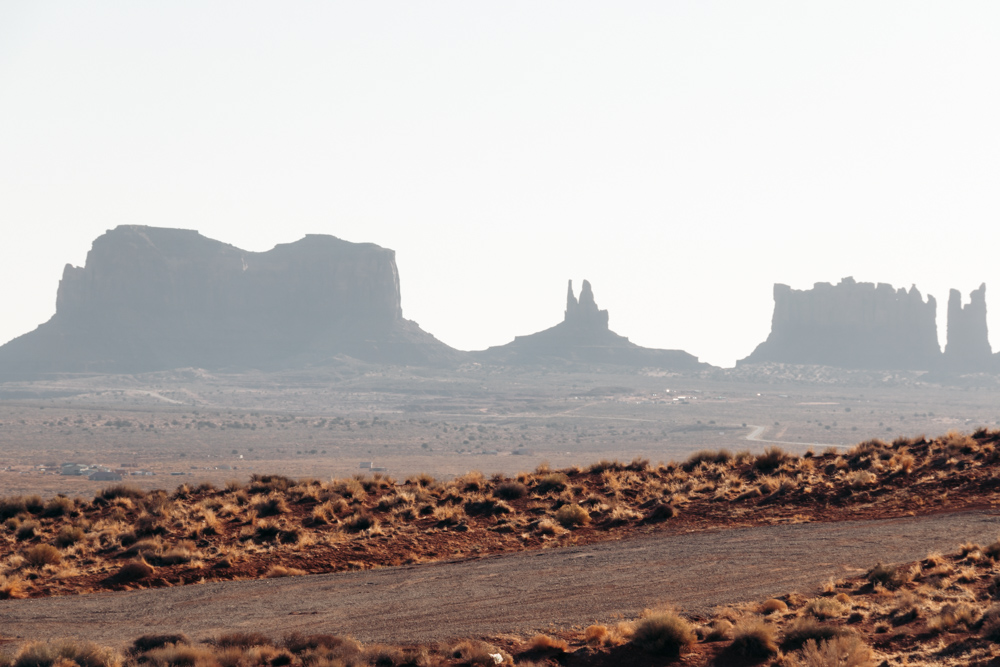 Read Next