Loaded with vitamin A and antioxidants, this plant-based chocolate pumpkin cake can easily sweeten the greyest of the fall days.
Last updated: November 21, 2023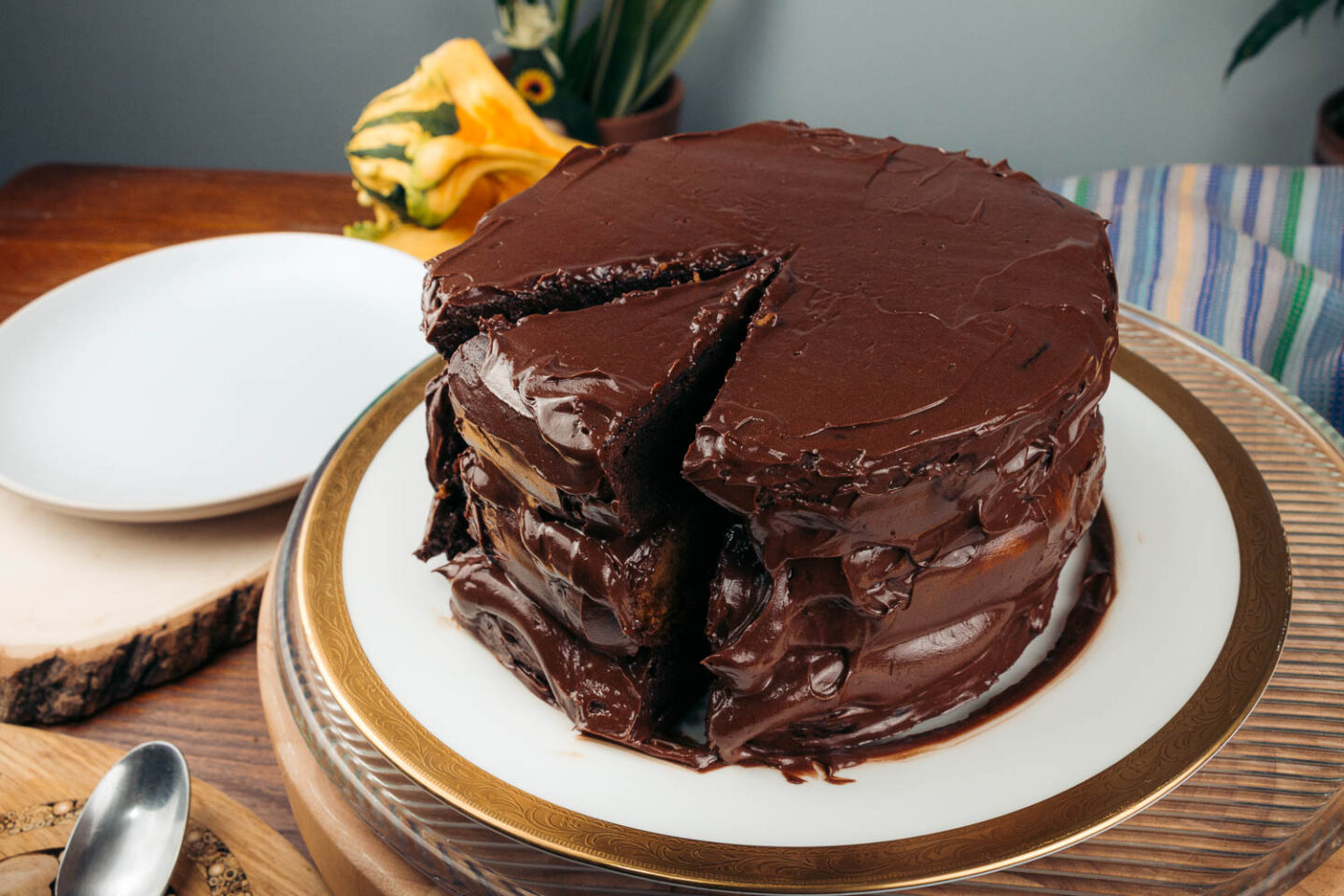 Pumpkin in the Kitchen
Fall is first and foremost all about pumpkins. Regardless of whether we like or loathe this plant, we load up on all kinds of squashes beginning in the middle of the fall season.
For American culture, a pumpkin in a kitchen is a symbol of abundance and sustainability. This goes back to the time when first Europeans, starved and macerated, learned from Native Americans how to survive in the new land by harvesting their own food.
Growing your own produce is a forsaken tradition for many Americans, especially those who live in big cities. But getting creative with all sorts of pumpkins – baking pumpkin cakes, incorporating squashes into stews, pureeing them into soups, and adding pumpkin spice in season drinks – is still relevant today.
Although we eat squashes throughout the year, I am more prone to jumping on that the-best-pumpkin-recipe wagon at the turn of the season. My latest creation is a chocolate pumpkin cake.
How to Make Plant-based Chocolate Pumpkin Cake
The recipe is easy. And with a whopping amount of homemade pumpkin puree, this cake lets you incorporate more seasonal vegetables into your diet without anybody objecting to it.
Chocolate makes everything taste better, right? So we went full force to make sure every layer of our pumpkin cake is generously slathered with our homemade chocolate buttercream frosting. For those who crave a simpler, chocolate-free version of the recipe, use any jam to glue your pumpkin layers together.
TIP: An 8-inch baking pan is preferable, but you can use any bigger dish. Your chocolate pumpkin cake will be shorter, but larger in diameter. In this case, you may need to bake each layer for only 20-25 minutes as opposed to 30-35 minutes.
Note: I wanted to make my cake tall. Unfortunately we don't have any 8-inch baking dishes in our kitchen. So I made a go of a momo steamer. As you can see in pictures and video, my layers look slightly like flowers. I covered all the imperfections with a generous amount of chocolate buttercream frosting in the final stage of assembling my pumpkin cake.
Let's jump to the recipe now.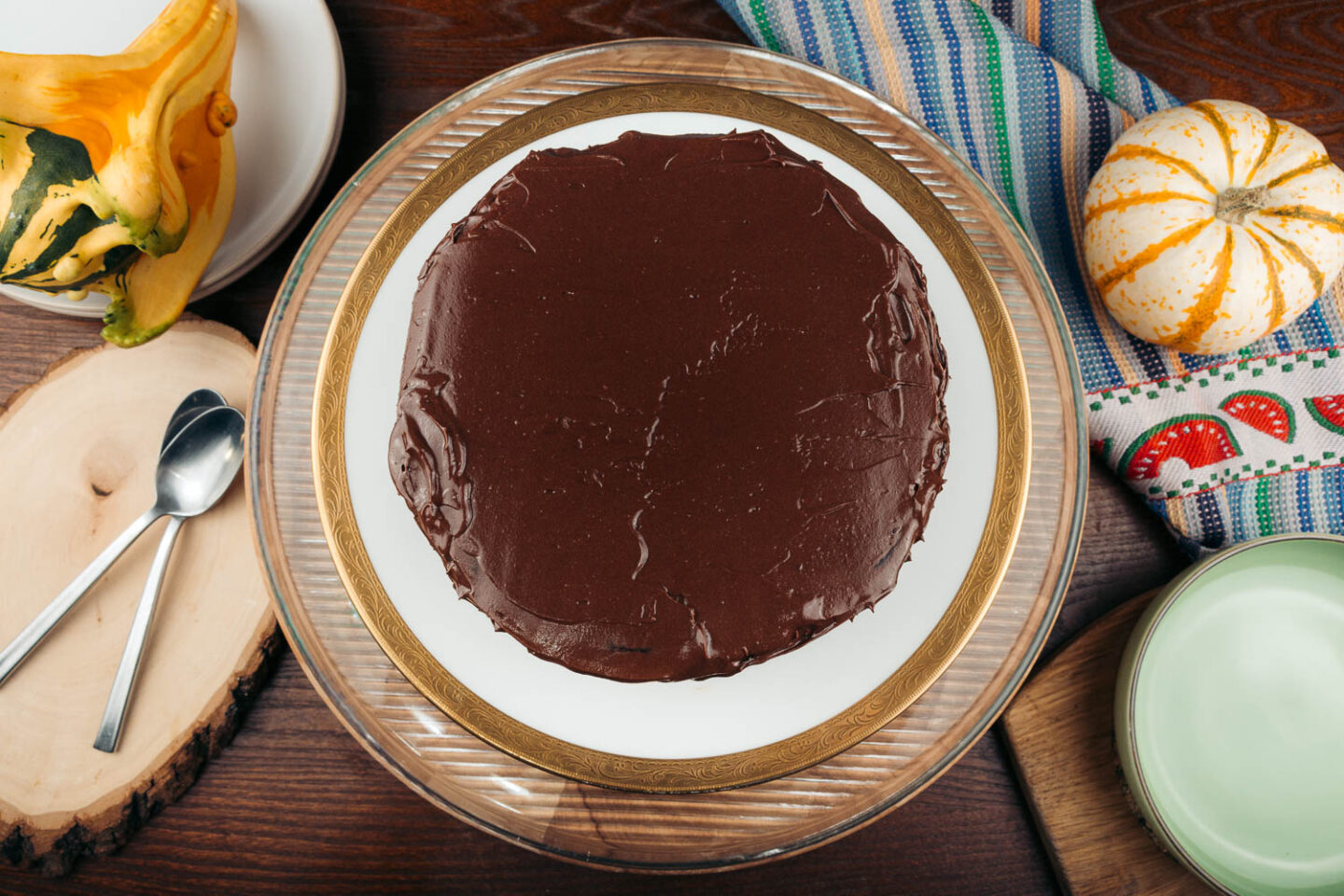 CHOCOLATE PUMPKIN CAKE (PLANT-BASED) RECIPE
Ingredients
2 1/3 cups flour
1 cup pumpkin puree
3/4 cup honey (or maple syrup for a vegan version)
1/2 cup (100 gr) vegan butter
1 1/4 cups plant-based milk (unsweetened)
1 tsp baking soda
2 tbsp apple cider vinegar
1 tsp baking powder
1/2 cup cocoa powder (for chocolate layers only)
Chocolate Buttercream Frosting
1 cup vegan butter, room temperature
1 cup cocoa powder
1/2-3/4 cup honey (or maple syrup)
Directions for Chocolate Pumpkin Cake
Preheat the oven to 350°F. Line three 8-inch cake pans with parchment paper. (You can use larger size cake pans as well. The larger the pan, the shorter your chocolate pumpkin cake will be. Consequently you will need less time to bake each layer.)
In a medium bowl, whisk together the flour, pumpkin puree, honey, milk, vegan butter, baking powder. Once everything is well combined, quench the baking soda with the apple cider vinegar and add it to the batter. Mix well.
Divide the batter into two unequal parts: 1/3 and 2/3.
In a bowl with 2/3 part of the batter, add the cocoa powder and mix well. If the batter is too thick, add a little bit of milk.
Further divide the "chocolate" batter into two equal parts. Bake each of three parts for 30-35 minutes or until a toothpick comes out clean.
Transfer the pumpkin cake layers onto a cooling rack and cool completely before frosting.
Meanwhile make the chocolate buttercream frosting.
Then place the chocolate cake layer at the bottom. Slather it generously with the frosting. Put the pumpkin cake layer on top, followed by the chocolate frosting. Top off the cake with the last chocolate layer and another liberal coat of chocolate frosting. Cover the side of the cake with the frosting.
Place your chocolate pumpkin cake in the fridge for the frosting to set.
Directions for Chocolate Buttercream Frosting
In a large bowl, mix together the vegan butter (make sure it's room temperature), cocoa powder, and honey until well combined.
If you want to experiment with more healthy, travel inspired dishes, check out these recipes.