I have plenty of stories to tell about my travels. But the stories behind some pictures taken in different parts of the world intensify those experiences, allowing me to relive them over and over again.
Last updated: November 2, 2021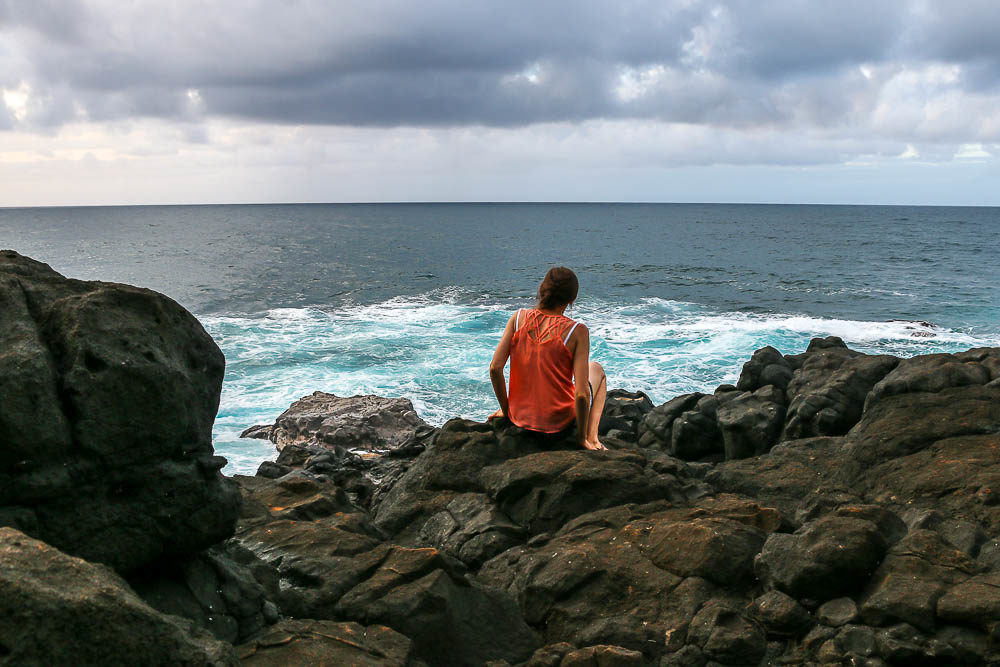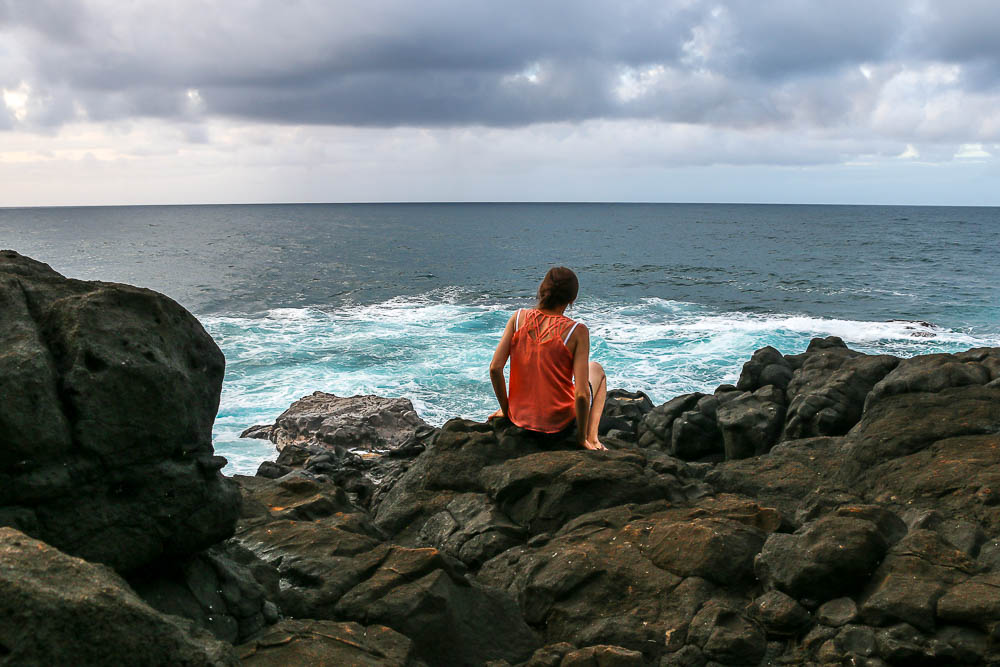 The Stories Behind Pictures: Top 10 Travel Moments
As far as I can remember, photos have always fascinated me. They've always had the most profound effects on me, taught me, and told me deeper stories. However, despite my enormous love for the visual images, I've never underestimated the power of words. The stories behind the pictures usually convey the most interesting travel moments, something you can't guess or speculate unless you get verbal descriptions along the way.
As we travel, our stories behind the pictures get richer and richer. Some of them are funny, others are a little bit risky and even dangerous. But none of them are in any way boring. Moreover, as time goes by, I cherish these travel moments and the stories behind our travel pictures more and more.
HERE ARE THE STORIES BEHIND MY TRAVEL PICTURES:

10 UNFORGETTABLE MOMENTS AROUND THE WORLD:
THE STORIES BEHIND THE PICTURES: THE USA
1. Dealing with Unbearable Heat in Death Valley National Park, California
As much as I want to travel more and see different places and meet different people, it's not quite possible. First, traveling can be pretty expensive. Second, there's such thing as work obligation. Therefore, to afford our trips, almost every time we travel, especially abroad, it has to be during an off-season.
It leaves us with summers at home. On the other hand, spending most of the summer months in California results in the most bizarre memories and stories behind our travel pictures.
On one particular weekend, wanting to change our routine, we were desperately looking for places to travel to. At that time, we had visited all national parks within a few-hour drive from Los Angeles but Death Valley National Park. So we decided to give the latter a try. All was good except that we forgot that summer was not the best time to go to a desert in California.
We drove approximately four hours one way and spent no more than five minutes walking on sand dunes in Death Valley. The heat was excruciating, the sand was as hot as an oven. Five minutes was all we could handle before running back to our car for safety. Once back in the car with AC blowing at its maximum level, we bursted into laughter. We could literally die out there. A few pictures we took before leaving the park never let us forget those crazy summer stories.
READ MORE: Visit Death Valley National Park: Mesquite Flat Sand Dunes Adventure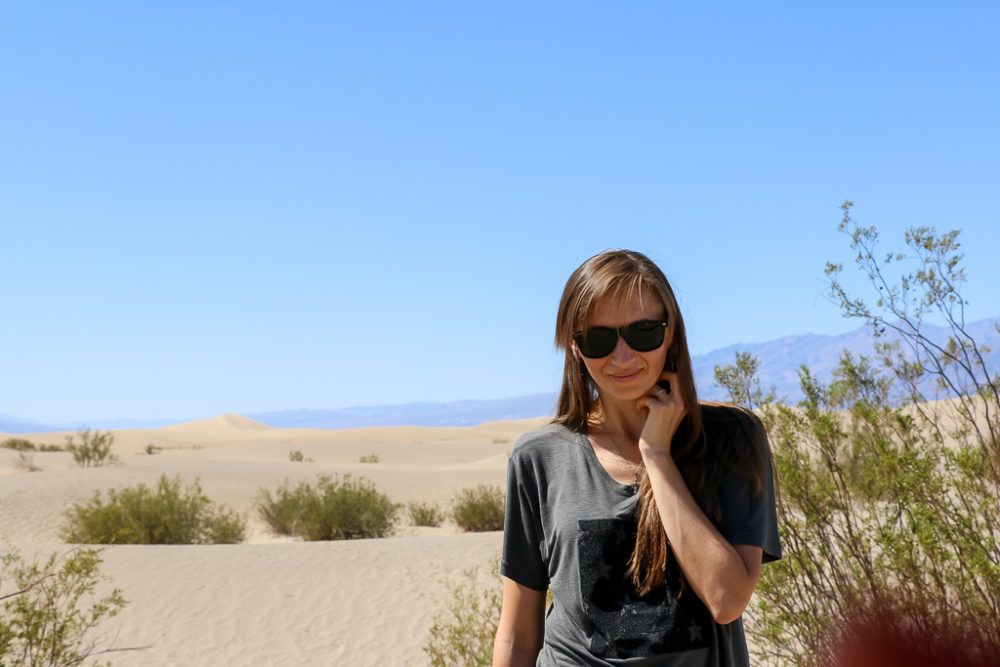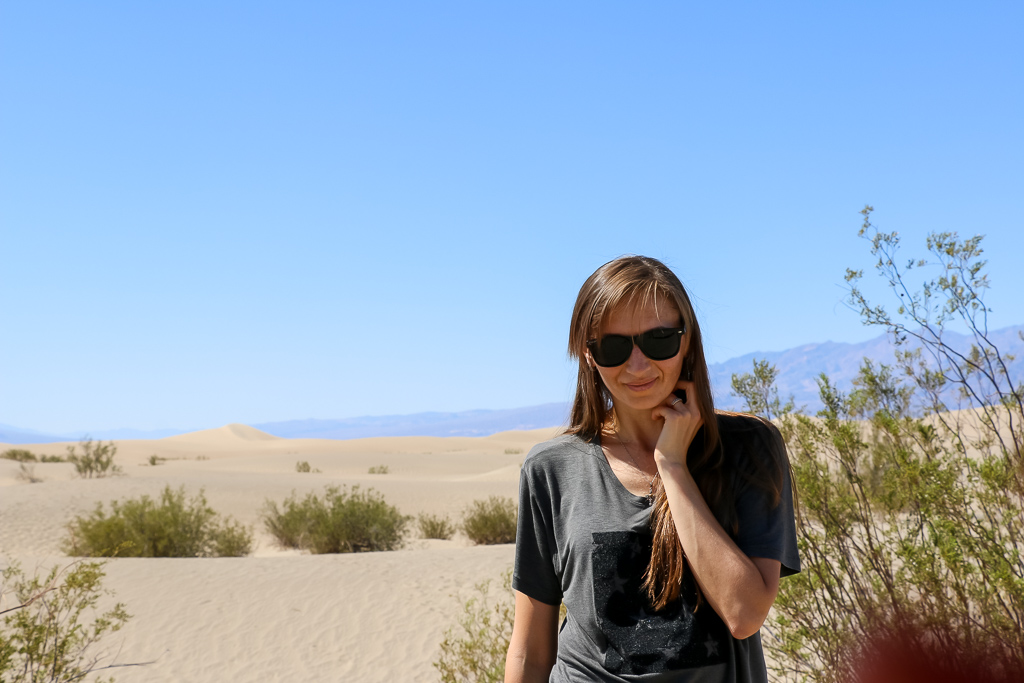 2. Appreciating Less Popular Places at Latourell Falls, Oregon
In Oregon, my husband and I had different ideas in minds. I wanted to see moss-covered trees. Roshan came to the state with one intention, to explore waterfalls near Portland. In fact, Multnomah Falls was on top of his list. One of his friends had visited Oregon a few years prior and shared her pictures from that waterfall. Roshan had been awestruck and promised to see that place in person one day.
I, on the other hand, always had to see everything. Thus, instead of going directly to Multnomah Falls, I insisted on stopping at a few other waterfalls on our way. Roshan agreed at first. Yet soon he was begging to skip the last waterfall, Latourell Falls, and go directly to Multnomah Falls.
It was raining all day long. There was no chance we'd go back to see that skipped waterfall. I insisted once again, and Roshan agreed reluctantly. In the end, it was just another 7-minute drive.
Upon our arrival at Latourell Falls, Roshan went first to look at the waterfall. By that time Dylan was sleeping in his carseat, and one of us had to stay in the car with him.
About 20 minutes later Roshan came back. As soon as I saw his face, I could tell he was more than impressed. In fact, he liked it even more than Multnomah Falls. Now every time we bring up some of the stories behind our travel pictures, I remind Roshan about his impatience in Oregon.
READ MORE: 4-Day Oregon Road Trip from Medford to Portland

3. Getting Covered with Mud at Queen's Bath, Hawaii
Among all the insane travel memories and the stories behind those pictures per se, a few shots I took at the Queen's Bath are my most cherished. Again only one of us could go down a muddy trail to a rocky beach on the island of Kauai. The other one had to stay with Dylan. Roshan let me go this time, and I'll be forever grateful for that.
The trail wasn't that long, but it was slippery and muddy. I saw other hikers covered with mud from head to toes. I did my best to grasp onto any available branches and tree roots in order not to repeat their "greatest falls".
I was lucky and managed to get to the beach and then back to the car pretty clean, except for my feet and hands. Oh, and my old sandals couldn't handle this "abuse" any longer and got ripped before I even reached the Queen's Bath.
I got to the place in time for sunset. Sunset on an almost empty cliff-beach towering over the ocean was everything I could ask for. However, later after reading stories behind somebody else's pictures on the Internet I found out how dangerous the Queen's Bath could be. So I can consider myself lucky for such an unforgettable and safe travel memory.
READ MORE: Queen's Bath: Adventure, Jungle, Hike, and Waterfalls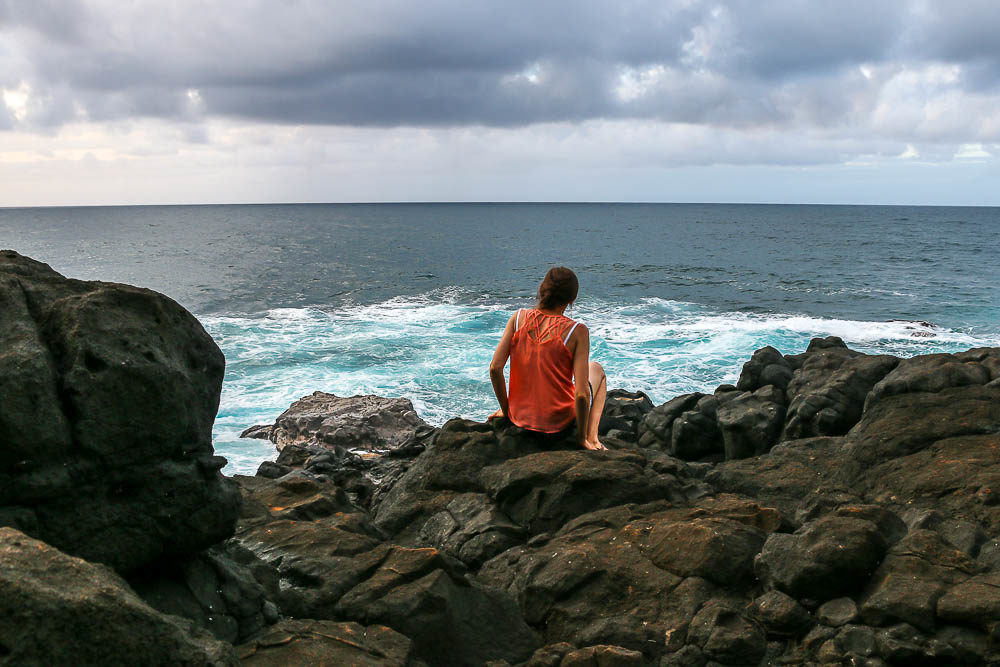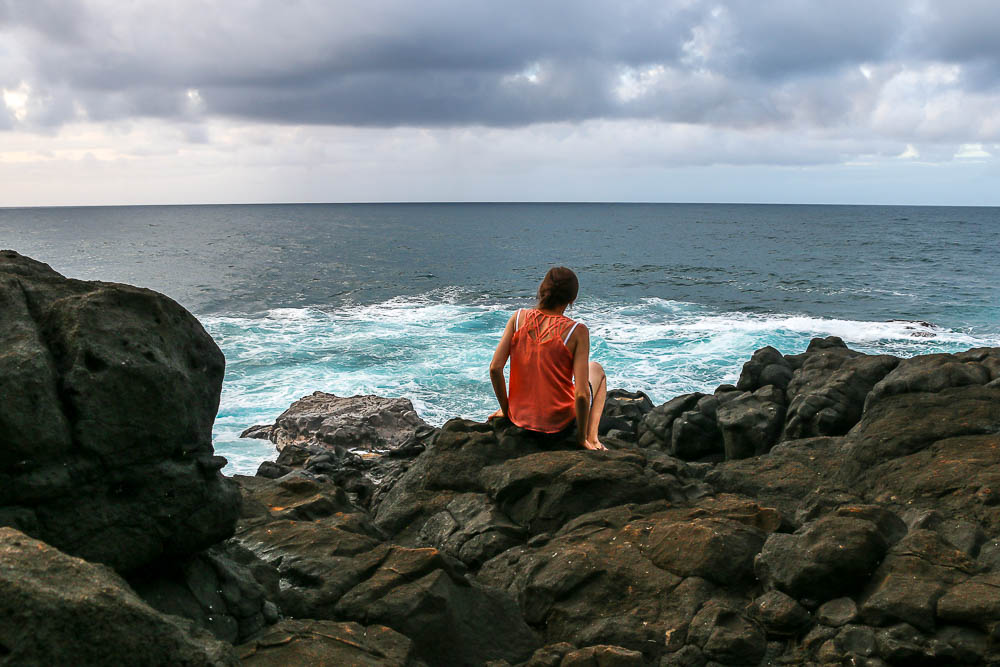 4. Watching Hula Dance in Hawaii
We spent a few days on Kauai, Hawaii. On our first day before we left our hotel, I told Roshan that I really wanted to see locals dancing hula. Little did I know that just a few hours later my dream would come true.
That morning we went to see Kamokila Hawaiian Village. After spending a few hours exploring the surroundings and canoeing, it was time to head to our next destination. But first lunch. And while we were eating our lunch in shaded area, one local woman started to dance hula.
She was giving a performance to a group of elderly tourists sitting in the same area. We were just lucky to be in the right place at the right time. Obviously, I had to take a few pictures and narrate our stories from that village to anybody who wanted to hear them.
READ MORE: Not So Ordinary People of Kauai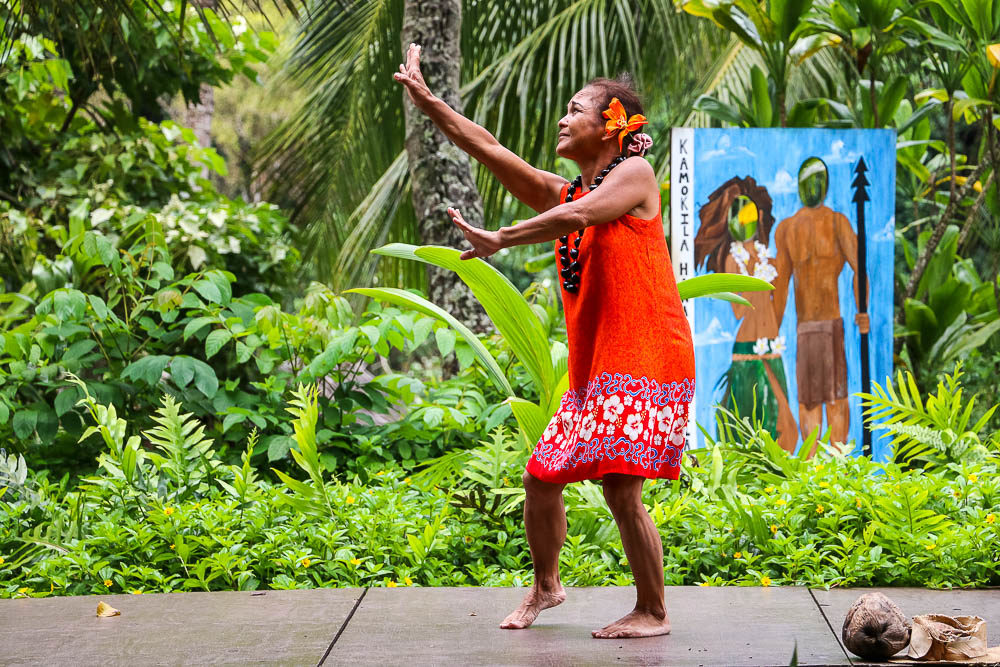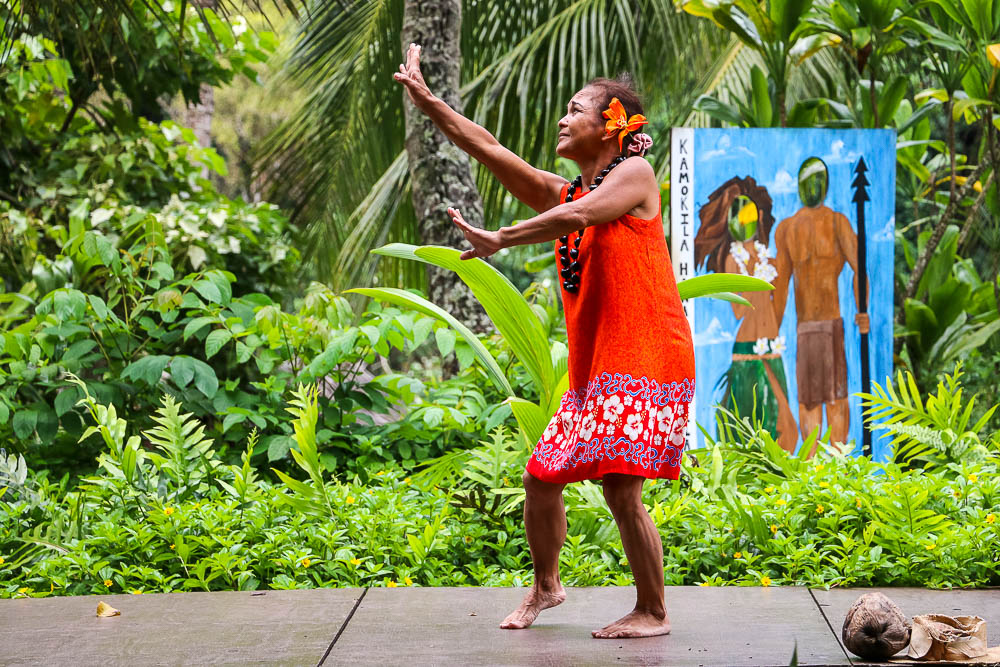 5. Witnessing Epic Sunrise in Alaska
Alaska brought us the most unforgettable stories behind our travel pictures. This might be due to the fact that both Roshan and I had dreamed of visiting this state for a while. On our first morning, we set to drive from Anchorage toward Seward. We happened to choose the perfect time to travel to Alaska. It was the last day of summer, and the weather was amazing.
As soon as we left the city, Alaska prepared for us one surprise after another. No, I don't mean that our tire went flat or we ran out of gas in the middle of nowhere. Natural beauty of Alaska was what made us speechless and grateful for being able to experience it.
Before reaching Seward we had to pull over a few times to get closer to nature and take some travel photos. But the images of sunrise along Seward Highway were our favorite. Needless to say, I never ever took so many pictures and collected so many stories behind them like in Alaska. If I have to choose my favorite travel moments for that year, a trip to Alaska would definitely be one of them.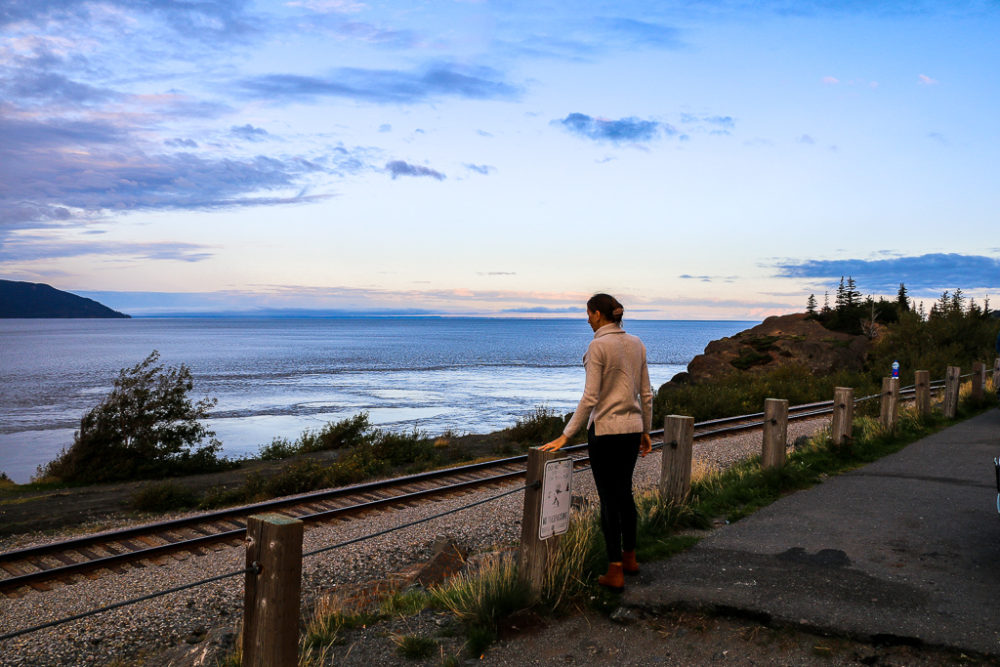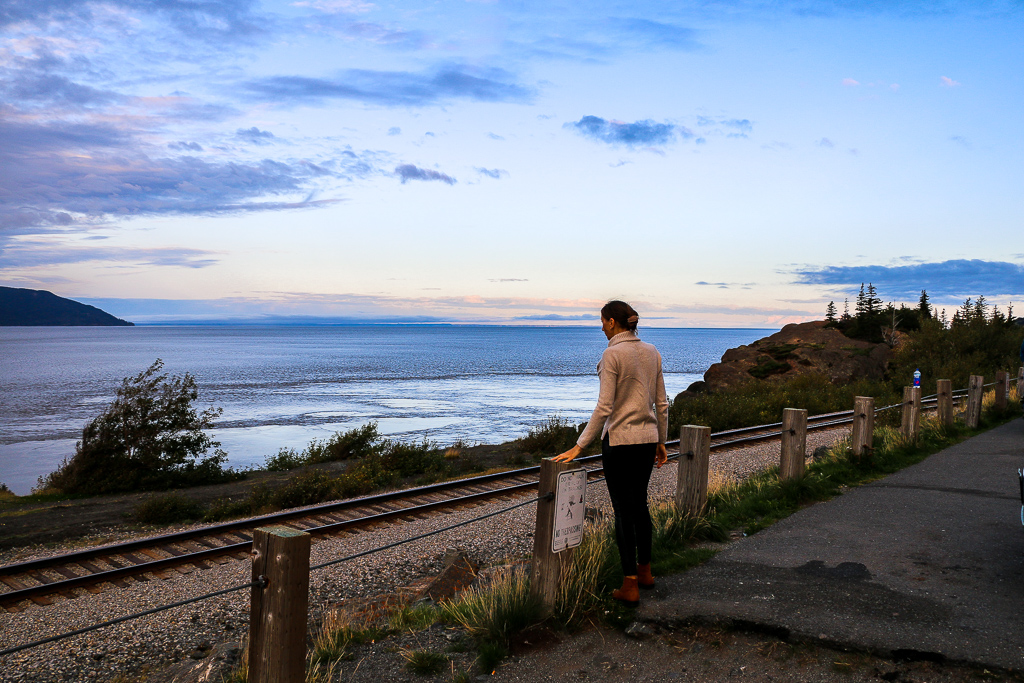 6. Hiking to Devil's Bridge in Arizona
One of the highlights of our latest visit to Arizona was hiking to Devil's Bridge. The Devil's Bridge Trail is one of the most popular hiking routes in Sedona. It's quite long and can be a bit challenging, especially when climbing rocks almost at the end of the trail. With that being said, it's not an activity that suits everybody.
We ventured to the bridge in the morning after having difficulties with finding an empty parking spot. The first thing that grabbed our attention was the amount of people hiking along the trail. The farther we went, the busier the trail was becoming.
But the biggest surprise awaited us at the Devil's Bridge itself. Many people had already lined up by the bridge by the time we got there. Some of these people went all the way here just to take a picture on the bridge. We got in line too and patiently waited for our turn to take the photos on the bridge. Yet that was probably the least favorite part of the story behind this travel picture.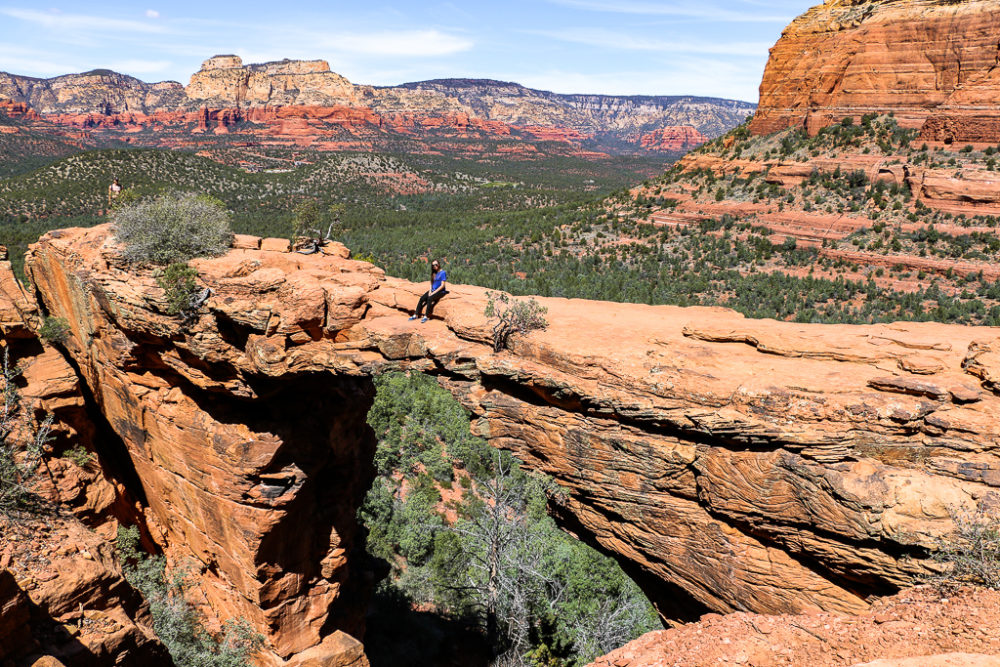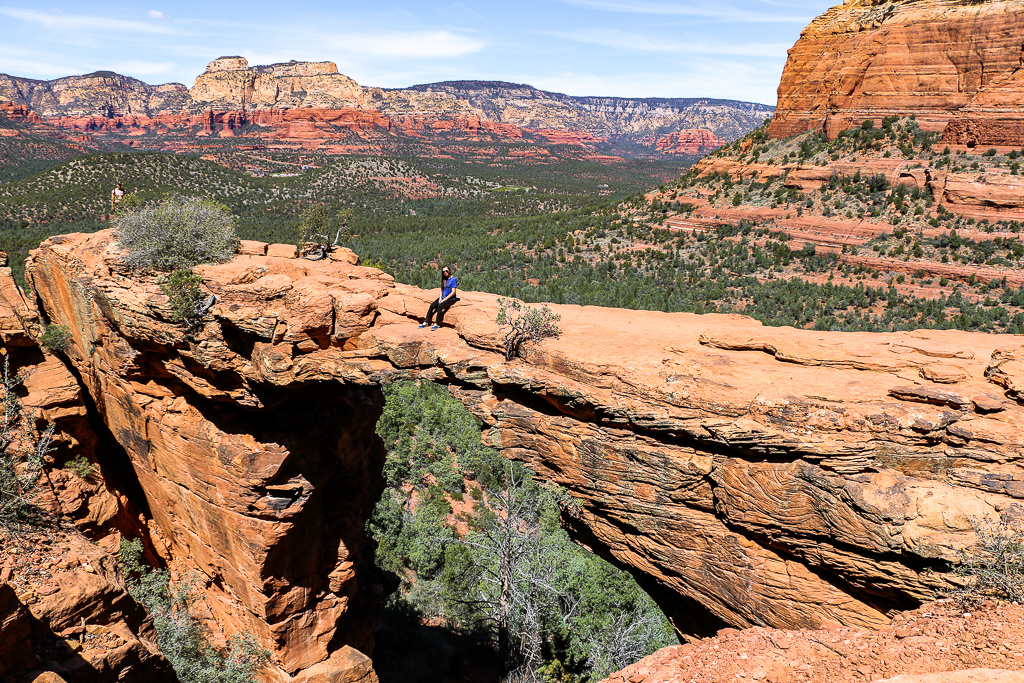 THE STORIES BEHIND TRAVEL PICTURES: EUROPE
7. Collecting the Stories Behind Our Pictures in Paris, France
No doubt, the Eiffel Tower is one of the main reasons millions of people visit the capital of France every year. While it was not the only place we wanted to see in Paris, it was definitely not the last on the list. I strongly believe that everybody needs to see the Eiffel Tower when in the city. Everybody needs to get those personal and maybe not so unique stories behind their Paris pictures.
We visited Paris in March. You'd expect early boom and nice spring weather. In reality, though, it was unseasonably cold. But Paris was Paris, and we couldn't miss any opportunity to explore it.
This picture doesn't really have a long story (except for Dylan falling asleep as soon as we got there), but it's still one of our favorite. Do you see those smiles? This is exactly how we felt at that moment. No staged and forced smiles. Just pure joy of exploring one of the most romanic cities in the world.
READ MORE: 20 Photos to Inspire you to Visit Paris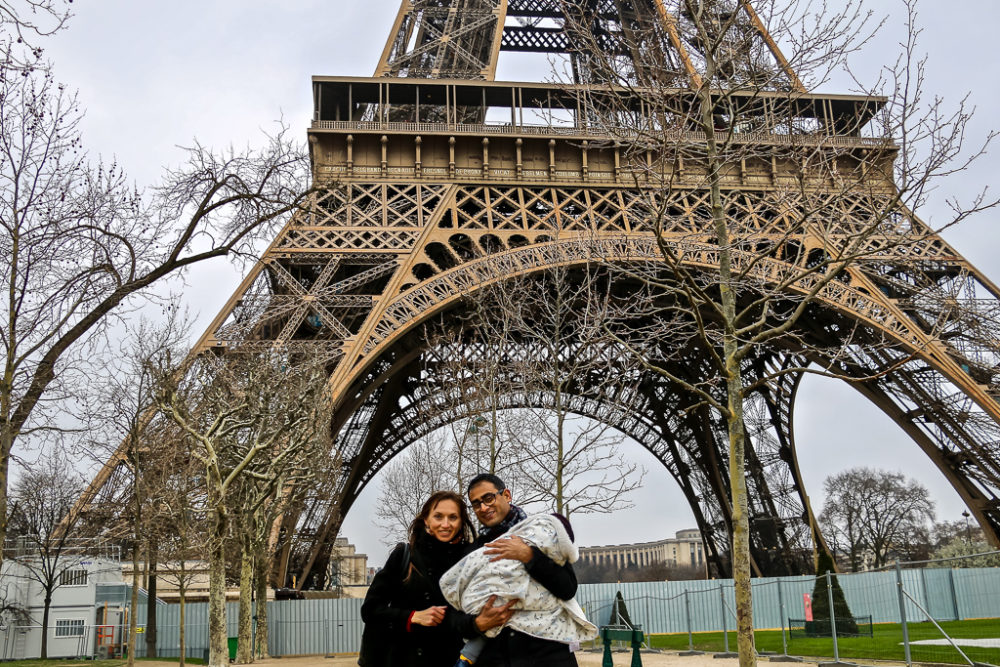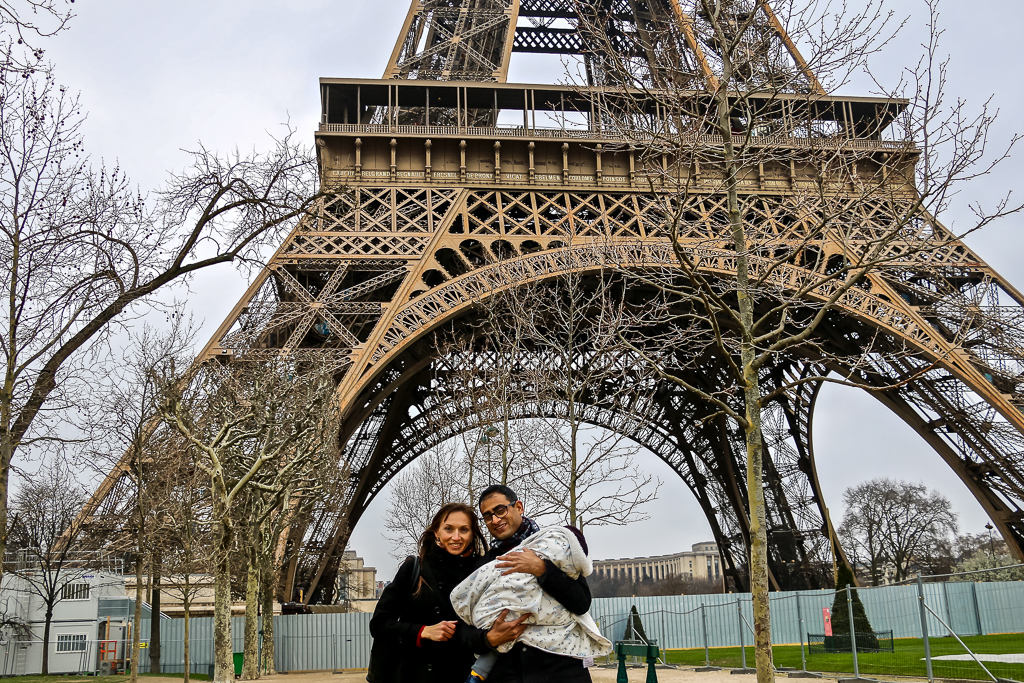 8. Braving the Strongest Wind at Cliffs of Moher, Ireland
You can't really visit Ireland without seeing some of its gorgeous landscapes, hills, and pastures. Exploring the country beyond its major cities, such as Dublin and Galway, was my primary goal. To bring this plan to life I booked a guided tour to the Cliffs of Moher.
At that time, I didn't know much about this place except for the fact that it was one of the most visited attractions in the country. Yet I made sure to read each and every story behind every picture of the famous cliffs I found on the Internet. All set and ready? Not exactly.
The Cliffs of Moher
The place blew my mind literally and figuratively. This photo might be misleading. But the true story behind this picture is unforgettable. And it'll forever remind me who or what is in charge at the Cliffs of Moher.
The moment I got off the bus, the strong wind became my permanent companion and guide. It forced me to go where it needed me to go. If it thought I was going way too fast to enjoy the beautiful Cliffs of Moher, it slowed me down. I often had to stop in my tracks and wait for the wind to pass. Only then I could resume walking for a few minutes until the wind forced me to stop again.
The truth is, I'd never experienced such a strong wind in my life before. At some point, when I was trying to get down the hill, the wind pushed me from the back harder than I expected. Unable to withstand it, but not willing to fall on a muddy lawn, I started to run as fast as I only could.
A few second later I managed to stop. Good thing, I didn't fall. Bad thing, my legs were covered with mud almost up to my knees. And as it was becoming normal at that time, I had to wait, balancing myself in order not to fall, until the wind blew in different direction and I could walk again.
None of this would have happen if it was raining. Luckily, it was sunny and absolutely gorgeous despite the strong wind and cold weather.
READ MORE: 10 Excellent Day Trips from Dublin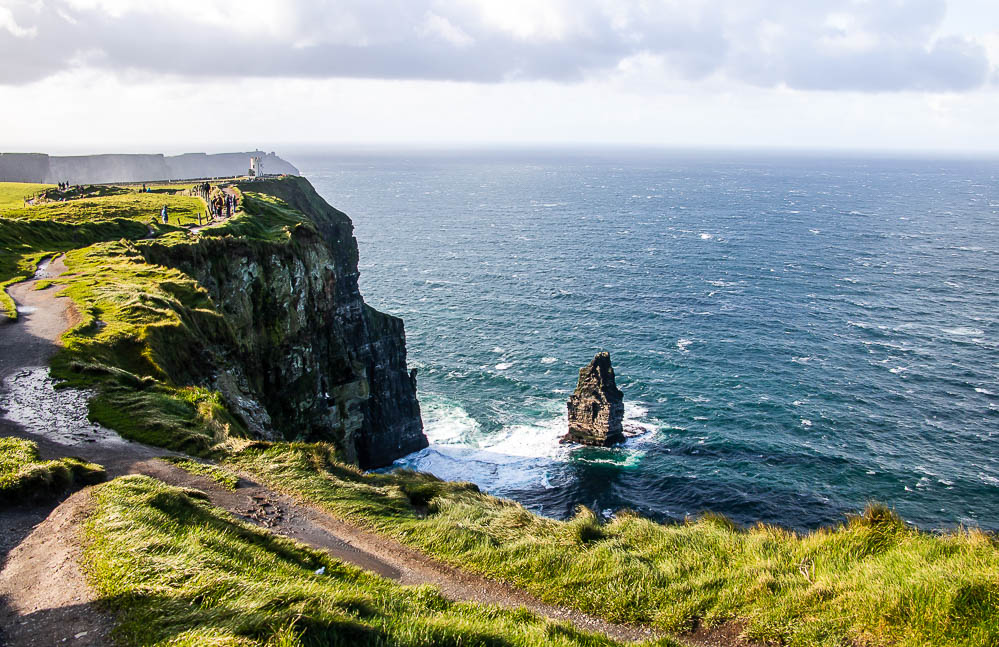 9. Watching Pigeons in Amsterdam

, the Netherlands

The stories behind the travel pictures can be very different from what you see. They might be a continuation of your bravest experiences and depict some of your happiest travel moments. Some pictures, like this one, don't have the most interesting stories. But you love them because they remind you of your feelings at that very moment.

I walked through Dam Square in Amsterdam a few times, and it always was a good place to observe the locals. This morning, however, flock of pigeons stopped in my tracks. These birds didn't seem to be afraid of anybody. Quite the contrary, it felt that they enjoyed human company.

It was such a beautiful scene that I had to stop and simply enjoy it. They say don't forget to stop and smell the roses. At that moment, I couldn't do anything better than to slow down and watch the pigeons.

READ MORE: 13 Unforgettable Things to Do in Amsterdam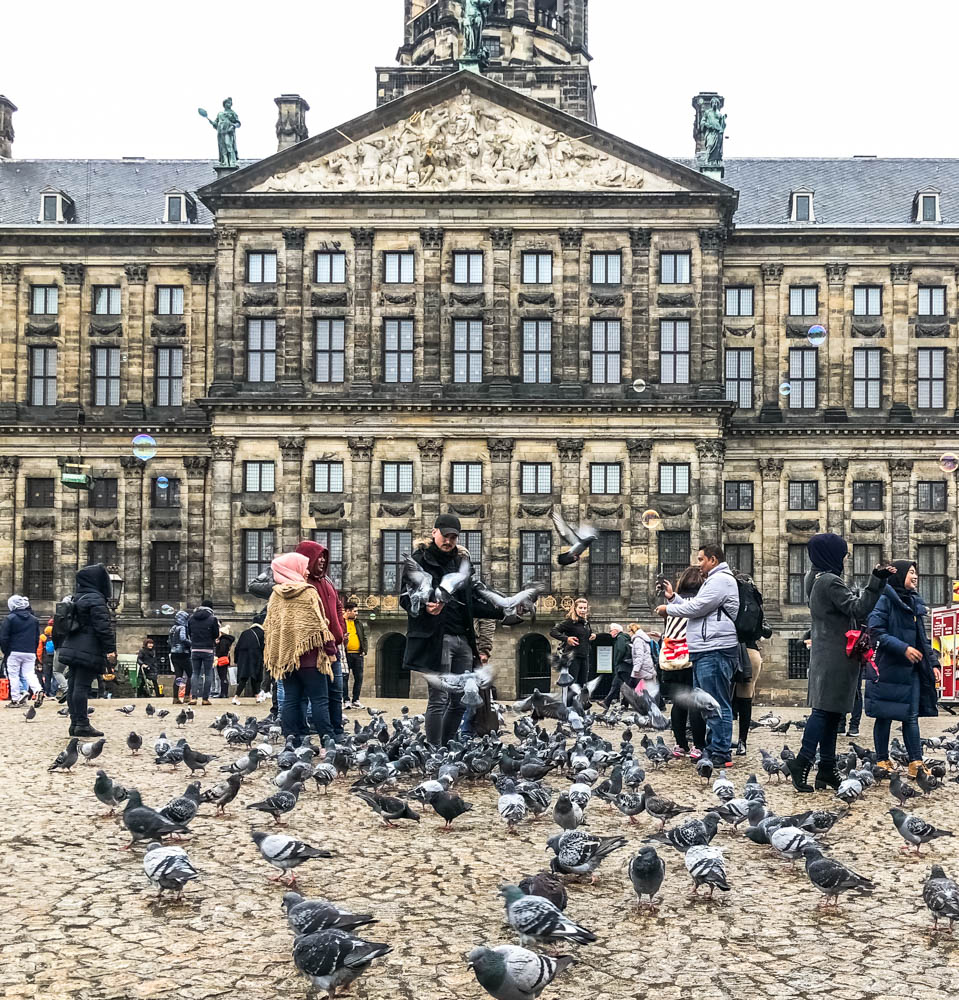 THE STORIES BEHIND TRAVEL PICTURES: CANADA
10. Taking it Easy at Capilano Suspension Bridge in Vancouver
As the majority of our trips, our visit to Vancouver was short. But by that time, we had already mastered how to take most of the time we had and learned how to enjoy our adventures abroad with a baby. Yet Vancouver, British Columbia, was a different story.
On our second day in Canada, we decided to visit the Capilano Suspension Bridge. Dylan, however, didn't want to do anything. He cried non-stop, didn't want neither to eat nor sleep. We hoped by the time we get to our destination, he'd feel better.
No, nothing changed. Thus, instead of enjoying the bridge before crowd arrived, we sat near a park's cafe, drinking hot chocolate and waiting for Dylan to wake up (he finally managed to fall asleep). We were still able to walk across the bridge, but only later, around noon.
The best lesson and the best story behind this picture was, however, how to enjoy our travels even when they go "wrong". This situation reminded us that we couldn't control every part of our adventures. One of the most impactful stories behind our pictures from the Capilano Suspension Bridge was to enjoy the whole journey, not just the destination.
READ MORE: The Ultimate Guide to a Weekend in North Vancouver: Things to Do and See