And then there was Eugene where we spent the last day of our Northern California – Oregon trip.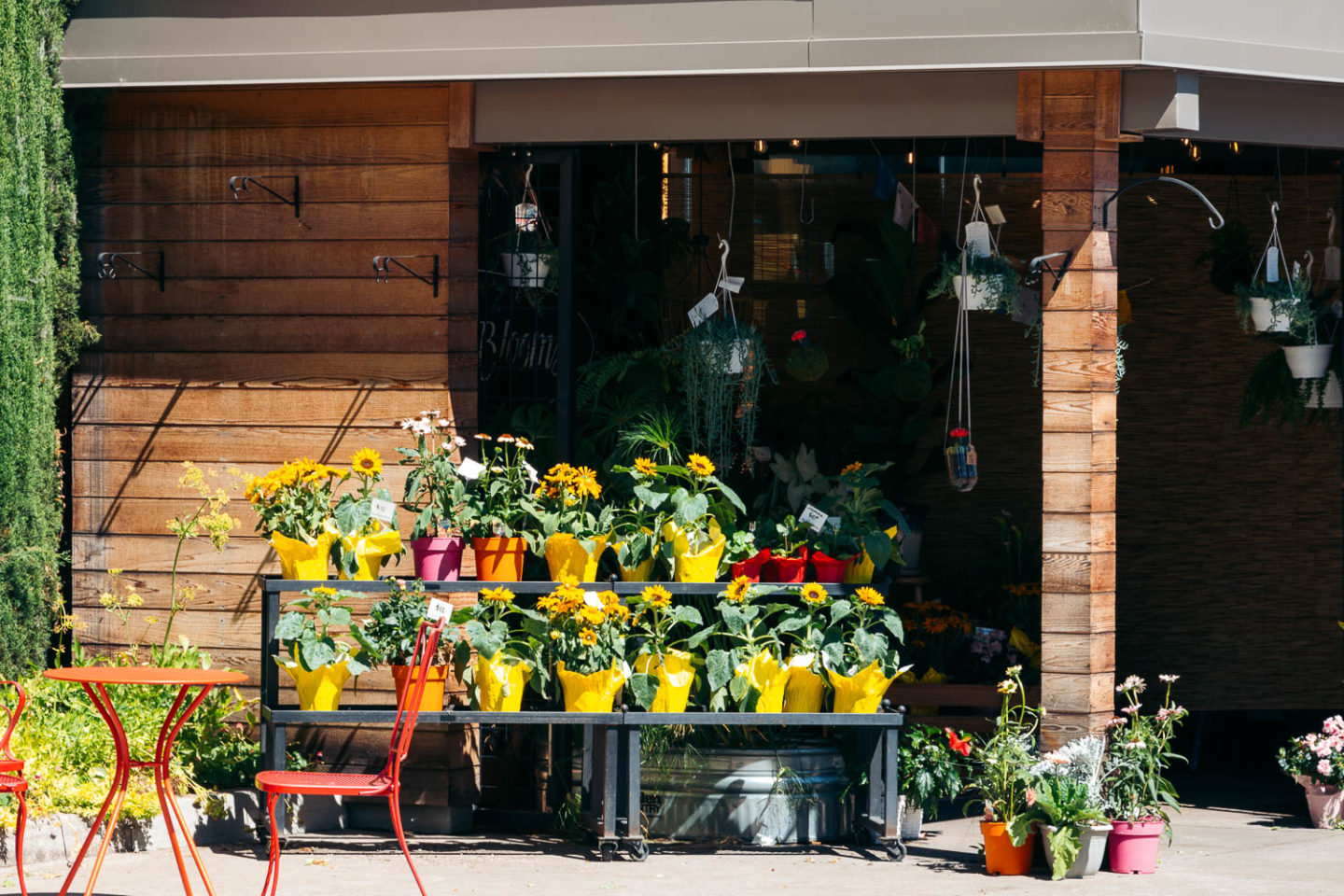 How to Spend One Day in Eugene, Oregon, with Kids while Waiting for Your Evening Flight
When you travel with your kids and mom, you know that at some point there would a need for a slower pace. You might still have enough energy to do another 7-mile hike or chase that secluded waterfall. After all, you can have some rest after the trip, which I do more often than I should. But the children and elderly people need to relax when they are tired, not when they are beyond that point that they can't move any longer.
And so we slowed down. In fact, this time around I made sure we had nothing to do in the evenings, but rest and enjoy the place and moment.
Our last day in Eugene, Oregon, became an unofficial day off. (Although my mom admitted afterwards that cities wear her down more than a 5-mile hike through a forest). Nevertheless, we had almost entire day to spend in Eugene before boarding our plane back to Southern California.
With no fixed itinerary, at first we reached out to Google for suggestions. On any other day, city's famous museums would find room on our travel agenda. But not this time, when all an active 5-year-old boy wanted to do was exploring. And thus, we started our day with tuning in to the famed outdoorsy side of Eugene.
Nicknamed "The Track City" the Oregon's third largest city is well known for scenic nature trails right outside the bustling center, impeccable city parks that look nothing short of a forest, and plenty of things to do outdoors with kids of all ages.
One Day in Eugene: Location, Culture, and an Overpowering Love of Nature
Despite being one of the largest cities in Oregon, Eugene hasn't lost a feel of a rather small city with prevailing middle-class population. The center of the city is bustling, no doubt. But drive just a few miles away, and narrower streets aligned on both sides with medium size houses (not mansions like the ones you see in Los Angeles and other big cities).
Small gardens thrive in front of almost every of these houses. The property next door to our Airbnb grew raspberries and tomatoes in the front yard. The size of the latter was as big as a human head.
Locals, especially younger generation, ride bikes in these street before heading to the biking and hiking trails right on the outskirts of the city. These folks certainly know how to have the best day off in and around the lovely city of Eugene.
For the travelers like us, the Track City raises attention as a host of the second largest airport in the state. (The Portland International Airport would be the first.) Truth be told, this was the main reason why we chose to base in Eugene for two nights and one day.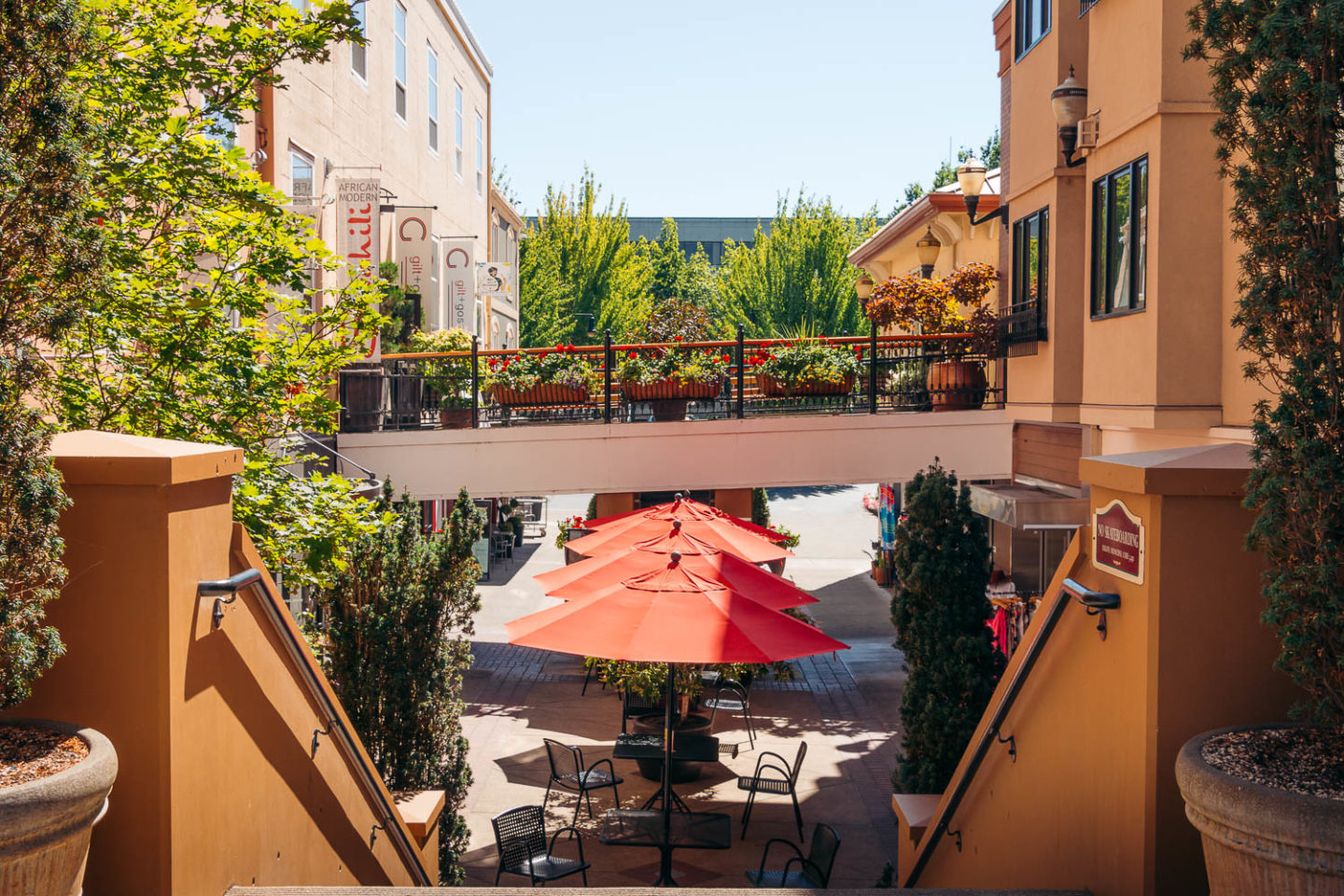 One Day in Eugene: Things to Do outside the City – Springfield and the Great Outdoors
A mere 5 miles east of Eugene sits Springfield, another interesting city to check out in Oregon during a day while waiting for your flight back home or elsewhere. Springfield is known for its vibrant cultural legacy. Some people insist that it's a birthplace of Nike. (Technically, the both cities, Eugene and Springfield, are where the famous American company took its first steps.)
A few locals we had a chance to chat during that day link Springfield to "The Simpsons" show. The city is believed to inspire the Twentieth Century Fox Film Corporations on creation of this highly acclaimed cartoon series. Numerous wall-sized murals with the signature yellow characters scattered around Springfield certainly attest to this belief.
Outside of Eugene, the renowned natural splendor of Oregon exists. Ranging from countless hiking trails of Oregon's parks to gushing waterfalls just about everywhere and secluded hot springs claimed mostly by skinny-dip loving locals, the Eugene's surrounding area inspires thousands of nature enthusiasts looking for off-the-beaten-path places to spend a day in Oregon.
With all that being said, Eugene exceeds all your expectations. It's a city where you can find everything you need (vegans can finally stop compromising with their dietary choices, which is often the case when traveling to a small city). And the nature is just around the corner.
Our One Day in Eugene with Kids itinerary includes the mix of both: the convience and charm of a bustling city and the joy of delving in the untamed natural environment. When you travel with the children, you should plan for diverse activities. Otherwise you run the risk of boring your young world explorers. So let's jump straight to the places we visited and things we did on our last day in Eugene, Oregon.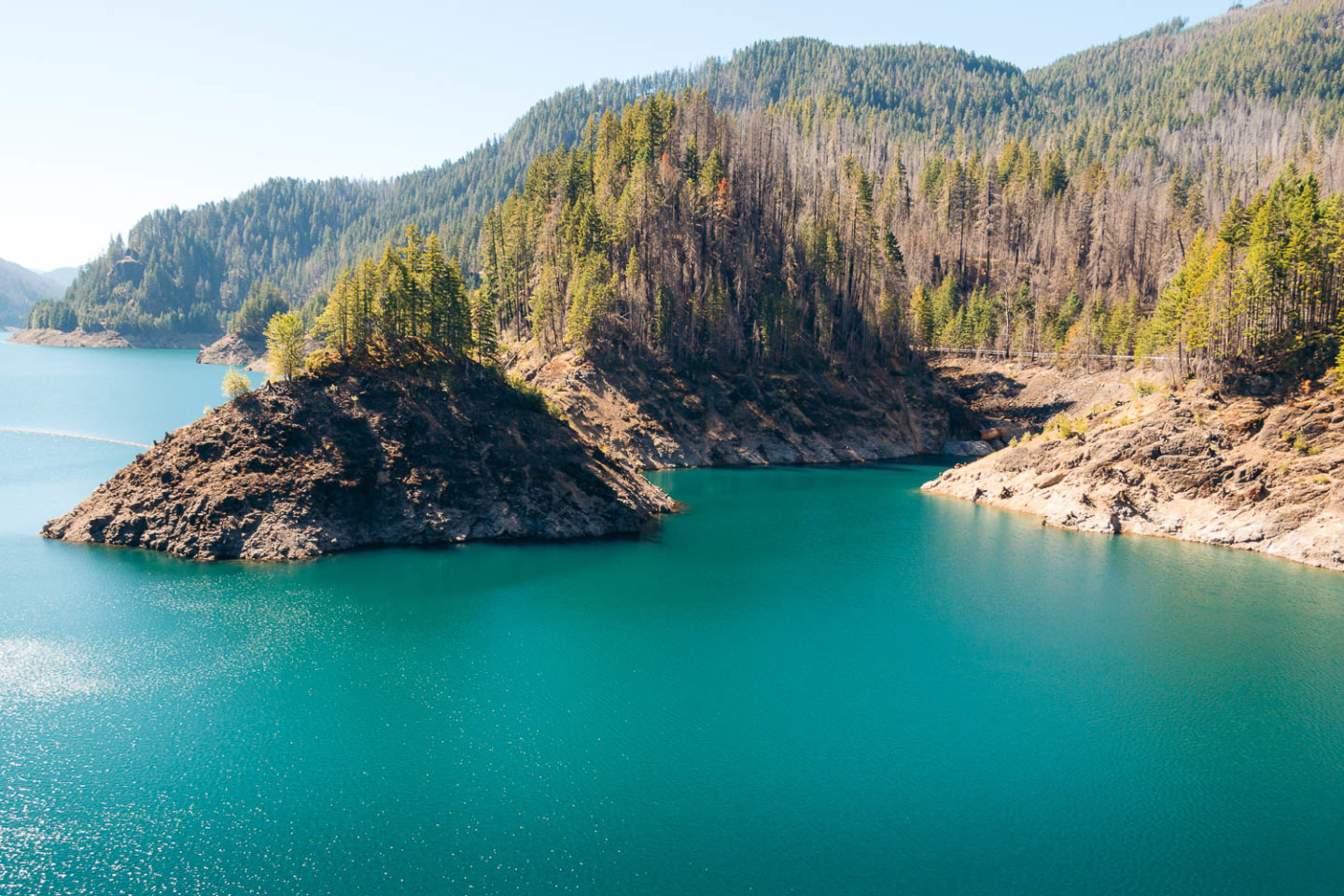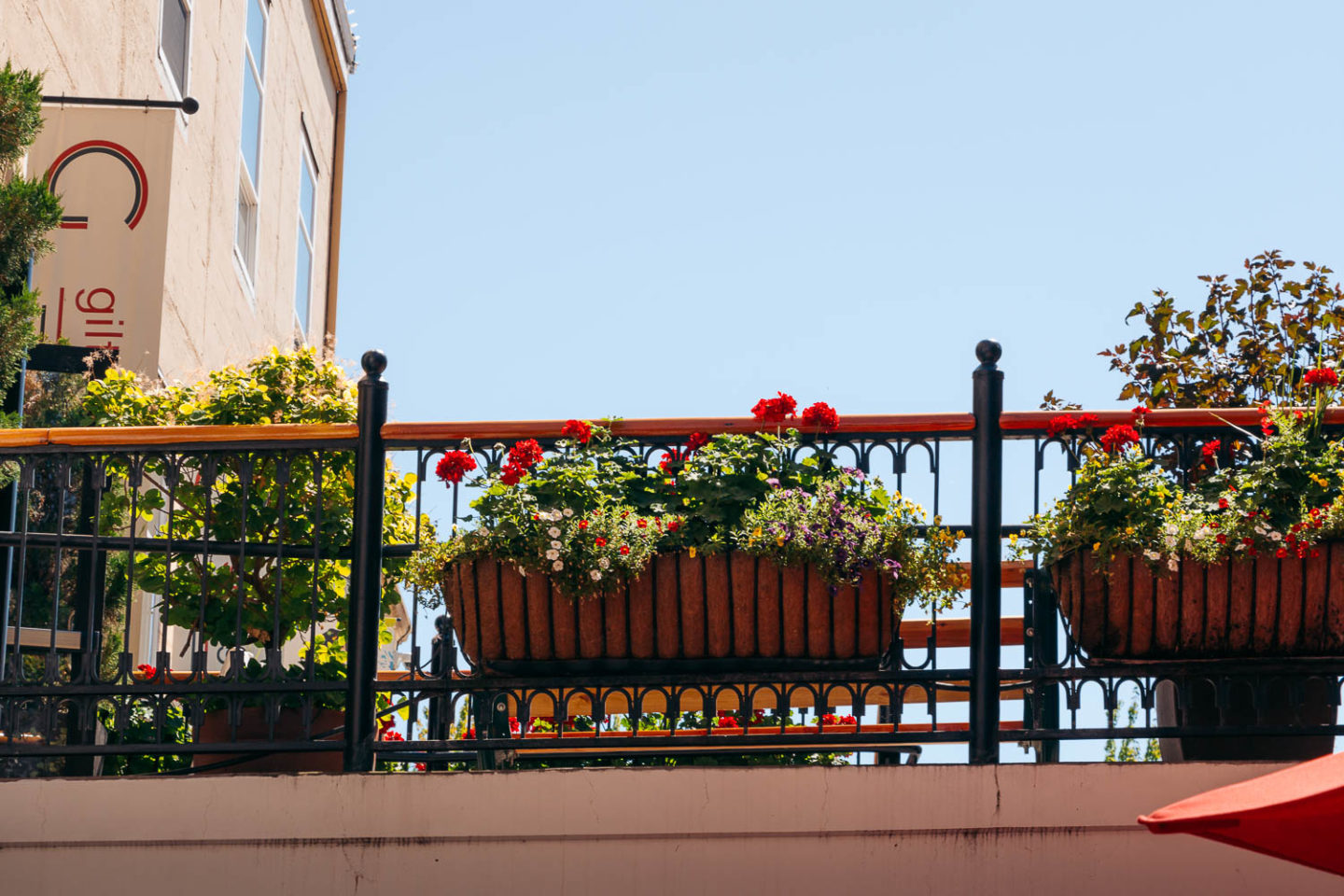 Things to Do in Eugene, Oregon, with Kids during a Day
1. Make a Morning Trip to the Blue River in the Willamette National Forest
The Blue River doesn't get its name for nothing. A tributary of the McKenzie River astounds with its blue color water. The morning sun adds sparkling glow to the wide, calm river surrounded by Douglas fir trees.
Due to recent fires, the forest is not as it used to be. Expanded areas with burned trees glide by as you drive farther away from Eugene and deeper into the forest. Yet the natural beauty of the area can't be concealed even by the devastating effects of the wildfires.
2. Soak in Terwilliger (Cougar) Hot Springs
The truth is we had no plans to take a half-day trip from Eugene to the Blue River, located in the depth of the Willamette National Forest. Terwilliger or known as Cougar Hot Springs by the locals were on our radar.
Four cascading hot pools near the Blue River are known all over Oregon. Located just a few-minute drive from an observation point overlooking the majestic river were we stopped (see the pictures), the hot springs are mostly popular with young locals and visitors from Eugene. The place gets especially busy on weekends.
Unfortunately for us, on a Sunday morning guys in what looked like underwear occupied the entire tiny parking lot nestled along the road. So even though the hike to the coveted hot springs from here was ridiculously short (around 0.4 mile one way), we decided to skip the main destination of our half-day trip from Eugene right that moment.
Cougar Hot Springs tend mostly skinny-dip lovers that multiple in numbers when the weekend rolls around. Visiting the area with the kid didn't feel right. So we had to leave this spot for some later day trips from Eugene.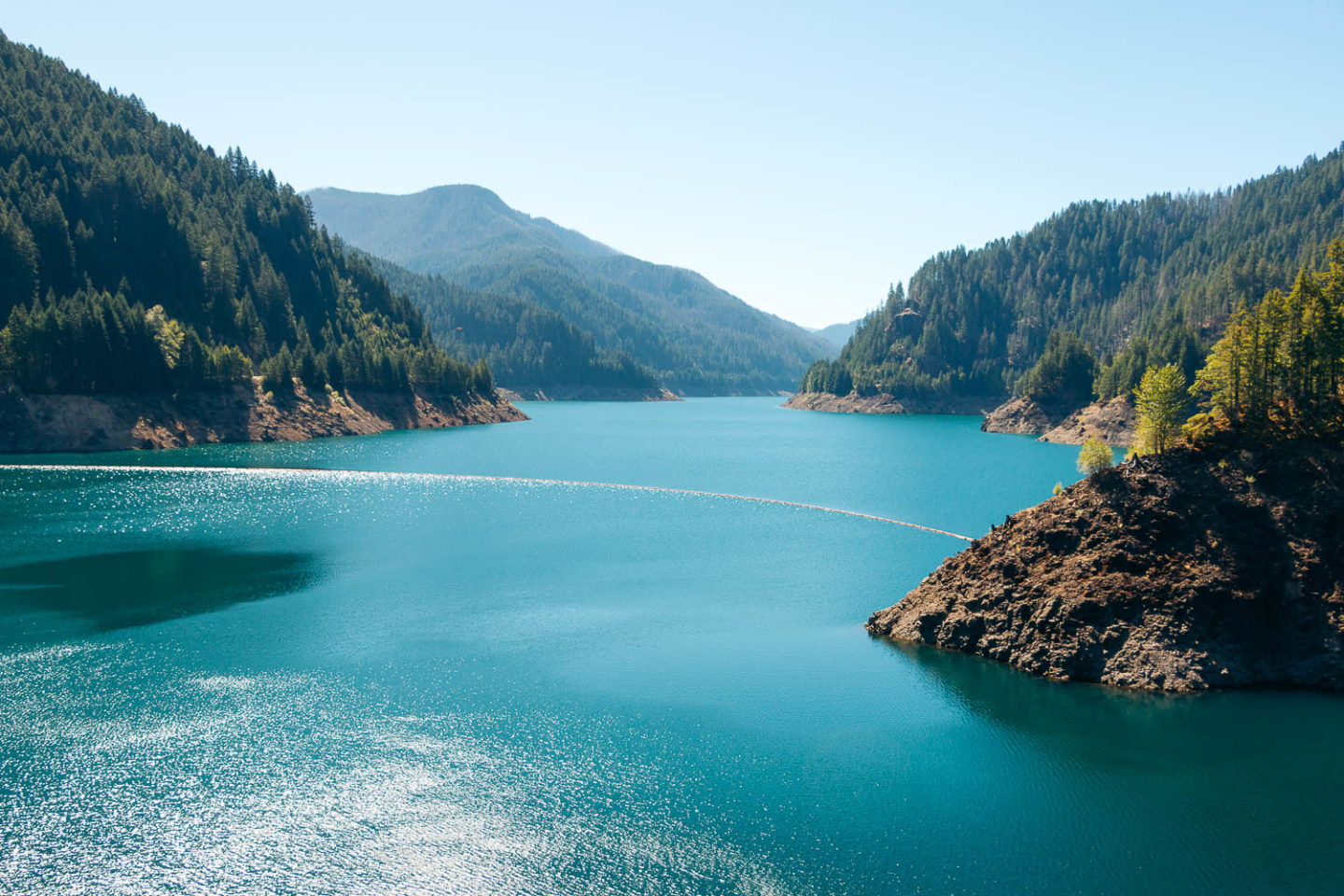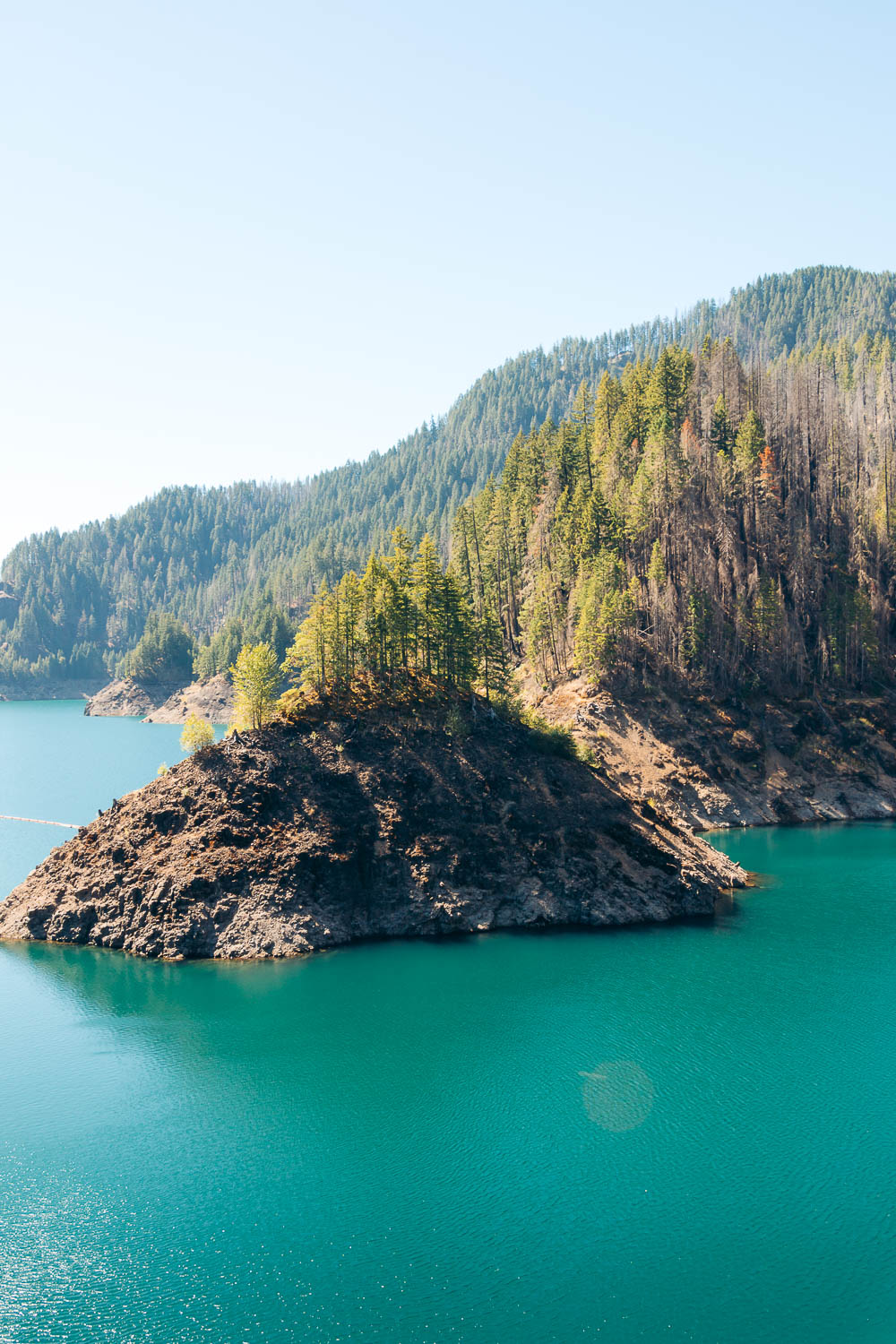 3. Get Lost in Hendricks Park
Back in Eugene, we headed straight to Hendricks Park. The oldest urban park in the city, the area boasts a world-renowned rhododendron garden and a native plant garden. Numerous nature trails crisscross the park. Neat picnic tables cluster near parking lots, inviting the locals and visitors of Eugene for lunch in nature on a day off.
You can spend the entire day in this impeccable part of Eugene and don't see all it has to offer. So if subtle nature takes your breath away, don't miss Hendricks Park under any circumstances. Your curious kids will find swings and a plethora of new trees and berries to learn about as well.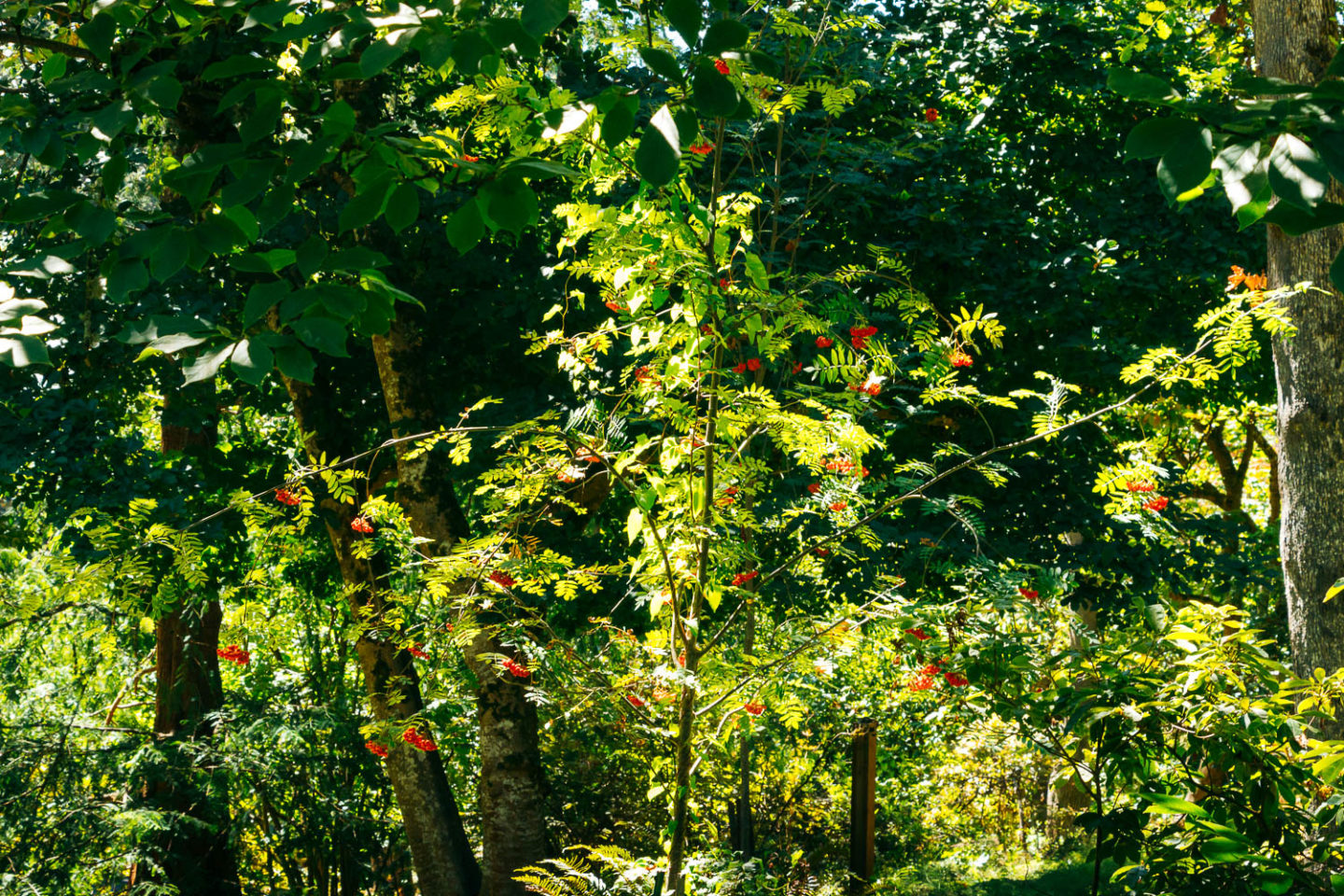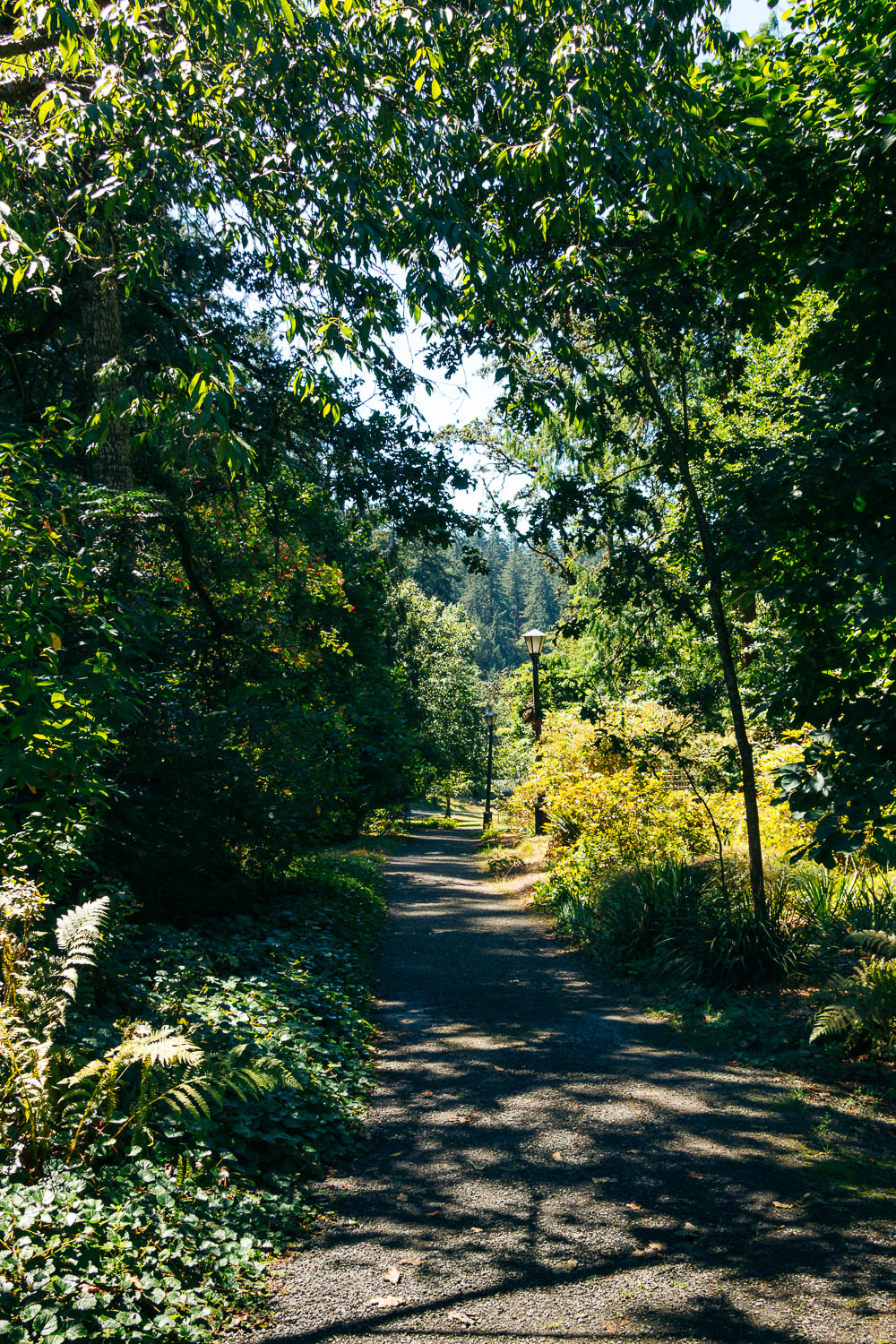 4. Teach your Child a Bird Lesson at Cascades Raptor Center, Eugene
Nearly 40 large feathered creatures live at the Cascades Raptor Center. The raptors of all sizes perched on crossbars inside their spacious "abodes" steal a sneak peek at the visitors, mostly families with kids and small groups of Eugene's ornithologists.
It was Roshan's idea to spend a few hours of our relaxing day in Eugene at the center. This wildlife hospital was a perfect place to open a new world for Dylan and explain why some birds had to stay in massive cages for a while.
Needless to say, the visit was a success. The boy loved it. He asked questions you didn't know the answers to and told stories you doubted had ever happened. This enthusiasm lasted until Dylan spotted me sneaking into a gift shop at the Visitor Center. From that point on, his curiosity switched from the birds and their occasional "singing" to my brown paper gift bag.
I didn't bring up the topic about the gifts here without reason. After spending a good portion of the remaining day looking for perfect gifts to take home, I picked, I believe, the best souvenirs right there at the gift shop inside the Cascades Raptor Center.
And if it comes from a person who rarely buys anything at these types of stores, it means a lot. So give the place a try when you spend a day in Eugene and look for souvenirs to take back home.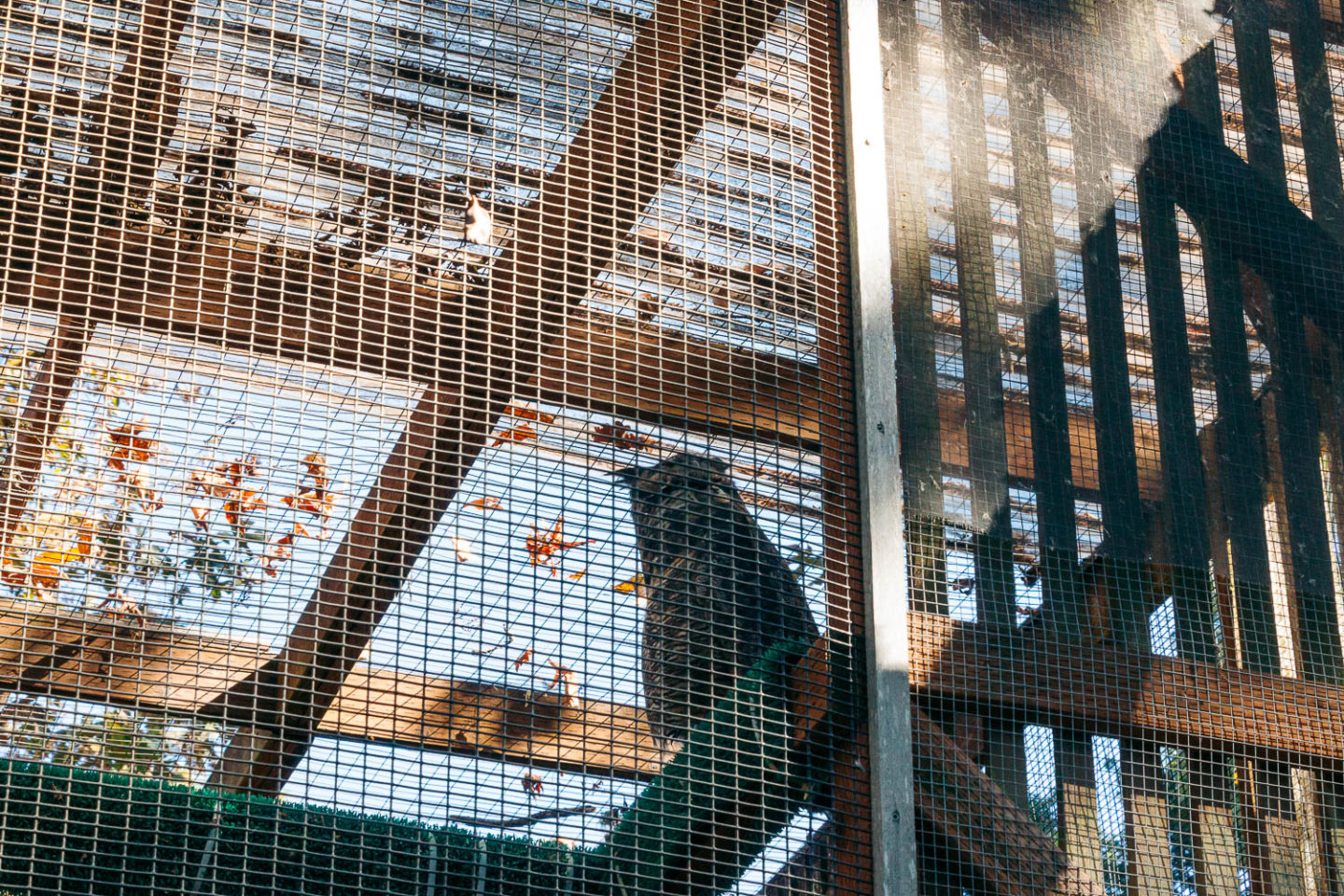 5. Shop and Dine in Downtown Eugene
Let's get to the beginning of our gift-searching part of the day in Eugene. Dylan insisted on buying something for his cousins. We assumed Downtown Eugene would be a good place to start our search.
The cute bustling city center indeed featured plenty of stores and gift shops. Among some of those that grabbed our attention were Made in Oregon Store, Raven & Rose Boutique, and Mosaic Fair Trade Collection.
Apart from shopping, Downtown Eugene enhances your day visit with trendy restaurants, specialty cafes, and art events. On specific days, you can even take part in vintage car shows. So be sure to check city calendar before planning your day adventures in Eugene.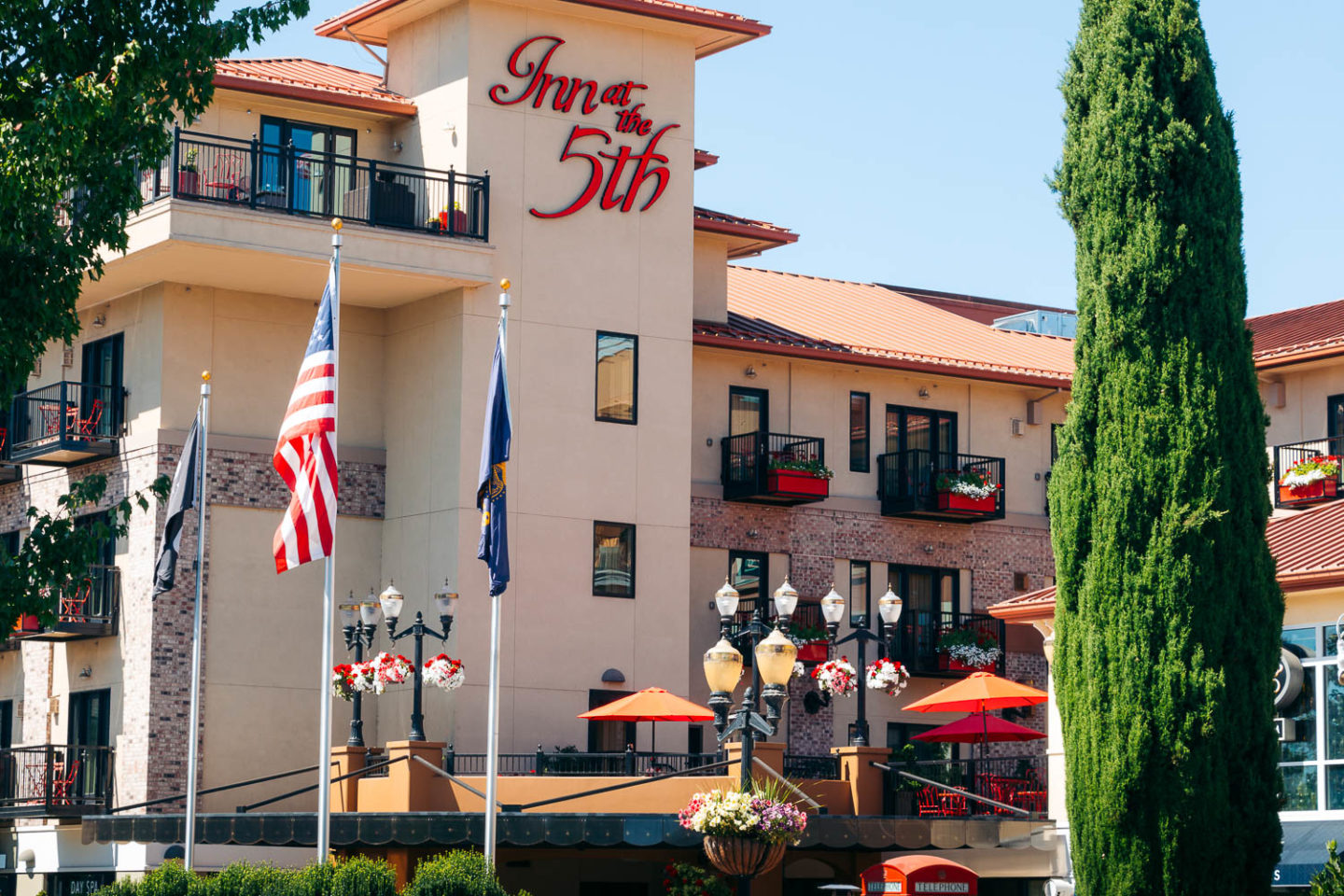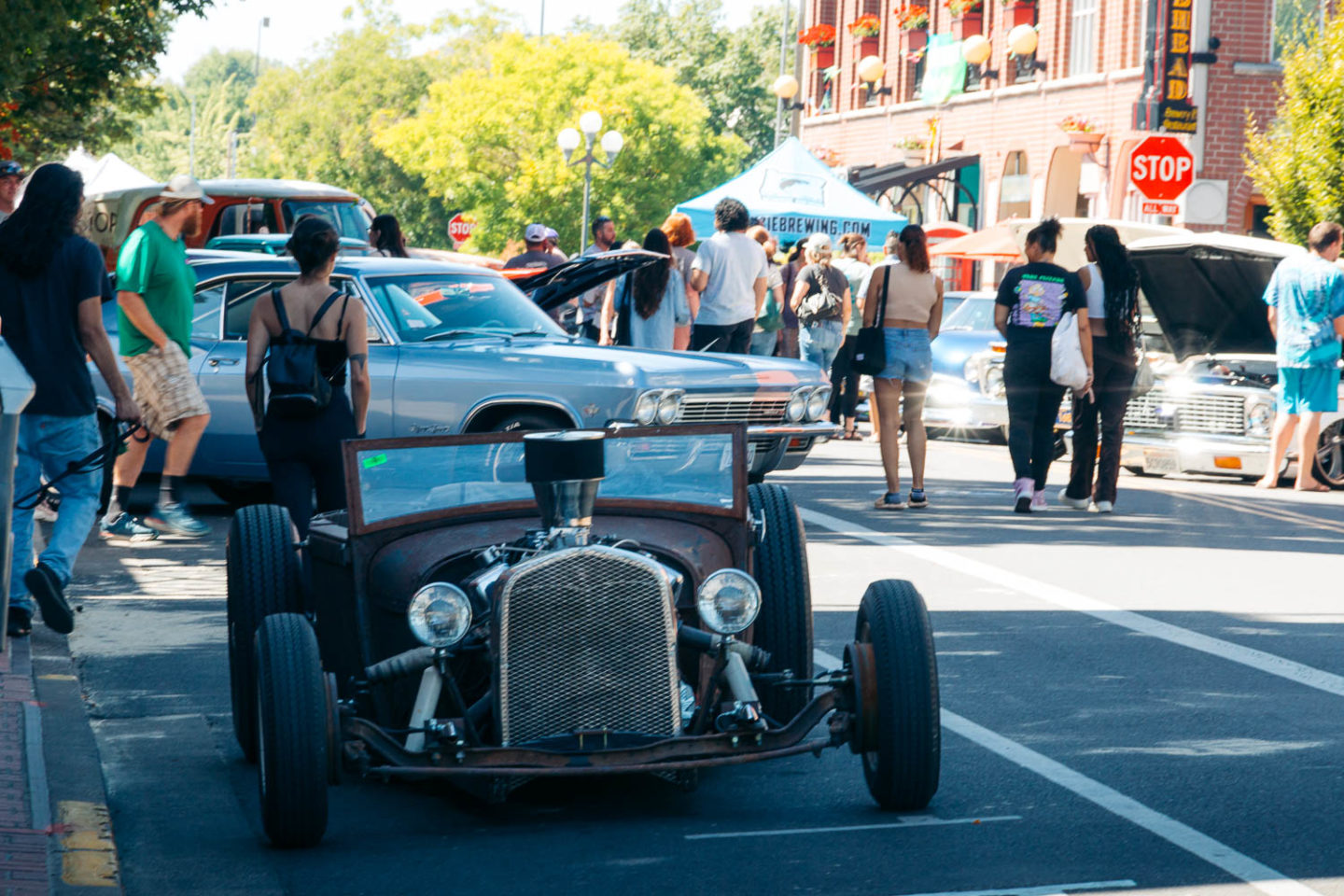 6. Spend a Day Admiring Murals in Eugene and Springfield
My absolute favorite mural in Eugene was a large painting that looks like a scene from a library on the side of one of the tall buildings. I don't know the exact location, nor did I have a chance to take a picture of it. We were driving to our next destination, and this street masterpiece popped up out of nowhere.
The mural impressed me so much that I started paying closer attention to the Eugene's streets, in case I'd spot something as beautiful as this during that hot summer day. And oh boy, I saw a lot of murals, some as traditional as paintings, others drawn in cartoon style.
Even more street art awaited us in Springfield where we headed a few hours before calling it a day and leaving Eugene for Los Angeles. The main characters of the murals here were the Simpsons. And as you know it already, it couldn't be any other way around. The idea of the Simpsons was born in this famous typical American town after all.
7. Explore Downtown Springfield
With a feel of a working-class city, Springfield is slightly inferior to Eugene in splendor. Yet the city has its charm that you can see in antique gift shops (our favorite here was Chuck and Alice), upscale restaurants, and trendy art galleries.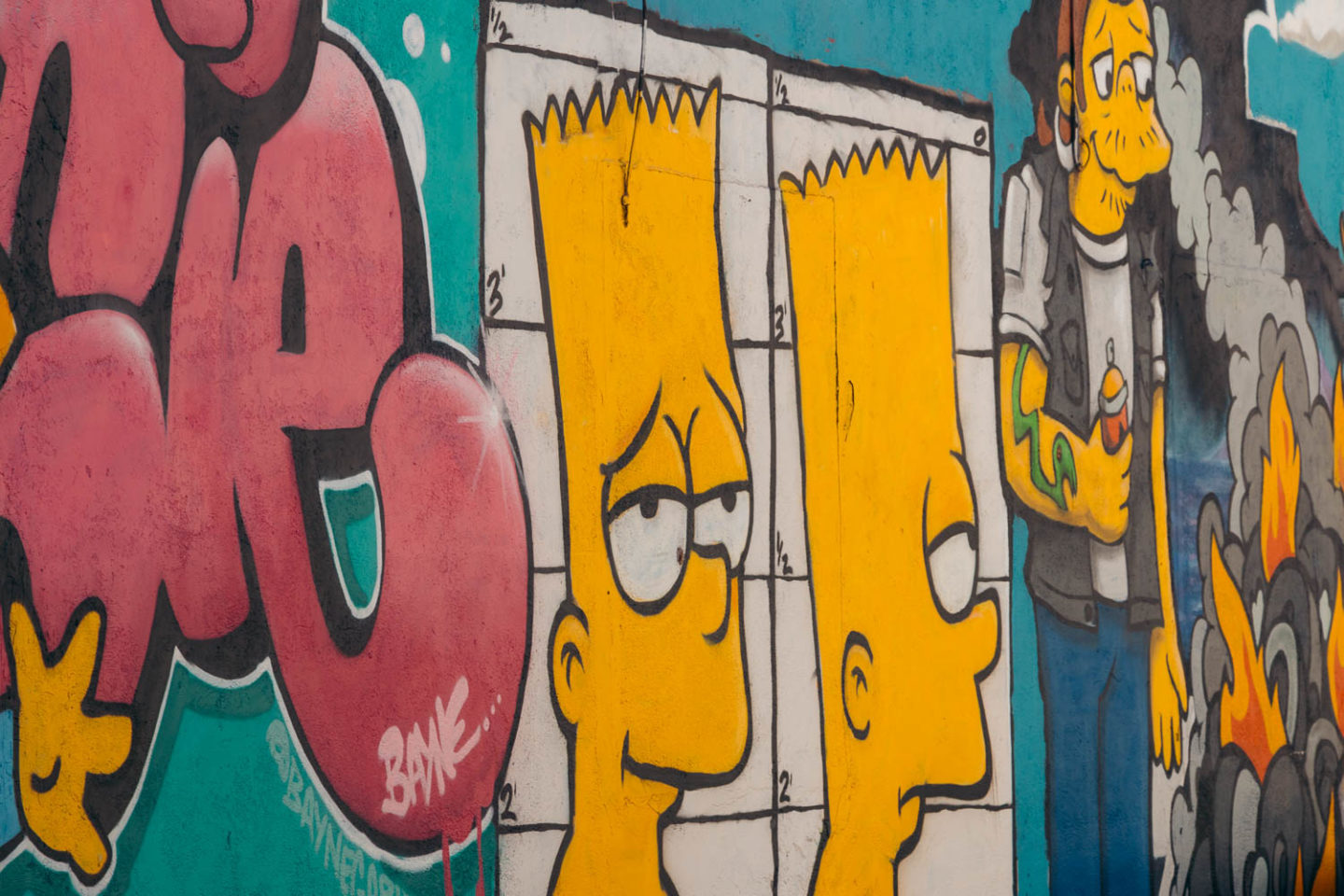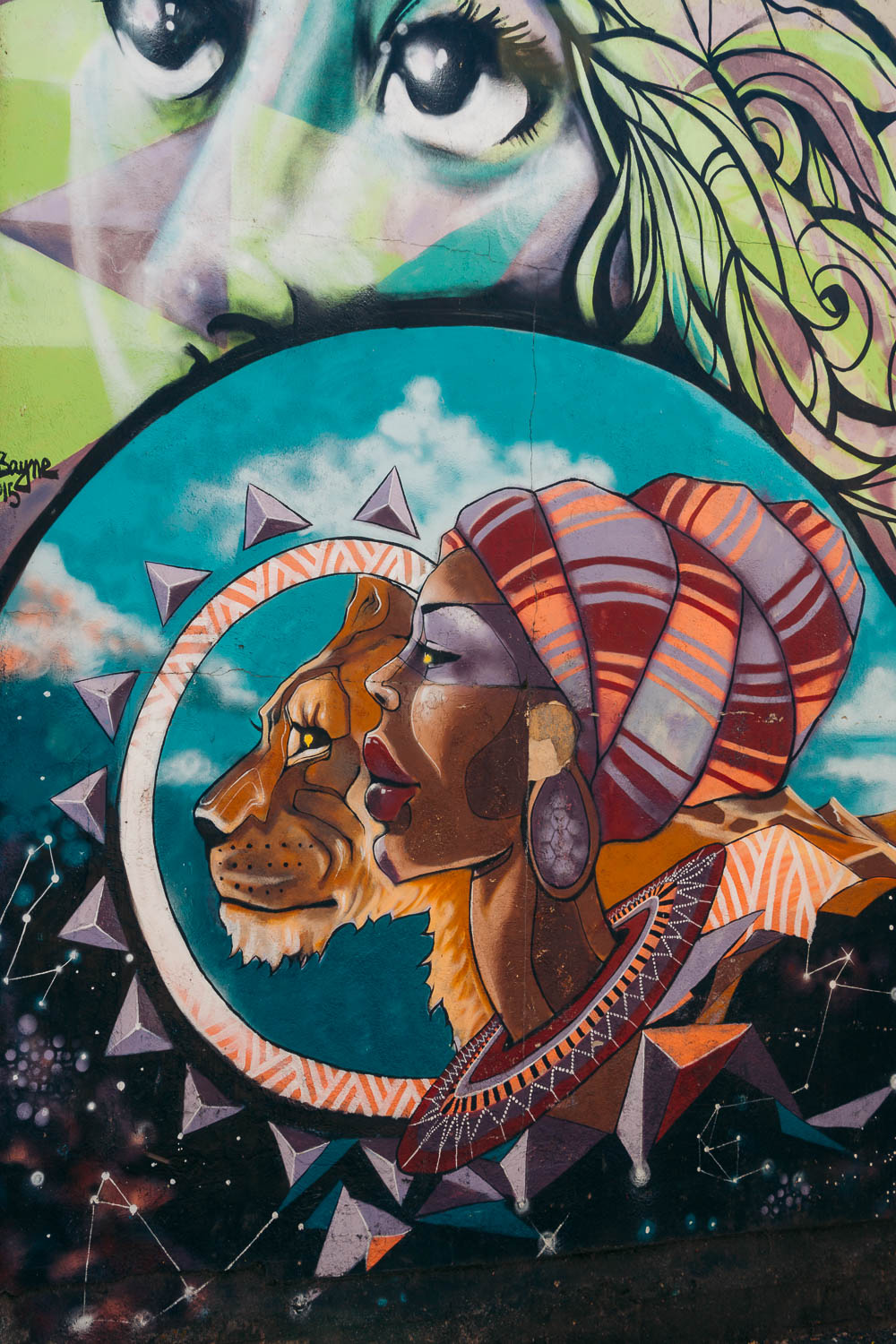 8. Have a Feast at Hideaway Bakery
We try to avoid big food and restaurant chains while traveling. Enjoying local cuisine, exploring small cafes and restaurants, which often surpass the well-established brands in their tastes and choices, and supporting small businesses feel far more rewarding for both the visitors and local entrepreneurs.
So our second to the last stop of the day in Eugene was Hideaway Bakery. Nestled in the southeastern section of the city, the eco-friendly bakeshop is tucked behind an Italian eatery, Mazzi's. We had hard time following Google directions to get there. But once we made it to the bakery, it was such a delight for our curious kid.
The truth is the boy was more interested in what the frosting on a caramel muffin was made from, not the pastry itself. Once Dylan had a bite and pacified his curiosity, he passed on the goodie to his grandma who loved every piece of it.
We arrived just about 30 minutes before the bakery closed. But even in the evening, a few vegan options were still available to finish our day exploits in Eugene on a sweet note.
A nice cashier apologized for such a meager assortment (to me it still looked like a baked goodies heaven). Clearly, this little corner of Eugene caters for every customer – non-vegan, vegan, vegetarian – and offers a large selection to choose from for all.
9. Feel like a Local at Tugman Park
Loaded with a specialty coffee, two signature teas, and some baked goodies, we headed to Tugman Park to have our last meal of the day in Southeast Eugene. The small park with kid's playground was simple – just a field surrounded by trees and a trail for walking and biking.
It looked like we were the only visitors claiming this secluded corner of Eugene on that day. The rest of the audience consisted of the locals with kids, dogs, and those who came here to have some jogging sessions.
We would have probably left Eugene without even knowing about Tugman Park. But since it was just 2 minutes from Hideaway Bakery and we longed for more nature before being stuck on the airplane for 2 hours, the place felt ideal to fishiness the day like a local and bid our farewell to Eugene.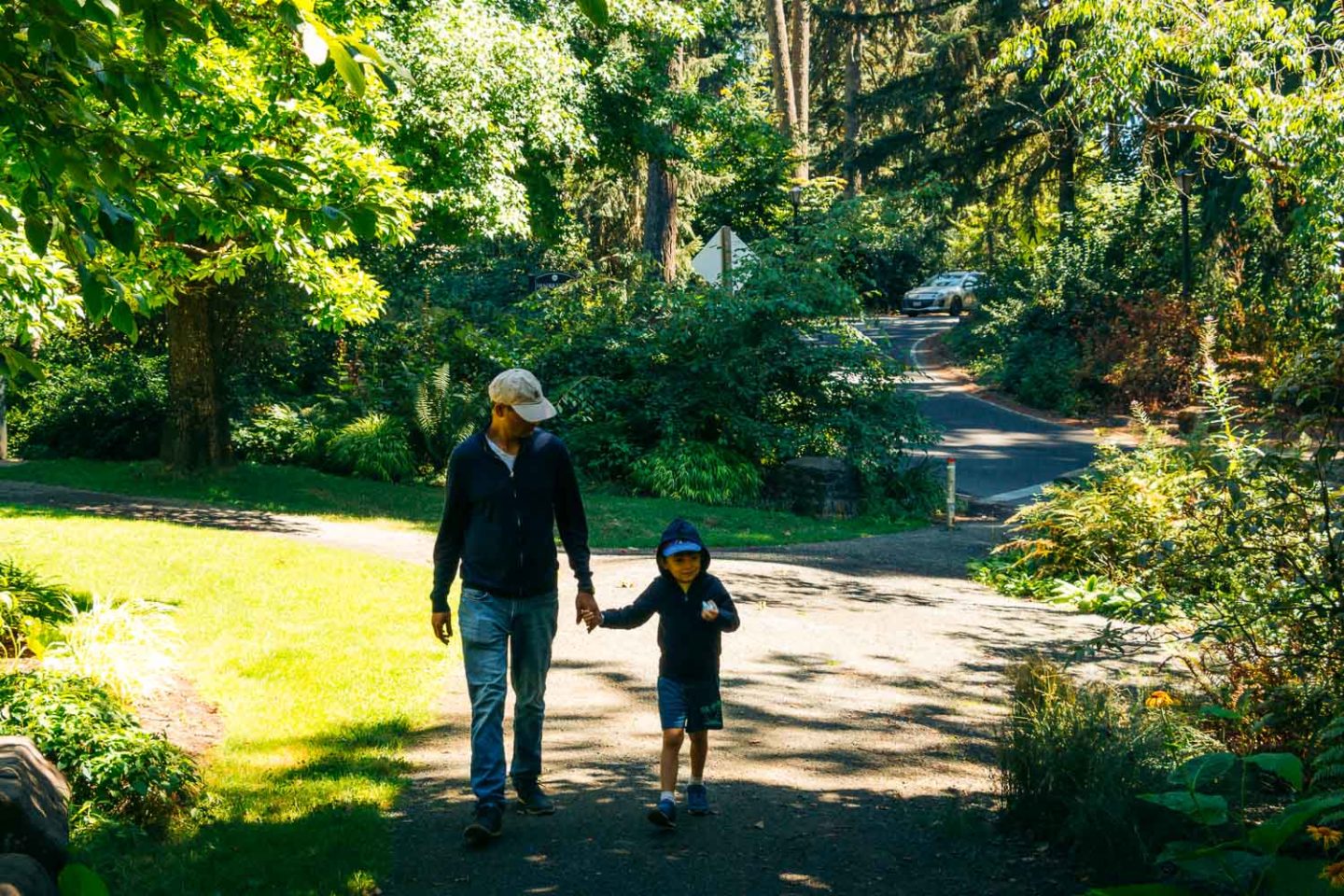 More Places to Visit in Eugene in One Day
If you have at least one more day to spend in Eugene, visit the Shelton McMurphey Johnson House, a historic Victorian-era residence, and the Jordan Schnitzer Museum of Art, an historic and contemporary art museum located on the campus of the University of Oregon.
For those who explore Eugene over the weekend, stop at the Eugene Saturday Market where you can find treasures made by local artisans, food vendors, and live music.
READ MORE: 12 Best Historic Buildings in the American West: Monuments, Castles, and Lodges
Where to Eat in Eugene
With the convience of a small, Airbnb kitchen and a grocery store right around the corner, we mostly cooked ourselves. Yet although it was the first time we had the whole day to explore Eugene and its surroundings, the city weren't completely new to us. We stayed overnight here and stopped a few times to dine during our previous trip to Oregon.
One of the eateries we returned to this time was Mucho Gusto. The restaurant has franchises in Eugene and Medford and is especially popular with the locals. Those who come to Eugene from Southern California find many similarities between Mucho Gusto and Chipotle. The both restaurants serve hearty Mexican food that includes burritos, tacos, and burrito bowls.
During our first short trip to Eugene, we had dined at The Taste of India. As you would expect, Indian cuisine was on menu, and even picky Roshan approved it.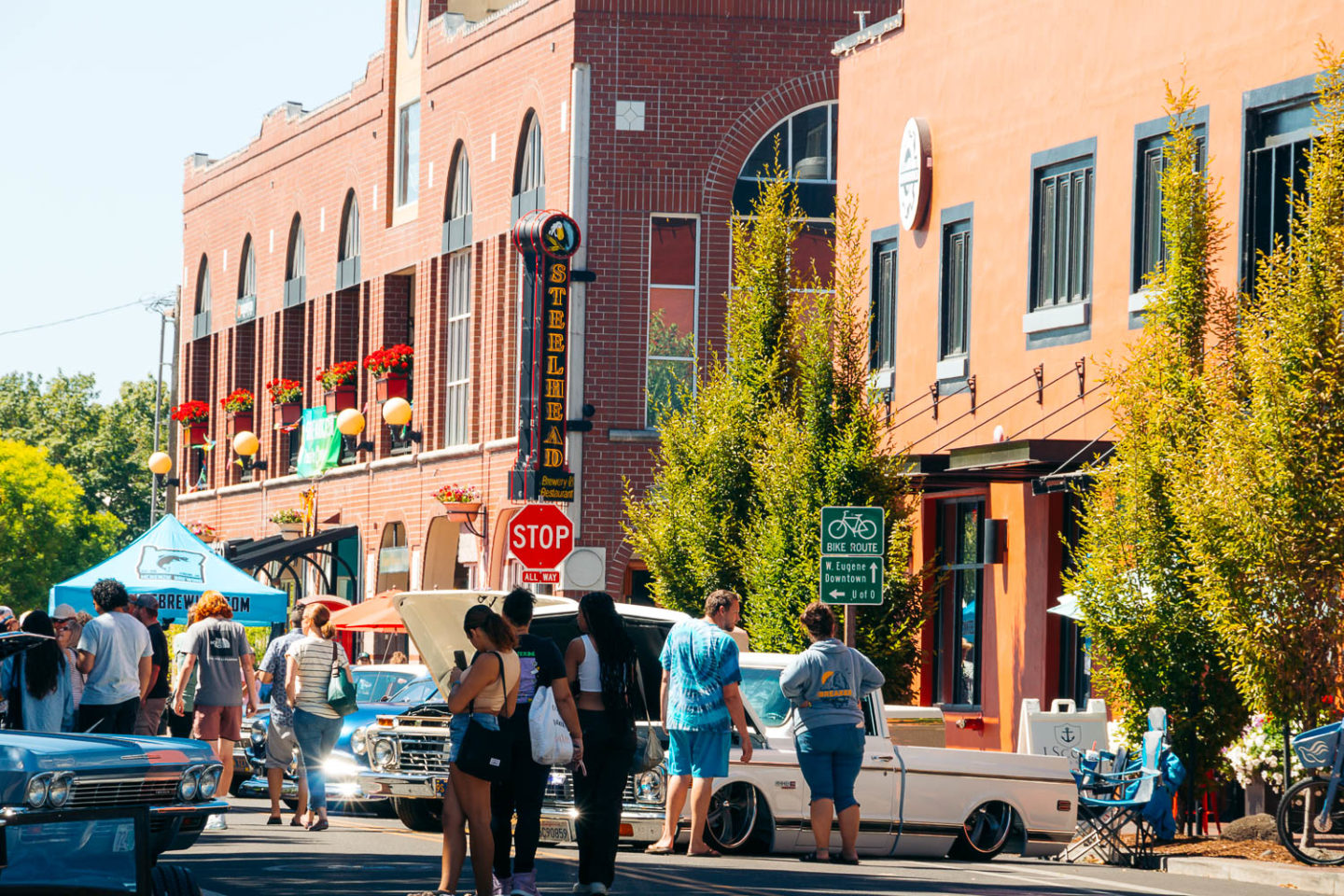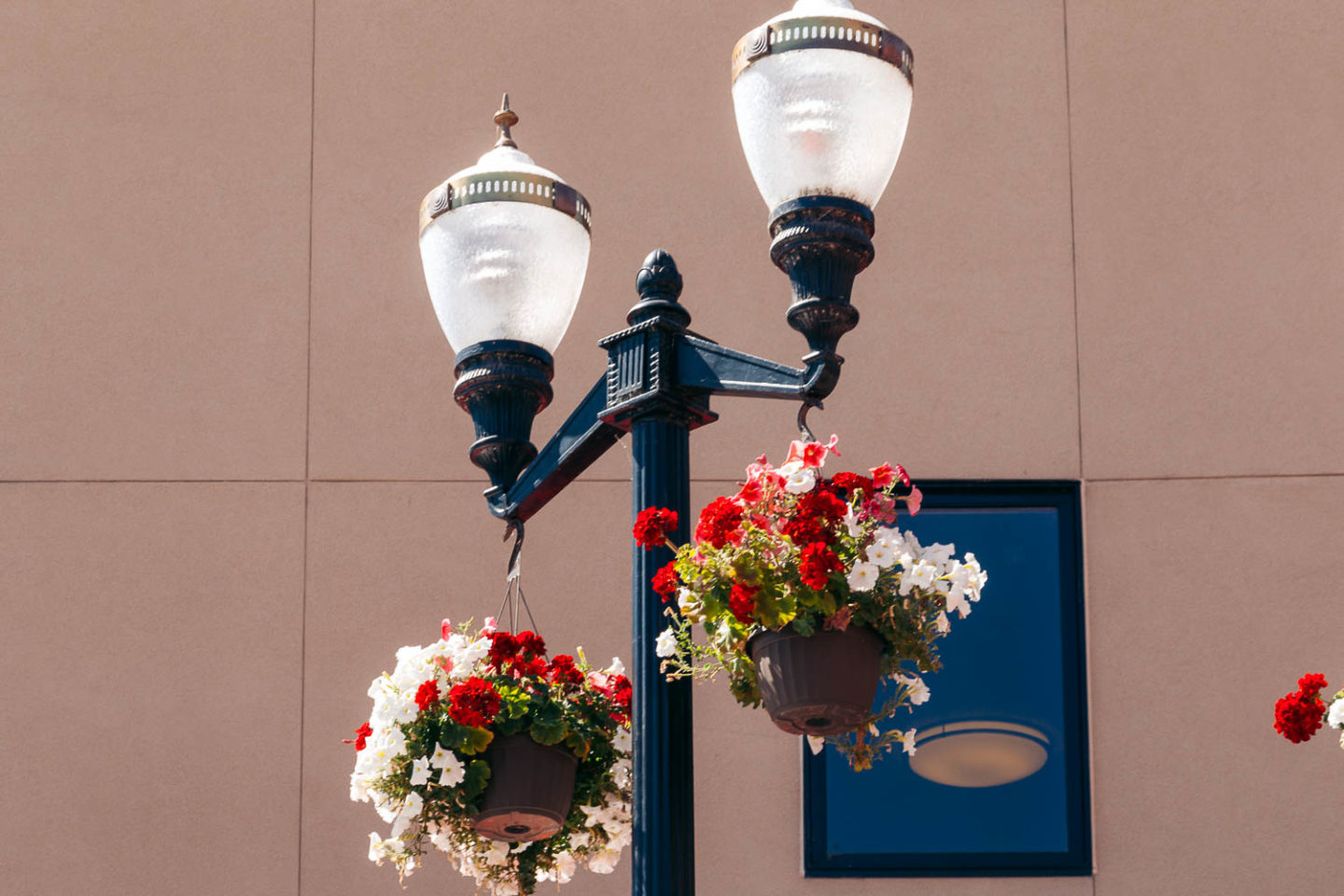 Where to Stay in Eugene
As a budget traveler and planner of this trip to Eugene, initially I chose HomeTowne Studios Eugene – Springfield as our home for two nights and one day. The place was advertised as a non-smoking facility with small kitchenettes in its rooms.
A tiny kitchenette was there when we arrived. But the non-smoking part of the place evaporated as soon as we got off the car on the parking lot. It smelled like cigarettes and marijuana. The smell was ten times worse in our room. No other rooms were available. The hotel staff offered us full refund, which up to this day I haven't received.
I got a feeling that local homeless people stayed in this hotel for months on end. The place was definitely not a friendly environment for families with kids.
That's how we were forced to look for a new place at 6 o'clock on our first evening in Eugene. Luckily, we were able to find Cozy Casa (Juan's Place)on Adams Street. It costed almost double of what HomeTowne Studios had charged and never refunded. But we gladly paid this price for our peace of mind and thousands times better conditions.
The place had two rooms, a kitchen, a laundry room, and a small backyard – Dylan's favorite. An outdoor table and chairs places by the house wall and a few raspberry bushes (we had to feast of those ripe berries) on the opposite side added a finishing touch to the property. You couldn't help but spend the rest of the day perched on one of those chairs after all those explorations in Eugene and its surroundings.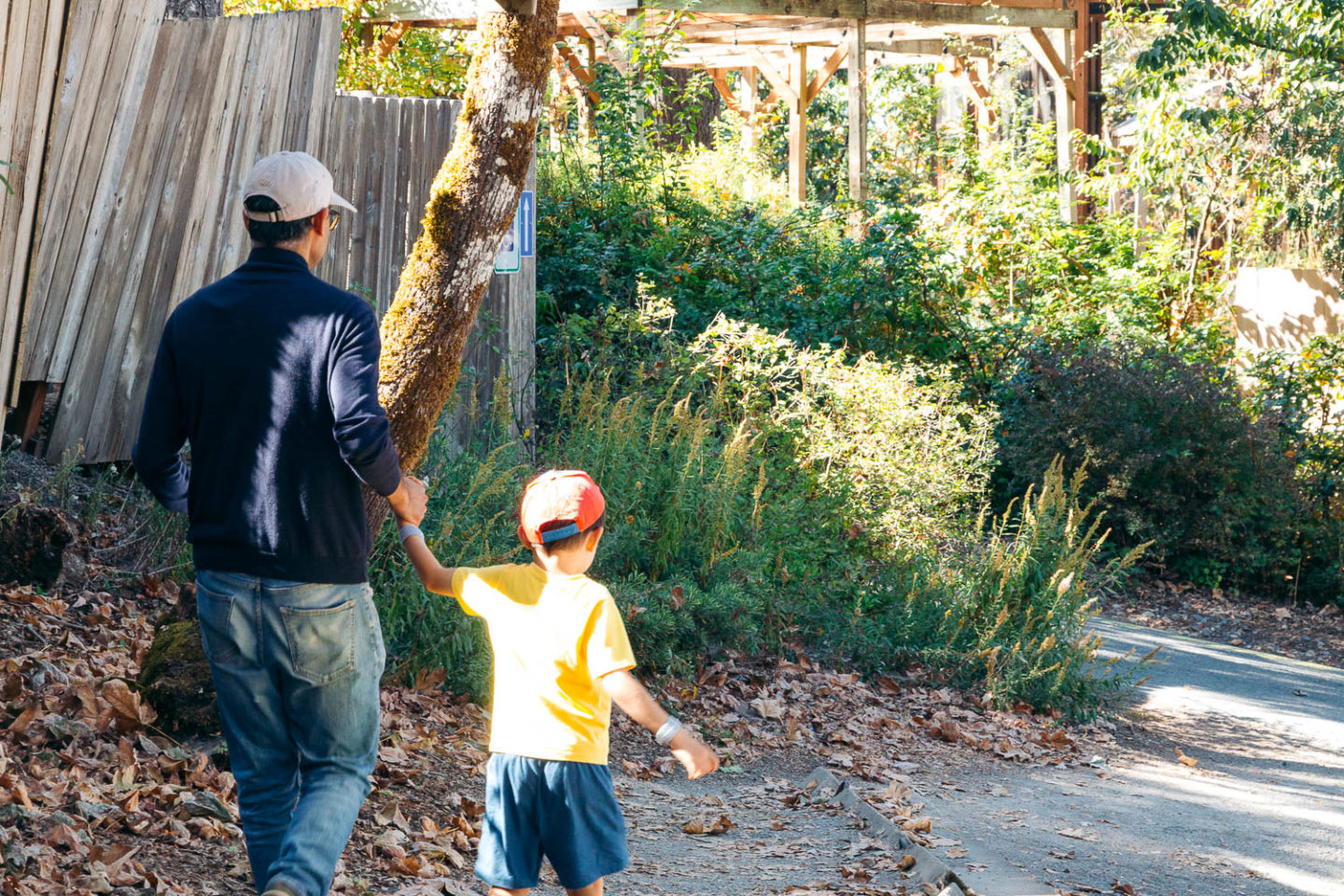 Is One Day Enough for Visiting Eugene with Kids?
Ideally you should have at least 2 days to explore artistic and cultural heritage of Eugene. The city has some of the top-notch museums and art galleries in Oregon. The natural treasures outside Eugene also ask for at least one full day.
But again, if you visit the city with the small kids who are curious about different things and simply can't stay in one place for long, one day is sufficient to explore Eugene. In fact, after driving through the city center a few times looking for specific grocery stores and restaurants, I felt like I could walk those streets without any help from the GPS.