Lake Arrowhead is a stunning location to escape the hustle and bustle of busy workdays in Southern California. It is incredibly beautiful, utterly unwinding, and constantly inviting. But there are a few things you need to know before visiting Lake Arrowhead and enjoying its gorgeous sites.
Last updated: December 8, 2021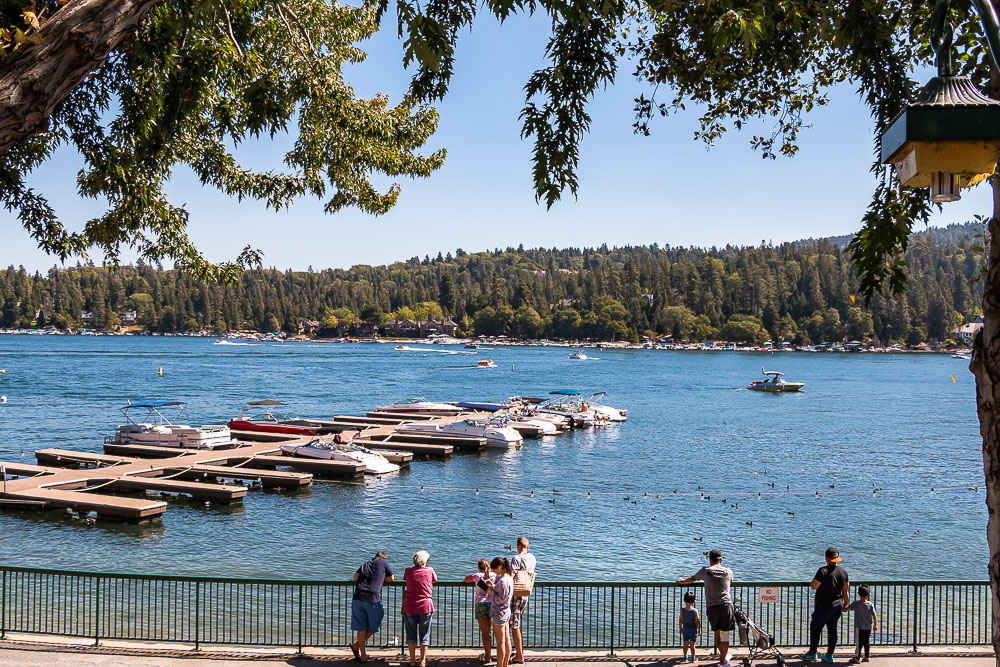 What You Need to Know before Visiting Lake Arrowhead
Nestled in the San Bernardino Mountains, Lake Arrowhead is a prime destination for visitors from nearby cities and towns, including Los Angeles. You would call it a hidden gem of Southern California if not for its close proximity to Big Bear Lake.
Such a convenient location certainly has its advantages and disadvantages. First, it allows you to swing by Lake Arrowhead while visiting the bigger and more popular lake in the area. On the other hand, the occasional travelers flock to the reservoir with charming Lake Arrowhead Village, not leaving enough room for solitude. The small town on Lake Arrowhead feels especially busy on weekends.
The maddening crowds are undoubtably one of the biggest spoilers of the pristine beauty of the place. Yet with some travel tips, such as avoiding the weekends and holidays and sticking to morning visits, you can savor every corner of Lake Arrowhead without too many distractions.
Ready? Go! Not so fast. Apparently, there are a few more important things you need to know before visiting Lake Arrowhead. Equipped with this information, you can have a pretty good grasp on all the activities the place has to offer. With that said, here is what you need to know before visiting Lake Arrowhead.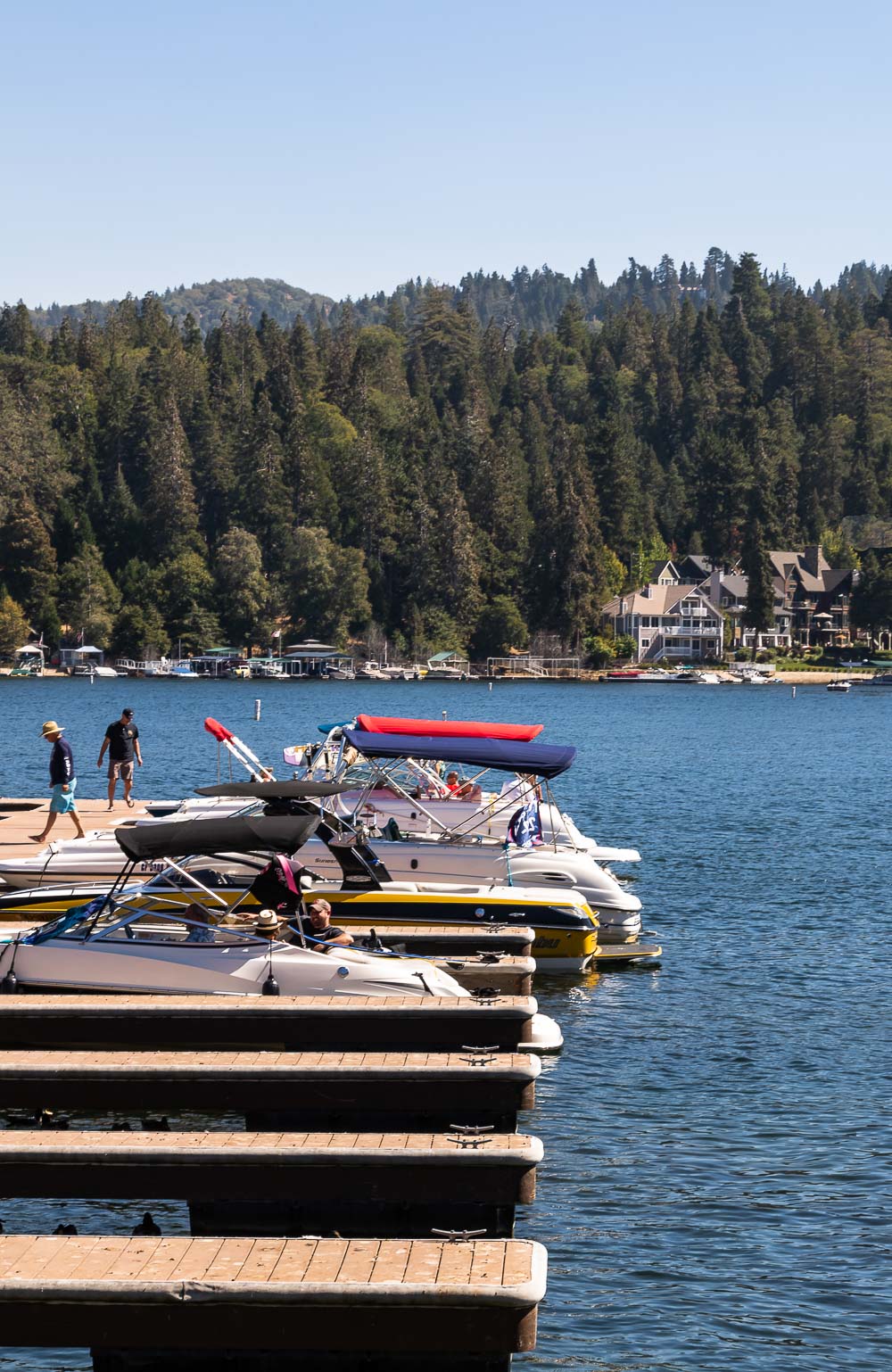 9 THINGS YOU NEED TO KNOW BEFORE VISITING LAKE ARROWHEAD
1. Private Lake
Lake Arrowhead is a private lake. Its use is restricted to local homeowners and their guests. To be precise, the area of approximately one mile around the perimeter of Lake Arrowhead, also known as the "Arrowhead Woods", belongs to the owners of the properties.
Thus, no random picnics, barbecues, or roaming the waters of the lake in your own boat are allowed when visiting Lake Arrowhead. Using the territory of the lake without permit or unaccompanied by the homeowners might result in hefty fines.
2. Hotels and Campgrounds at Lake Arrowhead
Undeniably, the private status of Lake Arrowhead imposes some inconveniences for the guests visiting the lake for a day. However, if you intend to spend a few days soaking up the beautiful surroundings, Lake Arrowhead is at your service. There are ample charming hotels, resorts, and inns that will pamper you and let you enjoy the lake as their guest.
Alternatively, a myriad of scenic campgrounds will become the best fit for the outdoor-loving visitors of Lake Arrowhead. With pre-booked cabins or tent sites and allotted spots for fire rings and picnic tables, you can finally say yes to those small barbecue parties by the lake.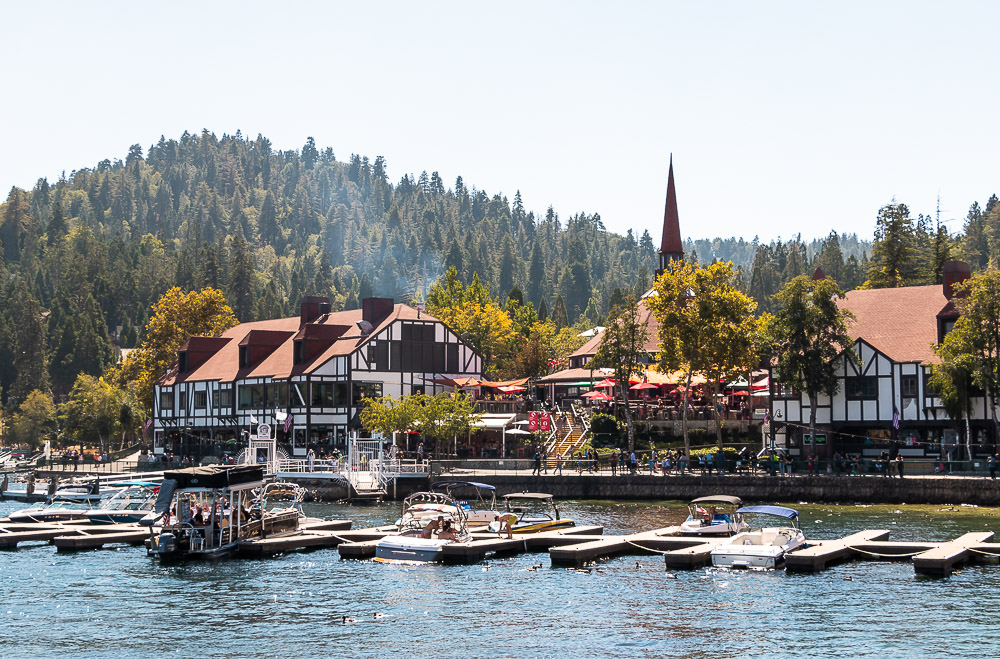 3. Visiting Lake Arrowhead Village
Visiting Lake Arrowhead Village doesn't require any reservation or detailed planning. The place welcomes all day visitors free of charge. You can drop by for a couple of hours or a full day and enjoy its tidy shops, exclusive restaurants, and occasional festivals.
Free parking is located right at the entrance to the village. And you are better off leaving your car right here, as the small size of Lake Arrowhead Village allows you to explore the place via short leisurely walks.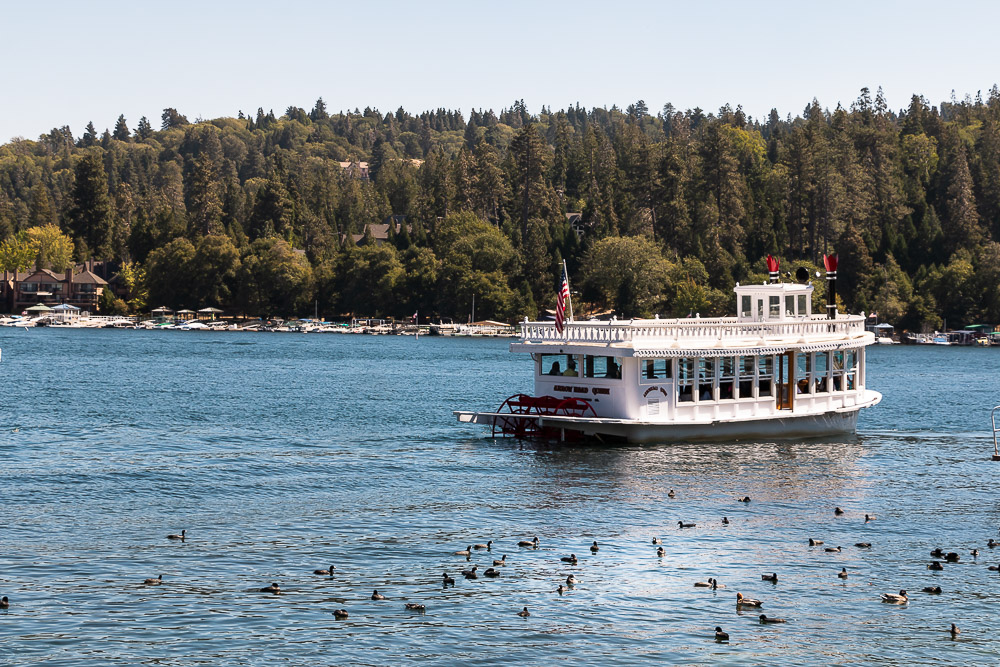 4. Water Activities on Lake Arrowhead
And yet there is still hope for those who visit Lake Arrowhead with a sole intention to conquer its waters by boat. While the use of the private equipment is out of question, Arrowhead Queen Lake makes touring the lake possible. You can purchase tickets at LeRoy's Boardshop near the boarding area for the boat tours in the Lake Arrowhead Village area and get ready to sail away.
Water skiing is another popular activity on Lake Arrowhead. Just like with boating, you need to contact a third party to engage in this deliberating sport. McKenzie Water Ski School is happy to give you a helping hand and take care of all equipment.
5. Swimming
Sadly, even swimming is limited to the owners of the properties in the Arrowhead Woods and their guests. But if you are lucky to get an invitation or be one of those fortunate homeowners, be sure to take advantage of pristine beaches and sapphire blue waters of Lake Arrowhead.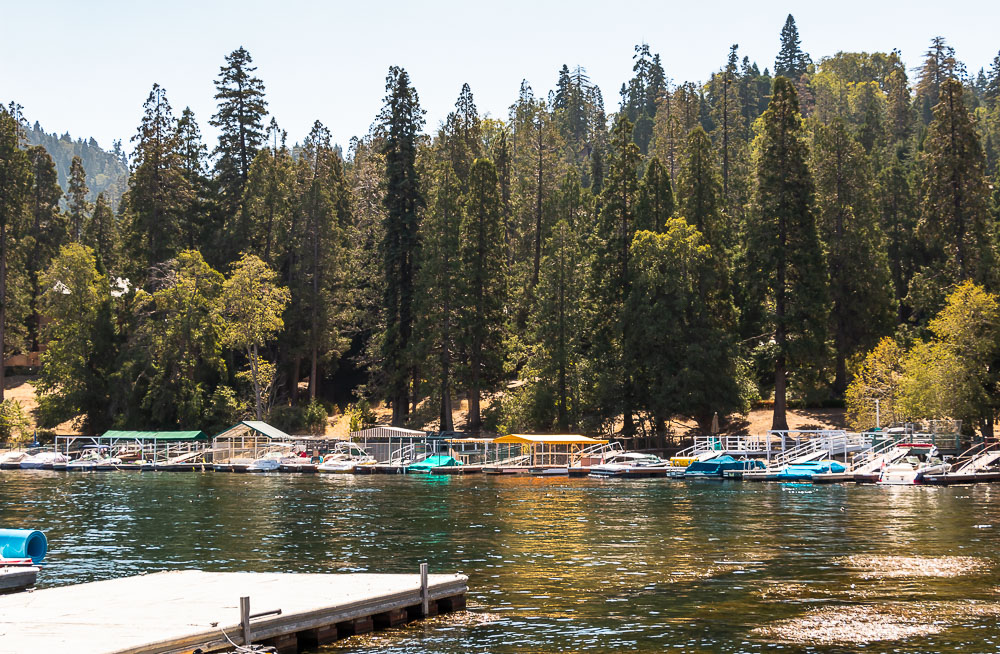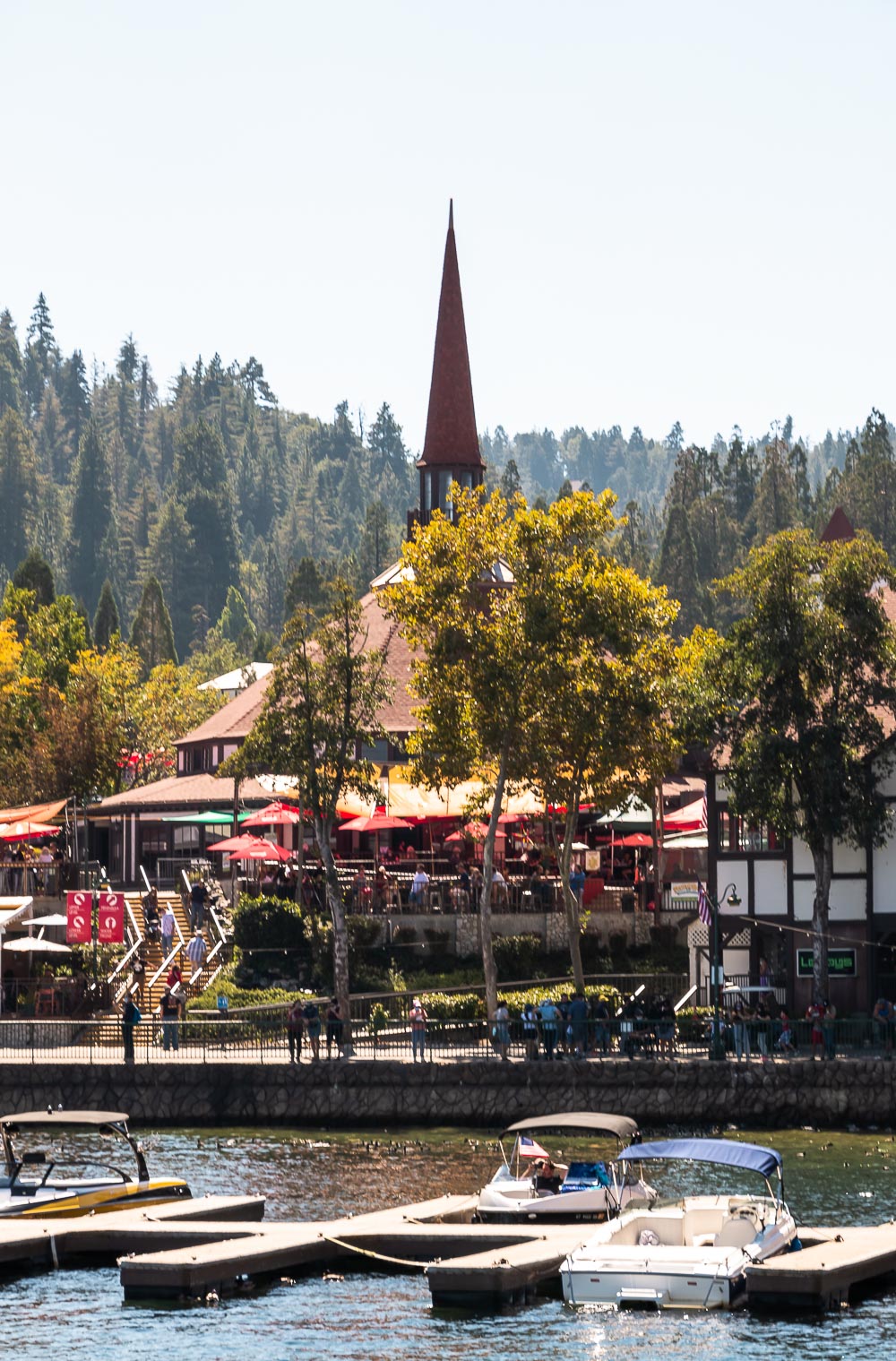 6. Fall Foliage
Lake Arrowhead enjoys four seasons. Thus, if you look for a place to delve in colorful fall foliage in Southern California, add this stunning lake to your list. Towering mountains surrounding Lake Arrowhead offer a myriad of orange, gold, yellow, and green shades to feast your eyes on this fall season.
7. Visiting Lake Arrowhead during Snow Season
Surprise, surprise! Lake Arrowhead does get snow! The place is among a few selected destinations in Southern California where you can build snowman and ski in winter. The snow season varies from year to year. Usually the visitors of Lake Arrowhead are delighted to dip their feet and hands in the fresh snowy blanket during the winter months, from December to February.
READ MORE: The 7 Best Places to Find Snow and Winter Wonderland near Los Angeles
8. Snow Chains are Required when Visiting Lake Arrowhead in Winter
When visiting Lake Arrowhead in winter, the snow chains are required. Since you will be driving up the mountains where the conditions can vary drastically from day to day, it is a small investment you must pay to stay safe.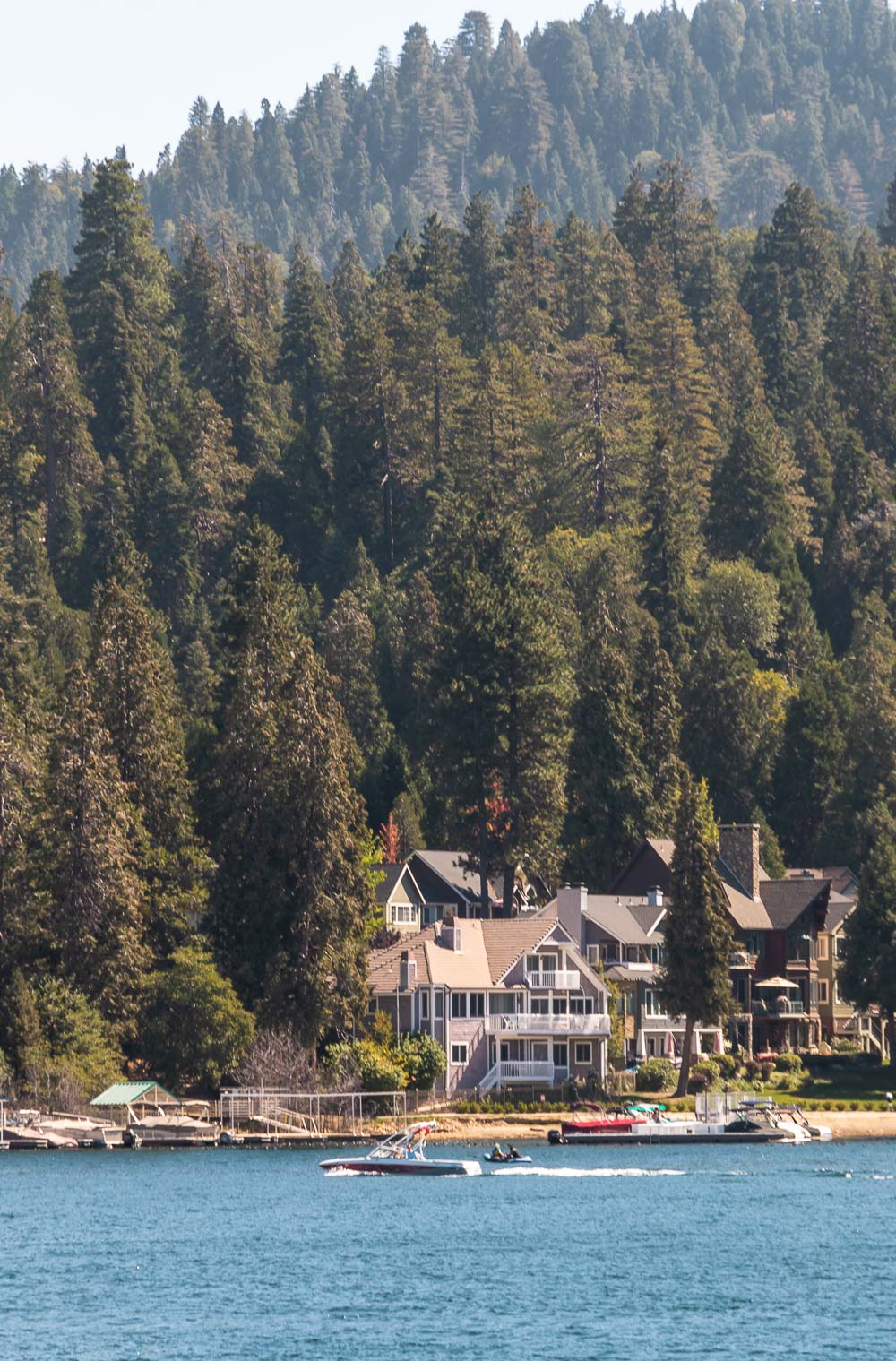 9. Beware of Bears when Visiting Lake Arrowhead
When visiting Lake Arrowhead, be aware of the bears. The wild mammals are known for snooping around homes in the area, looking for some prohibited treats.
To eliminate any disruptive behavior from both the humans and bears, store your food in bear-resistant containers when visiting and camping near Lake Arrowhead. And certainly, be a responsible traveler and leave no trace by throwing trash only in designated areas.
The bears are natural scavengers. Once they get easy food, they will be coming back for more, thrashing through backpackers' supplies and destroying human properties. Often the bears that got taste of the human food get killed while trying to attack the people. This is certainly something you want to avoid when visiting Lake Arrowhead.
Read More