It's the end of spring, beginning of summer. What better time to plan a day trip from Los Angeles to Cherry Hill Farm for a cherry picking session.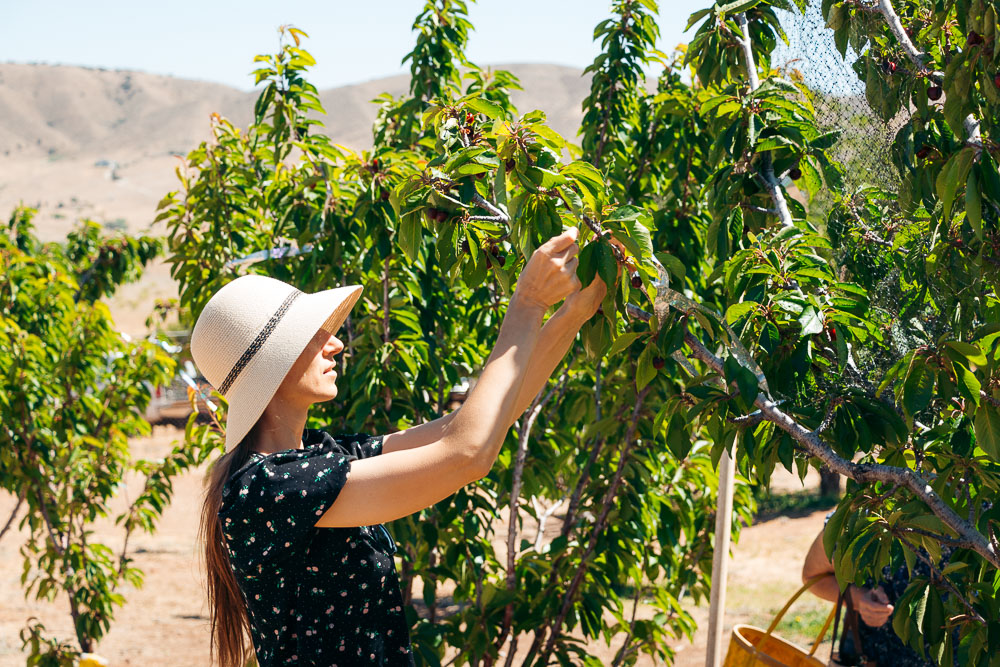 Have a Bucket, Fill it with Cherries
Cherry season is in full swing even in Los Angeles. While you can hardly see blooming cherry trees in California's unofficial capital in early spring, bags of ripe berries fill
shelves of the city's grocery stores at the end of spring, beginning of summer.
Dark red and often almost purple – that are the sweetest – cherries look too good to pass by. Needless to say, they add a different flavor to Southern California's perpetual fruit trio – bananas, oranges, and apples.
The cherry season doesn't last long, though. Slowly but surely, the cherries get more expensive and eventually evacuate the stores' shelves. If you are not a farmer and aren't blessed with a cherry tree in your home garden, take it as a hint to start looking for cherry farms nearby.
When the cherry season is almost over, some cherry orchards, such as Cherry Hill Farm, open their doors for city dwellers to have their cherry picking fiesta.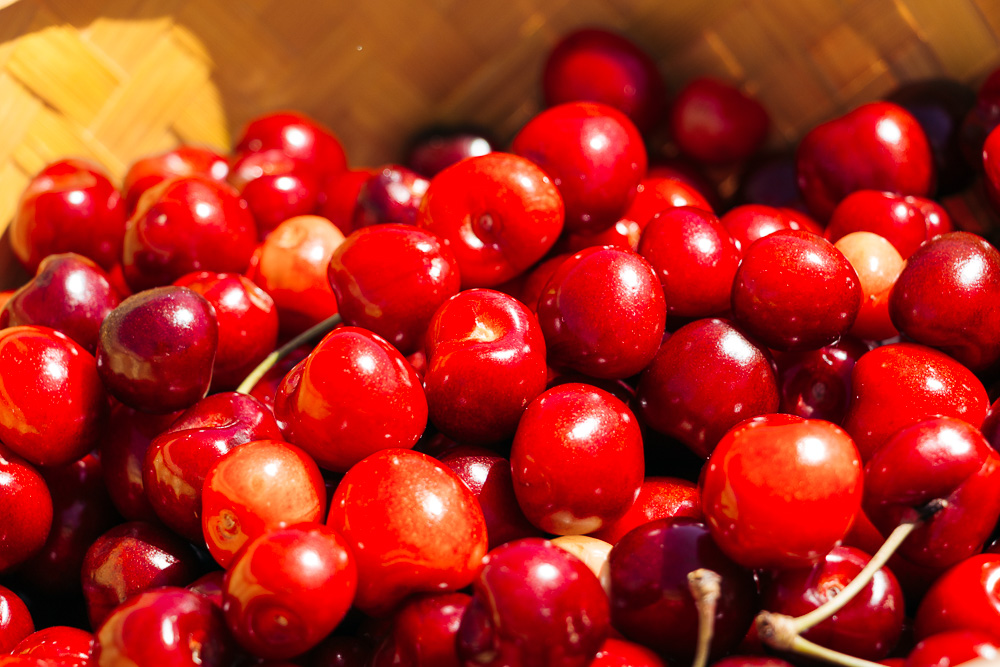 A Day Trip from Los Angeles to Cherry Hill Farm for Cherry Picking Excursion
Apple picking excursions were not new to us. Cherry picking… quite a novelty. But once we heard of this, looking for a cherry orchard near Los Angeles was inevitable. Roshan set his eyes on Cherry Hill Farm located roughly 58 miles from Los Angeles. And off we went.
Picking cherries at never-heard of until now Cherry Hill Farm seemed like fun, especially for city kids. Growing up, I had had my share of picking cherries from our family garden. The next step almost always had been pitting the plump berries and turning them into thick, sweet jam. In California, you stick to fresh berries and cherry desserts instead.
So a visit to Cherry Hill Farm couldn't possibly take me by surprise. Dylan who hardly remembered how a cherry tree sprinkled with the sweet berries looks like was frolic.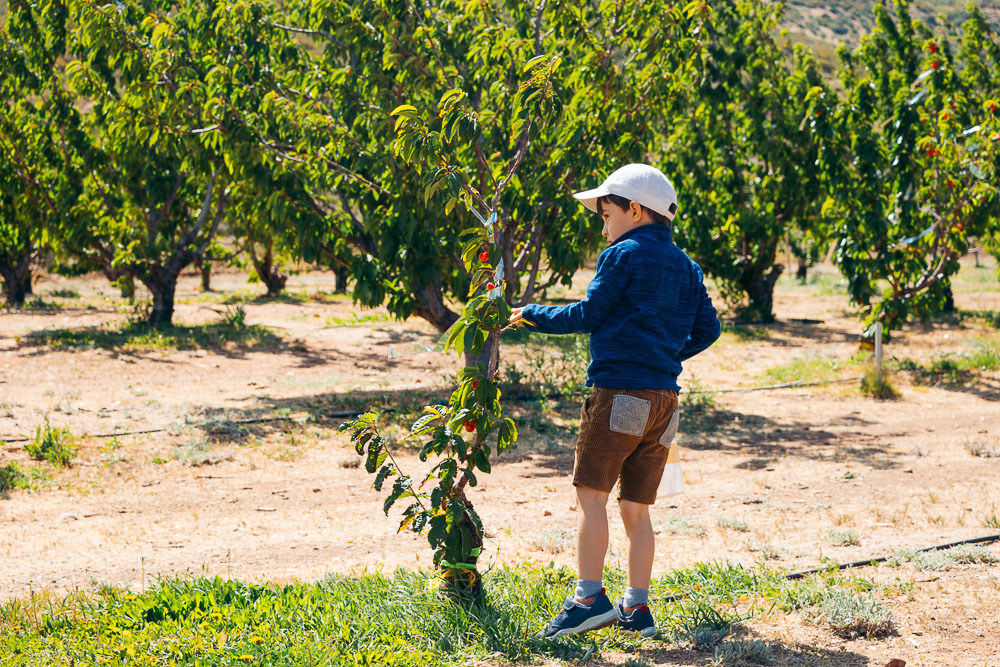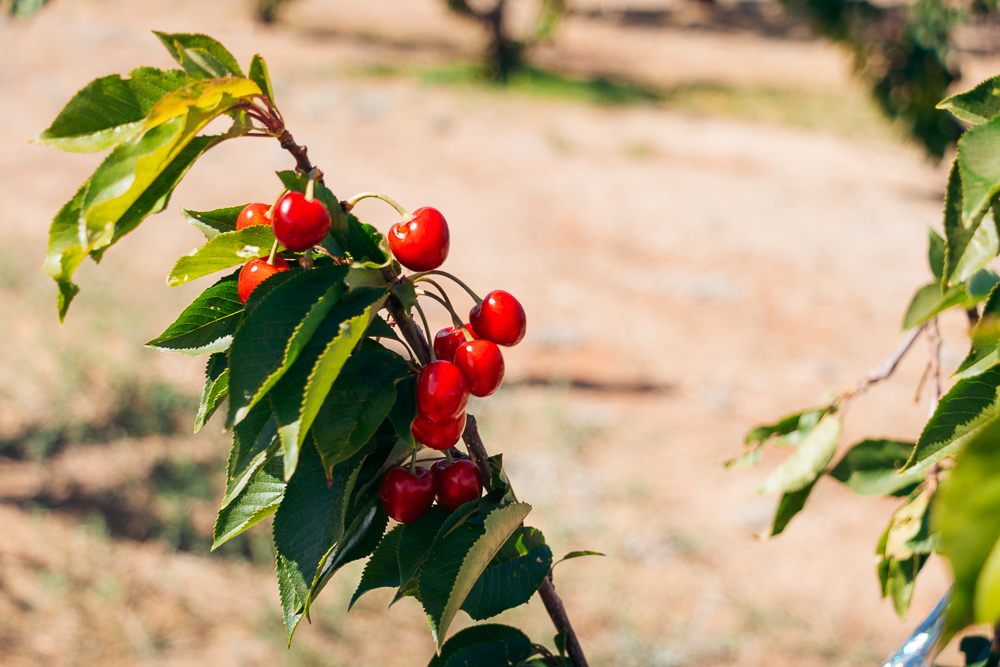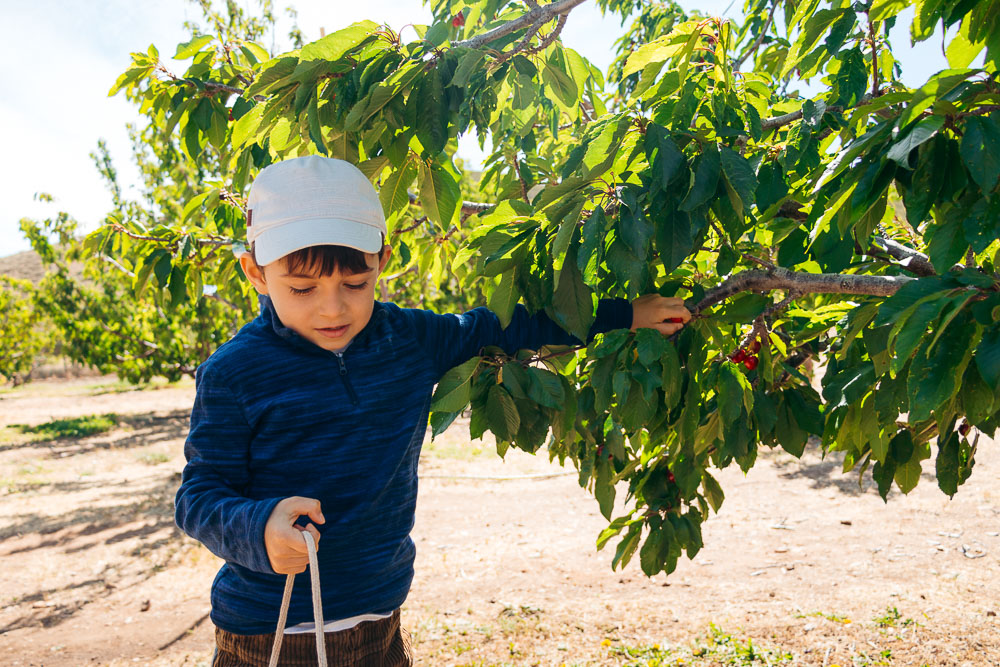 At the Cherry Hill Farm: Day Visit from Los Angeles
The boy's excitement didn't wear off when we got to Cherry Hill Farm almost an hour after we left Los Angeles. It was just a few minutes past 10:00 a.m. The orchard that had just opened its doors already hosted enough cherry picking parties to make you feel like you were too late. Nevertheless, a line at the entrance was nonexistent.
We paid for a small bucket and joined the cherry picking fiesta. The hanging on the trees cherries were similar to a miracle for a city boy. Dylan was running from one tree to another, clinging to his bucket. The trees were short enough for even a 5-year-old child to comfortably reach the branches and pick the berries.
Despite gusty wind, which is not uncommon in Leona Valley at this time, the visitors were having blast. The fresh, organic cherries picked by yourself pretty much on the outskirts of Los Angeles… Cherry Hill Farm could certainly win a price for the best day trip of the season.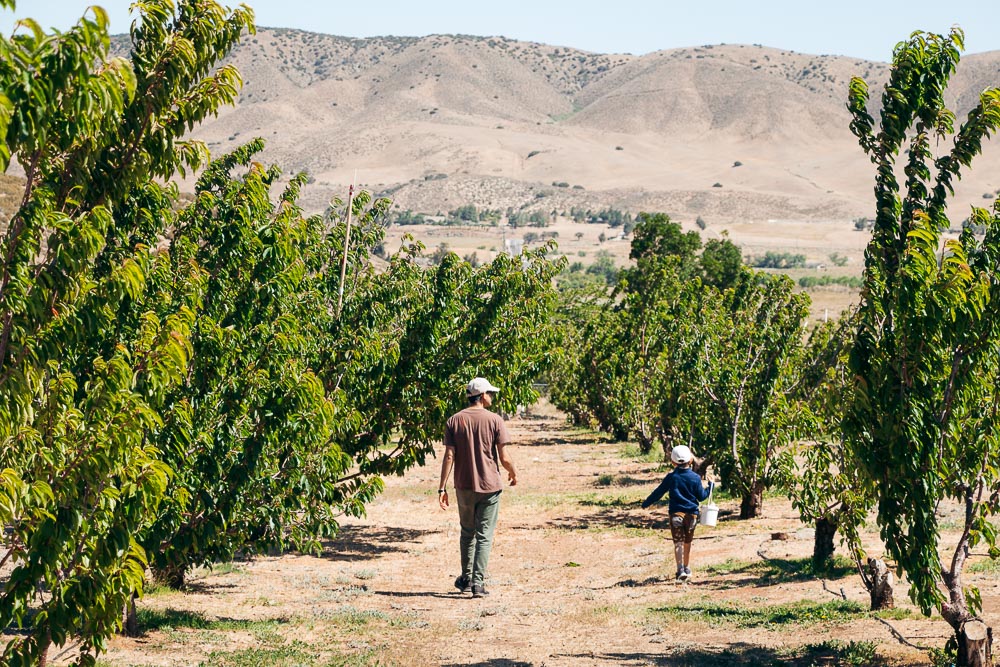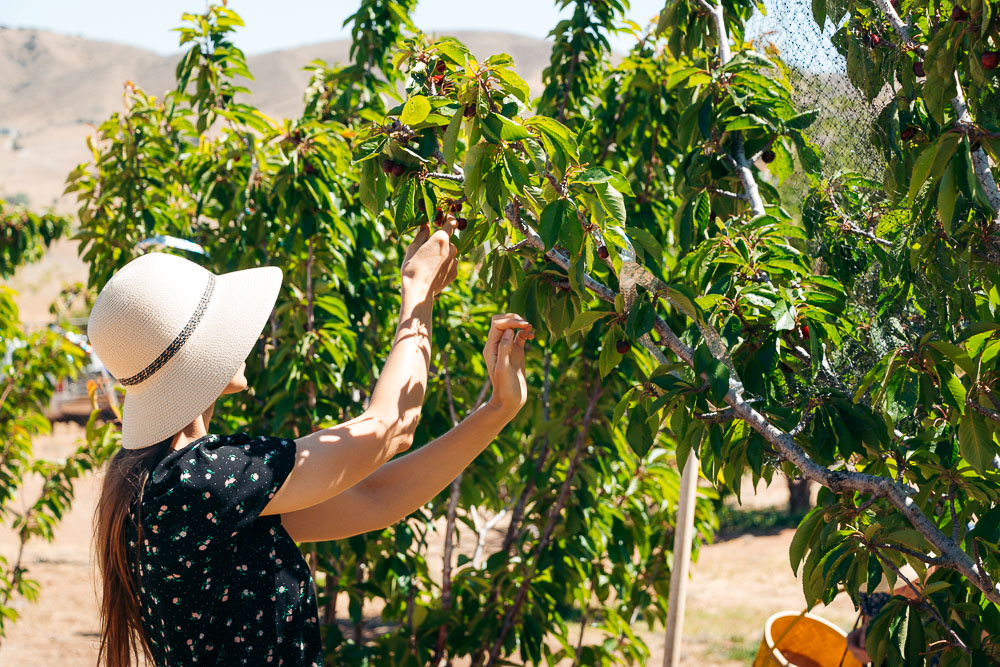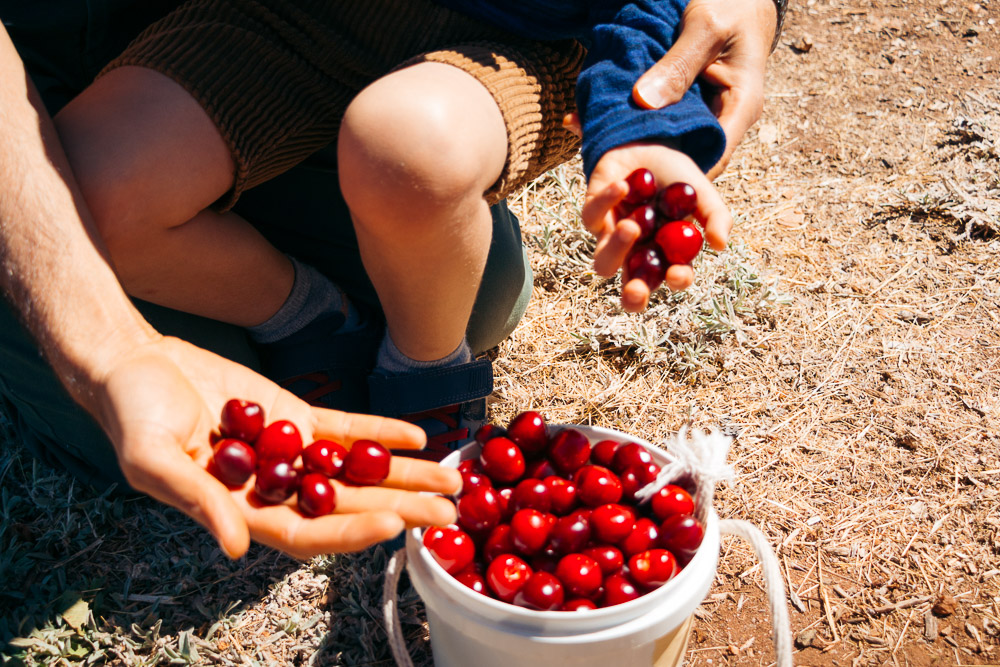 About Cherry Hill Farm
7.5-acre, family-owned Cherry Hill Farm sits in Leona Valley, near Palmdale. The farm as it's known today is relatively new. Jeff and Ali Stewart bought the land in 2015. Together with their three children, they work all year round to make sure their sweet Cherry Hill Farm is ready for the cherry picking season.
Being used to big cherry trees that have grown in my parents' garden for years, I was surprised to see the saplings just a few inches taller than me. None of the trees were visible from a dirt road that whirled around tiny hills before stopping in front of Cherry Hill Farm. Nevertheless, these cherry trees were a perfect size to pick the berries without any help or equipment.
We headed to the far end of the orchard. Early birds and newly arrived visitors seemed to prefer to pick the cherries from the trees that grew closer to a wooden shack that served as a cashier station and a mini shop where the owners were selling homemade soap, honey, and other goodies you would expect to see on a family farm such as Cherry Hill Farm.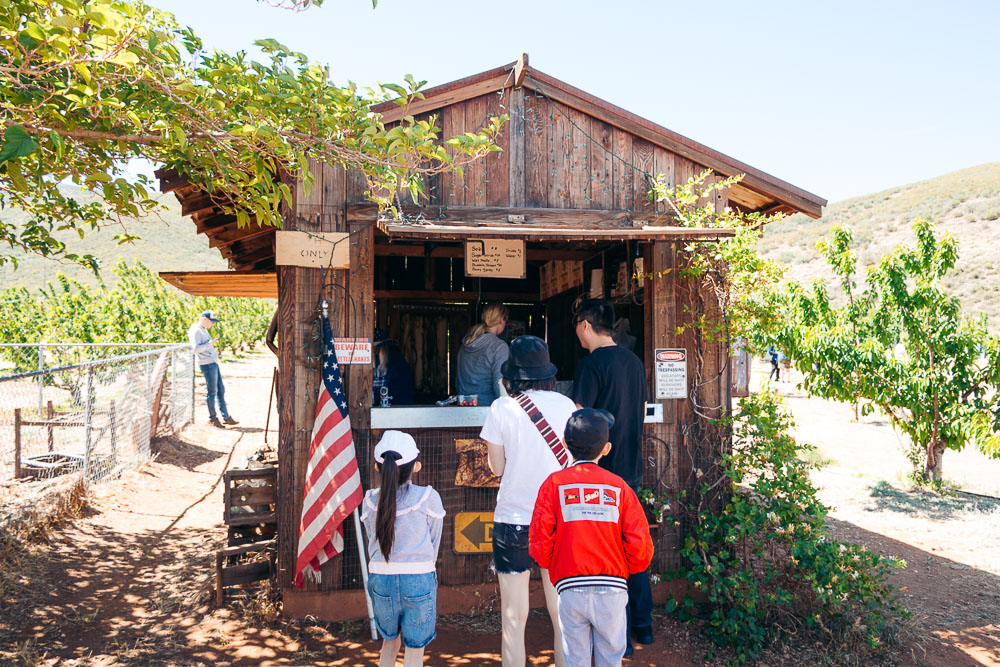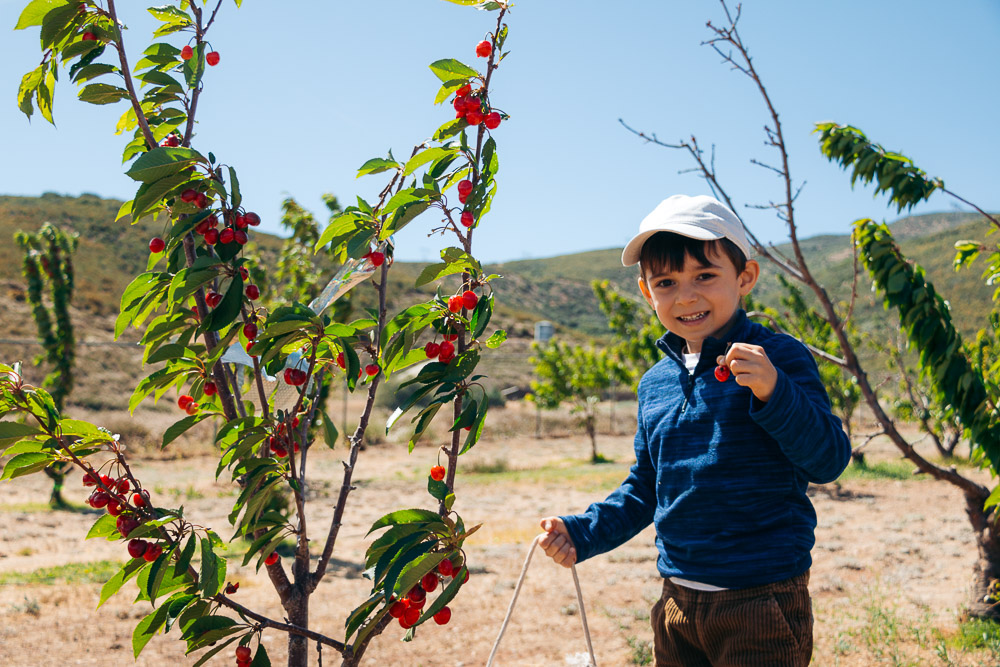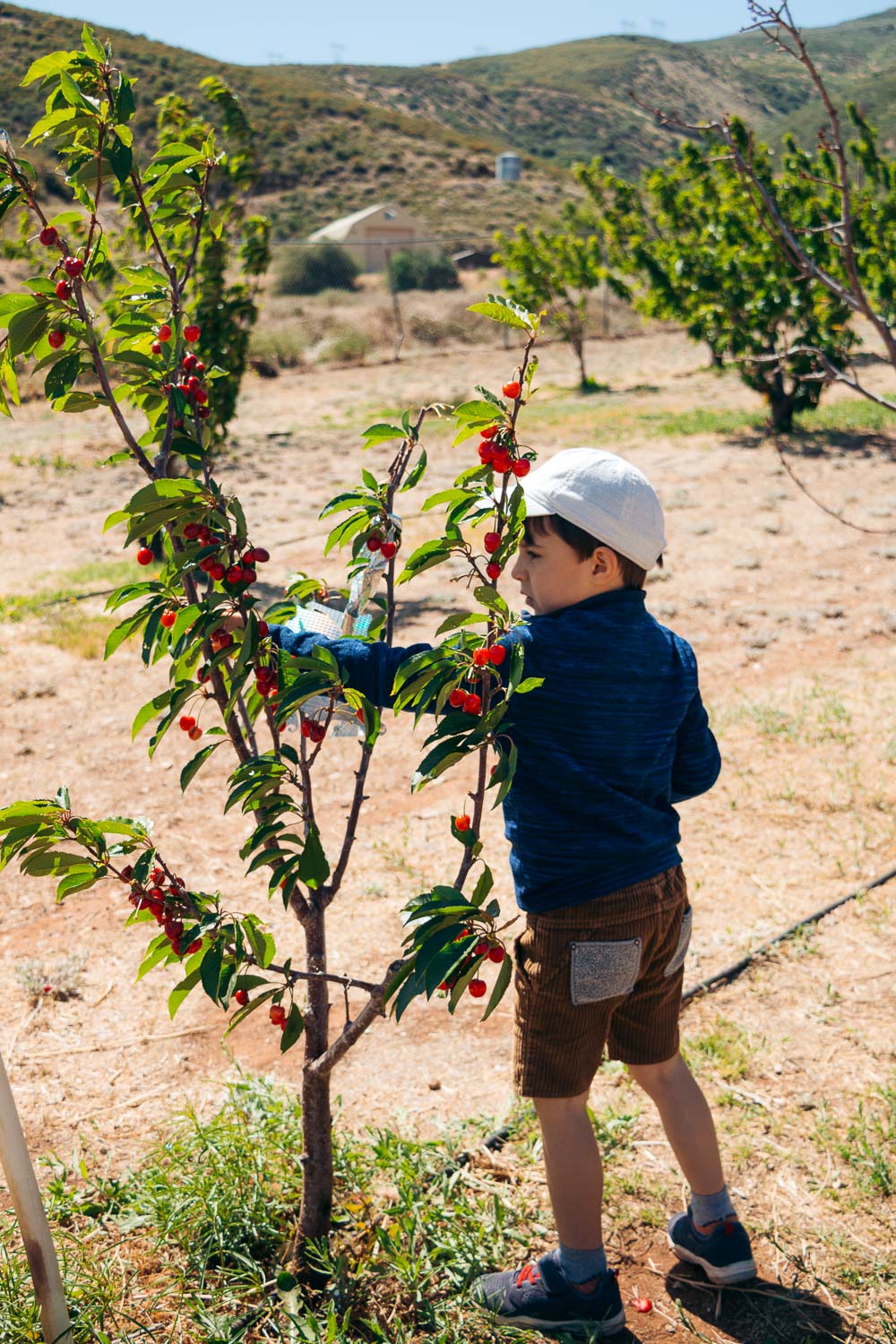 If You Need Help Finding Cherries, Let Me Know…
Before we ventured deeper into the orchard, the Cherry Hill Farm's staff (most likely the owners) informed us that these were the last berries of the season. Soon the cherry picking day trips from Los Angeles and nearby Palmdale would have to stop until next May-June.
Despite the warning, plenty of cherries still festooned the trees. All we needed was a leisurely walk between two-three rows of the cherry trees before our cherry picking session came to a successful completion. The bucket was full to the brim. It looked that this day trip from Los Angeles to Cherry Hill Farm would be shorter than we'd expected.
Before we left, though, we (now not so eager to look at the cherry trees, but explore the area around) finally spotted a small picnic area near the entrance-shack. A few hay rolls nearby offered more space to sit down and take it all in.
We could've eaten lunch. But then with that windy interference, we thought better of it. All in all, this short trip – more of a half-day trip that a day trip – to Cherry Hill Farm was a legit excuse to get out of Los Angeles. It was relaxing, nature-infused, and perfect in its own way.
READ MORE: 10 Best Day Trips from Los Angeles for Nature Lovers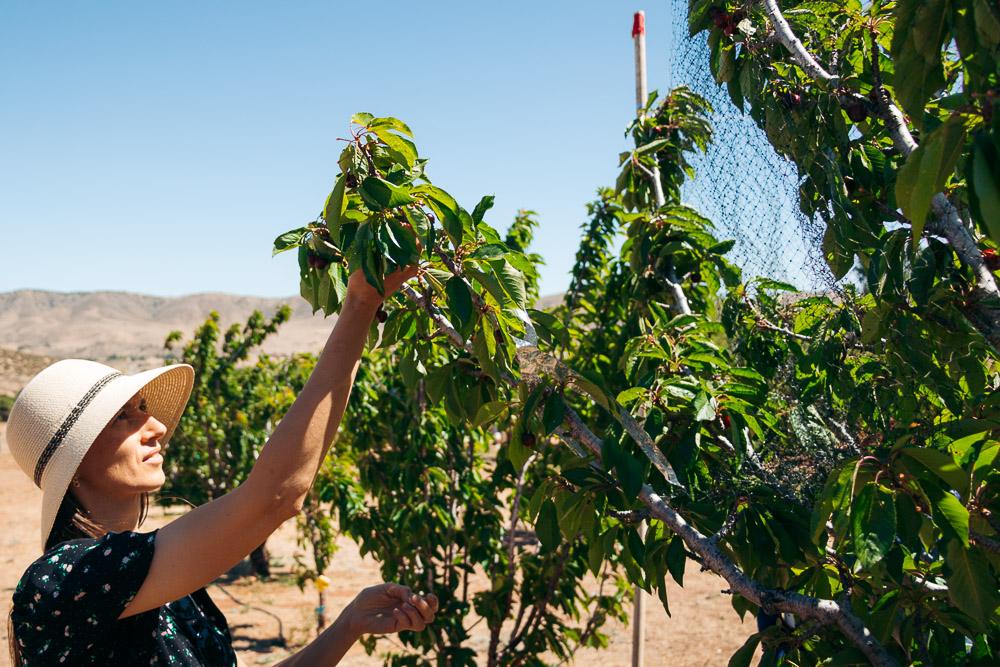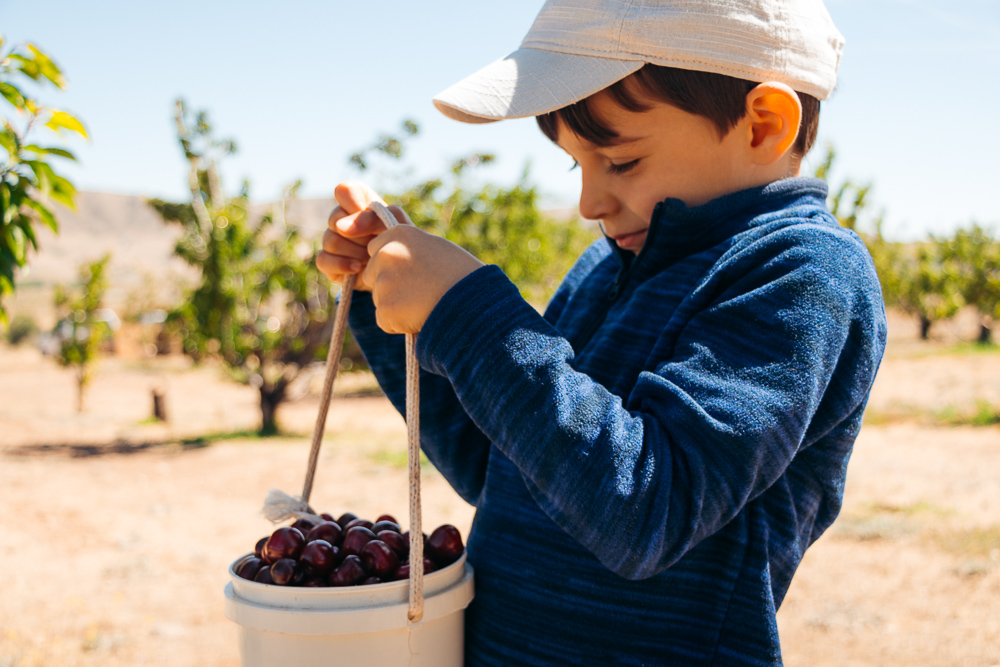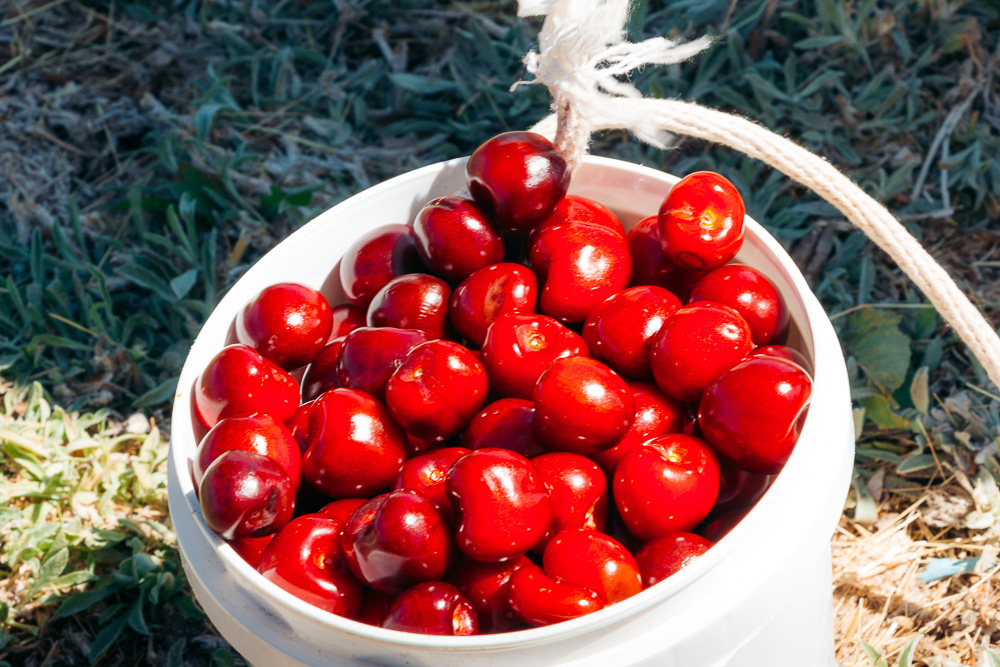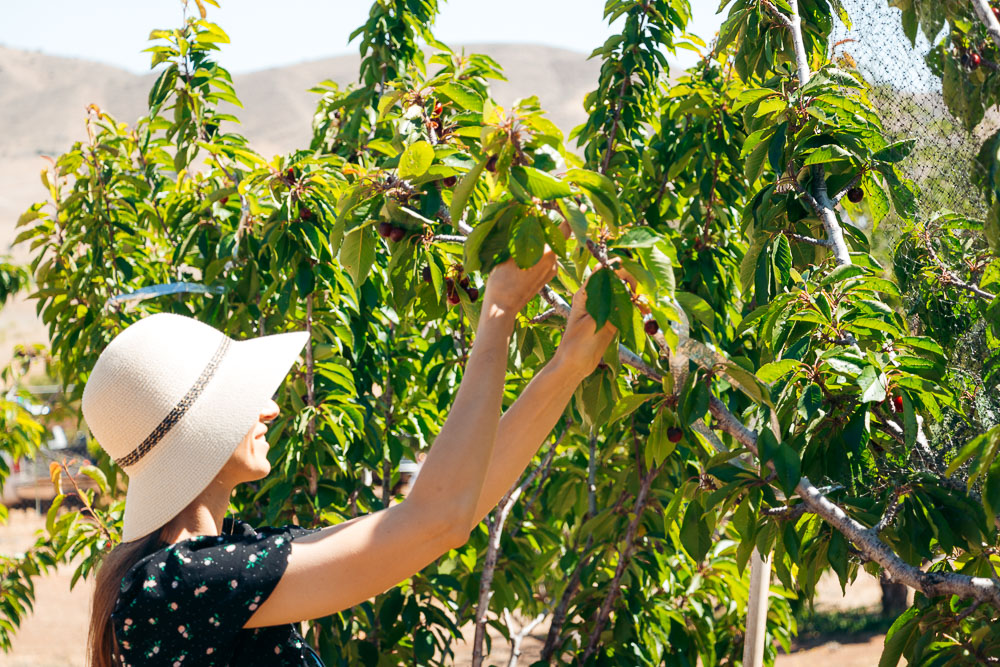 Things to Know before Visiting Cherry Hill Farm
Cash Only
Cherry Hill Farm accepts only cash. No credit cards, no checks. They ask for a minimum $8 purchase per person.
Moreover, you can't use your own bucket to pick the cherries at Cherry Hill Farm. The buckets are given at the orchard. Two sizes are available. The smaller one (approximately 50 oz or 1.5 litters) costs $25. The larger is $50.
Once you finish picking the berries, head back to the Cherry Hill Farm's entrance. The staff will take your bucket and pack the cherries in a paper bag. If you've brought your own bucket, it's time to make use of it and transfer your berries in it. No need for packing in this case.
Dirt Road
Cherry Hill Farm sits along a dirt road in Leona Valley. The bumpy, narrow path greets the excited cherry pickers only on the last stretch on the journey. So to say, at the Cherry Hill Farm's doorstep.
Although the dirt road hardly runs for a mile, it takes a considerate slowdown to make it through. So don't rush, and take your sweet time before laying your hands on those cherries.
The absence of the proper road prevents the Cherry Hill Farm's family from welcoming bus groups. There is neither room to turn around nor parking spaces for large vehicles.
No Dog Companions
Picking the cherries at Cherry Hill Farm is fun, but not so much for dog owners. The pets are not allowed in the orchard. No exception is here.
Cherry Picking Season at Cherry Hill Farm
The cherry picking season at Cherry Hill Farm is normally from mid-May through early June. Yet with the sunny Southern California's weather playing its tricks year in and year out, the sweet cherries may wait for the daytrippers from Los Angeles in early May.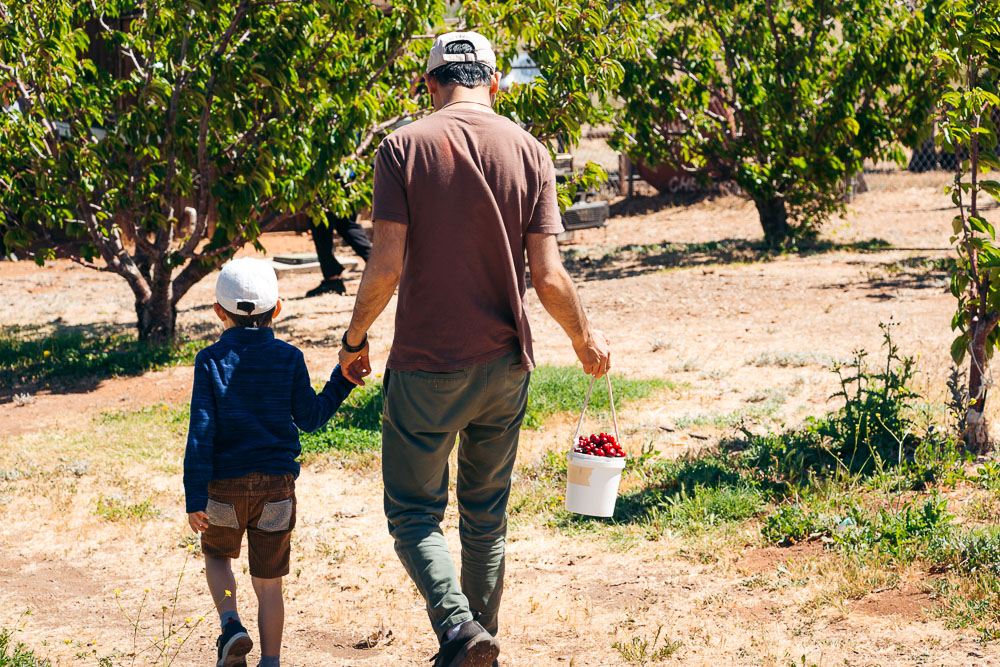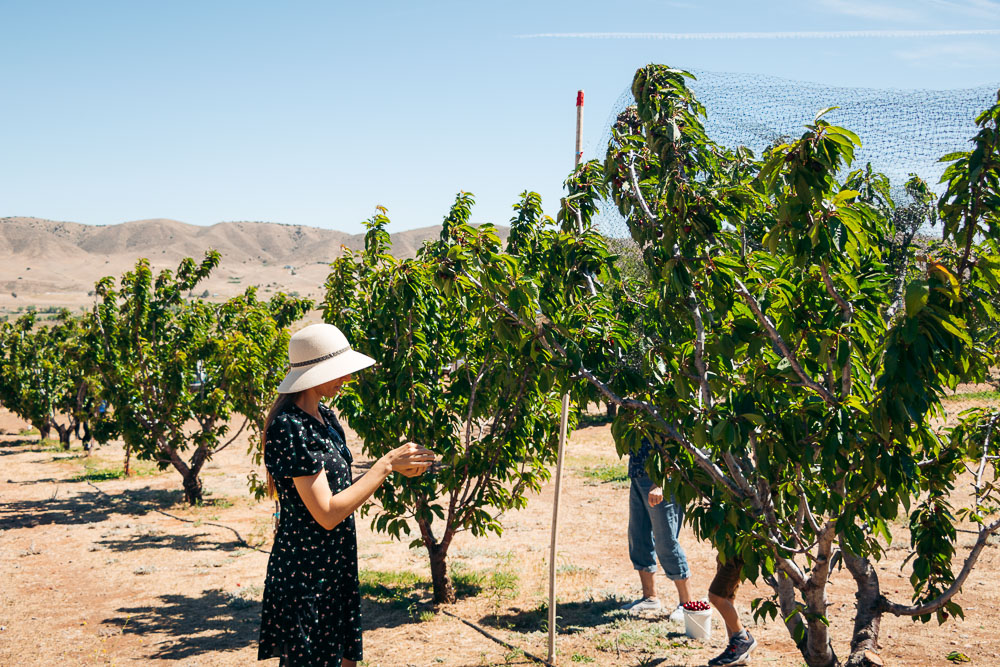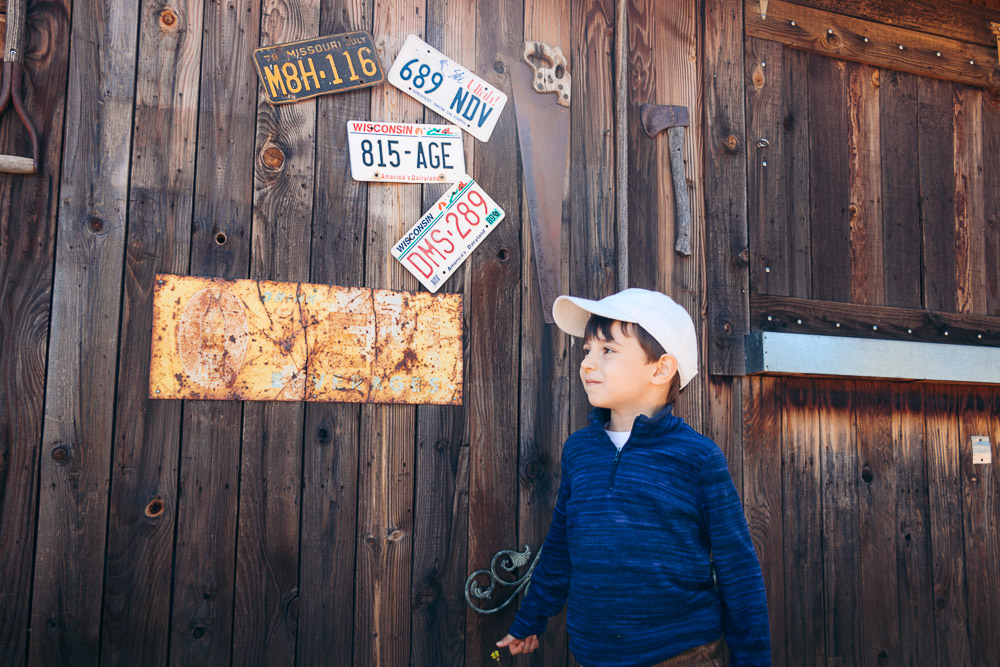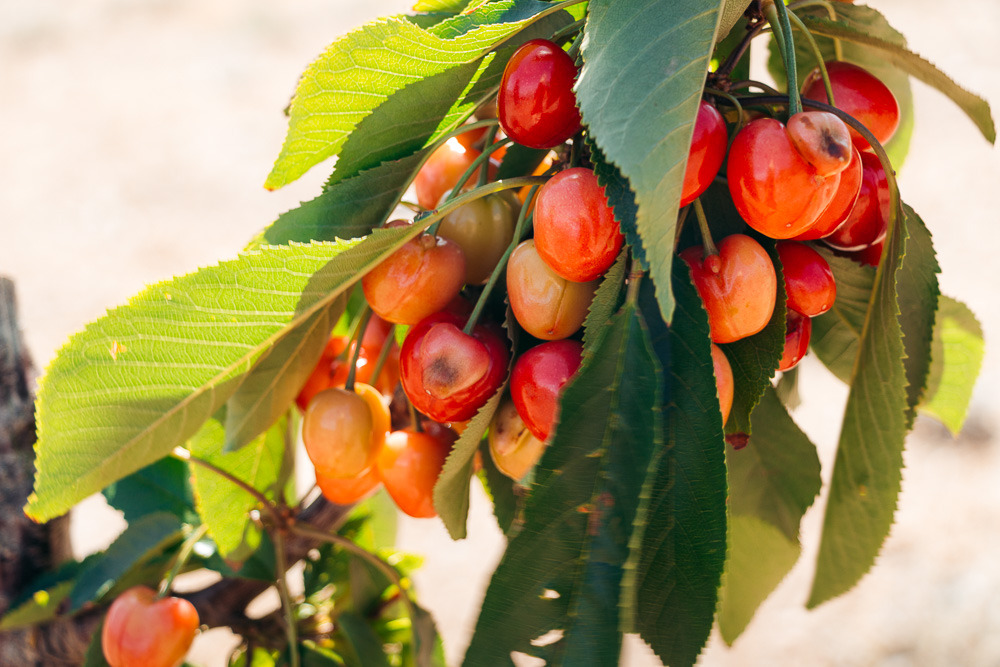 Other Cherry Picking Farms near Los Angeles
If the fresh, organic cherries inspire you to leave Los Angeles for a day, but Cherry Hill Farm doesn't make it on your itinerary, make a trip to the following cherry orchards:
Villa del Sol Sweet Cherry Farms (60 miles from Los Angeles)
JL Farms U-Pick Cherries (55-65 miles from Los Angeles)
Rolling Thunder Cherry Ranch (62 miles from Los Angeles)
Full Moon Cherries (61 miles from Los Angeles)
Windy Ridge Cherry Ranch (62 miles from Los Angeles)
Visit Cherry Picking Farms on a Day Trip from Los Angeles: Map
Read Next