It took us more than a year of planning and choosing the right time to visit the Midwest and just 4 days to actually road-trip across Nebraska and South Dakota.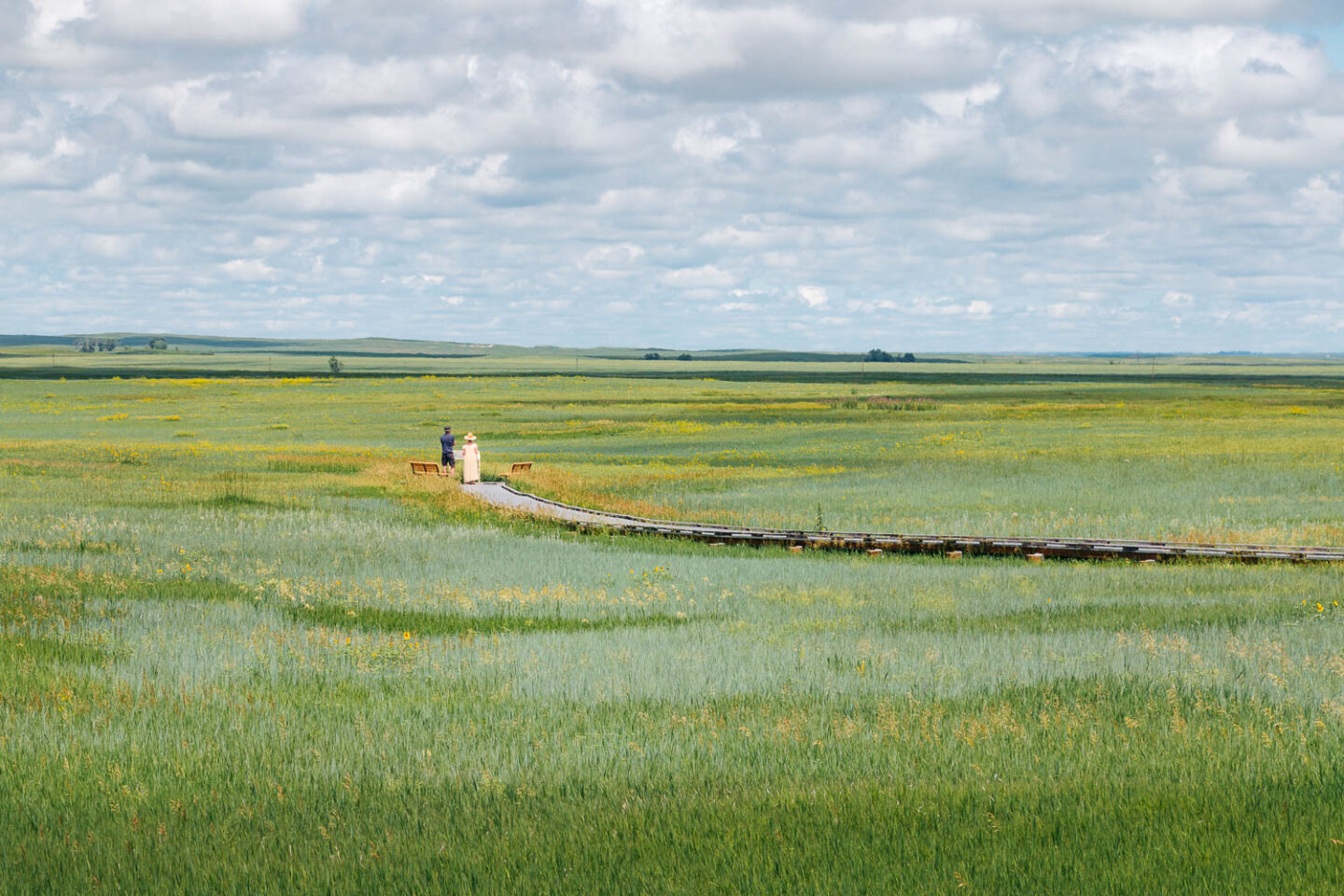 Explore Midwest: Nebraska-South Dakota Road Trip
Every trip starts with a dream. Whether it's scenic mountains that look so similar to grass-covered slopes of Switzerland or mysterious rock formations that seem so out of place surrounded by plain terrain, you long to see these destinations in person until the desire is so strong that it unsettles you and keeps nagging until it's fulfilled.
Mount Rushmore in South Dakota had a somewhat similar effect on Roshan. He'd been dreaming of heading to the Midwest of the USA for years. A few months ago, Roshan stopped fantasizing. He planned the whole trip instead.
This Midwest travel adventure turned into a 4-day road trip across Colorado (not in the Midwest), Nebraska, and South Dakota. We saw some of the biggest landmarks of the two latter states while dealing with notoriously fickle weather of the American Heartland.
So let's begin this road-trip adventure across mostly South Dakota and Nebraska and a part of the homeland of Rocky Mountain National Park.
Why Did We Choose (Colorado), Nebraska, and South Dakota for Our Midwest Road Trip?
The answer is less adventure-provoking than we'd like it to be. In summer, it was simply cheaper to fly to Denver, Colorado, from Los Angeles. A direct flight to Rapid City, a gateway to Mount Rushmore, cost almost three times more.
The drawback of this 4-day road trip across Colorado, Nebraska, and South Dakota was a lot of driving. We ached to visit South Dakota with its spectacular mountain sculptures and beautiful parks. Nebraska landed on our Midwest itinerary as a bonus. Its green, endless grasslands held their own charm. Their images are still so vivid. Its capricious weather with frequent summer tornadoes…. Well, it's another story.
Colorado wasn't the primary interest of our 4-day road trip across the Midwest of America. If you have another day or two to spare for this state, please do so. Dotted with towering peaks, Colorado steals your heart at once. You can find plenty of information to plan this part of your itinerary in the Colorado section on my website.
But let's get back on the road.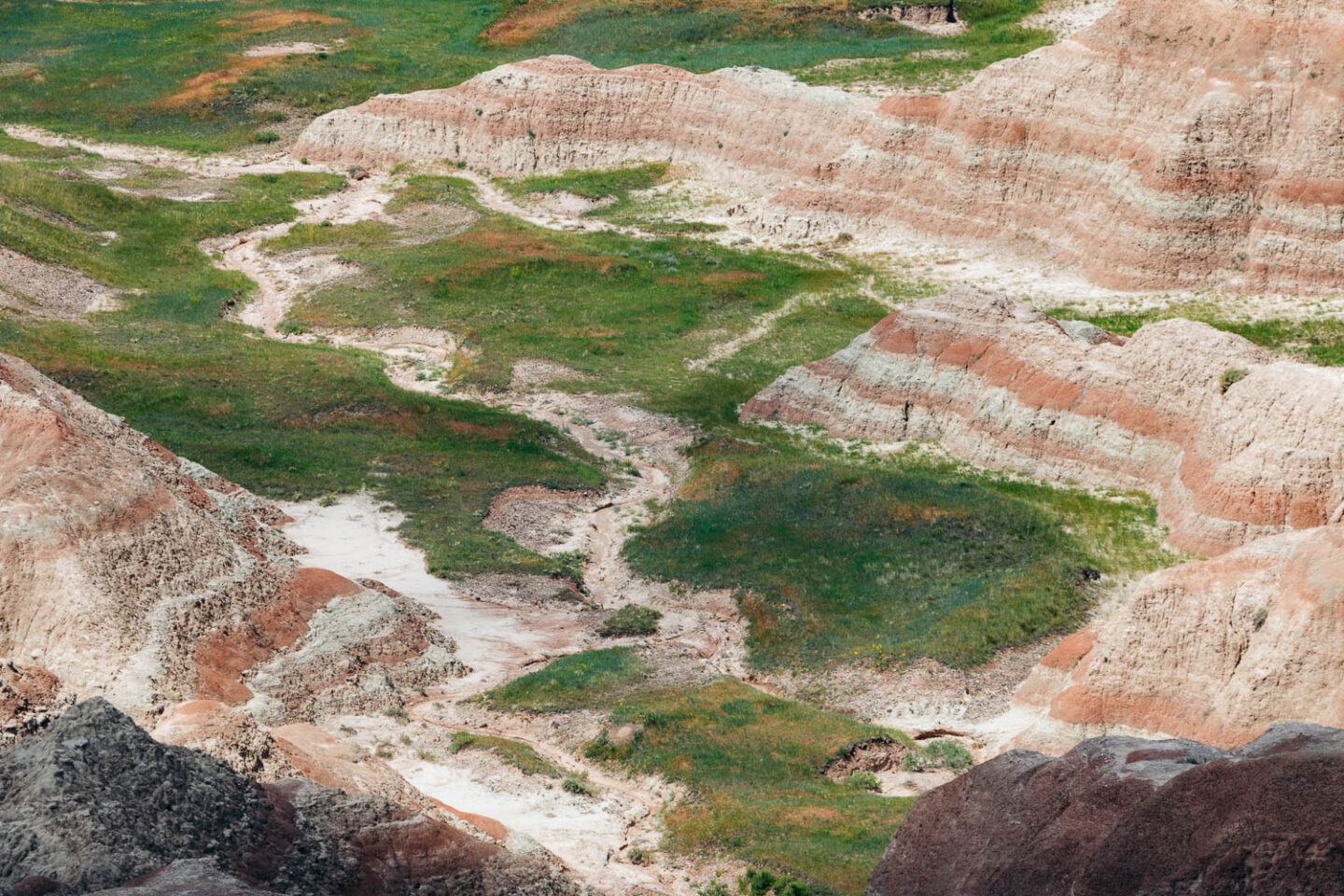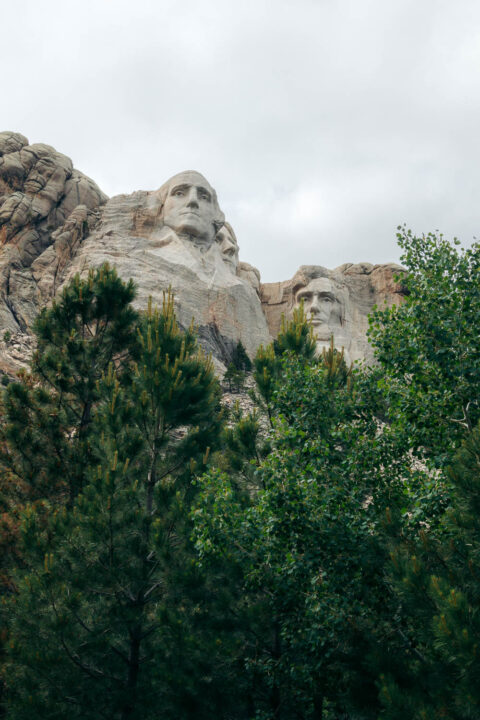 THE 4-DAY MIDWEST ROAD TRIP ITINERARY: ADVENTURE ACROSS (COLORADO), NEBRASKA, AND SOUTH DAKOTA
Day 1: Colorado and Nebraska
The first day of our road trip across Colorado, Nebraska, and South Dakota was almost a classic case of a well-planned travel journey that went wrong. Our flight from LA to Denver was delayed. By the time we got to the capital of Colorado, picked up our rental car, and bought some groceries for the next three days, it was well past 3 p.m.
Roshan booked our Airbnb for the night in Harrison, Nebraska. Home to barely 250 people, this midwestern village was roughly 4 hours away. Long drive… So we had to cancel any sightseeing we'd planned for this day.
It would be that unadventurous road trip if it was not for the quite unpredictable and simultaneously remarkable summer weather of the Midwest. Storm with dramatic lightning caught us somewhere on the border between Colorado and Nebraska. Announcing even heavier downpour, the sky was getting darker and darker by minutes.
As if trying to be of help, the wind slowly blew the rain clouds southwest, while we were heading north. When it looked like we might have just escaped another round of the rain pour, a piercing cell phone alarm reported another problem.
Tornado was spotted in our area. We had to take shelter and wait until the twister died or passed through. But in our case, there was nowhere to hide, just endless green prairie with nothing and nobody around.
In the end, Nebraska spared us from this unannounced tornado on the first day of the road trip. Moreover, it showed its nice side and apologized for the seasonal weather roughness with the most spectacular sunset we've ever seen. So it was a good start of the Nebraska-South Dakota road trip after all…
Alternative Itinerary
If you have more time on your hands, stay in Denver for a day or two and go on a day trip to Rocky Mountain National Park. Additionally, you can visit Scotts Bluff National Monument, Nebraska, while getting to your first destination (Harrison in our case) after leaving Colorado.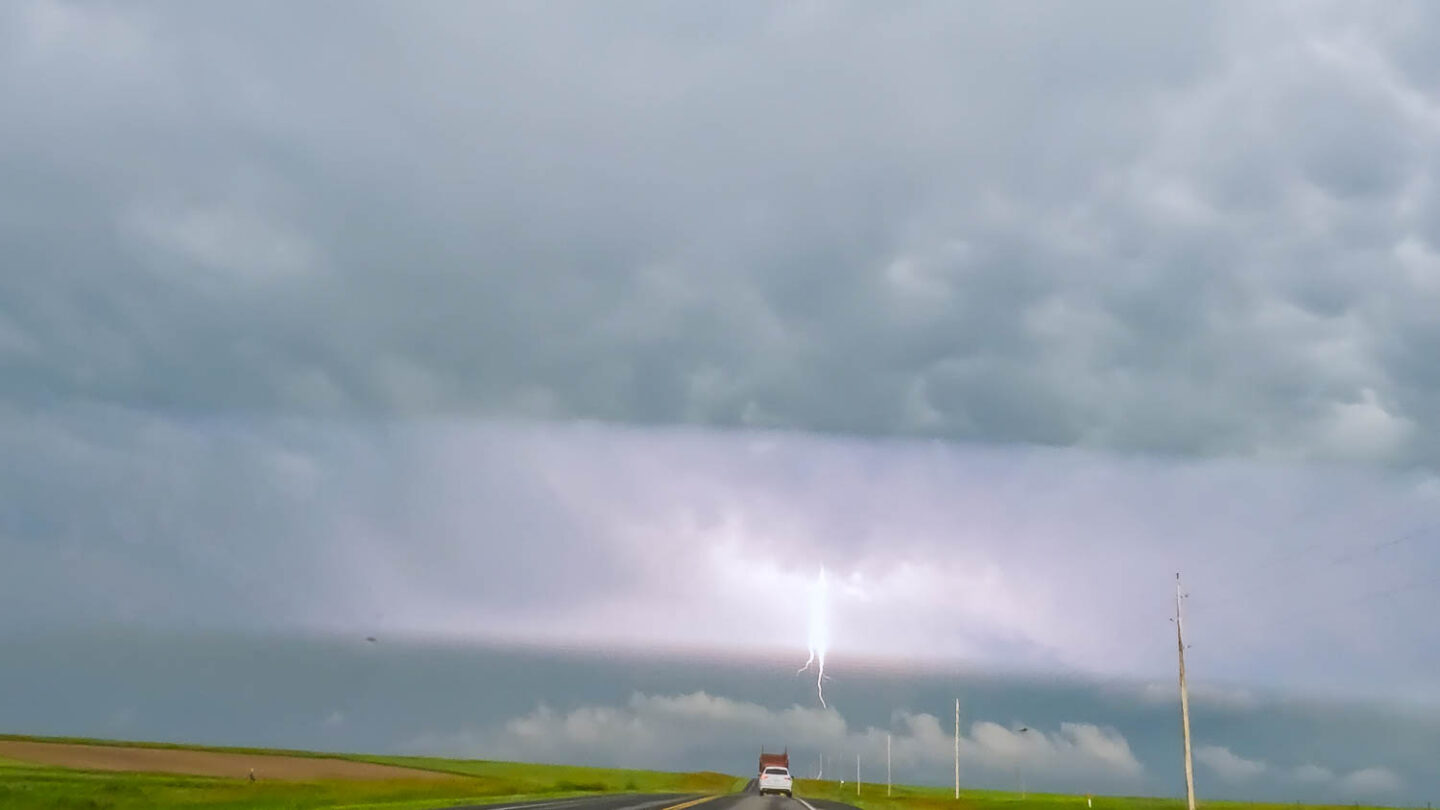 Day 2: Leaving Nebraska for South Dakota
We had a lot of sightseeing planned for our first day in South Dakota. Luckily all these destinations, along with our second home away from home, were located within one-hour drive or less from each other.
Stop 1: Custer State Park
Drive time from Harrison, Nebraska: 2 hours 20 minutes
Ranked as one of top 10 safari parks in the county, Custer State Park is one of the best places to spend a day if South Dakota's wildlife is your primary focus. Bison, elk, deer, prairie dogs, mountain goats, and coyotes roam freely across large prairies and dense forests.
The most beloved animals here, however, are burros. Once used for treks to Black Elk Peak, the donkeys were released into the wild after the tours ended. Yet carrying in their genes some memory of that domesticated phase, the feral animals still occasionally turn to people for some treats, such as carrots and apples.
As a way to control its bovine herd, once a year the park organized Buffalo Roundup. The event normally takes place at the end of September and is free to attend.
On the other side of South Dakota's first state park, granite mountains take over the role of the welcoming hosts. Unveiling their natural wonders and spectacular views from a number of scenic drives and panoramic hiking trails, the peaks embody the spirit of the state: strong, rough, and unyielding.
One of the most popular areas in this corner of South Dakota is the 14-mile Needles Highway. A myriad of hiking trails take their beginnings along the scenic route or Sylvan Lake, one of the five lakes within Custer State Park.
How much Time You Need: Custer State Park needs at least one day to share all its jewels and stories. Since our Midwest road trip itinerary was restrained by time and not destinations we longed to see, we had to make good use of 5-6 hours on our hands. Don't worry, though. You will still have enough time to see and do a lot. Just skip hiking. Or at least stick to shorter trails.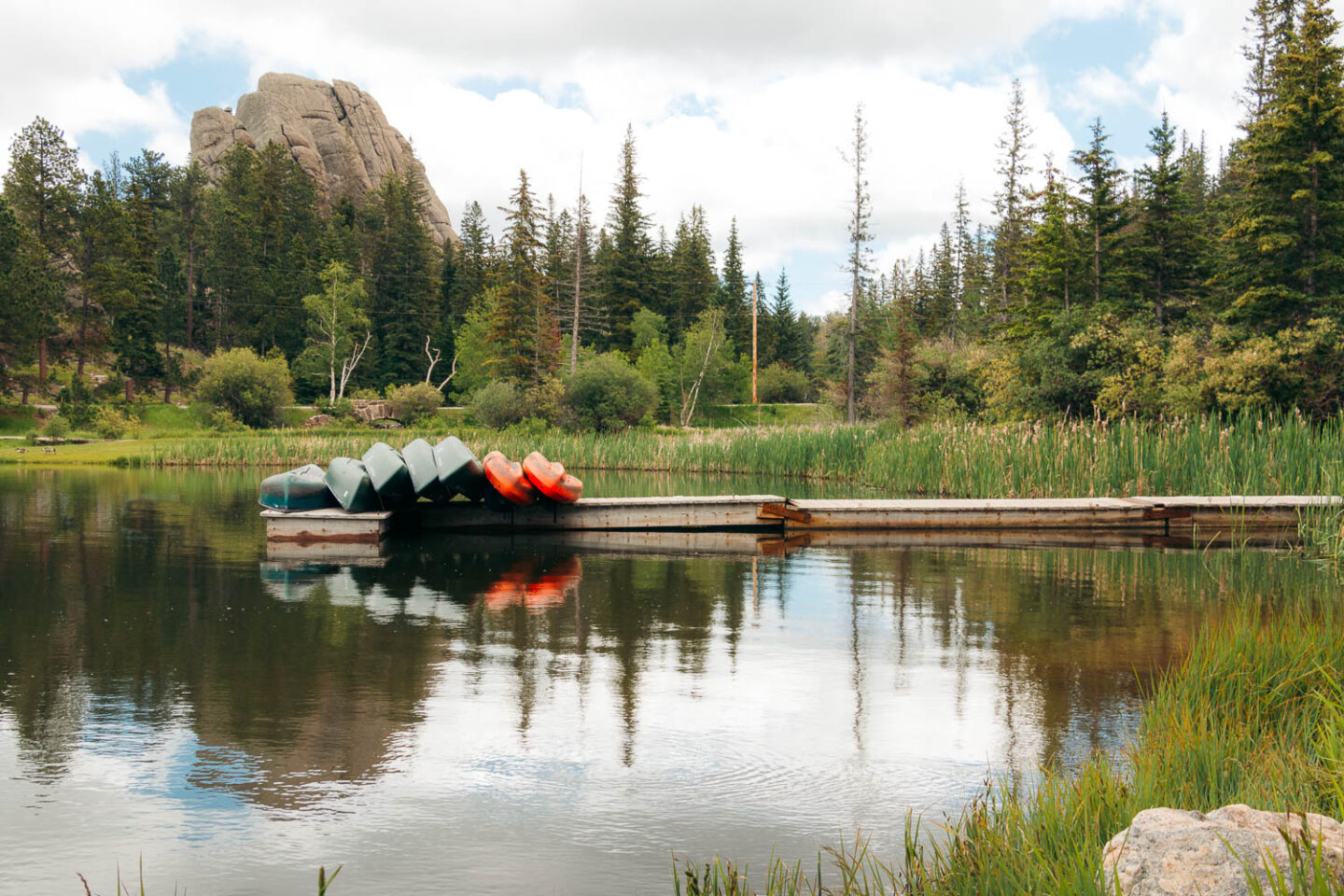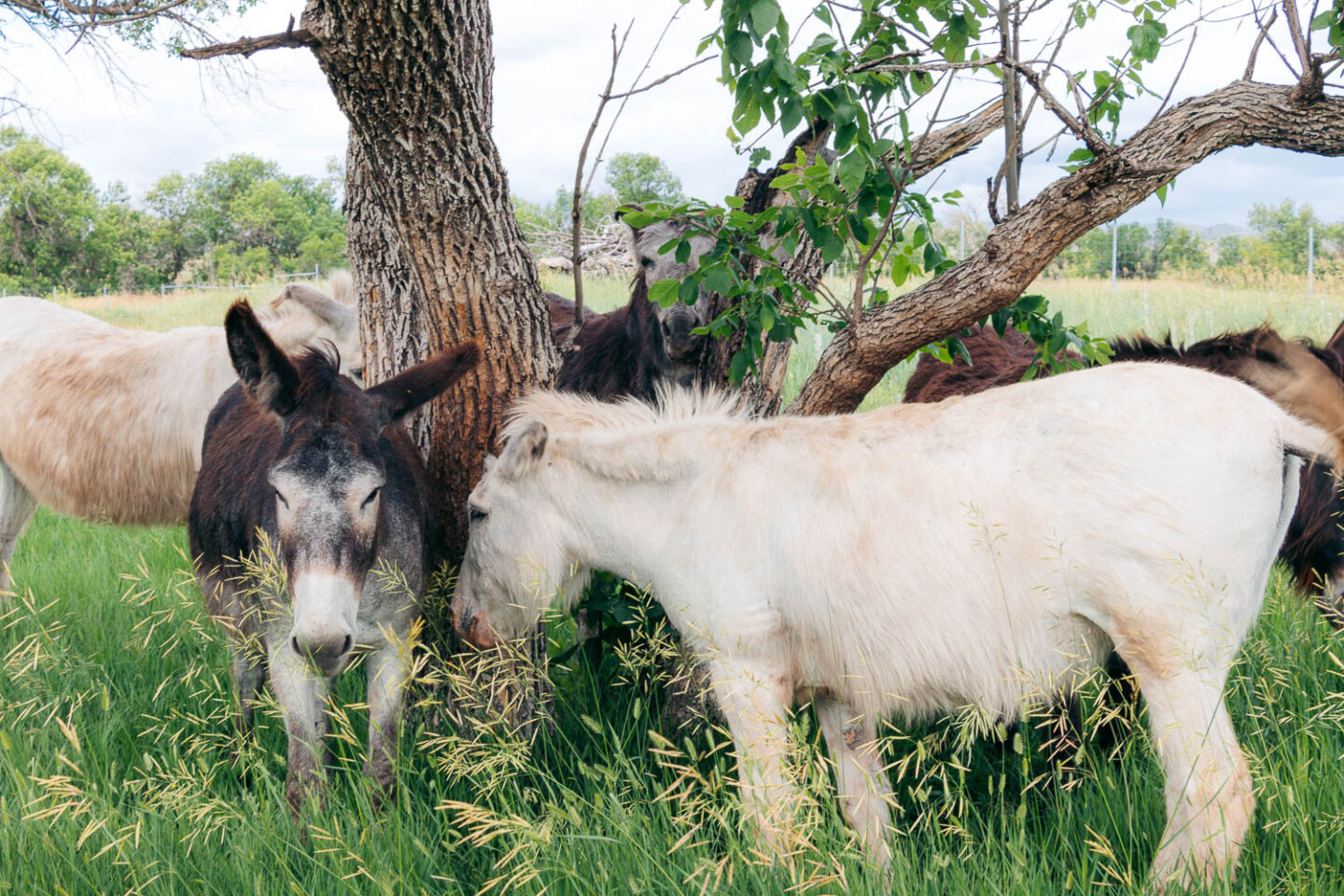 Stop 2: Crazy Horse Memorial
Drive time from Custer State Park: 35 minutes
The Black Hills have been a sacred place for Native Americans for many generations. So when the Lakota Elders decided to immortalize their legacy of their people in stone, naturally they chose the untamed mountains of South Dakota for this project. The Elders also knew who they wanted to be the subject of this grand mountain sculpture, Lakota leader Crazy Horse.
Born around 1840, Crazy Horse fought to preserve Native American territory and the traditional way of life of the Lakota people. But while the sculpture depicts the face of one leader, it stands as a great symbol of the spirit of all Native Americans.
Sculptor Korczak Ziolkowski accepted the Lakota Elders invitation and dedicated the rest of his life to Crazy Horse Memorial, one of the grandest attractions in South Dakota. Once completed, the mountain sculpture will be 641 feet long and 563 feet high, the largest of its kind in the world.
Lightning seemed to follow us from Nebraska to South Dakota. Unable to sour our first day of the road trip, the natural phenomenon did manage to leave its mark of the second. With lighting expected in the afternoon, tours to Crazy Horse Mountain stopped until further notice. We had to leave before buses were allowed to approach the famous head of Crazy Horse Memorial and mountain work area.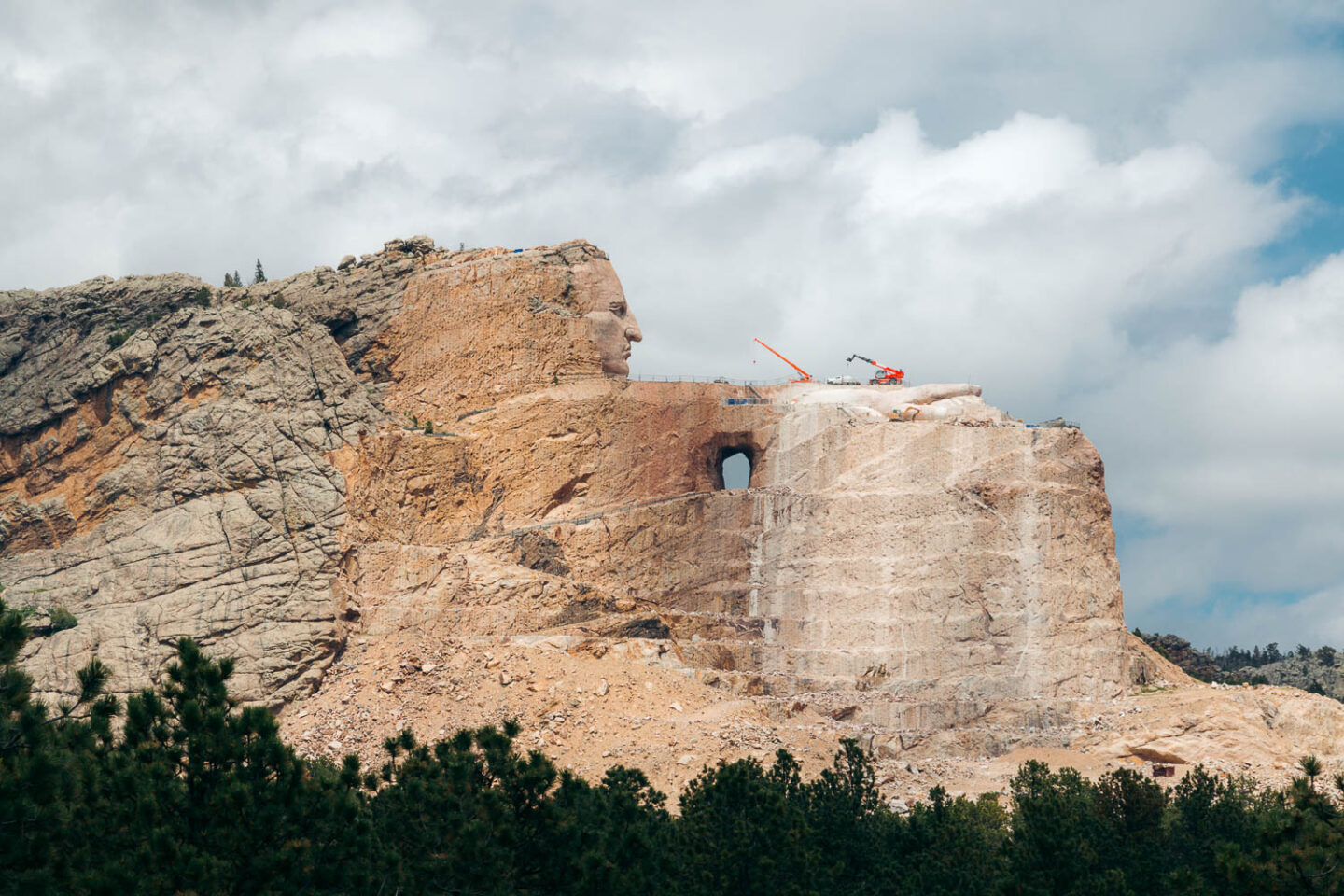 Stop 3: Mount Rushmore National Memorial
Drive time from Crazy Horse Memorial: 27 minutes
The midwestern weather, however, didn't dare to disturb our visit to Mount Rushmore. We were blessed with the most beautiful afternoon. All three of us stood in awe, first admiring the structure from a distance and later hiking a loop trail in front of the famous mountain monument, the main reason behind our 4-day Nebraska-South Dakota road trip.
The massive sculpture that depicts heads of four American presidents and is carved into Mount Rushmore in the Black Hills of South Dakota was completed in 1941. Over the 14-year period, nearly 400 people worked at the mountain to memorialize such historic figures as George Washington, Thomas Jefferson, Theodore Roosevelt, and Abraham Lincoln. Each face is 60 feet high.
The choice of the presidents could be different. But apparently sculptor Gutzon Borglum agreed with our 6-year-old historian that these were the most important presidents in the history of the USA.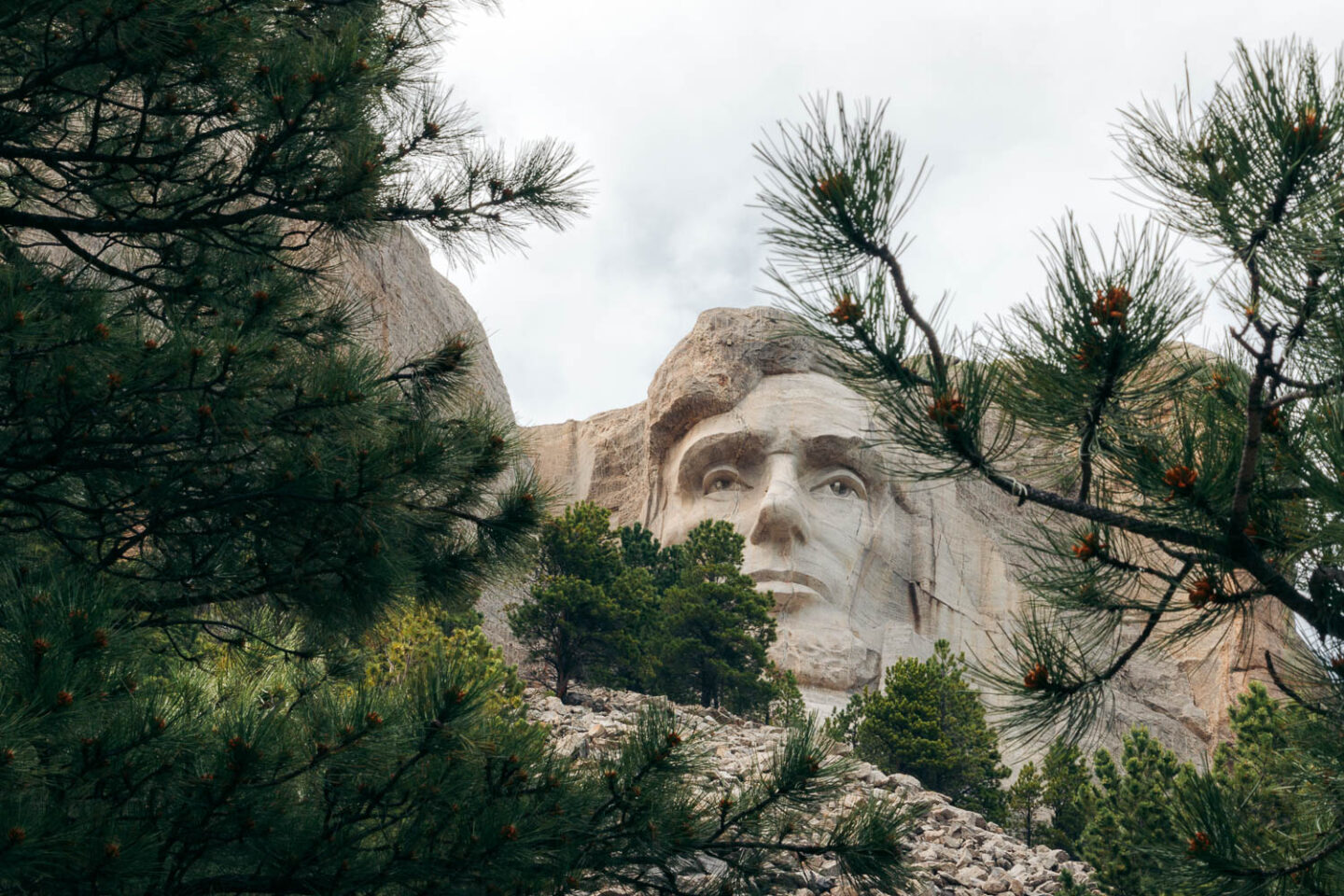 Where to Stay in South Dakota
We called it a day in Rapid City, located roughly 24 miles east of Mount Rushmore National Memorial. One of the most popular choices near all these three jewels of South Dakota, the city offers plenty of accommodations for every budget.
Day 3: Badlands National Park, South Dakota
Drive time from Rapid City: 55 minutes
Our second day in South Dakota was less packed. We had only one place on our itinerary before we had to head back to Nebraska.
Badlands National Park is famous for its dramatic layered rock formations, towering spires, and steep canyons. At first glance, it reminds you of Grand Canyon National Park. The resemblance is striking. But with all due respect, Badlands National Park is not as deep as the world-famous abyss.
At the same time, subtle layers of different colors that range from yellow, beige, and red, positioned at the same level across congregated pointed pillars as if somebody used a ruler to ensure that every line is precise, emphasize the uniqueness of Badlands National Park, a place unmatched by any other Midwest landmarks.
For us, travelers who've seen a great deal of the American Southwest, this South Dakota's gem was also reminiscent of painted hills of Valley of Fire State Park, Nevada, and Red Rock Canyon State Park, California. But on a larger, much larger scale…
Our day adventures in this part of the Mount Rushmore State started with soaking up the view along Badlands Loop Road, watching the peculiar rock formations melt into sprawling grasslands. The Scenic Byway is 39 miles long and is dotted with a profusion of overlooks that peer down into the canyons.
Different shapes and shades of the rock formations open up from every vantage point. Some pillars are yellow, almost white, others are festive, adorned with pink and beige stripes. This gamut of pastel colors is like a magnet that propels your eye to follow the pattern all the way to the bottom of the chasms.
With all this natural splendor, it's easy to overlook endless grass fields on the opposite side. This is where deer, pronghorn, elk, foxes, prairie dogs, and even bison can be spotted grazing along the road.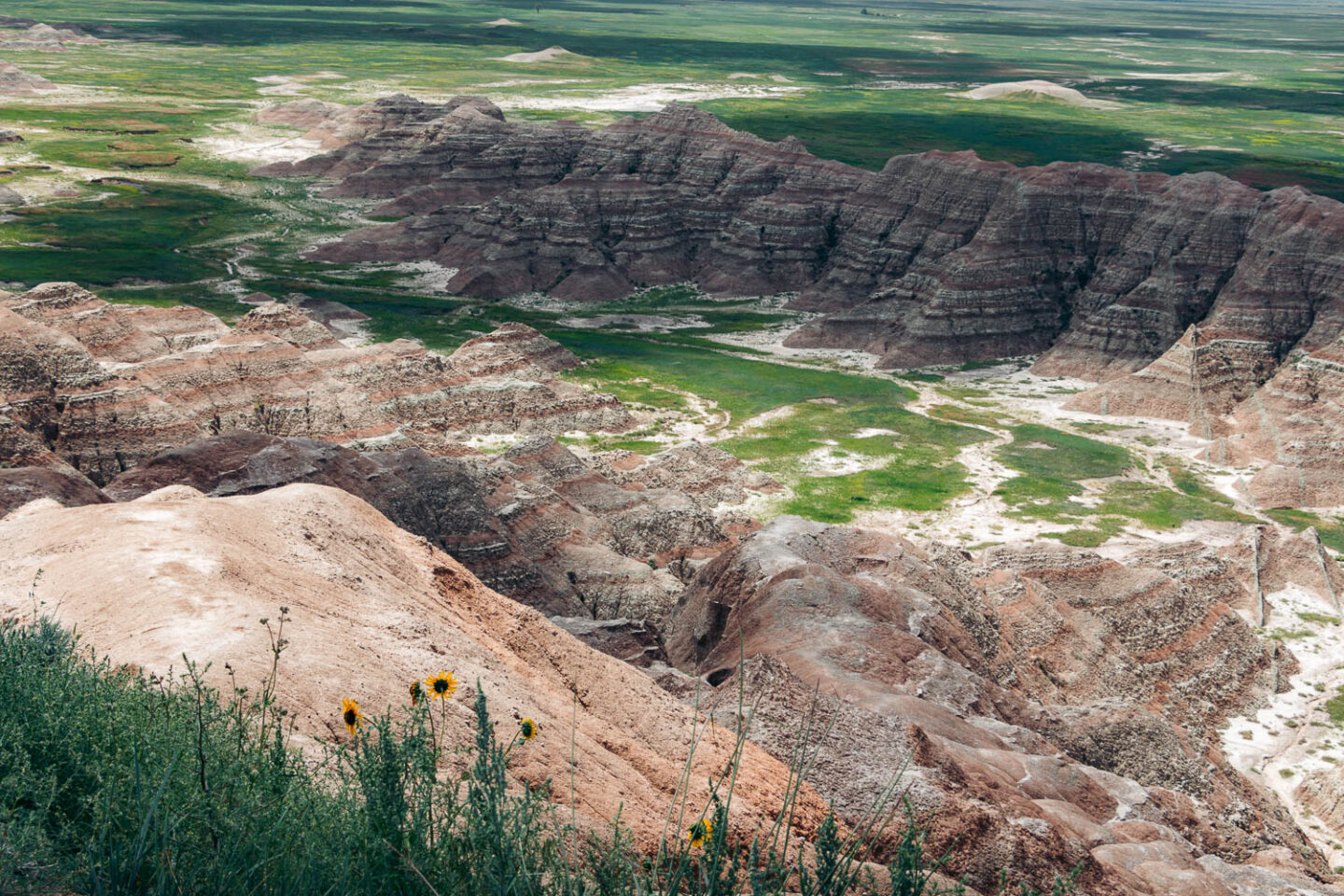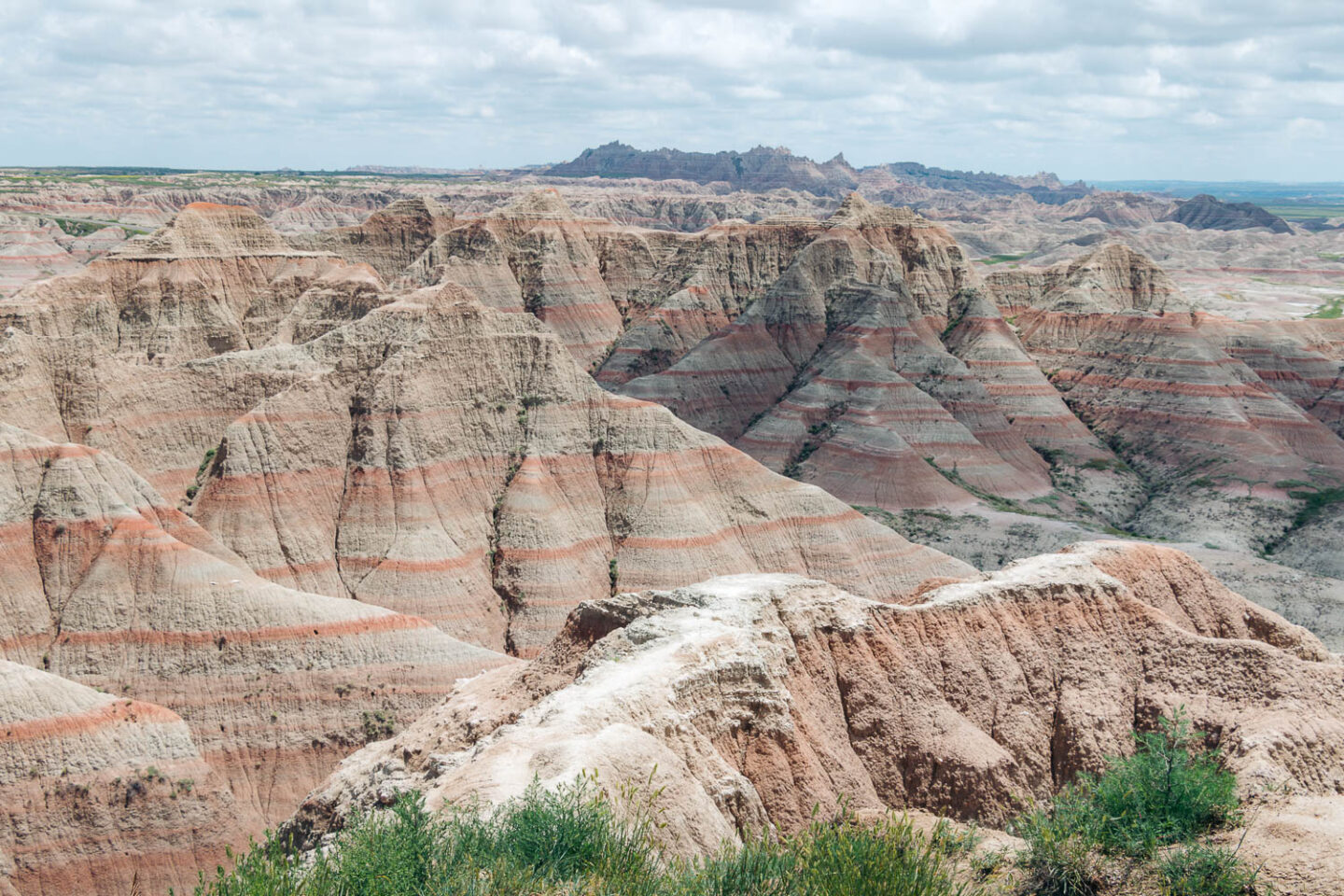 Where to Stay in Nebraska
Drive time from Badlands: 2 hours 5 minutes
We ended the third day of our road trip across Nebraska and South Dakota back in the Cornhusker State. Alliance, our home away from home this time, was not as isolated as the Airbnb in Harrison where we had spent the first night.
Although small, the city has plenty of places to stay and eat. The choice is yours.
Midwest Kept Us on Our Toes
I had an unsettling feeling as we were approaching Nebraska. The tornado warning we had received on the first day of this road trip across the Midwest left an imprint on my mind.
"Would it be there another one?"
It sounded almost ridiculous until my phone confirmed the opposite. As if defending its fame as one of the tornado-richest states in the USA, Nebraska kept us on our toes with a new twister in the area. This time at least, we were in a city, where we had more chances to find proper shelter.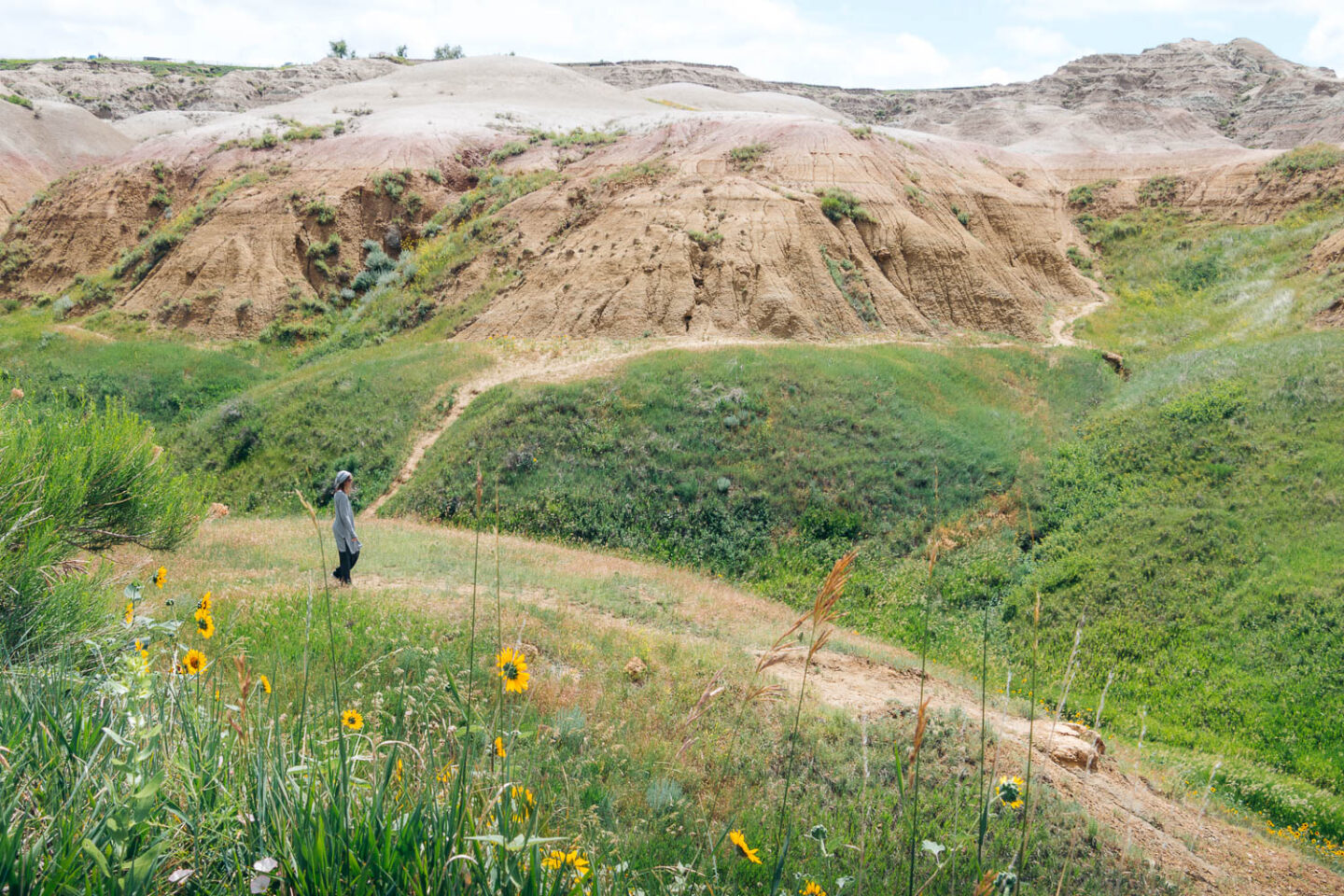 Day 4 of South Dakota-Nebraska Road Trip: Scotts Bluff National Monument
Stop 1: Scotts Bluff National Monument, Nebraska
Drive time from Alliance: 1 hour
Our last day of the South Dakota-Nebraska road trip started with a pleasant sunrise. Clear sky, beautiful weather, lush greenery invigorated by summer rains… and another long drive. You can't really have one without the other.
About one hour after we had left Alliance, we finally arrived at Scotts Bluff National Monument. The area was becoming familiar. We had driven through this corner of Nebraska on our first day of the road trip but had to skip any further exploration because of the heavy thunderstorm.
Scotts Bluff Monument has been a strategic point for many Native Americans and other pioneers traveling to the West. For thousands of years, the 800-foot-high bluff of sandstone and volcanic ash served as a reliable guide for people traversing the Oregon Trail, California Trail, and Pony Express Trail.
Today, the monument is famous for its towering pillars, a 1.6-mile drive to the summit of Scotts Bluff, and awe-inspiring views of expansive valleys at the bottom of the promontory.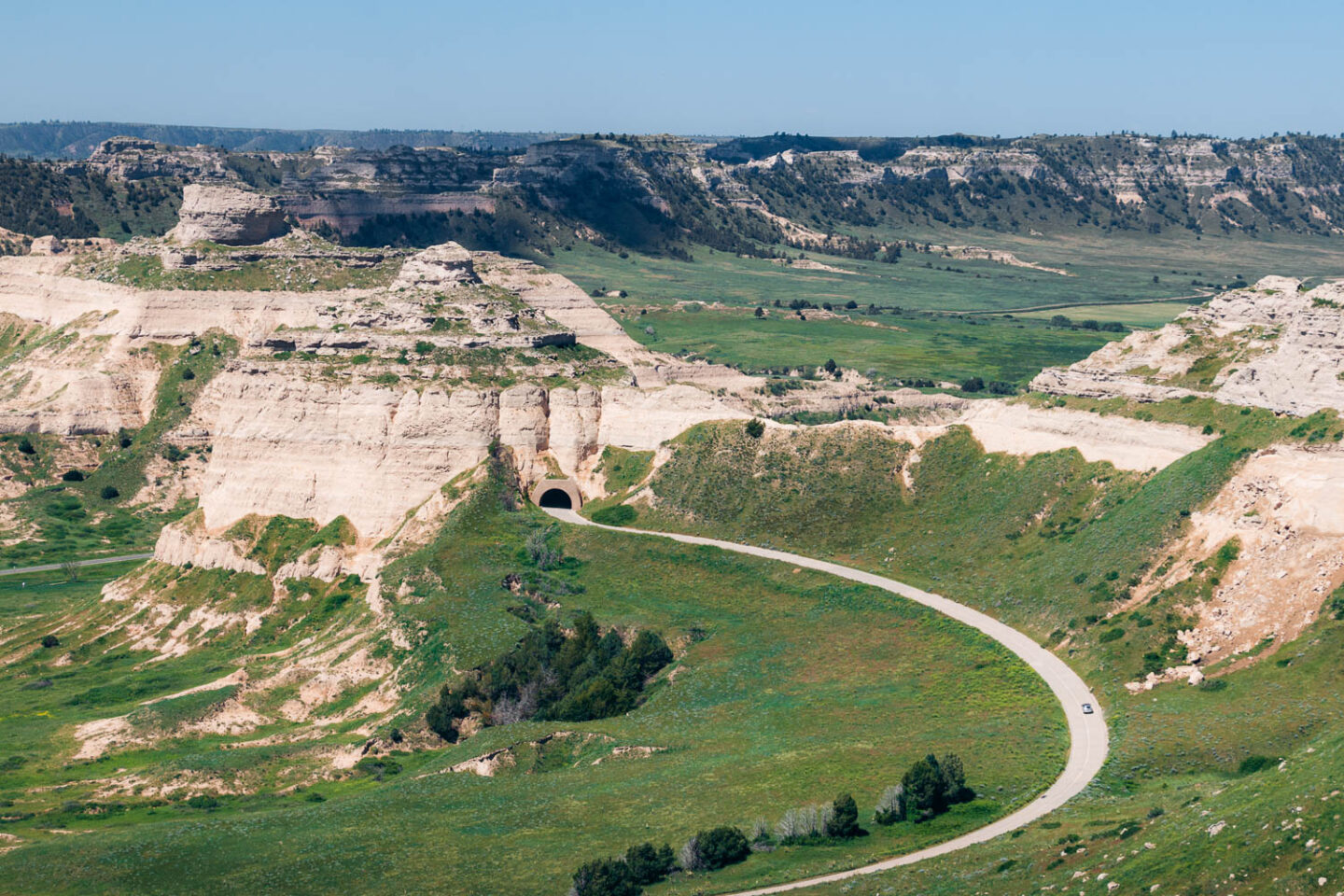 Stop 2: Denver, Colorado
Drive from Scotts Bluff National Monument: 3 hours
We ended our Midwest road trip across Colorado, Nebraska, and South Dakota exactly where we started it, at the Denver International Airport. It was another 2 or so hours until we got back to California, with grateful and full hearts.
Midwest Road Trip: Nebraska, South Dakota – Map
Final Words About Our South Dakota-Nebraska-(Colorado) Road Trip
I've outlined our entire 4-day South Dakota-Nebraska-(Colorado) road trip itinerary with all its good and bad. If this article ignites your curiosity and inspires you to start your own adventures on the road across the Midwest of America, I'm more than pleased. You are welcome to repeat our exact road trip, adjust it, or use just a small section while planning your own journey.