Everybody who has been to Washington knows why this Pacific Northwest region of the US was nicknamed the Evergreen State. For those who visit Washington the first time, the abundance of evergreen forests doesn't keep it a secret for long. Additionally, the visitors can't stop gazing at sweeping mountains, ample lakes and creeks and waterfalls that don't even ask for a hike. In fact, the waterfalls and, first of all, Snoqualmie Falls became the highlight of our recent trip to Seattle, Washington. Staying true to our love for the great outdoors, we decided to visit Snoqualmie Falls first thing in the morning. And in all honesty, it was one of he best ways to start a day in Washington.
How to Visit Snoqualmie Falls, Washington
Snoqualmie Falls sits on Snoqualmie River about thirty miles away from Seattle. To visit Snoqualmie Falls, you're better off by taking Interstate 90 East. About four miles before your destinations, get off the highway and follow small streets to the waterfalls. Pay attention to street signs as they provide you with good directions to Snoqualmie Falls.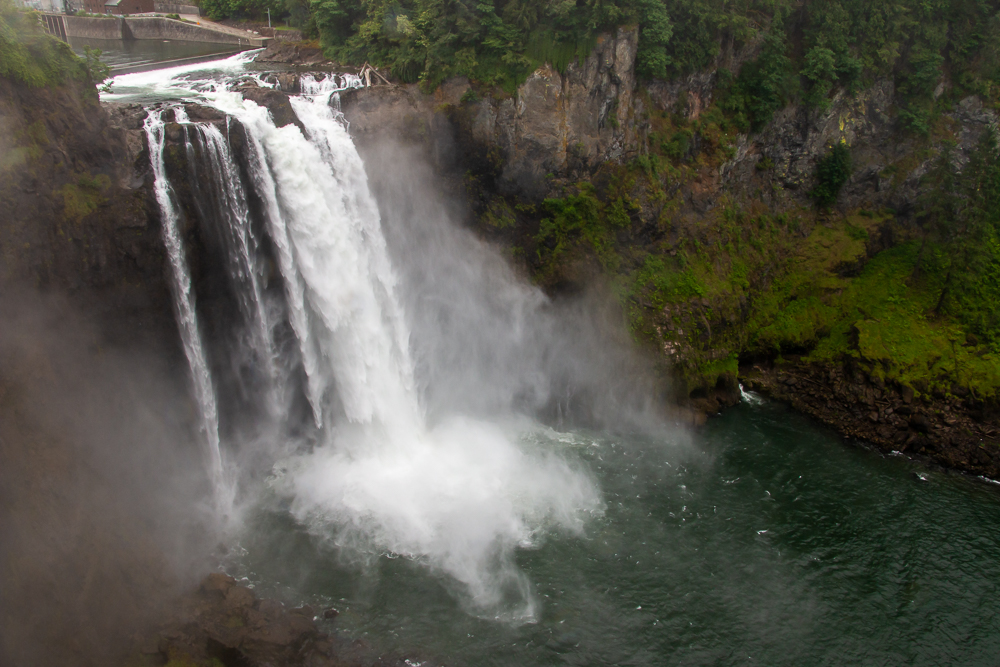 Upon your arrival, don't rush to park at the first parking lot you see. Snoqualmie Falls has two parking lots. The first one is located in front of Snoqualmie Falls Park and is almost adjacent to the Salish Lodge & Spa. Although the easiest to spot especially when you visit Snoqualmie Falls for the first time, it's a paid parking lot. Be ready to shell out $7.00 for a pleasure to park in front of the park and observation deck overlooking Snoqualmie Falls.
The second parking lot, which is free, is located across the street. Once parked, head back to the entrance of the lot where pedestrian bridge takes you directly to Snoqualmie Falls Park.
When visiting Snoqualmie Falls, make sure to bring umbrella. On top of often rains, mist and moisture from the waterfall result in additional precipitation.
Snoqualmie Falls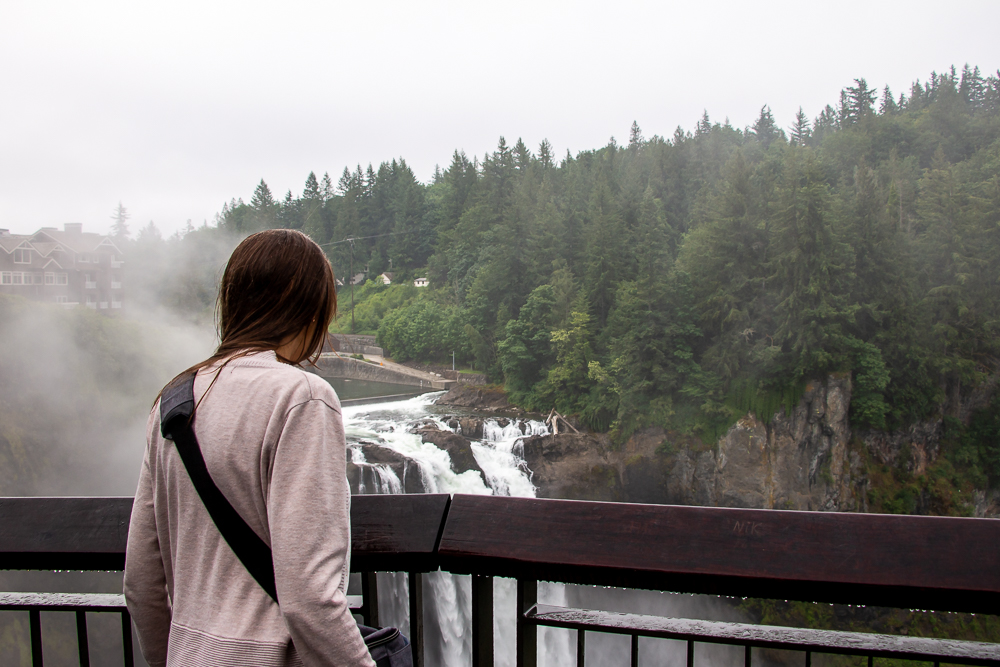 The loud splashes of water signify close proximity of the waterfall way before you approach it. Even first-time visitors of Snoqualmie Fall find it hard to get lost at this point.
The 268-foot waterfall presents itself in its full glory from the observation deck 200 feet away from the parking lot. Even some locals get surprised to find out that Snoqualmie Falls flows over rock of volcanic origin. This rock represents the remains of 20 million-year-old volcano formed during the Miocene epoch.
Things to Do at the Waterfall
Apart from the conveniently located observation deck, you can expand your visit to Snoqualmie Falls by shopping at a gift shop and staying at the Salish Lodge & Spa.
Moreover, this luxury hotel will gladly accommodate all visitors with traditional Northwest cuisine. The panoramic view of the waterfall comes as a complementary bonus for those who choose to dine inside.
Hiking to Snoqualmie Falls offers another great option to get a good look at the waterfall. Short, yet scenic trial begins a few yards from the observation deck and descends to a powerhouse below. From there, the trail leads to a boardwalk that eventually takes you to the base of the waterfall.