Small, but with a spark… This is exactly how you'd describe charming Doolin Village on the west coast of Ireland. Unlike other popular Irish cities and villages, this place seems to be too tiny to spend more than a few hours. But the more you immerse into Irish culture and breathtaking scenery when visiting Doolin Village, the longer you wish to stay here. Perhaps, this is one of the reasons why this place is referred to as a small village with a giant heart.
HERE IS OUR GUIDE TO VISITING DOOLIN VILLAGE:
Getting to Doolin Village
Doolin is located on the Wild Atlantic Way approximately three hours away from Dublin and over an hour from Galway. Due to its rural nature and somewhat isolated location, there is no direct train access to the village. The best way of visiting Doolin is by car. However, if driving on the left and navigating narrow country roads of Ireland (find more tips for visiting Ireland here) put you on edge, you can travel by bus or hire a private driver. The latter is particularly suitable for small groups and families.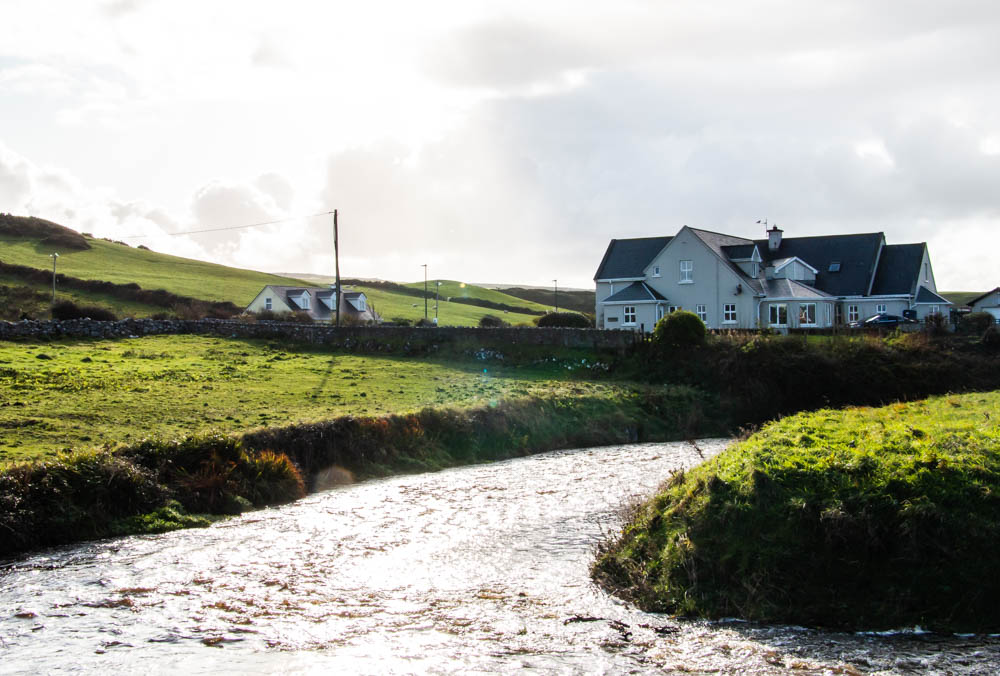 Best Time to Visit Doolin Village
As one who doesn't really follow generally accepted travel guidelines and most of the time opts for off-season travels, I was glad to find out that Doolin's locals don't favor specific seasons. On the contrary, they recommend visiting the village of Doolin all year round. Each season transforms the place anew, revealing different colors and shades.
However, to give you some guidelines, August is the warmest month. The temperature drops to its lowest in January. Although rain is an integral part of every season in Ireland, you might want to avoid visiting Doolin in October, the rainiest month of the year.
Things to Do when Visiting Doolin
Explore Cliffs of Moher
For a small village, Doolin has lot of things to do. And first thing first, when visiting the village of Doolin one absolutely must explore the Cliffs of Moher. One of the most visited attractions in Ireland, this place brings you closer to the notable Irish wild natural beauty. Just like the Irish people, the Cliffs of Moher surprise you with open, welcoming nature. But unlike Irish hospitality, the Cliffs change their mood in a split of second showing their vainglorious character.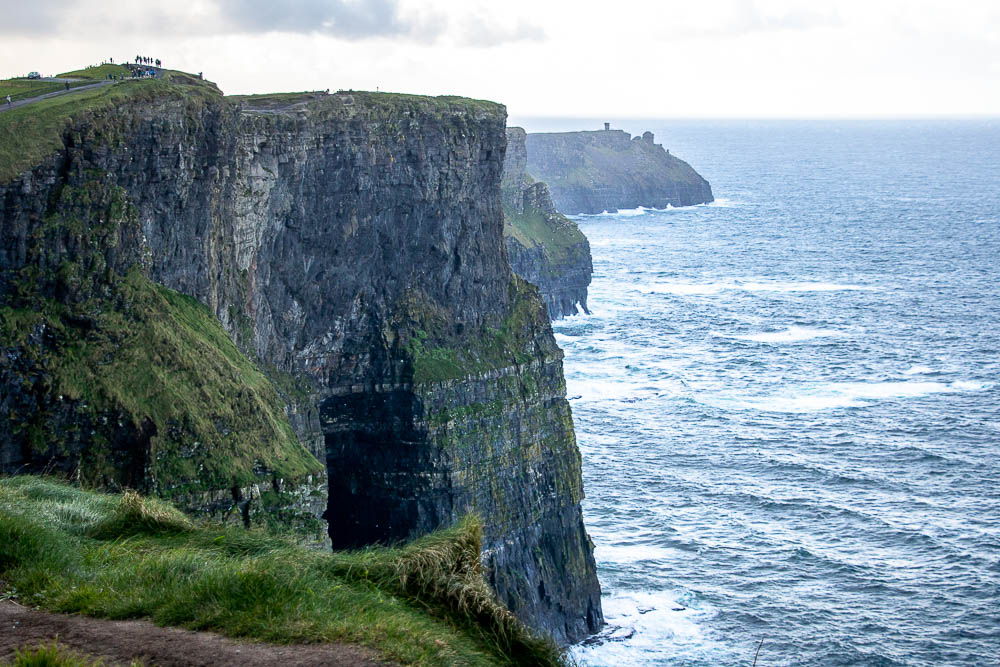 Hike the Cliffs of Moher Coastal Walk
If you are visiting Doolin Village for more than one day, don't rush to drive to the Cliffs of Moher. Rather than being way too gentle with your feet, put them to work on the Cliffs of Moher Coastal Walk. This 13-kilometer trail runs from Doolin to Hag's Head near Liscannor. Certainly, this exposed cliff path with steep ascents requires a lot of strength and stamina. However, the rewards such as scenic views of the Atlantic Ocean, the Cliffs of Moher, and the Aran Islands surpass all challenges.
Admire Doonagore Castle when visiting Doolin Village
Ireland is proud of its centuries-old castles and so is the little village of Doolin. While is doesn't have plenty of them, at least one castle reminds you of the long history of the place. Thus, when visiting Doolin Village for a few hours or a couple of days, make sure to stop at Doonagore Caste. A round 16th century tower house is located on a hill between Doolin and the Cliffs of Moher.
Step inside Doolin Cave
When visiting Doolin, make sure to venture four kilometers outside the village to explore the award-winning Doolin Cave and Visitor Center. A highlight of the visit is the Great Stalactite, a stunning 23-foot-long natural wonder of Ireland.
Enjoy traditional Irish tunes
Heart of Irish traditional music, Doolin is not to be missed for those who want to immerse in Irish culture and enjoy traditional Irish music. All local pub here are at your service and don't let you leave without whistling some of the Irish tunes.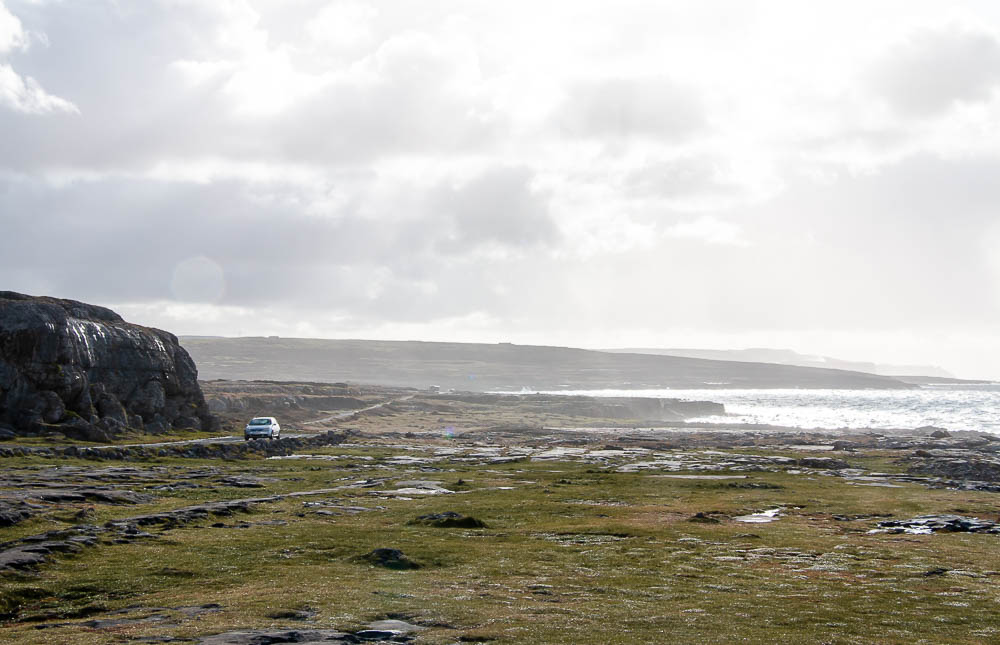 Don't miss the Burren when visiting Doolin Village
You are just a stone's throw away from the stunning Burren when visiting Doolin. The village is located on the far edge of the Burren and Cliffs of Moher Geopark. A short drive from here takes you to a completely different Ireland. A place you couldn't possibly imagine to see in this part of the world. Vast Irish fields with typical short stone walls disappear. Limestone rock landscapes replace them making you feel like you just landed on another planet.
Take a ferry trip to the Aran Islands
While visiting Doolin Village offers a great introduction to natural and cultural heritage of Ireland, the Aran Islands further enhance this experience. The three islands take you back in time and walk you through their winding narrow roads with thick stone walls. They show their unique attractions such as Plassy Shipwreck on Inis Oírr or Inisheer. Inis Mór or Inishmore further unveils cultural heritage of Ireland presenting ample historical monuments. Moreover, you'll meet a small group of people who still speak Irish in their daily life.
Get on surfboard… Yes, surfing when visiting Irish village of Doolin
Surfing is the last thing you could think about when visiting Doolin. Nevertheless, this tiny place unveils its secrets one by one. So, if trying your hands on surfing sounds like not such a bad idea, then add a visit to Doolin Point to your trip. The exposed reef break of the place provide good surfing conditions all year round.
Where to Stay in Doolin
For a small place like Doolin, you have plenty of options to stay at when visiting the village. Moreover, the variety of accommodations will match the size of your valet. So, whether you're a backpacker, budget traveler or visiting Doolin with your family, you can easily find a place to stay that suits your style.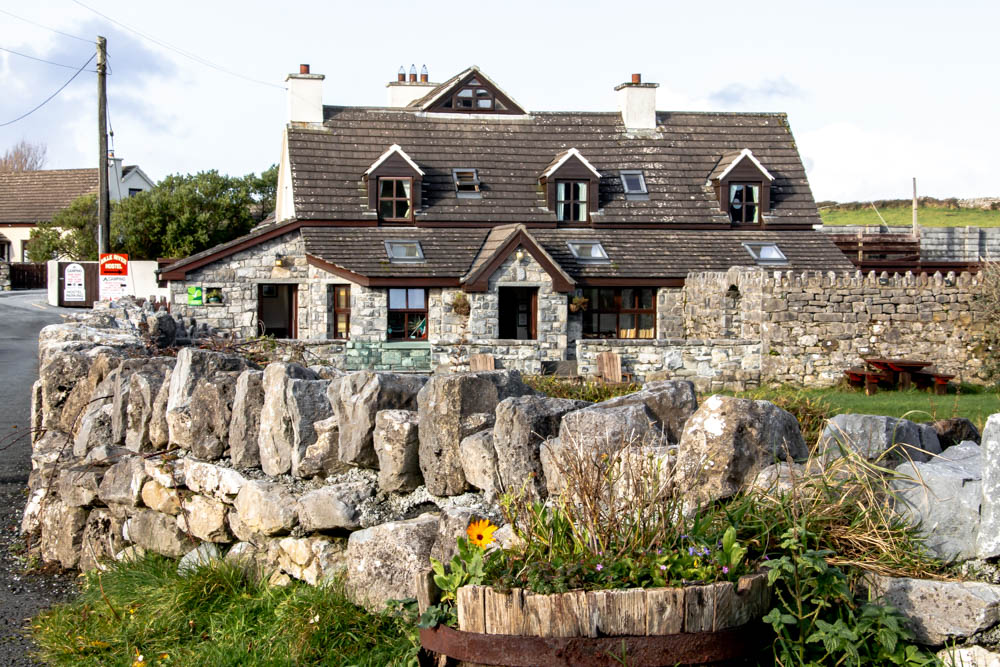 Aille River Hostel and Camping
Nestled in the center of the village, the Aille River Hostel looks like a perfect place to experience the renowned Irish hospitality. Furthermore, this 300-year-old cottage promises an immersion in Irish culture during a stopover or extended stay. The Aille River Hostel accommodates its visitors with private rooms for couples and families as well as dorm rooms for single travelers.
Sea View House Doolin
What is the one thing you can ask for when visiting Doolin? Certainly, it's location that allows you to walk everywhere in the village including the Cliffs of Moher. In that case, Sea View House with its Bed and Breakfast, luxurious lodges, and award-winning food is your place to call home away from home during your trip in Doolin.
Ballinalacken Castle Country House Hotel
If you want to see luxurious side of Doolin, check into Ballinalacken Castle Country House Hotel. This 15th century castle turned four-star hotel is set on a hilltop outside the village. Far enough from the hustle and bustle associated with visiting Doolin, the hotel takes pride in its pristine location with the views of the Cliffs of Moher and Aran Islands. Moreover, you can always rely on their cozy rooms, traditional pub, and award-winning food in O'Brien room.