No matter how many times we visited the Grand Canyon State, there is always room for another epic Arizona road trip. This time it includes destinations near Page, Flagstaff, Sedona, and Grand Canyon itself.
Last updated: February 28, 2022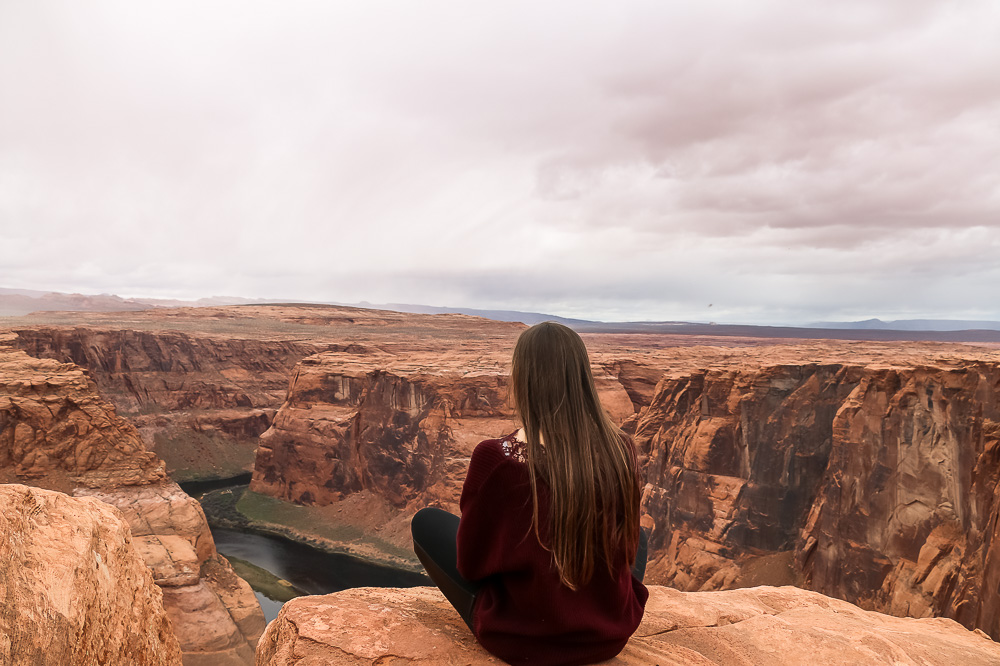 The Ultimate 6-Day Arizona Road Trip Itinerary: Page to Flagstaff, Sedona, and Grand Canyon
There are a few states in the U.S. that surprise and puzzle you at the same time. Arizona is certainly one of them. The place is vast, deserted, and scorching hot in summer. The 6th largest state in the country tests you in all possible ways. Crisscrossed with endless, isolated roads, Arizona teaches you how to get comfortable on the road and learn how to avoid all common road trip mistakes.
On the other hand, there is no better place for an epic road trip than Arizona. Home to Grand Canyon National Park, the state slowly but surely unveils its natural wonders one place at a time. As soon as you think that you've seen all of them, this southwestern region of the U.S. surprises you with new discoveries, giving enough reasons for another adventure-inspired road trip through Arizona.
How Much Time do You Need for a Perfect Arizona Road Trip
Due to the long distances between your points of interest, you should plan for at least a week-long road trip through Arizona. Some travelers, including us, can never have this time. Thus, a few shorter 2-3-day trips enable you to cross the state and see all it has to offer without a big time commitment.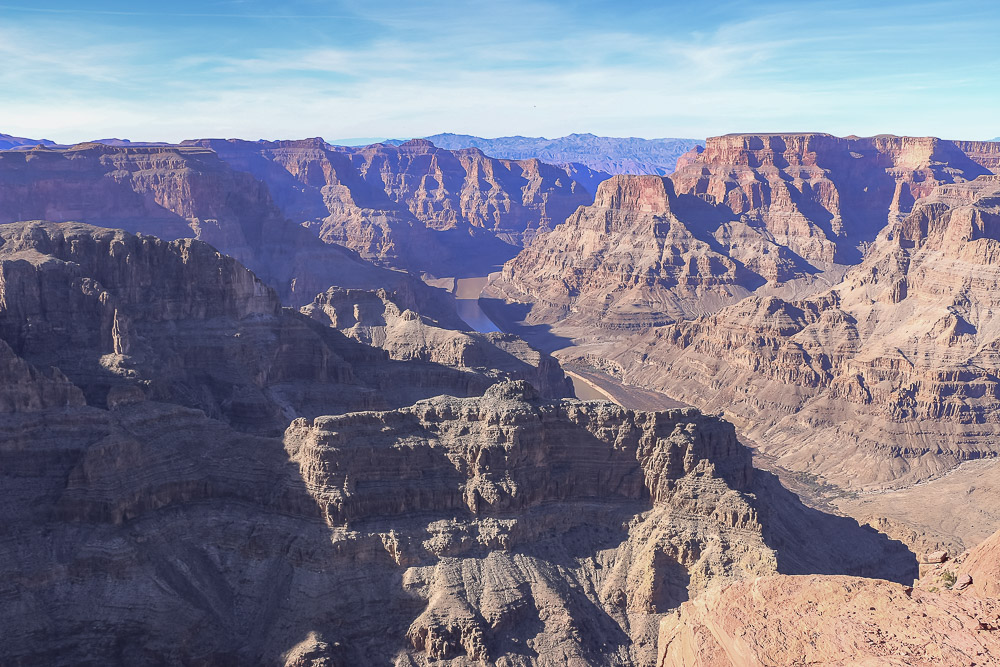 How to Plan Your Arizona Road Trip
After a few trips to the Grand Canyon State, I'm certain in one thing: you can't underestimate the place and should plan your Arizona road trip thoroughly. The state is enormous. Its cities and local communities sit far from each other. On top of that, due to the presence of a myriad of one-of-a-kind destinations, it's easy to get distracted and lose track of time.
You should blame all those astounding landscapes that seduce you every time you are about to get back on course with your Arizona road trip. The easiest way to avoid these pleasant surprises is to have a detail itinerary. Yet be sure to leave enough room for a few unexpected stops along the way.
Another important thing to consider is where to start your journey. Phoenix is the capital of the state where many travelers start their Arizona road-trip adventures. Eager to see the dramatic beauty of the Sonoran Desert, others fly into Tucson. During our first Arizona road trip, we considered flying into Flagstaff. Located just 1 hour 30 minutes away from Grand Canyon National Park, it looked like a perfect place to hit the road.
And yet, the majority of the visitors prefer to start their Arizona road trip in Las Vegas, Nevada. The city accepts plenty of domestic and international flights that can suit any budgets. Las Vegas is also one of your primary road trip destinations if you start your journey through Arizona from Los Angeles.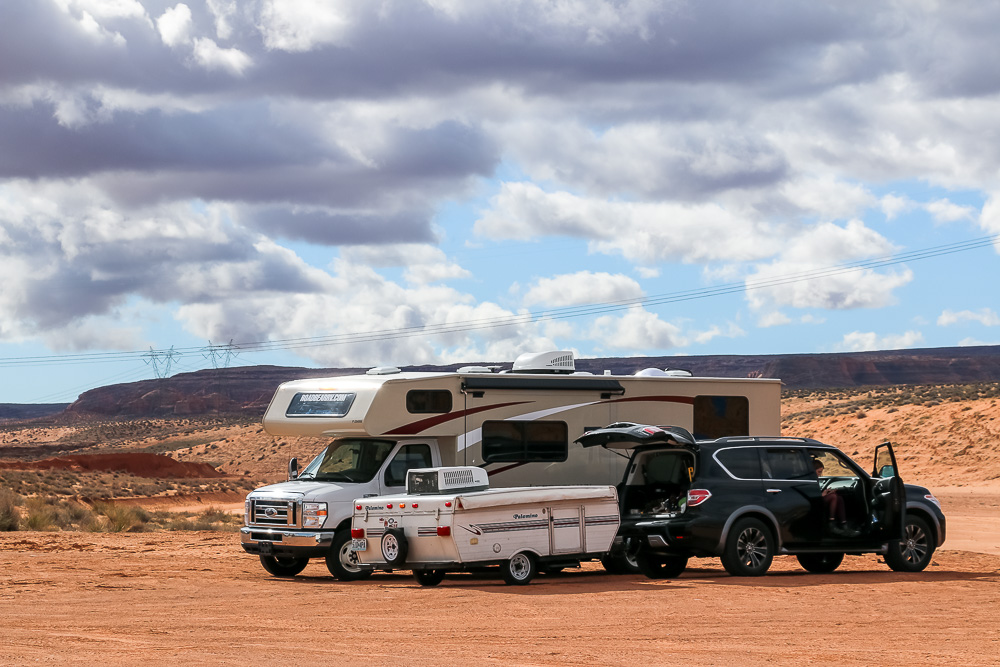 Where to Rent Vehicle for Your Road Adventures in Arizona
A good, reliable car is essential for a successful Arizona road trip. Whether you drive your own or rent a car, be sure to check its condition and pack a spare tire. The best place to rent a car is always the nearest airport.
Over the years, we used services of Budget, Thrifty, Alamo, Economy, and sometimes Avis. They are more affordable compared to other companies. Make sure to book the car for your Arizona road trip in advance, though. You may not be able to get the vehicle you want without a prior reservation.
The Best Time for Arizona Road Trip
There is no bad time for your Arizona road trip. The weather is favorable for the road adventures all year round. The best times to go on an Arizona road trip, though, are March through May and September through October. The temperatures in spring and early fall are never too high or too low.
Summer is the hottest and busiest time of the year. Apart from dealing with the scorching heat, you have to share Arizona's roads with many other visitors enjoying their own trips. The summer season is also not the best time for those who travel on a shoestring. With an ever-growing influx of the tourists, the prices for everything, including accommodations, rise.
The Ultimate Arizona Road Trip Itinerary: Map
Day 1: Start Your Arizona Road Trip by Driving from Las Vegas to Page
Day 2: Spend a Day in Page and Flagstaff

Page
Flagstaff
Flagstaff to Sedona

Day 3: Explore Sedona and Camp Verde

Sedona
Camp Verde
Camp Verde to Phoenix

Day 4: Continue on with Your Arizona Road Trip in Phoenix

Phoenix
Phoenix to Kingman

Day 5: Enjoy a Day in Kingman a Gateway to Grand Canyon, the Last Destination on Your Arizona Road Trip
Day 6: Conclude Your Arizona Road Trip by Driving back to Las Vegas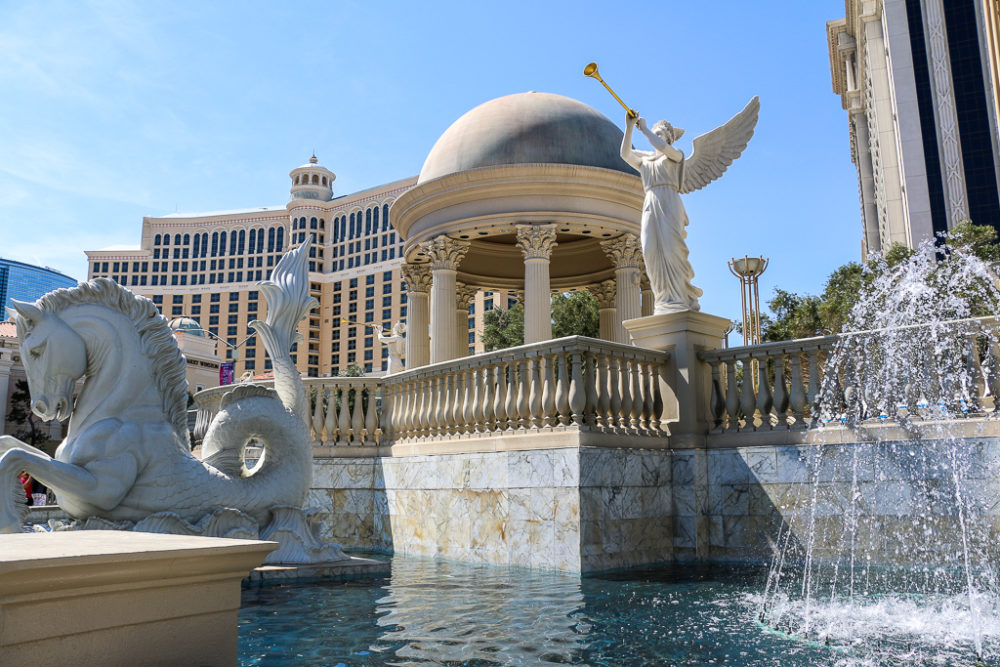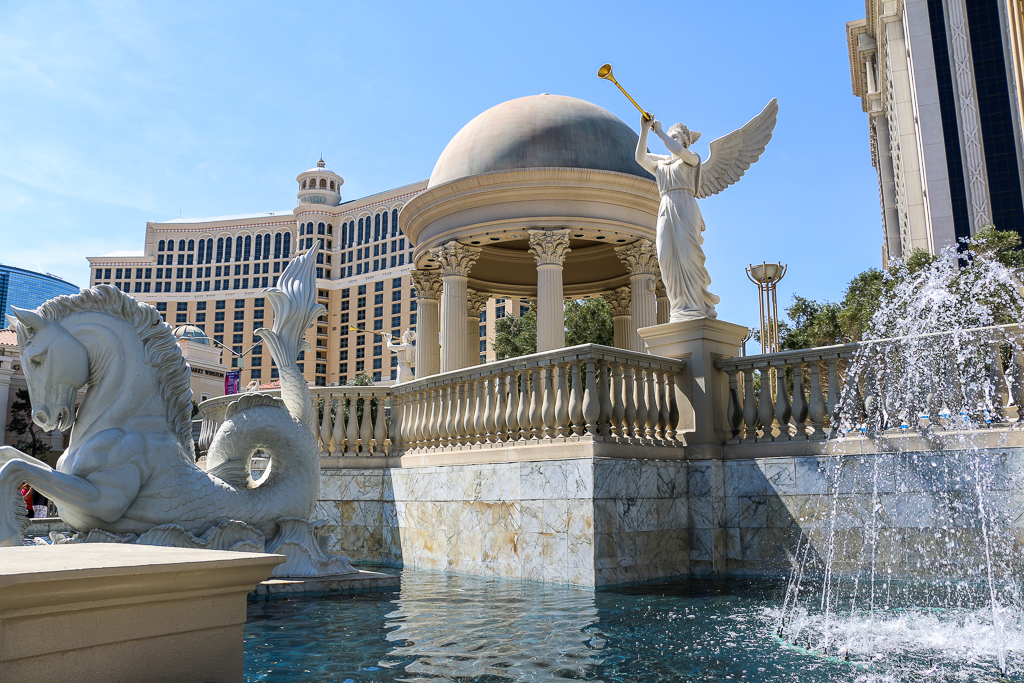 DAY 1: START YOUR ARIZONA ROAD TRIP BY DRIVING FROM LAS VEGAS TO PAGE
Drive time: 4 hours 20 minutes
It's a long drive that covers a big chunk of your Arizona road trip. You hardly have time for anything to do in Page on your first day. If you do though, go for a walk near Lake Powell to stretch your legs after a long drive. The place is located about 5 minutes outside of Page and offers astounding views of Glen Canyon Dam and the Glen Canyon Dam Bridge.
Where to Stay in Page: Antelope Canyon Inn ($), Holiday Inn Express Hotels Page ($$), Lake Powell Resort ($$$)
DAY 2: SPEND A DAY IN PAGE AND FLAGSTAFF
Page
Page is a small town in northern Arizona. It's so isolated that you have probably never heard about it. Its astounding natural attractions, though, have surely been on your bucket list for a while. So start the second day of your Arizona road trip by checking out everything Page has to offer.
Things to Do in Page
Awe-striking Horseshoe Bend is arguably the most famous attraction in the Page area. The place is known for its signature horseshoe-like shape and resemblance to the Grand Canyon.
Upper Antelope Canyon is a slot canyon a few minutes away from Page. While each turn and bend of the canyon leaves you in awe, the incredible light beams multiple this experience tenfold. The best time to see the sun extending its transparent arms into the depth of the canyon is from late March until early October.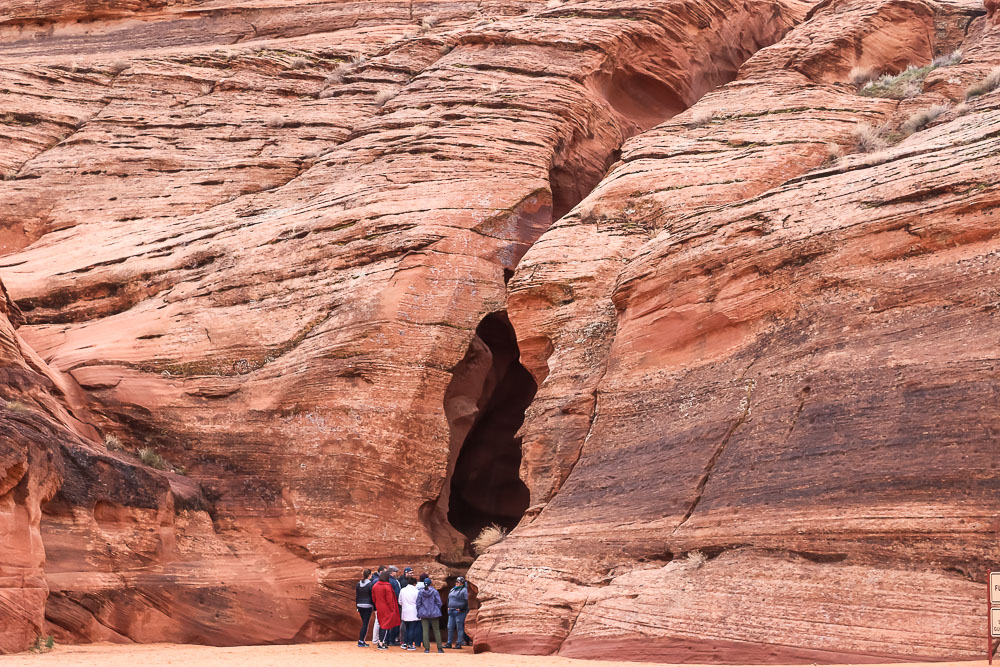 Lower Antelope Canyon, the closest sibling of Upper Antelope Canyon, is another place you should put on your Arizona road trip itinerary. There are many similarities between these two slot canyon. The major difference, though, hides in their walls. While the distance between the walls of Upper Antelope Canyon is wide, Lower Antelope Canyon keeps its walls close to each other. In some places they are so close that you need to climb ladders to move forward.
If you didn't have time to visit Lake Powell on the first day of your Arizona road trip, do it now. The second largest man-made reservoir in the U.S. is ought to be seen at least once. The place astounds with its size and pristine deserted surroundings. You can walk near the lake or rent a boat and explore some of its least visited parts.
You can surely spend the entire day exploring a few more highlights of Page. Yet since you have only 6 day for the entire road trip through Arizona, it's time to hit the road again. The next stop is Flagstaff.
READ MORE: What to Do in Page, Arizona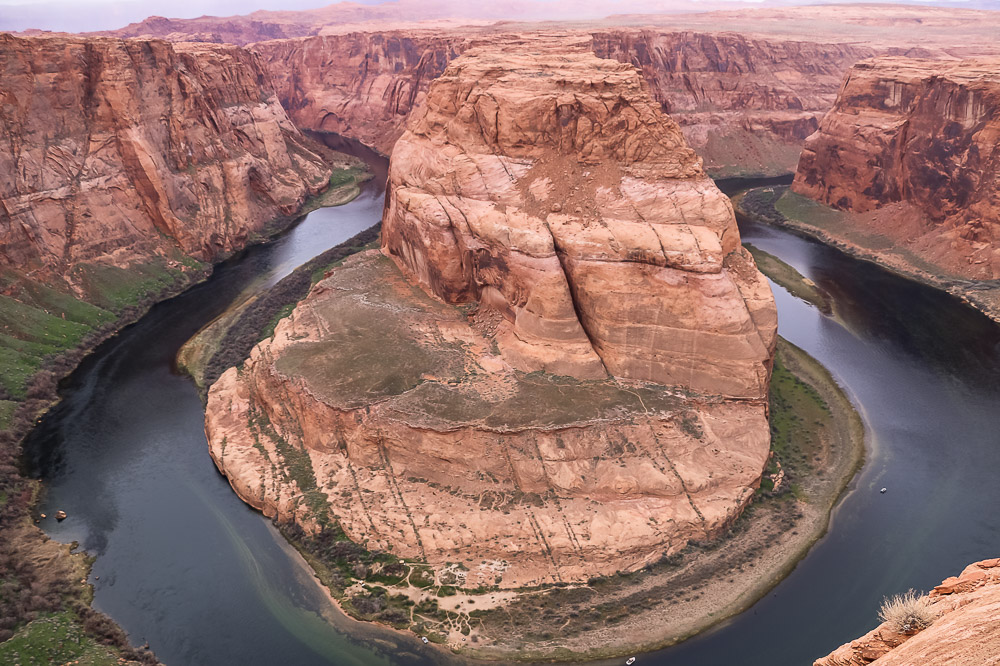 Flagstaff
Drive time: 2 hours 10 minutes
The Arizona's scenery changes drastically as you approach Flagstaff. The deserted roads and never-ending reddish fields and hills retreat. Lush forest appears. For a second you don't even feel like you are in Arizona any longer.
The city doesn't disappoint either. Thanks to its four contrasting seasons, Flagstaff promises all kinds of entertainment. It also offers a welcoming relief from the merciless heat of Arizona during your summer trip.
Things to do in Flagstaff
When in Flagstaff, be sure to check out its historic downtown. Dotted with shops, restaurants, and bars, the place is ready to occupy you for the next hour or two.
The San Francisco Peaks with 6 highest peaks in Arizona offer dozens of hiking trails to explore. If you visit Flagstaff as part of your Arizona winter trip, get your skis ready for unforgettable fun activities at the Arizona Snowballs.
Walnut Canyon National Monument, located about 10 miles southeast of downtown, preserves some of the ancient ruins. These remains date back to the 12th and 13th centuries and let you dive deeper into spectacular history of Flagstaff.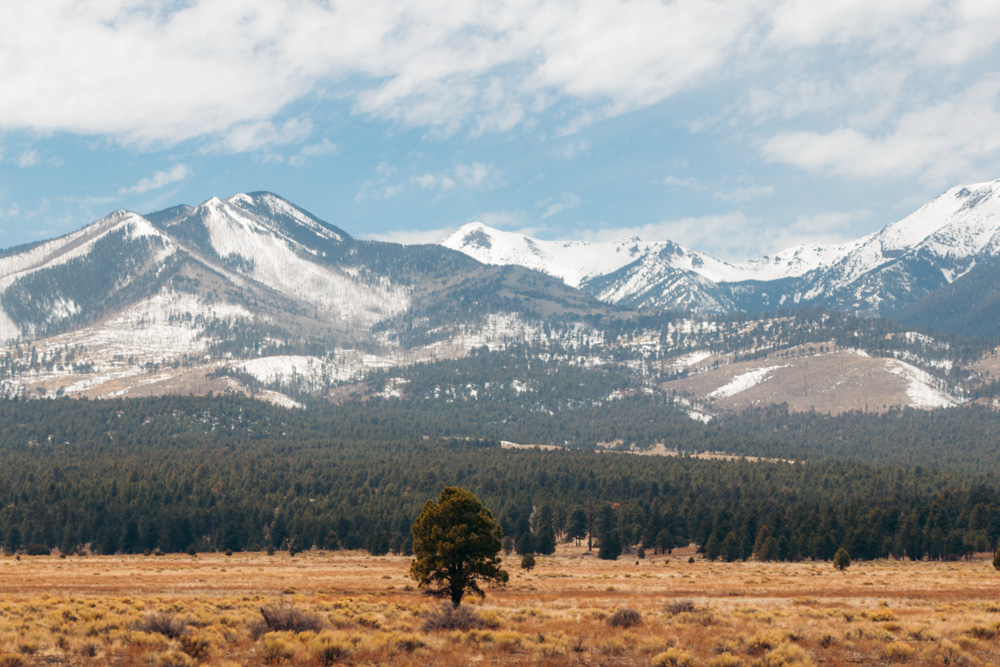 Flagstaff to Sedona
A less than one-hour drive from Flagstaff to Sedona concludes the second day of your Arizona road trip.
Drive from Flagstaff to Sedona: 45 minutes
Where to Stay in Sedona:

Sedona Village Lodge

($), A

rroyo Pinion Hotel

($$),

Amara Resort & Spa

($$$)
DAY 3: EXPLORE SEDONA AND CAMP VERDE
Sedona
Sedona is arguably one of the most famous desert towns in Arizona. The place entices with red-rock buttes, steep canyon walls, and a myriad of scenic hiking trails on the outskirts. Uptown Sedona changes the scenery and brings the abundance of New Age shops, galleries, and spas to enjoy during your visit.
Things to Do in Sedona
Tlaquepaque Arts and Crafts Village allures all the visitors of the city with a traditional Mexican vibe. It's a great place to shop for art, jewelry, and textiles. Even if shopping is the last thing you want to do on your Arizona road trip, the vibrant Village promises to show you "the best of everything".
Sedona is every hiker's dream destination. There is no better place to see the Arizona's deserted lands, rocky hills, and natural landmarks.
Speaking about the natural wonders, the Devil's Bridge, a large sandstone arch, is a remarkable sight you can't miss. The short, but tedious Cathedral Rock Trail promises the best views of the area. If you still have time and energy, check out the stunning Chapel of the Holy Cross, a Roman Catholic chapel built into the buttes.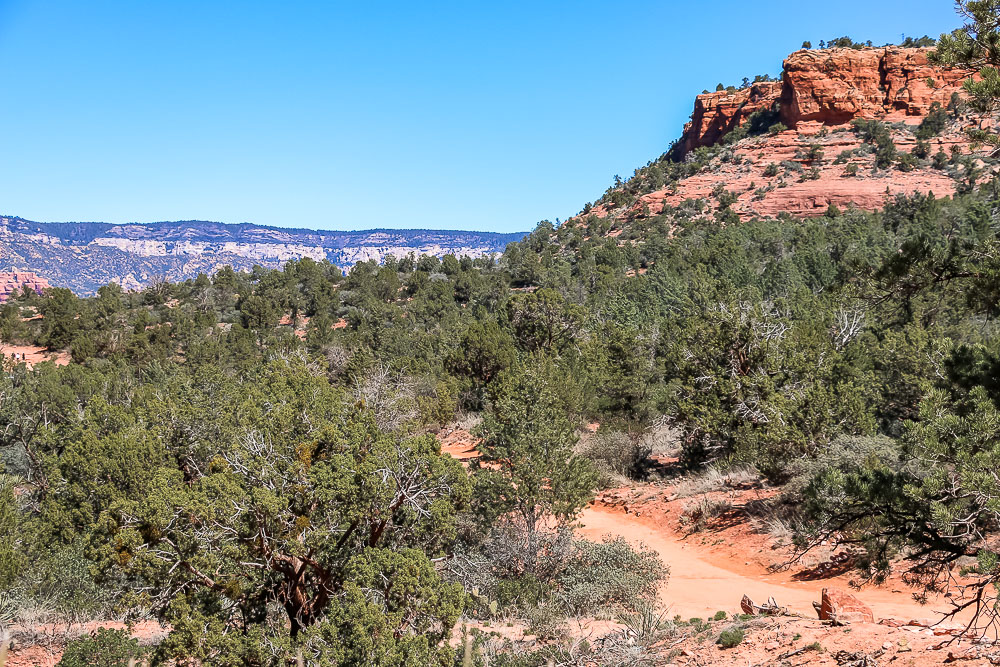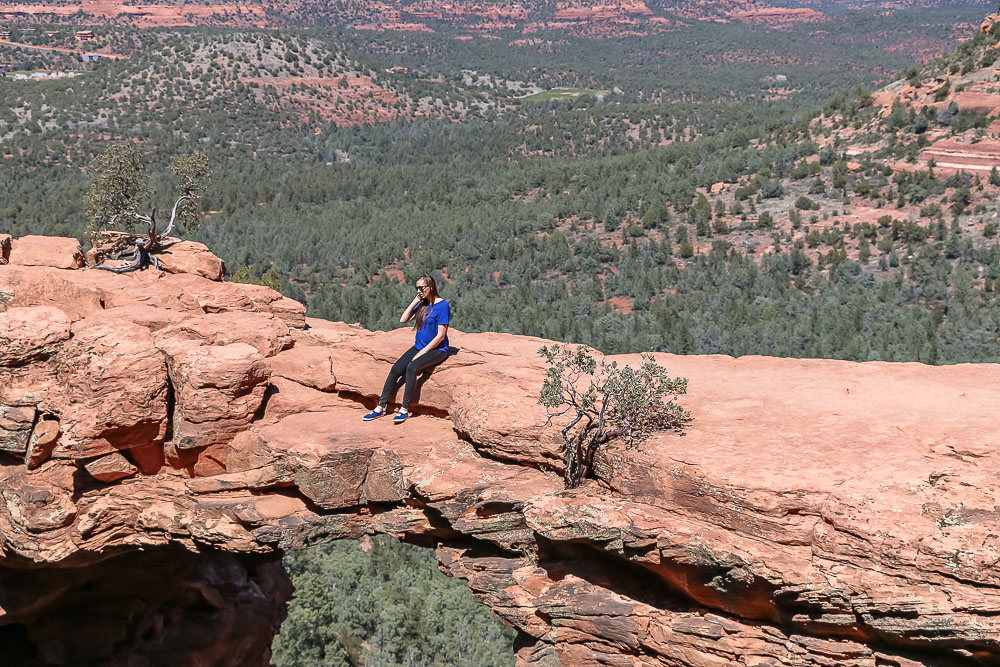 Camp Verde
Drive time: 40 minutes
Before heading to Phoenix, stop at Camp Verde to see Montezuma Castle National Monument. The place is home to some well-preserved ancient dwellings built in the pre-Columbian era.
READ MORE: The 6 Best Ancient Stand-Alone and Cliff Dwellings in Arizona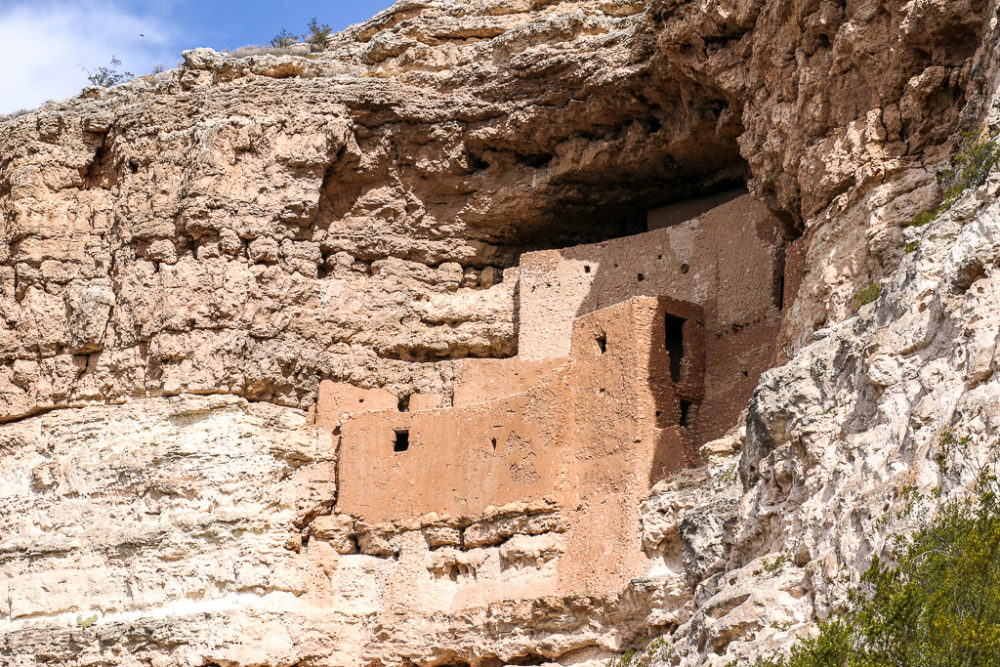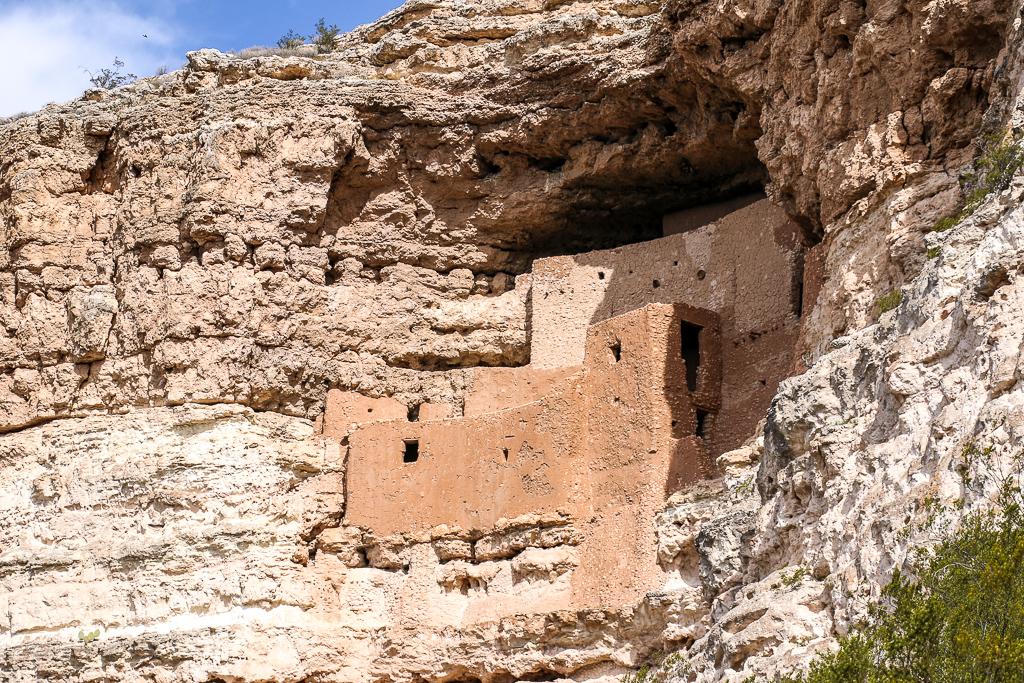 Camp Verde to Phoenix
From Camp Verde continue on to Phoenix where you will spend one night.
Drive from Camp Verde to Phoenix: 1 hour 25 minutes
Where to stay in Phoenix:

SureStay Hotel by Best Western Phoenix Airport

($),

Hyatt Place Phoenix-North

($$),

Arizona Grand Resort

($$$)
DAY 4: CONTINUE ON WITH YOUR ARIZONA ROAD TRIP THROUGH PHOENIX
Phoenix
The capital of Arizona is known for year-round warm temperatures and high-end spa resorts. Phoenix's food is another reason to include the city in your road-trip itinerary. With the abundance of restaurants serving all kinds of cuisines, Phoenix is often referred to as a foodie oasis in the desert of Arizona.
Things to Do in Phoenix
Desert Botanic Garden draws all nature loving travelers to the capital of Arizona. Located in the northern corner of Papago Park, it presents 50,000 desert plant nestled amid the red rocks.
Unique shape of Camelback Mountain rising over the Phoenix Metropolitan Area have been long one of the highlights of the city. The mountain reminds of the hump and head of a kneeling camel. While you can get the best view of this landmark from afar, experienced hikers like to traverse through its steep trails.
Numerous museums and galleries allow you to learn more about historic and cultural heritage of Phoenix. So, the Heard Museum takes on the responsibility of educating its visitors about indigenous tribes in Arizona. The Phoenix Art Museum impresses with an art collection that can be traced back to 1912.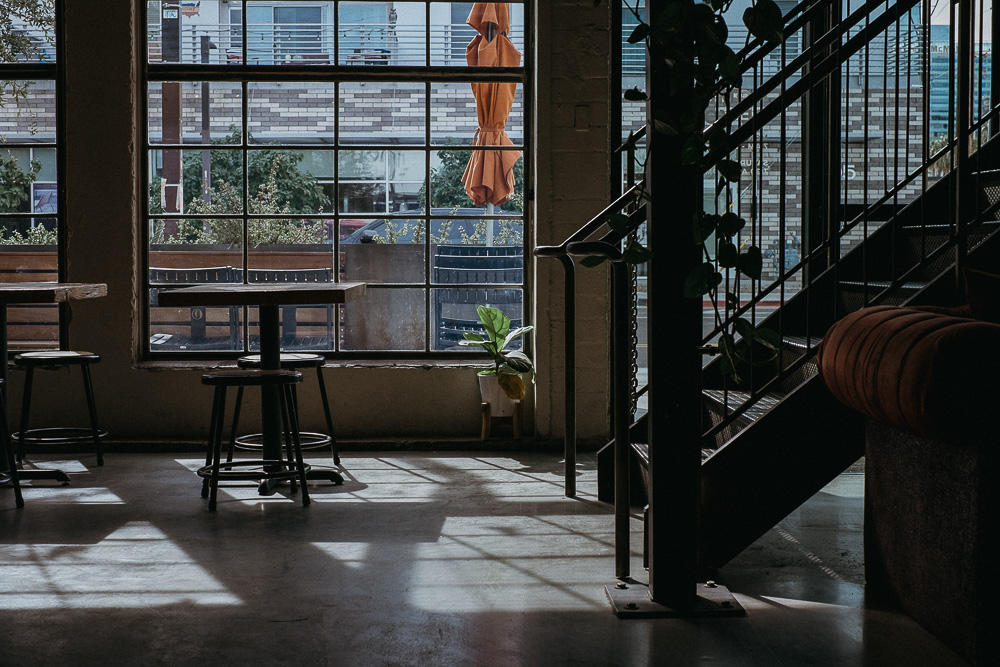 Phoenix to Kingman
Phoenix is entertaining, no doubt about it. However, be sure to leave it before sunset as a long road trip to Kingman in northwestern Arizona awaits you.
Drive from Phoenix to Kingman: 3 hours 10 minutes
Where to Stay in Kingman:

Knights Inn Kingman

($),

La Quinta by Wyndham Kingman

($$),

SpringHill Suites Kingman Route 66

($$$)
DAY 5: ENJOY A DAY IN KINGMAN, THE LAST DESTINATION ON YOUR ARIZONA ROAD TRIP
Kingman
The main reason you want to put Kingman on your road trip itinerary is its close proximity to Grand Canyon West. One of the Seven Natural Wonders of the World is located about 70 miles from the city and attracts fewer visitors compared to Grand Canyon South.
Although you can visit Grand Canyon National Park on a day-trip from Flagstaff or Phoenix, only a route from Kingman takes you to the Skywalk, a horseshoe-shaped glass bridge, located 4,000 feet above the bottom of the great abyss. You should plan for a full day in Grand Canyon National Park.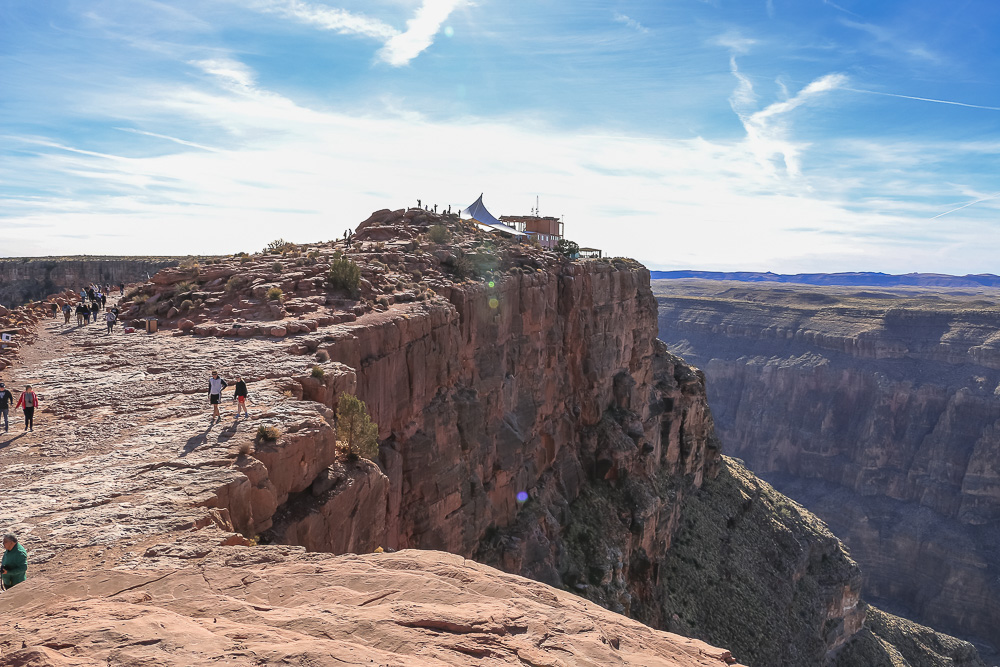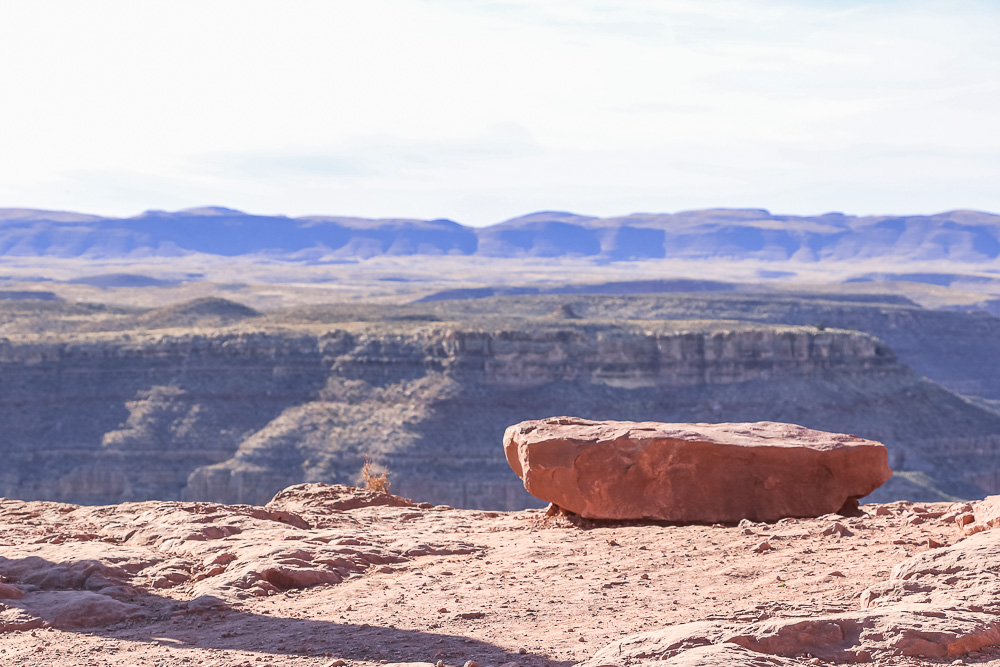 DAY 6: CONCLUDE YOUR ARIZONA ROAD TRIP BY DRIVING BACK TO LAS VEGAS
Drive time: 1 hour 45 minutes
Before you leave Kingman, be sure to stop at Hualapai Mountain Park. Better known as the Sky Island, this isolated mountain range in the middle of a desert is the best place to escape the summer heat in Arizona. In winter, the area transforms by adding a white, snowy blanket underneath its evergreen trees.
Now it's time for the last leg of your Arizona road trip. Hit the road again and drive back to Las Vegas, which is less than two hours away.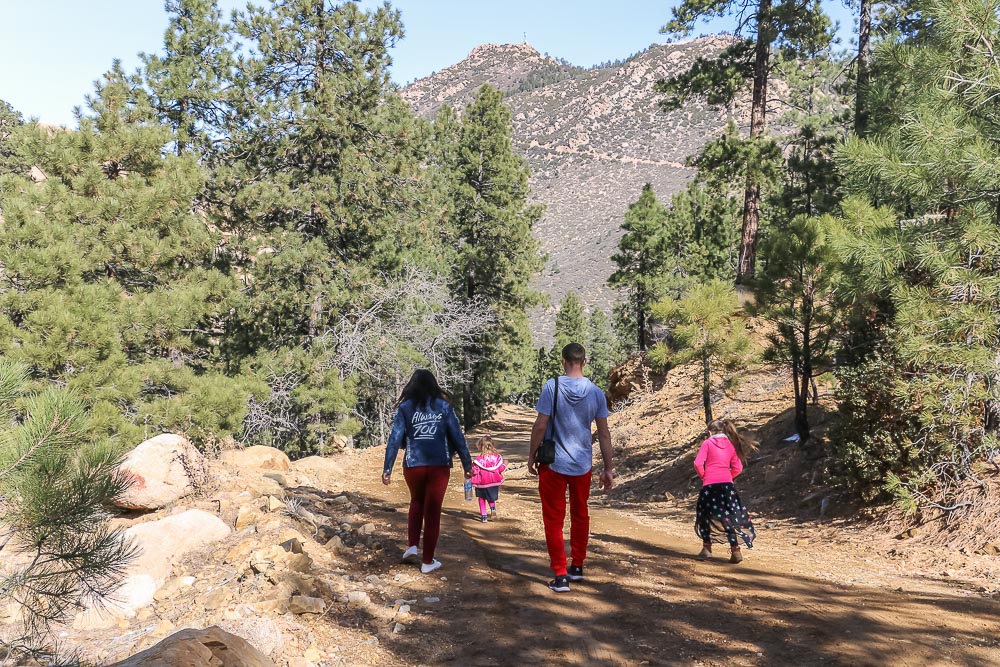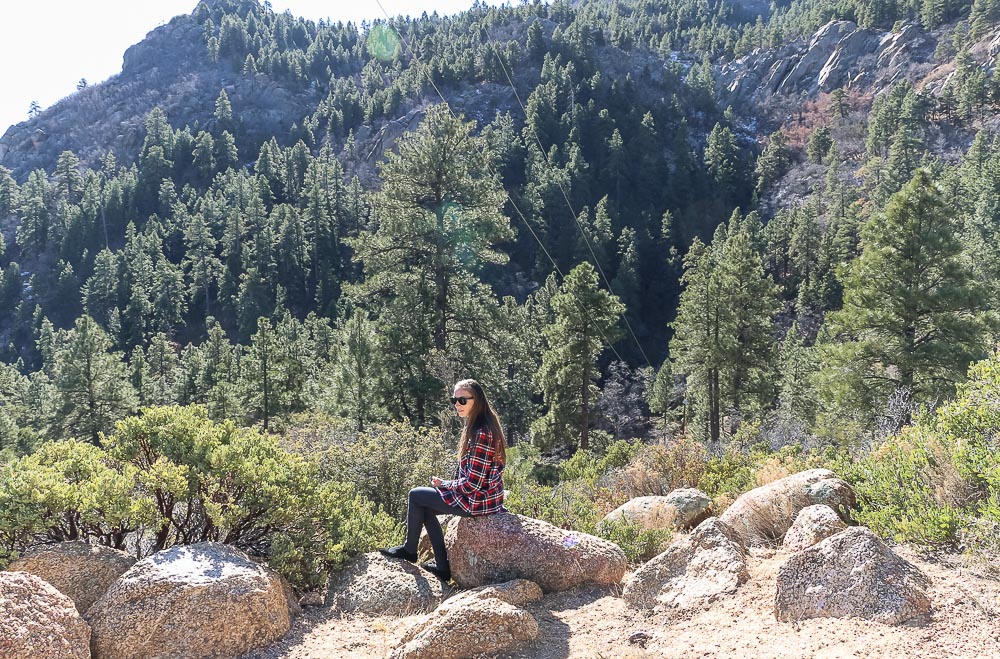 Alternative Itineraries for Your Arizona Road Adventures
For some people, 6 days for one road trip is more than they can afford. Unfortunately, vacations in the U.S. are short. We found a solution by dividing this 6-day Arizona road trip into two shorter journeys. Here are the alternative itineraries for those who can spend only 2-3 days on the road at once. Both of these Arizona road trips also start in Las Vegas.
2-Day Arizona Road Trip: Alternative Itinerary #1
Day 1: Kingman and Grand Canyon
Day 2: Phoenix
2-Day Arizona Road Trip: Alternative Itinerary #2
Day 1: Page and Flagstaff
Day 2: Sedona and Camp Verde
What to Pack for Your Arizona Road Trip
Sunscreen

. If you can bring only one item on your Arizona road trip, let it be sunscreen. Arizona can get extremely hot at times. So think about the health of your skin before you even get on the road.

Reusable water bottle

. Arizona is known for its high temperatures. To enjoy your trip and all the hikes, be sure to grab a reusable water bottle and drink a lot of water.
Trail running shoes. A pair of good trail running shoes is essential to enjoy all of the incredible hikes in Arizona.
Camera and tripod. You simply can't go to Arizona without being able to capture its vibrant cities and natural wonders. Thus, the camera and tripod are as important as hydration. And since you will be hiking a lot, make sure your

tripod

is lightweight and doesn't weight you down.
Read Next